The countdown is on.  With only 2.5 days left in 2017, running bloggers everywhere feel compelled to provide a yearly run down of the highs and lows of their race season.
Of course I am no exception.
If ever a year epitomized the "commotion" portion of the title of this very blog, 2017 was it.  Chaos.  Laughter.  Hernias. Tears. Fox tails. 2017 had it all. So without further ado, I present you the nominees for best and worst (but mostly just the best) of my 2017 running:
(click blue links for full race reports and more pictures)
Let's just get this big one out of the way.  I finally finished a 100 miler.  I earned a buckle. I even somehow managed to earn third place overall female.  Still…
It did NOT go as expected.
My guts tried to escape, I pushed them back in, KT taped them back in, ran some more, then I quit, took a nap, got back on the course, and essentially walked another 65 miles to the finish.   It had "bad decision" written all over it.  I hope to never do that again.
(I quickly followed this event up with my second umbilical hernia surgery, so as for now, guts are safely in place.)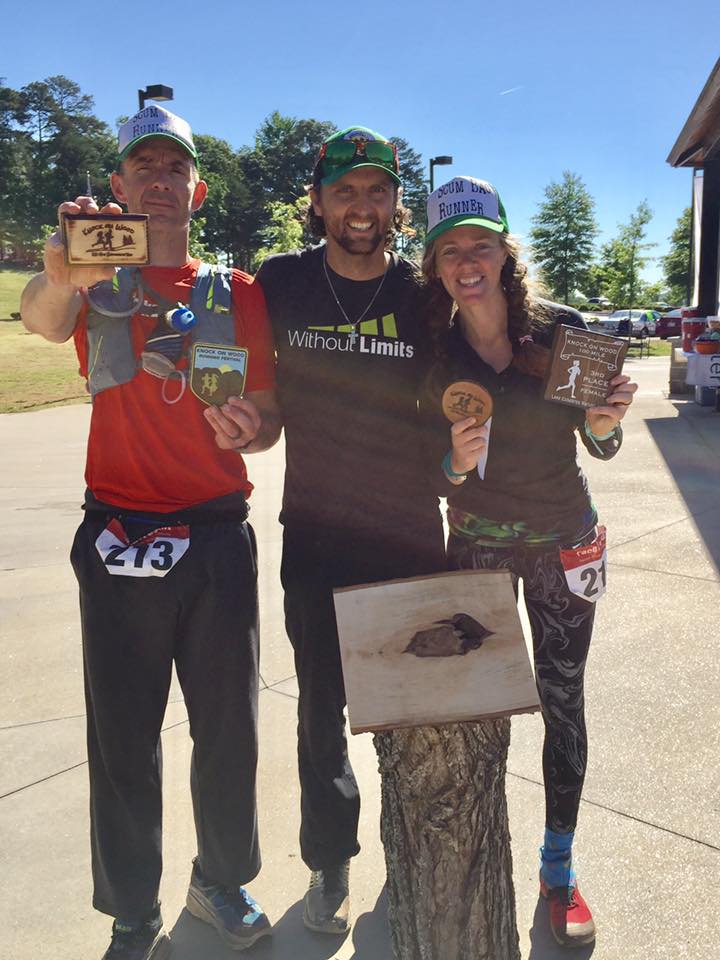 I trained my tail off for this one, and the bitchy side that came out of me during taper week was proof of such.  Hallucination 24 hour race was supposed to be another training run as I prepared for Knock on Wood 100, but despite a 2 hour nap and a 4 am freak out, I still managed to knock out just over 84 miles.  It came relatively effortlessly…up until the 4 am "why is the sky spinning?" low blood sugar induced cry fest.  But for the most part, everything went according to plan, and I felt amazing.
I took second place overall, spent the weekend with some awesome friends, and got to meet Gary Cantrell a.k.a "Lazarus Lake".  But most of all, I proved to myself that I was indeed capable of holding my own in an ultra, and have the potential to do so much more than I had ever imagined.  It was a win all the way around.
Ran Short:
BNP Trail Jam 18 miler
2017 was the first time we had ever participated in the BNP Trail Jam event or ran at Brunswick Nature Park, a trail system just north of the border in Town Creek, North Carolina.  The event itself was very well run, the trail absolutely beautiful.  But the 18 mile course ran short, stopping at just over 15 miles.  Since, at the time, I found myself on that pukey anaerobic threshold that I absolutely hate (but the competitive voices in my head occasionally makes me go into anyway), the short course was indeed welcomed.  I'd run it again, 15 or 18 miles.
Chad Haffa, race director and founder of Eagle Endurance (and also a really great guy), will be the first to admit that his races aren't always 100% accurate.  But the 29.6 mile Dirt Dash MARATHON takes the cake.  It was so hot and humid that August morning, I truly thought those extra 3.4 miles were going to be the end of me.  It has since become the running joke in our little world of what we measure Haffa courses off of, hence why there was no surprise to have an extra 3 ish miles added to the Swamp Fox out-and-back course (see below).
Hell yes we ran naked, again.
In public.
With naked strangers.
I highly recommend adding a naked race to your bucket list, at least once.
(Did you expect pictures with this one?)
I DNF'd my first race in a long time, and I'm not even mad about it.   The inaugural Swamp Fox Ultra in the Francis Marion National Forest of South Carolina, put on by aforementioned "it could be 26 miles, or it could be 30" Eagle Endurance, was a beautiful, fun, and brutal in it's own right race.   We got lost, avoided active hunters, fell in a bunch of hidden holes, and got lost some more.  I made it to  mile 56 of the 52 mile turnaround (see?) and called it a day.   I regret nothing*.
(*except not getting that awesome fox buckle. Perhaps in 2018…)
Most Disappointing DNS: Desert Rats
After my hernia incident, I knew that my next event would be the operating room, and not Desert Rats Kokopeli 150 mile stage race that I had been registered for.  I was wildly disappointed, so much so that I refused to talk about the race with other people even though one of my good friends was attending. I am a selfish, childish brat at times.
June came and went, my surgery happened and healed, and I went on with my life.  Just as the regret of missing this event had nearly disappeared, the stars aligned and the opportunity presented itself for me to give it another shot in 2018.  So, stay tuned for more on that adventure…
The Ones That Didn't Get Reviewed:
I told you I dropped my blogging game this year.  Anyway, I had the honor and privilege of pacing my good friend Karen to her first marathon finish at the 2017 Myrtle Beach marathon.  I also remembered how much road marathons hurt, which is why that was the only road race I ran this year.
I also ran a Rugged Maniac (What? An OCR?!) in March, about 24 hours after my body was wrecked with the gnarliest stomach virus I've had in over a decade.  We ran with a great group of friends, and brought a few across the finish line of their very first obstacle course race.  I hadn't been missing the OCR world, but I will admit, I had a blast.
Other honorable mentions:
A non hurricane Ragnar Trail Relay
Hairy Bison FatAss 30K
Last Chance 25K that I forgot to register for
One Snowy Epic 24 (except mine was 12) hour run
Total running mileage: 1,345.9 (ish)
This may be the most accurate mileage count I've ever had in my entire running career.  Last December while coaching a marathon group, I decided wearing a GPS watch again might come in handy in preventing my group from sprinting their long runs significantly faster than they were supposed to.  Naturally I took the "wearing a GPS watch" to the most extreme level, and began logging (almost) everything on Strava, Achievement (money for steps? YES PLEASE.), and every other platform I could think of.  Go big or go home, right?  There were a handful of runs I didn't log due to a forgotten Garmin, or a treadmill, but for the most part I can safely estimate we are in the 1500 or less category. Considering I ran only twice in May, sat out all of June, and most of July due to the pesky hernia, I'm pleased with this solid year of injury free (until this week, but I digress) training and racing.
WHAT'S IN STORE FOR 2018?
Great question, thanks for asking.
I've got a number of cool races on the roster, but only three "A" goals.
Run a sub 24 hour 100 miler.   I've been training for this as my goal since I started running again post surgery this summer.   I've had a few setbacks, physically and simply with time management (don't we all sometimes) so we'll see if this happens earlier in 2018 or later.
 Don't die at the Barkley Fall Classic.
 Finish the Barkley Fall Classic.
I'll also be returning to a number of local-ish races, including every Eagle Endurance race I can make it to, as well as visiting our friends at Upstate Ultra as frequently as we can.
So, there you have it, the obligatory end of the year running blogger summary. 2017 was, for the most part, a great year for running.   I learned so much about myself as an athlete, both physically and emotionally,  as well as really honed in on what type of training style really works best for me. I look forward to continuing the upward momentum in 2018, as well as all of the adventures that I have in store (and even the ones I don't know about yet).   And as always, if you keep reading, I'll keep rambling about it here on the blog.
Hell, who are we kidding, I'll keep writing even if you don't read.
Happy New Year, my friends.  Here's to another 365 days of adventure!