Buckle up kids, I'm about to get incredibly introspective, and this one's pretty long.
Virtual races really haven't been my thing, well…ever.
I completely support the concept of virtual races though, especially during our current state of the world, don't get me wrong. These events are not only a way for runners to feel "connected" to the community, but the registration fees for some of these virtual races are literally ensuring that our beloved races will live to happen in 2021.
They are important. And I knew it would only be a matter of time before I found one I couldn't resist…
The TransRockies Race holds a special place in my heart. In 2016 my husband and I won a contest hosted by Kahtoola, which granted us entry to the 6 day event. Those 6 days were some of the hardest, most amazing miles and hours of my life. And to top it off, Geoff proposed at the top of Hope Pass during Stage #2. So yeah, I love that dang race.
(You can read my entire TransRockies experience HERE)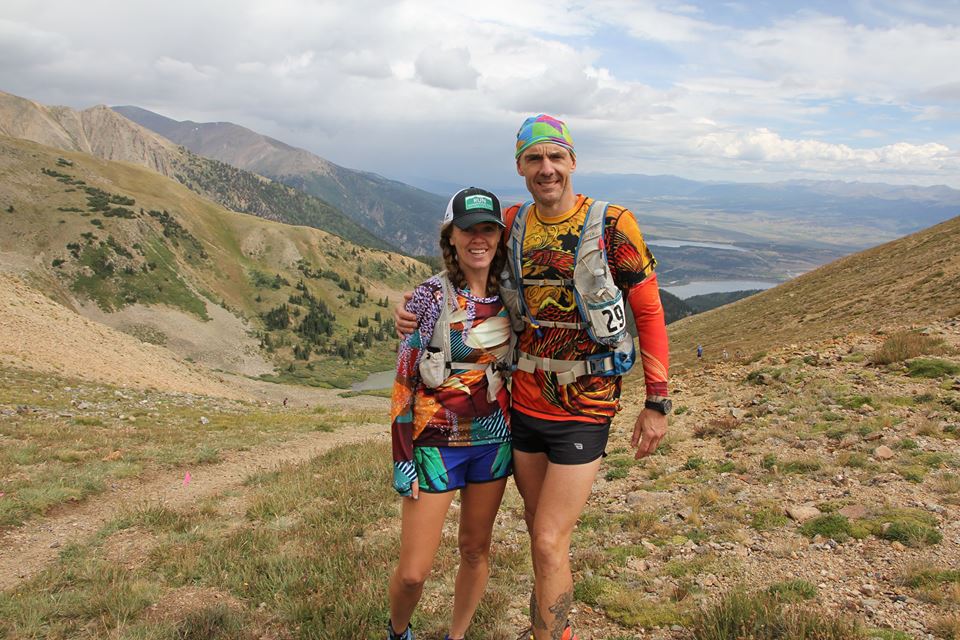 When TransRockies announced a virtual event (after having to cancel their in-person even this year), I was in. The idea was to cover the 60 OR 120 miles in 15 days. A LOT less aggressive in volume than the actual 6 day / 120 mile event (though, people finished the virtual in LESS than 6 days, but I digress.) There would be a T-shirt, a handmade buckle for those who finished, and of course, nightly "Chillville" hangout sessions via Zoom.
(Which I didn't make to, not one, because 7:30 MST is way past my East Coast bedtime, but I digress.)
Initially, I wanted to run the 120 mile virtual in 6 days, mimicking the distance breakdown of the actual 6 stages. Extremes are why I love this sport in the first place, and the idea of doing something difficult gets me riled up.
But then I reminded myself that I have spent far too much time trying to FIX this body to ruin my progress over a virtual race. I am not in 120 mile/week shape, so I'll take all 15 days allotted, thankyouverymuch.
This virtual recap is not nearly as entertaining, both in literary and/or visual presentation, as the actual 2016 TransRockies Run recaps I wrote. Nevertheless, it's got it's own set of twists and turns. So without further ado…
Week 1: Miles 0-70.85
During the first week, I figured I'd put in as much mileage as I could, while listening to and respecting my bodies needs. Granted, the terrain and elevation of my local neighborhood is far from grueling, compared to running through the actual Colorado Rockies. Never the less, my motto (once again) is "don't train like an asshole", so I tried to adhere to that.

I ended up running 71 miles during the first week, in a combination of the following:
Monday – 10.38 miles
Tuesday – 13.1 miles
Wednesday – 5.05 miles in the am, 5.04 miles in the pm
Thursday -11 miles – the only trail miles of the week
(WHAT IS HAPPENING TO ME?)
Friday – REST DAY
Saturday – 20.06 miles
Sunday 6.22 miles
I promised myself that I'd back off the mileage if anything felt like I was overdoing it. But much to my surprise, I genuinely felt fantastic, physically and emotionally.
Alright – maaaybe around mile 18 of my 20 mile long run, running endless loops around my neighborhood, I was kind of over it mentally. But physically? I felt great. I slept well. I recovered well. And I truly think much of that was due to my nutrition. I've been focusing on nourishing myself with all of the GOOD foods Coach Will is prescribing for me, and it's been paying off.
(In case you missed it, here's my one month update of working with a performance nutritionist)
Week 2: Miles 70.85- 97.75
Well, as with many things in life, my virtual TransRockies experience was a classic example of the "ebb and flow" dynamic we all experience from time to time.
The second week included a meager 27.75 miles on my feet. Here's what it looked like:
Monday – camping, no running.
Tuesday – camping, no running.
Wednesday – 10.17 miles
Thursday -10.07 miles
Friday – 7.51 miles – which included a good mile of walking (more on that later)
Saturday – camping, no running
Sunday- camping, no running
So uhh…clearly the previous weeks' motivation was waning. But not without good reason.
On Monday and Tuesday Geoff and I brought his mom and sister camping, and frankly, I wanted to spend my time with them.
On Saturday and Sunday, we brought my kids camping with two of our good friends (social distancing, of course), and frankly, I wanted to spend time with all of them.
As I tell my clients all of the time, family comes first – far before running – 1,000% of the time. Always, no exceptions. And so I chose them. I chose laughing over the hickory pignuts falling out of the trees and hitting us around the campfire. I choose paddling 5+ miles in a canoe with two wildly inept at paddling (but adorable none the less) passengers, through a rainstorm. I chose time with people I love over time spent on high miles (or any miles) with zero regrets.
Oh and Friday? Well my body just wasn't into it, in more ways than one. And as I mentioned above, I promised myself I'd obey those signals.
The Last Day – Miles 97.75 – 120.85
But now it's the last day of the TransRockies 120 mile virtual event, and if you're following along closely, you'll note that I still had 22.25 miles to go, and one day to do it.
The obvious answer would be to knock out a 22.25 mile long run. Except:
I'm tired, and want to sleep in after a weekend of poor sleep in a tent (though that might have been the most realistic part of this virtual TRR experience).
I already volunteered to bring my friend to the airport Monday morning.
I promised the kids a trip to the bookstore.
I'm dog sitting my friend/neighbors dogs this week.
Oh and that little thing called work…
But I am not a quitter, so here's how I got this thing done:
7:30 am: 6.12 miles around the neighborhood
(Brought friend to airport)
10:15 am: 5 miles on the treadmill at the gym, while Geoff lifted
(Kids, life, work, etc.)
5:15 pm: 10.01 miles around the neighborhood
(Stopped to dog sit, as my friend lives nearby)
7:29 pm: 1.11 miles
(ran home)
When I finally made it home after that last 1.11 miles, my mother in law asked if I got all of the miles in I needed. "God, I hope so…"I replied, done.

The Aftermath:
It's now Wednesday, and I'm finding myself in a surprising head space that I NEVER would have expected, after running what I consider to be a successful 120 mile 2 weeks. My running felt really good and came relatively easily, which is a shocker for summer in Myrtle Beach (it's a million degrees out and 100% humidity…almost). My body responded very well – no soreness, no signs of over-training, no other physical issues.
But by the end, my heart wasn't really into it.
I spent so much time running, and so much time away from my family, from my responsibilities, from work. And that even includes getting up at 5 am most mornings in order to log miles. I think I had time for one measly strength training session in two weeks. I definitely didn't publish a single blog post during that time frame. Multiple things in my life were beginning to suffer – and that was simply from a 70 and a 50 mile training week back to back.
And as I sit here on Wednesday, with no desire to run again anytime soon, I realize this is exactly what the majority of the next 16 weeks are going to look like while training for Ancient Oaks 100. My mileage is building, and at this point, 50-80 mile weeks are the norm from here on out.
As a 100 mile veteran, and an ultramarathon coach, I know this is part of the process. You sacrifice a lot in order to properly train for, and to successfully complete, a 100 mile race. It would be silly to pretend that isn't the reality of this sport.
But the last two weeks have left me contemplating whether or not now is the right time to dive back into the world of ultramarathon. Or at least the 100 mile distance. Which is crazy, because I currently feel so good…so much better than I have in probably 2 years.
(Maybe that's exactly why I'm so hesitant – because I finally feel good again, and don't want to risk losing it so soon.)
But like I tell my clients, if your "why" isn't there, if it isn't blazing so bright that it outshines almost everything else, you're going to be fighting one hell of an uphill battle during your training. And I have nothing to prove. I know I can cover 100 miles at once. I've done it twice before. And while I'd love to do it again – one day – I don't particularly care to do it unless I'm certain I'm going to enjoy the full experience.
Or, let's be honest, unless I'm certain I'm going to enjoy MOST of the experience. A 100 mile training cycle is long road of highs and lows, no doubt about it.
So, TransRockies Run…thanks for the fun. Thanks for the eye opener and giving me something to think about. More on this …eventually.
p.s. I hope I get to see you again real soon, Colorado…