Last week, I finally realized how obnoxious my incessant "long live the Spartan race" posts must be to my non Spartan racing friends.   Or the eyeball rolls that may come with the constant posting of pictures of myself and others waist deep in mud.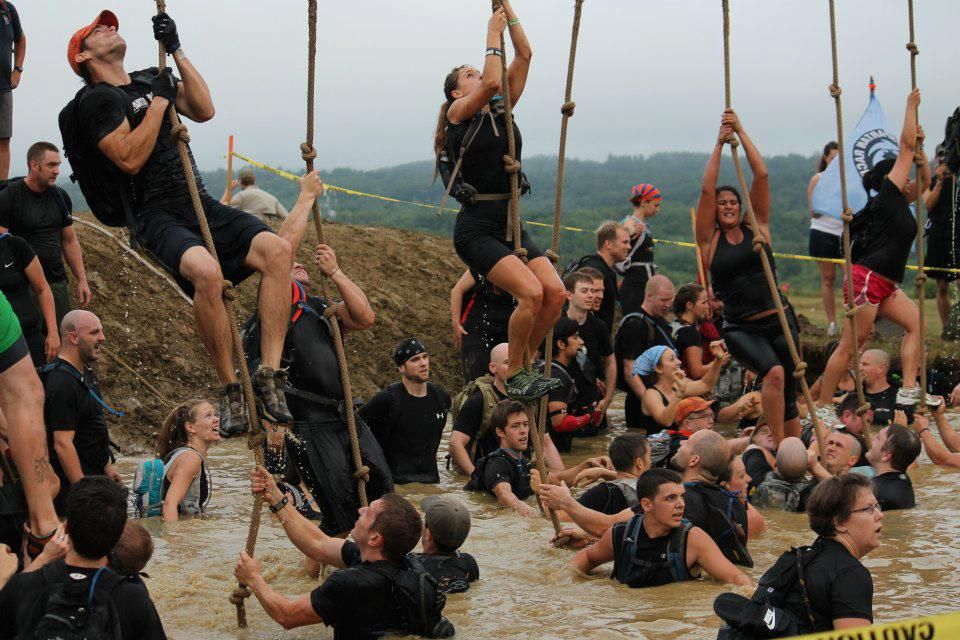 photo credit: Richard Riccardi
How did this realization come about, you may ask?
13.1 
And no, runner friends, I do not mean a half marathon. Trust me, I was fooled a few times as well.  I'm talking the CrossFit Open WOD 13.1
It started off like a blazing forest fire through my social media networks.  "13.1" they said, "burpees and snatches" they said. ALL DAY LONG.  The 13.1 was more viral in my facebook feed than the previous running commentary of Beyonce's Super Bowl halftime performance.  It was insane.  As the week progressed, and 13.1 scores have been posted, the chatter has fizzled.  Until, of course, 13.2 is announced later this week and adds fuel to the incessant fire.
Now before you get offended and start throwing paleo jerkey sticks at my head, please note I write all of this in jest.  I'm actually incredibly thankful to be surrounded by such badass, fit friends, who are passionate about what they do, no matter how they do it…CrossFit, OCR, running, heck, even zumba. Though not currently a member of a "box", I am, for the most part, a big fan of the CrossFit philosophy, training style, and even more so, what the CrossFit community has done to get people off the couch, and change their lives. 
When I was a teenager, I thought I knew everything.  Now, freshly 31, I realize how little I knew then, and how little I still know now.  Everyday I am learning more about the world, and more importantly, about myself.  I remember years ago, when I first discovered my love for running, I felt that everyone on this planet should love running, as it was clearly the greatest thing since sliced bread.  In fact, I simply couldn't understand why someone wouldn't run…obviously completely ignoring the 25 years prior to my new obsession, when I too, hated the act of running. 
You'll be happy to know that I have grown to realize that perhaps running isn't for everyone.  While discussing CrossFit with my BFF the other day (who, for the record, and a badass shout out, is only 3 months into her CrossFit journey and competing in the open) I had a sort of epiphany:
I don't like the gym.
You would think I'd love it, right? Crazy, fitness, can't sit still for too long Heather should adore the gym.  Now don't get me wrong, I don't hate it.  In fact, I go daily, if not twice a day.  I work hard, I'm happy when I make gains and set PR's.  But I don't go to the gym because I *like* it.  I go because it makes me stronger for the things I do love.  Racing. Hiking.  Outdoor adventures.  Climbing over/under/through whatever crazy obstacles they come up with next at the next OCR.
The gym makes me stronger, and in turn, makes what I LOVE to do in my life that much more fulfilling.
And what I love about life, is that we can ALL find our own joy.  That there is so much adventure and good in this world to be happy about…in life, and in our workouts.
My advice to anyone looking to start their fitness journey is two fold: first, find something you ENJOY.  Something that will meet the recommended 150 minutes of moderate-intensity exercise per week (along with resistance, flexibility, and functional training. Read the basic guidelines HERE). Just because Sally loves running, and Joe loves to dead lift and Mary loves yoga doesn't mean it is right for you.  Find what works for YOU, makes you healthier, makes you stronger, and makes you happier.   I know, you hear that all of the time.  But what you don't often hear is this…part two:realize that not everything is going to be rainbows and butterflies.  Sometimes, to be the best we can be, we've got to do things we don't like.  But the point is, every single day, do something to make yourself a better YOU.  Our bodies were meant to move, do not take that for granted.
And then, take it one step further (which I swear is the point of this entire rambling post): find something you are so passionate about that you will annoy your friends on facebook with your enthusiasm.  Running. Acrobatics. Hula hooping.  Wife Carrying (no really, it's a sport).  Or even CrossFit.
Whatever it is, do it with all of your heart.  You will always have my support.  So bring it on, 13.2…
Oh and before I go…