To bring you up to speed: I'm training for a 100 miler I'm not even sure I'll be invited to. As far as I know, invitations for entry to Ancient Oaks 100 miler haven't gone out yet. Or if they have…I didn't get one. Scratch that: since writing this post, the email came through. I did NOT get in, but I'm only #6 on the waitlist, which is pretty damn promising. So I'm going to keep training like I'm in. Because frankly, in this crazy time of COVID-19, who knows if that race – or any race for that matter – will even happen in December. But a new training cycle has given me new focus, and in this time of uncertainty, I welcome the distraction.
As I mentioned in my last training recap post, I wrote myself a snazzy 27 week training program. Why 27 weeks? Well, because that's how many weeks there were between the moment I decided I wanted to run this race and the actual day of the race. Super scientific, I know. Anyway, the first handful of weeks were going to simply be used to get used to being back in a "routine". Followed, of course, by about 19 weeks of trying my best to nail the workouts.
Week 3:
Week three was the first cutback week of the training program. Yeah – already. As mentioned before, my #1 goal this training cycle is to not burn myself out. I want to cross a 100 mile finish line feeling strong – and not feeling like I ran myself into the ground for the 6 months leading up to race day.
Running:
Two easy runs
a cross training day (hiking on the treadmill while watching documentaries).
in lieu of a long run, my friend Brian and I knocked out our lactate threshold tests. He is also training for a winter (January) 100 miler, so we thought we'd get that done and over with, to give us a better idea of our individual heart rate zones and paces going into a new training cycle. Long story short, it was 80+ degrees and 89% humidity when we started at 7 am. Sooo…that sucked.
Strength/Cross Training:
3 strength training sessions (would have loved more – but it's so hard to not want to be outside in the summer!)
3 hour (+) long SUP sessions
1 hour mountain biking (hard effort)
Nutrition:
This was the first week of having a focused nutrition plan from Coach Will at On Pace Wellness. Rather than tell me exactly what to eat, he gave me a list of goals to focus on. Examples included hitting a specific number of ounces of water per day, adding flax and chia seeds to my diet, hitting a specific number of servings of leafy greens and legumes to my diet. (I'm not sharing exact numbers, as prescribed amounts may vary from person to person). I enjoy this approach because it really makes me think about how I'm going to achieve these nutrition goals, rather than robotically following a plan.
For the most part, I hit the goals relatively easily – save for the legumes. Note to self: find more bean recipes.
How I'm Feeling:
Overall, great. My knees are feeling a little wonky, which I attribute to the increased pavement mileage. Since we recently moved, we're a solid 25+ minutes from the trail that used to be a quick 10 minute drive away. I'm going to have to figure something out, as I definitely need more trail time. But for now: this works.
Week 4
I'm glad I programmed a handful of "these matter but also – they don't…" weeks into the plan, because this week was a bust. Sort of.
My mother-in-law and sister-in-law finally sold their house in Vermont, a bittersweet moment for all of us. But in exciting news: they moved down to South Carolina to be closer to us. So on Monday I flew up to Vermont (masked, sanitized, and quarantining myself from the general public, other than while on the plane/in the airport) to help them pack the truck and make the nearly 1,000 mile drive South.
And yeah, I absolutely wore my "I don't even like driving this far" shirt, because who misses an opportunity like that?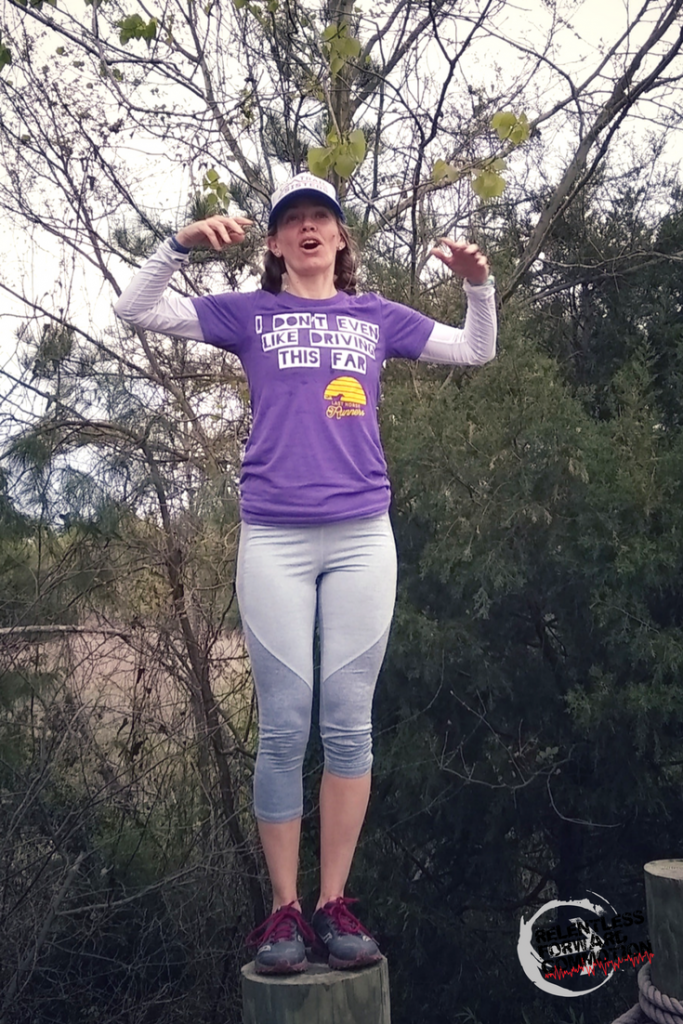 While I was there, I was able to get in two shorter runs (3 & 4 miles respectively). Though not what was programmed, it was better than nothing. And these views? Priceless.
And then I spent two days in a car, and two days recovering from being in a car. This morning's 10 miler was cut short just before 6 miles due to a slew of unrelated issues. Most notably though, was that my normal route was suddenly completely gated off in multiple places along a cart path. Such is life in two gated communities who apparently can't get along with each other. (Insert massive eye roll here)
But I digress. Family was at home waiting on me to finish so we could hit the beach early, so I just called it quits when I (unexpectedly) passed the house much sooner than anticipated. Beast mode? Die hard? Complete training runs before all else? Hell no. Just real life confessions here my friends. I went surfing instead and didn't regret it one bit.
Strength / Cross Training
I did not set foot in a gym this week. I did, however, lift a ton of furniture and boxes while loading a moving truck. And then two days later, lifted a ton of furniture and boxes while unloading a moving truck. Functional fitness? It was something.
Nutrition:
Yeah. Bust. See above, same reasons. I will give myself credit for not succumbing to my normal road trip food of donuts and Doritos, and instead making much healthier choices. But I DEFINITELY didn't hit my water goals (didn't want to have to stop to use the bathroom every 30 minutes) and veggies and leafy greens while traveling? Doesn't always happen. Or at least not without a bunch more foresight and planning, which is going to take some practice.
Fortunately, Coach Will was understanding, and we'll be repeating this weeks goals next week. So stay tuned for a summary on that one during the week 5 recap.
How I'm Feeling:
Tired. Really, really tired. Not because of training, but rather, because of an upheaval in life. All for good reasons, but an upheaval none the less. Add to that mix a couple of nights of less than stellar sleep (non training related – definitely travel related). As such, I'm glad that this week's running and workout volume was (painfully) low, as my body is already exhausted. I'm learning to lean into and respect my bodies obvious cries for rest, rather than feel any "guilt" for not completing my training week as prescribed. It's a work in progress – especially for my stubborn self – but we're definitely making progress.
Looking ahead to week 5:
Next week is technically week 2 of a 3 week build cycle (though week 1 was obviously a bust). I'm looking at approximately 38 (ish) miles this week. It's going to be hotter than Satan's non-ventilated, not air conditioned attic out here in Myrtle Beach this week, but fortunately, I seem to thrive in the heat (usually). My goals are as follows:
Hit at least 90% of my mileage goals
Get to the trail at least once
Hit 90% (or more) of my nutrition goals from Coach Will
Strength train at least 3x
So: cheers to heat, humidity, and forward (com)motion!