When I was younger and would hear the saying that "marriage is all about compromise" , I often pictured that to be about mundane, everyday things.  Such as: what movie to watch in the theater, whether to argue over the ugly outdoor rug your spouse wants to buy or to just let it go,  or what to have for dinner that night.  
And I suppose to some extent it is about that kind of stuff.  For example: I'm not a huge fan of sushi, but if given an option, my husband's last meal on earth would be sushi (vegan, of course), and he would die happy.   So from time to time, I suck it up and eat sushi for dinner – whether homemade or at the "all you can eat" joint that he cannot get enough of (not literally, of course, because that's the whole idea).  I also cannot distinguish one 80's hair metal band from the next, but Geoff loves the tunes of the Aqua Net and denim jacket generation,  so sometimes that's what's on the radio during a road trip. 
In our marriage, however, compromise is most often found in the calendar. More specifically, whose goal race or event we're going to chase next, and subsequently, spend the next half a year training for.
I will be the first to admit that in our nearly ten year relationship (just shy of five of those married), that calendar has certainly favored my goals, and the compromise has mostly come out of Geoffrey.  He is indeed a selfless endurance spouse, there's no doubt about it.
 When we first met, he was a road cyclist and gym rat, who occasionally dabbled in adventure racing. I, on the other hand, was a runner who at the time, was head over heels in love with obstacle course racing.  And as Geoffrey and I fell head over heels in love with one another, he started pursuing obstacle course racing too. 
Then, as I decided to transition to more trail and ultra running – he did too.  We ran dozens of races together, side by side.  We completed our first 50 milers together, first 100K's together, and even finished our first 100 miler together, hand in hand.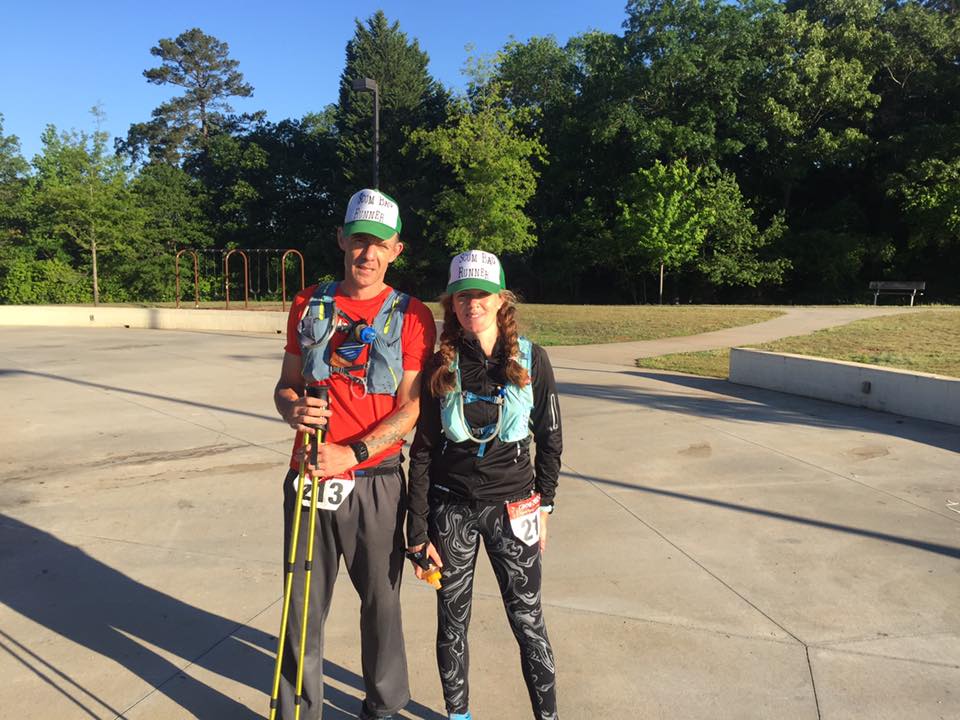 Of course, every single one of those races was my idea.
Over time though, it became obvious that ultrarunning was definitely more my "thing": I enjoyed it more than he did, and what's more, I was more successful at it. More often than not, he'd end up quitting (DNF'ing) a race midway through, and I would go on to finish.  Eventually, I began running by myself from the start, and Geoff transitioned from racing partner to crew chief.  
Around the same time, Geoff began to rediscover his passion for adventure racing.  We found a local, entry level race for me to literally get my feet wet in, and it was all over.  Next thing I knew, map cases and books on navigation skills began showing up.  Links to various AR events around the country were coming my way via Facebook messenger with a "hey, check this out" note attached.  
We somehow acquired not just a kayak, but an entire floatilla during the pandemic.
Suddenly, the calendar was no longer just mine to schedule.  We were now also Adventure Racers.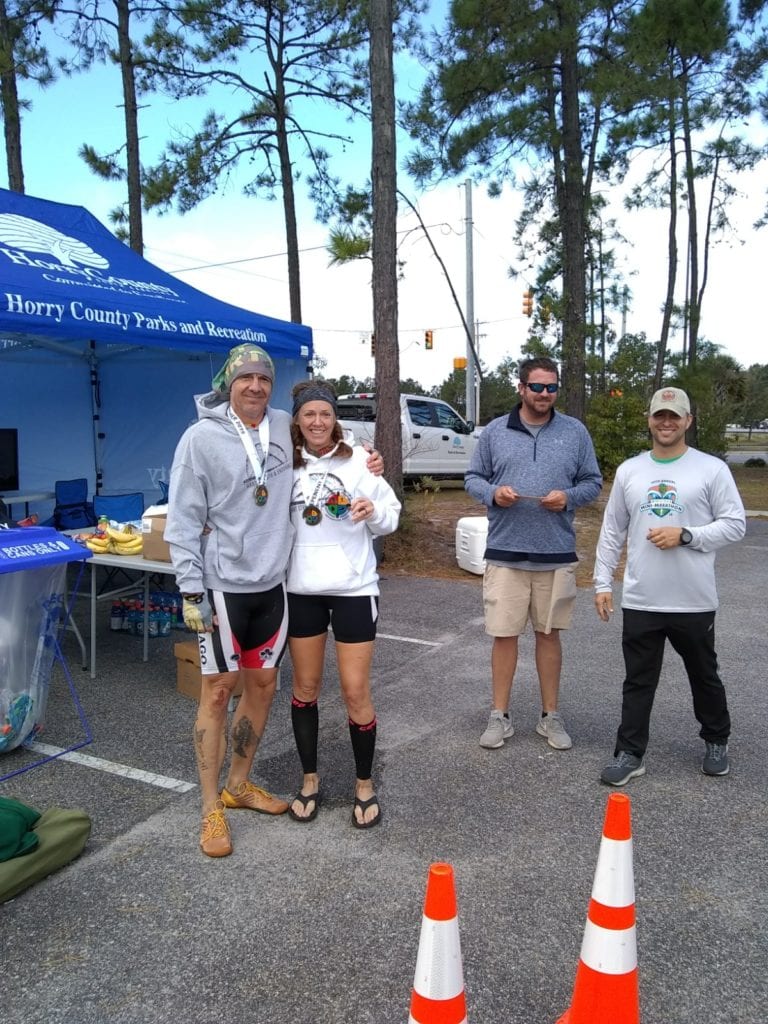 To add to this new scheduling approach, I spent a solid year running myself into the ground, and another full year trying to recover from it.  My husband – understandably – asked me to start limiting my 100 mile distances to one event a year.  The "girl power" side of me, the one who was raised by a father who liked to remind me constantly that I could do "anything I set my mind to", wanted to initially scream and shout "YOU CAN'T TELL ME WHAT TO DO!"  But the rational side of my brain – the one who recognizes this is simply my husbands way of trying to look out for my physical and mental health, and frankly, our marriage – realizes he's got a point.  Sometimes you need an outside perspective to help you get out of your own way.
And so I agreed.
And that's how – and all the reasons why – I ran a 100 miler in April, and have since happily resigned myself to training for "The Bear",  a 12 hour adventure race being held in Blairsville, Georgia this fall. 
I've been enjoying the training, and learning how to get stronger and better at this new-to-me-sport.
But as anyone who has a true passion (some may call it an addiction)  in life can tell you…that shit doesn't just disappear.   It may be quiet for a while, as a recent big effort leaves you feeling satisfied.   It may be quiet while you learn to appreciate other things – like swimming, mountain biking, and paddling -while you truly relish in the time you HAVE to try other things, rather than being a prisoner to a training plan. And you enjoy it and look forward to chasing your spouse's goal…you really, truly do.
 But when there is something deep within you that compels you to pursue a crazy ass passion like ultrarunning for reasons you still aren't even sure of, you know you can only stay away for so long. 
Eventually the whispers will begin.  It usually starts quietly, almost unnoticeable.
Idle hands will begin scrolling ultrasignup.com.  Realizing you're almost 40, and had hoped to start the Western States lottery qualifying process by now, so you check the list of qualifying races to see what's out there,  "just for fun".   You'll mention it casually to your spouse – nothing set in stone, of course, but a brief "what do you think of this one someday?" sent over a Facebook message with the accompanying link.
Weeks go by, you mention it a handful more times in passing conversation. 
 "Hey, this would fit in nicely to our winter schedule. I'm going to think about it."
"Oh, did you know so-and-so is doing this race? It would be cool to be there too, I'll keep it in the back of my mind." 
Over time, the comments get a little more serious.
"This would be an ideal event – the terrain is identical to our local terrain. I can easily train for that, probably set a distance PR too if I wanted to." 
"If I do this race, I'll have plenty of time to recover before (insert spouse's goal event here), the timing is perfect". 
Then, one day you say outloud what both of you know is coming:
"Hey – do you mind if I register for Long Haul 100?"
Don't worry – this Adventure Race is still my priority for the summer. Oh and that off-road triathlon I signed up for. Have I mentioned that yet? No? I'm doing an off road triathlon, assuming I can eventually swim more than two lengths of our 16 yard pool without needing to stand up. But I'd be lying if I didn't admit the excitement I feel deep within my soul at having set a date to once again "dance" with the 100 mile distance that simultaneously destroys me and makes me feel alive.
Man, I love this sport.
We all have our reasons to hurt. I still don't quite understand mine, but I'm grateful for each opportunity I'm given to explore the pain – and subsequently grow as a human – a little more. What's more, I'm grateful for the journey it takes to get to the start, and hopefully, finish line…and all the adventures, lessons, and stories I gain along the way.
See you in 222 days, Long Haul.
p.s…thank you husband. For your endless support, and sharing the calendar.