5 weeks down, 13 to go.
The great thing about having switched our long runs to the beginning of the week means it's virtually impossible to miss the long run.
The bad thing about having switched our long runs to the beginning of the week means it's really easy to blow off the rest of the week.
And that's kind of what happened this week.
MONDAY afternoon we patiently awaited for the monsoon of a rainstorm to let up so we could get in our scheduled 18 miles.  We gave the weather until 5 pm, figuring that if we started any later we'd be out there in the dark. At the very last minute, the weather did clear up, so we headed out.  The bummer about running post rain, in August, in South Carolina, is the fact that it suddenly feels like you are running in a sauna.  You can feel and see the water vapor heating up and evaporating into the air off of the hot pavement.
Geoff and I decided to give a 10 minute run/1 minute walk interval a try, something we are considering doing right from the start for the ultra.  It felt grand to have those walking breaks, and the perfectly coincided with each major intersection we crossed that required waiting for a pedestrian walk.  It wasn't until about an hour in that I realized we were actually running for 9 minutes and walking for 1 minute, as I instinctively stopped us on the ten minute intervals (10:00, 20:00, 30:00, and so on).
Math wasn't my strongest subject.
Anyway, I felt great, albeit the pavement beat the hell out of my legs, as it always does.  Poor Geoff started to fall apart again around mile 15, so the last 3 miles were slow as I did a number of out and backs, circling back around to check on him.
He even took a puddle break.   Running isn't pretty.
But, we got it done.
And then we proceeded to go DIRECTLY to the grocery store where we purchased shameful items such as neon orange nacho cheese dip, frozen pizza, and a coca cola.  I cannot be held responsible for my food choices within one hour post 18 mile run.  The runchies are real, ya'll (<- using my "Southern")
TUESDAY
We hit the trail, which seems to be our long run #2 M.O; the legs appreciate the softer terrain.  Once again we fell short on our second long run of the week.  This time, it was me who struggled.  The legs didn't feel too bad, but I felt as though there was a never ending wall in front of me that I couldn't get over.  I had ZERO energy.  I'm wondering if the fact that only about 12 hours had passed between long run #1 and long run #2 had anything to do with it.
It sucked, it sucked a lot.
Alas, I reminded myself that the whole point of long run #2 *is* to embrace the suck. It's supposed to hurt, that is the point.
Only 7 miles were done that day.   The good news is I was reminded of how much I LOVE my Hoka Cliftons on sore legs/feet.  For a regular run, they are just OK.  But put those on when your legs need relief, and they are like clouds sent down from heaven. Now to get a pair of trail Hokas…as my Cliftons were slipping and sliding in the mud.
WEDNESDAY
Was supposed to be a rest day.  Except I also forgot that it was the first night of the new running club my gym has started up.  And guess who is running the club (literally and figuratively?) Yours truly.   So I participated in a short bout of speed work. I didn't wear a GPS but I'd guess I got in 1.5 miles AT MOST with warm up and cool down.  It was a very easy intro to speed work.  And surprisingly it felt good on my legs.
I also took a yoga class that morning, and taught a Silver Sneakers class.  Active recovery?  Or training like a jerk?
THURSDAY
Still no soreness, but the fact that I didn't take a full rest day came back and bit me in the ass, hard.  Not only was I tired, but I ate a really crappy diet that day, and when it was time for the 6:30 pm 5 mile group run, I crashed.  My legs were tired, my stomach hurt…and after 1.5 miles I called it quits.
FRIDAY
I did nothing. I have no valid excuses.
SATURDAY
GORUCK light, class 927 .  There was minimal running over the 4 miles we covered rucking, but I was indeed on my feet for nearly 5 hours.  Except for when I was in the ocean or rolling around on the sand.  (Read the recap HERE).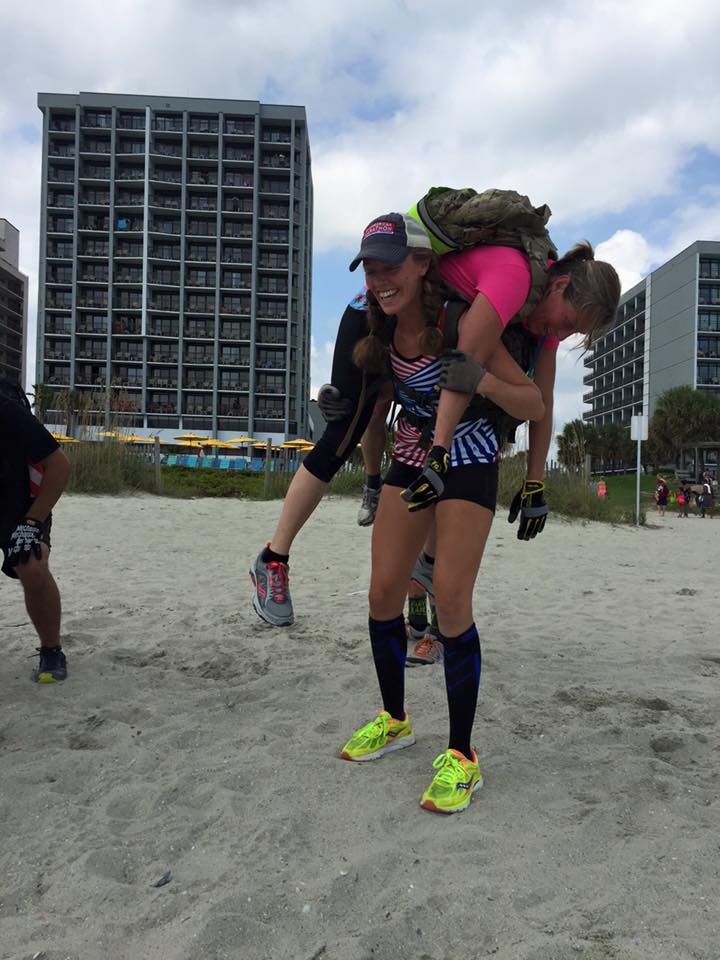 SUNDAY:
Gluttony (in the form of cake) and laziness (disguised as "recovery" from GORUCK)
Total mileage?  Somewhere between 27-29 miles, + GORUCK mileage (about another 4 miles).  NOT ENOUGH.
But, these things happen.  However, we are starting to approach the part of training where falling short of mileage is only going to hurt me/us.  Focus on nutrition, rest, and not training like an a$$hole needs to be reigned in.
I read a random "how to train for your first ultra marathon" post that I found on pinterest today.  It said that two months out from your race, you should be able to run the total race distance over your two long runs combined. TWO MONTHS.  I'm taking that advice with a grain of salt, because I had never heard of this guy and didn't see any valid credentials or race experience.  But it made me slightly nervous already.
50 miles on the schedule for week #6.  FIFTY.   I'm intimidated and motivated.  And it will be capped off with my first naked 5K.   Yep.
Here's to a good week…