Confession #1:  I love caffeine.
Confession #1:  I hate coffee.
Yes, it's been an interesting journey as a caffeine loving, coffee hating, wayfarer.  Most specifically when I wake up weary in the morning, in need of an invigorating "wake me up", and mid afternoon when everyone else is drinking coffee and I need an energizing "pick me up".  Sure, there are a gazillion options out there.  Tea usually doesn't energize me enough.  Energy drinks do, but are full of sugar, chemicals, and who knows what else.   I'm always on the lookout for something healthier, so when I was asked to take the FRS Two-10 Discovery Challenge, I gladly obliged.
I've been around the block long enough to remember FRS when it was first released waaaay back when.    I was somewhere around hour 10 or so of a 13 hour bartending shift, when my little sister (a waitress at the same restaurant) offered me an FRS Energy & Endurance chew to help me power through the rest of my shift.  It worked.   It has been many, many years since that day, and many less healthy energy choices since, so I was excited to revisit FRS.
What is FRS?
The FRS formula was originally developed in 2004, and tested by health scientists as an effective way to deliver natural, sustained energy to chemotherapy patients. The FRS patented Healthy Energy formula features the all-natural antioxidants quercetin (found in blueberries and apples) and green tea extract, plus seven essential vitamins (B1, B2, B3, B6, B12, C and E.)
Although FRS products contain a small amount of caffeine, it is derived from green tea extract and is a mere 20mg to 48mg, which is the equivalent to 1.5 to 4 ounces of coffee. The caffeine in FRS is not the primary source for improved energy and performance but rather acts as a metabolic enhancer to kick-start the patented FRS formula.
Equally as important is what's NOT inside. FRS does not contain preservatives or artificial flavors.  Which explains the really crazy dark yellow color (it's the quercetin!)  The patented FRS Healthy Energy formula uses antioxidants and vitamins that work with the body at the cellular level, unlike traditional energy products that rely on chemicals, sugar and large doses of caffeine to create energy spikes.
According to various studies* the effects of quercetin on energy levels include:
30% of participants had a reduction in mental fatigue
17.1% saw improvement in concentration
13.2% saw an increase in endurance
2.9% saw an increase in physical performance
3.9% saw an increase in Vo2max (typical measure of fitness)
(*more information and sources regarding studies can be found HERE)
What is the Two-10 Discovery Challenge?
FRS challenges you to try their products two times a day for ten days to see if it helps boost your energy. The FRS Two-10 Discovery Pack includes: 1 full-sized bottle of FRS concentrate (16 servings), 1 sample pack of FRS soft chews (2 servings), and 2 regular-sized cans of FRS drink (2 servings).
I  of course started my challenge around 6:30 in the morning, after working a very late night at the gym the previous day.  Exhausted, but with a deadline due, I needed something to wake me up AND help me focus, ASAP.   Now, I won't lie, I do like energy drinks, often simply for the carbonation.   So I decided to mix the FRS concentrate with plain, carbonated water courtesy of our Soda Stream.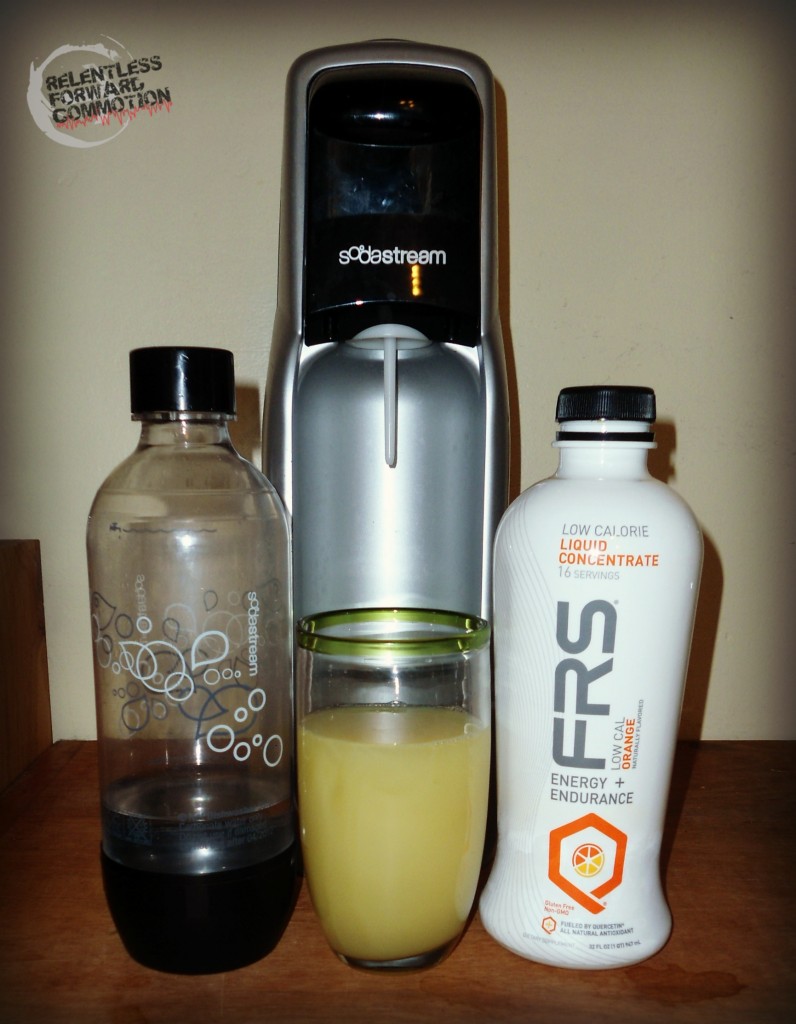 Results?  A bubbly drink that woke me up without making me jittery.  I powered through the day, and a few hours later headed to the gym.  For part two of day #1's challenge, I took an FRS Energy and Endurance chew.  Now, as one who is admittedly a common consumer of chemical laden pre-workout that causes your fingers to tingle and makes you feel like you could pick up a car, I will tell you, FRS does NOT do that.   The energy boost from FRS is apparent and long lasting, but not screamingly so, as something like a pre-workout.    So pretty much, we can sum up my FRS experience with the following positives and negatives:
THE GOOD:   – FRS is a more natural feeling energy boost, no jitters, no racing heart, no tingling fingers, no crash.
– FRS is a much more natural option than many other products on the market.
– Single serving cans and chews are portable and convenient.
– No "crash" after taking the product.
THE BAD (that is actually still a "good"): FRS is not a preworkout.   This is only a bad if you are one of those people, and I'll admit I sometimes am, that wants a crazy boost before a big lift session at the gym.
Therefore, as both the good and the (not really) bad would indicate, I would recommend FRS to anyone looking for either a more natural alternative to all of the chemical filled energy drinks and supplements out there, AND to those who are more sensitive to the effects of some of those higher caffeine (and chemical!) products.
If you want to try FRS, check out their risk free Two 10 Challenge pack and give it a try for yourself.    You can also learn more by following FRS on their various social media channels:
Facebook: https://www.facebook.com/FRSHealthyEnergy
Twitter: https://twitter.com/FRS
Instagram: http://instagram.com/frsenergyendurance
FRS has been kind enough to offer a second Two 10 Challenge pack to one of my lucky readers!   To enter, please use the rafflecopter below.  Winner will be chosen at random and notified by email on 12/19. GOOD LUCK!  Contest ended! Thanks for participating!

This post is sponsored by FitFluential LLC on behalf of FRS.