I've touted this countless times before, but I'm going to say it again: running is a lifetime sport. As in: we want to be able to do this for the rest of our lives. I'm constantly reminding my clients and friends to take a step back and remember this very important fact. And of course, I'm often reminding myself: running is a lifetime sport…
…so don't be stupid.
Remember that there are going to be ebbs and flows. There are going to be times when you are on top of podium, celebrating all of your hard work and dedication. Then there are going to be times when you are face down on the trail, wondering why the hell you even bother.
Let's get poetic: this summer has been a season of transformation. That stage between caterpillar and butterfly, where the caterpillar has to turn into some sort of gross liquid goo inside of it's cocoon.
I'm currently the goo.
But I'm fortunately past the point of feeling sorry or pissed as I self destruct, and rather, I can begin to see how this patience and time off will transform me into something better. In this case, not a butterfly but a stronger, healthier, happier athlete.
As I've mentioned a couple of times, my current plan is to focus on quality over quantity. Shorter distances, getting my speed back, getting my strength back. So far, so good.
I'm back to 5 days a week in the gym, including two leg days, and I'm no longer waddling around like a baby giraffe. I'm back to actual, prescribed speed workouts (on the track, no less!), and my coaches (who run with me) will NOT let me slack.
Hey there zone 4 & 5, I forgot what you felt like.
I've also been on my mountain bike more in the last two weeks than pretty much the last entire year combined, thanks to a new saddle. The old one was trying to vandalize my lady bits. I didn't realize it was possible to ride pain free. Yeah, I've shared that too-much-information on almost every social media platform, but I need you to know how thrilled and relieved I am.
The ultimate goal is to take a bit of a step back the remainder of this year, and all of 2020. I want to temporarily focus on shorter distances (like you know, 50K's…heh) and then tackle another 100 miler in 2021 with a stronger body and a smarter mindset. I want to not just complete these long distances, but I want to do well.
So, my race calendar for the remainder of 2019 looks like this:
September 14th: Naked 5K…again. What a way to throw down a baseline 5K than running it NAKED. As in, no clothes, I do get to keep my Garmin on. And no, I'm not kidding. This will be the third time we've raced in a naked 5K, and I'm actually really looking forward to it. Before someone jokes "pictures or it didn't happen", know that cameras aren't allowed on property. So you can read these posts instead:
October 5th: Revenge of Stede Bonnet. One of our $30 club races. I contemplated bumping down to the 5 or 15 mile race, but I think I'm going to just run whatever I feel like -whenever I feel like – non competitively. Definitely not 10 hours worth. I love being on the trails at night.
October 11-12: Ragnar Trail – Lake Wawayanda . I'm very excited to be a part of the Fit Approach / Sweat Pink team for my third Ragnar trail event. In fact- I'm captaining this adventure, which is an honor. I've always been a fan of the Fit Approach team, but these ladies became family after EMPOWER Summer Camp this year. I can't wait to see some of them again!
October 19th: Paris Mountain 25K. This was one of our very first races when we moved to South Carolina, and is put on by our friend and awesome race director, Matt Hammersmith of Upstate Ultras. It also happens to be held in a gorgeous state park in the upstate, on Geoff & I's anniversary weekend. So clearly, we're going. I did recently drop from the 50K to the 25K distance. See? I'M BEHAVING.
November 2nd: Independent Republic Adventure Race Since the day I met Geoff, he's been hassling me to do an adventure race. And honestly, I've wanted to do one…but the opportunity and timing simply never worked out. Well, I have no excuses this time, because this race starts maybe 5 miles from my home. I'm really looking forward to diving into this new world. I better get to work on my map and compass skills…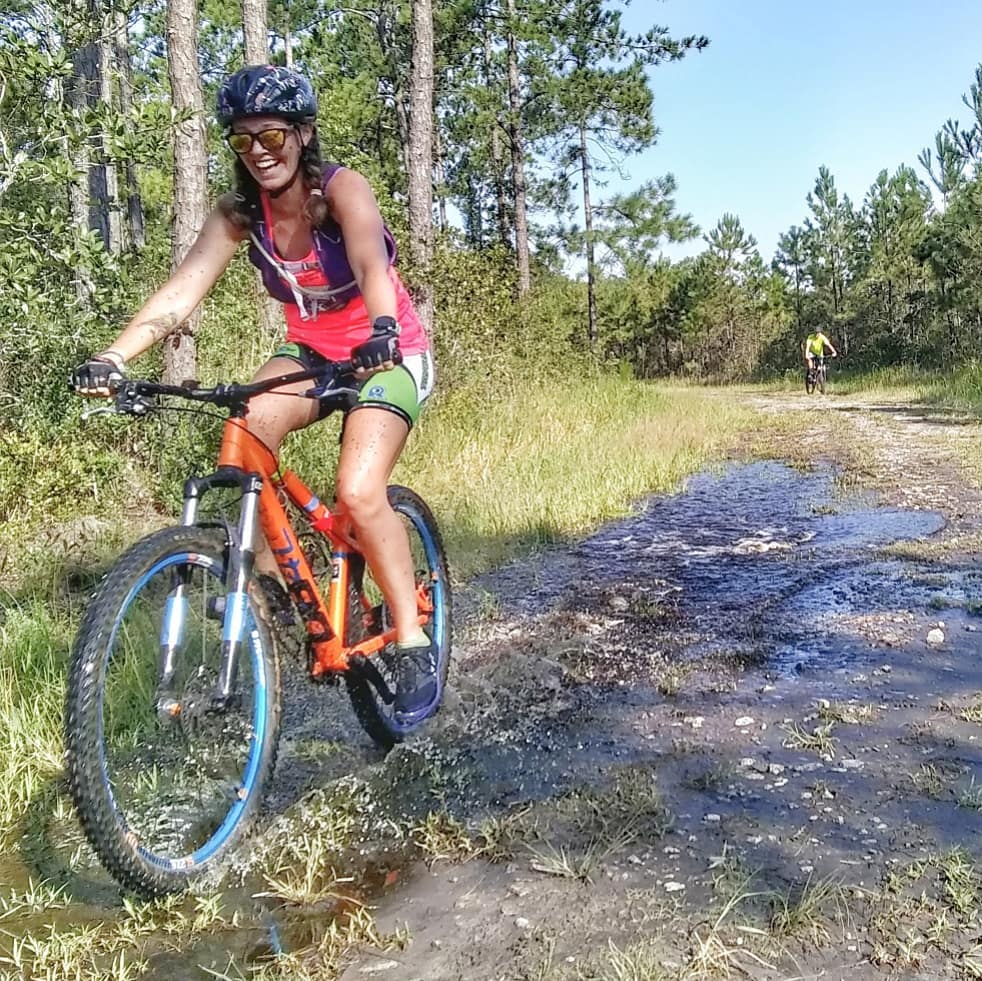 November 16th Saddler's Creek 24 hour. I'd like to put a disclaimer before this one: My husband signed me up for this one. And it's a first time race, and we wanted to support our friend Matt. I probably will NOT run for 24 hours, as I really am trying to heal my body. But I'll be there. So we'll see what happens.
December 7th: Last Chance 50K. It's a flat, fast course, it's not far from home, and it's part of our $30 club. Ultimately, this is the race I am planning to train towards for the remainder of the year. My "A" race if you will. All of my distance will be built around this particular. Aaaaand it's only 14 weeks away, so I better get on it. Last year I posted a time of 5:37:28. I had a strong first 3/4 of the race, then a monsoon started, and being December, I froze. This year, I'd love to get closer to 5:15.
It's really, really, strange to have time goals again (versus distance). It's also kind of fun.
I know there's still a few of you who follow along for more than just my informative posts. So if you've been wondering what I've been up to, or what I'm about to be up to…there you have it. I'm definitely looking forward to taking on some shorter distances this year, while cheering my friends and clients on as they tackle the longer distances.
I'll keep your grilled cheese sandwiches warm for you at the aid station.
P.S…
I spent the last week working on a new project. You should go check it out…