Three things I love (in no particular order):

1) Texas Pete hot sauce

2) The thrill, terror, and temporary feeling of flying when you trip on a root during a trail run, but still land on your feet, and then keep running.

3) When one of my favorite shoe companies *also* makes really fashionable, functional, running clothes.

And #3 is what we are about to talk about today (all discussions regarding Texas Pete must be held until the review is over). My friends at Merrell were awesome enough to send me a few pieces from the Spring running clothing line.   It's been about a month, I've put them to WORK, and now it's time for my review.

Let's start with aesthetics.  When I opened the box, I'm almost certain I did a few jumps and spins out of  excitement.  Staring back at me from the box was a handful of BRIGHTLY colored clothes.  Bright and lush yellows and pinks, colors that stands out, yet aren't tacky in the neon, blinding sort of way.   Rumor has it, the men's line is nice and bright too.  And I twitter quote Brad from durtyfeets.com "Nice to see colors on dudewear too. I like my kit to scream: Check me out!"  Never one to hide in the back of the room or blend into the crowds, I have to agree with Brad.

The styling of this line is incredibly feminine, yet fierce.  The Thelon tank in particular immediately reminded me of the ever trendy Lululemon brand.  The Merrell clothes, however, felt less "dainty", and instead felt built to last, unlike some of my lulu tanks that I'm afraid to take out of the safe confines of the gym.  The Merrell gear is built for the trails.

Crazy Heather in the snow. Thelon Tank, Afton Short, Mix Master Move Glides.  Photo credit: Geoffrey Hart
What Merrell says: The Thelon Tank is a new athletic top that flaunts girly design with fitness- worthy details. A built-in jog bra with wicking mid-panel and flexible fabrics make moving a breeze. The strappy combination of T-back and shoulder straps crafted from soft stretch nylon with pleated bust flows into a comfy, wide waistband that hugs the hipline for a feminine look and feel. (MSRP $60)

What I say: I LOVE this tank. So much so I could karaoke sing it a Toto ballad (It's gonna take a lot to take me awaaaaay from youuuuu!!!).  OK seriously though, the thelon tank has a comfortable, flattering fit, that shows off the killer arm muscles I've been working hard all winter for, while being a little forgiving in the tummy area (I'm a mom, trust me, I get it.)   Snug in all of the right places, like the waistband and chest, yet flowing enough to help keep me cool.  This tank will be perfect for the summer months.  The contrasting colors are bright, and the tiny pinstripes on the shirt (hard to see in the picture, but similar to the close up posted in the Thelon tee review below) give the tank an extra "pop".  In case, you didn't understand the first few times, let me say it once more: I LOVE THIS TANK. I know people read reviews to learn the good AND bad about products, but I truthfully have nothing bad to say about this tank.   The price point is comparable to some of the more expensive companies, but as mentioned before, the Thelon tank feels as though it is up for a burly trail run in addition to a yoga class.

  

What Merrell says:  The Afton is a high-stretch athletic short for warm weather running. Scalloped side seams flatter the leg while preventing uncomfortable shifting. A zip secure pocket on the right keeps keys, a packet of GU or an iPod secure. (MSRP $45)

Afton short. Photo credit: Merrell.com
What I say:  Love the color. Love the fabric. Love the pocket. Hate that there is no liner built in. I suppose it's questionable whether the following information is "too much", but here goes anyway: I run commando.  You know, sans-underoos.  Because honestly, who needs extra layers "down there" to chafe and/or relocate to places they shouldn't be, thus distracting me from my run.  I rely on the built in liner that accompanies most running shorts.  So I was pretty bummed that this pair doesn't have built in briefs.  I will probably devote these shorts to hiking or other less strenuous outdoor activities where the underwear issue (i.e., wearing them) won't be such a bother.   Now on the flip side, if you are an underwear runner, and the extra lining of built in briefs is a bother to you, than the afton short might just be exactly what you are looking for.
 What Merrell says: Throw on our versatile
Thelon
 square neck tech tee for reliable dry comfort whether you're layering up or scrambling up under the sun. Cap sleeves, bust seaming, and super soft, subtly-striped fabric look pretty cool on the trail. Merrell® Opti-Wick™ moisture managing, and sun-protective performance keeps sweat off of your skin and dries quickly.
MSRP: $45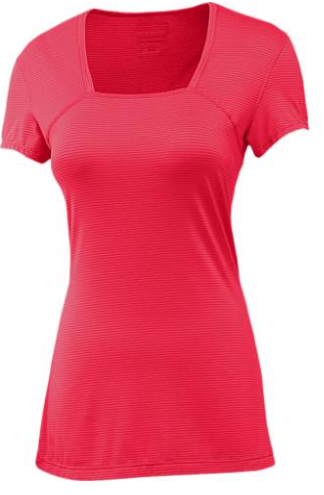 Thelon tee. Photo credit: Merrell.com


What I say:  With the same bright colors and pin stripes as the thelon tank, this shirt really stands out.  The square cut of the neckline is different and eye catching. The shirt has a flattering feminine cut, but is still loose and flowy enough for comfort.  The cut of this shirt is ideal for someone who wants something far more flattering than a t-shirt, but far less skin-tight than most athletic wear.  While sadly, I haven't been able to test the sun protection factor of this shirt (winter in Vermont), I can vouch for the sweat wicking capabilities.  It kept me dry and cool both in the gym, and under my many layers when running outside.  I am typically a tank top gal, but the sleeves on the Thelon shirt didn't impede arm movement.  Nothing is more frustrating than reaching for something overhead and having your entire shirt ride up over your stomach.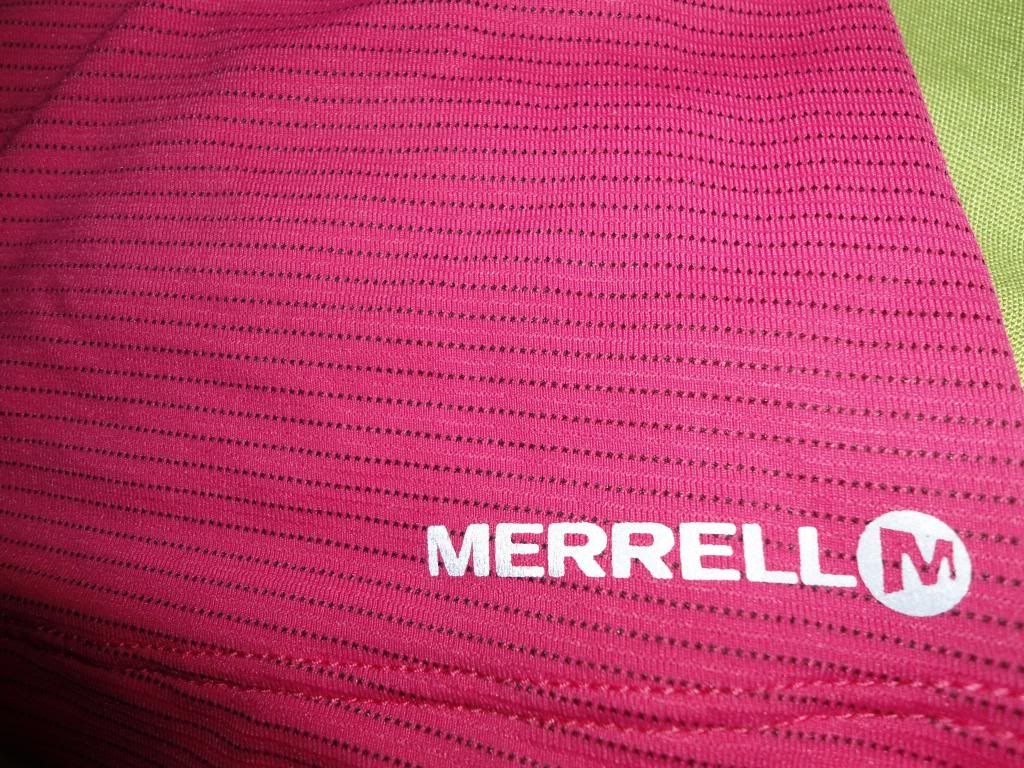 close up of the pinstripes, and the Merrell reflective logo
What Merrel Says:– For cooler days where you need more coverage, the Orenco jacket  features mesh-lined vents under stitched geometric panels and underarms that subtly let air in but keep precipitation out. A hanging hood offers further protection from the elements and reflective details keep you visible in low light. MSRP $89.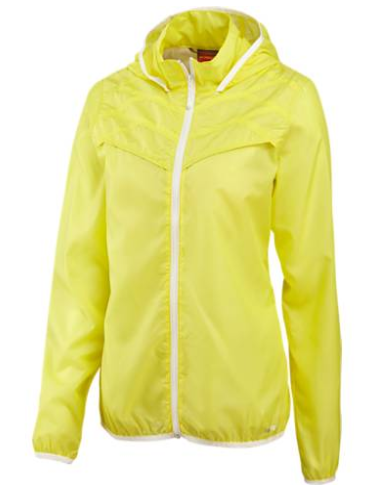 Orenco Jacket. Photo credit: Merrell.com
 What I say:  This one has been difficult for me to test. It is a VERY thin jacket, which is perfect for a windy spring, summer, or fall day.  The problem is, I live in Vermont, and it's winter time.  It hasn't been windy and cool, it has been downright freezing outside.   This week, however, the temps have warmed up to a balmy mid thirties to low forties.  For us, that's a heat wave. In fact, just the other day, when it was sunny and 45, we opened all the windows in our apartment.  Anyone else remember the South Carolina days where I wouldn't run outside if it was below 55 degrees? Ironic, isn't it?  But back to the review.  I finally had the opportunity to test the Orenco as a top layer over a simple long sleeve tech shirt.  Lightweight and breathable, the orenco was certainly comfortable.  But most importantly, it kept me DRY in the slushy conditions (around these temperatures, mother nature can never decide if it's snowing or raining, so it does a little bit of both at the same time.)  I like that it has a hood, and a high zip neck.  But what I like the most about the Orenco is that it is so lightweight, you can quite literally roll it up and stuff it into the pocket of a camelback.  This will be an integral piece of clothing for this summer's training and outdoor adventures.  The only downside, in my opinion: no traditional front pockets.  It does have a pocket on the back, I just personally prefer one I can reach without having to stop.  Perhaps I simply need to work on my coordination.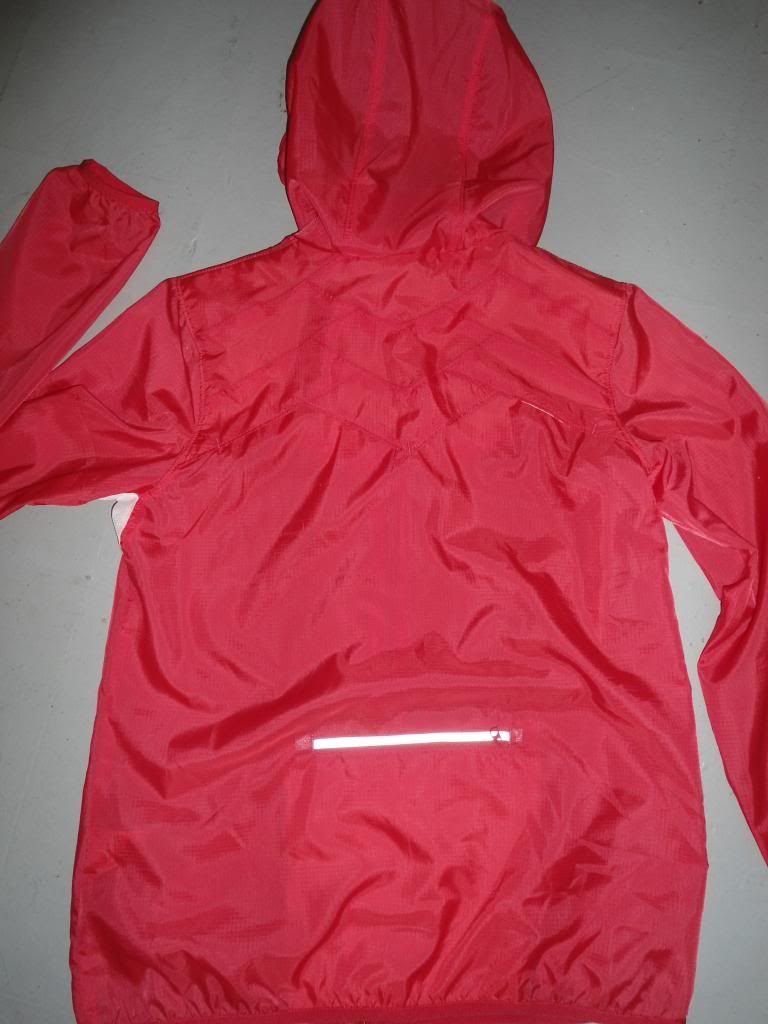 Back view of Orenco Jacket. Note zippered, reflective pocket.  Photo credit: runfastermommy.com


All in all I'm incredibly pleased with the spring/summer lineup of running clothing from Merrell, and will be adding these pieces to my regular workout/outdoor adventure wardrobe.  Which, lets face it, is synonymous with "everyday attire".  I'd rather run hills than wear heels. 

While Merrell provided me with the clothing free of charge, the opinions states, as always, are my own. If you have *any* questions regarding these items, feel free to comment below, and I will do my best to answer them, and if I can't, will ask my buddies at Merrell for you!

Now….GET OUTSIDE!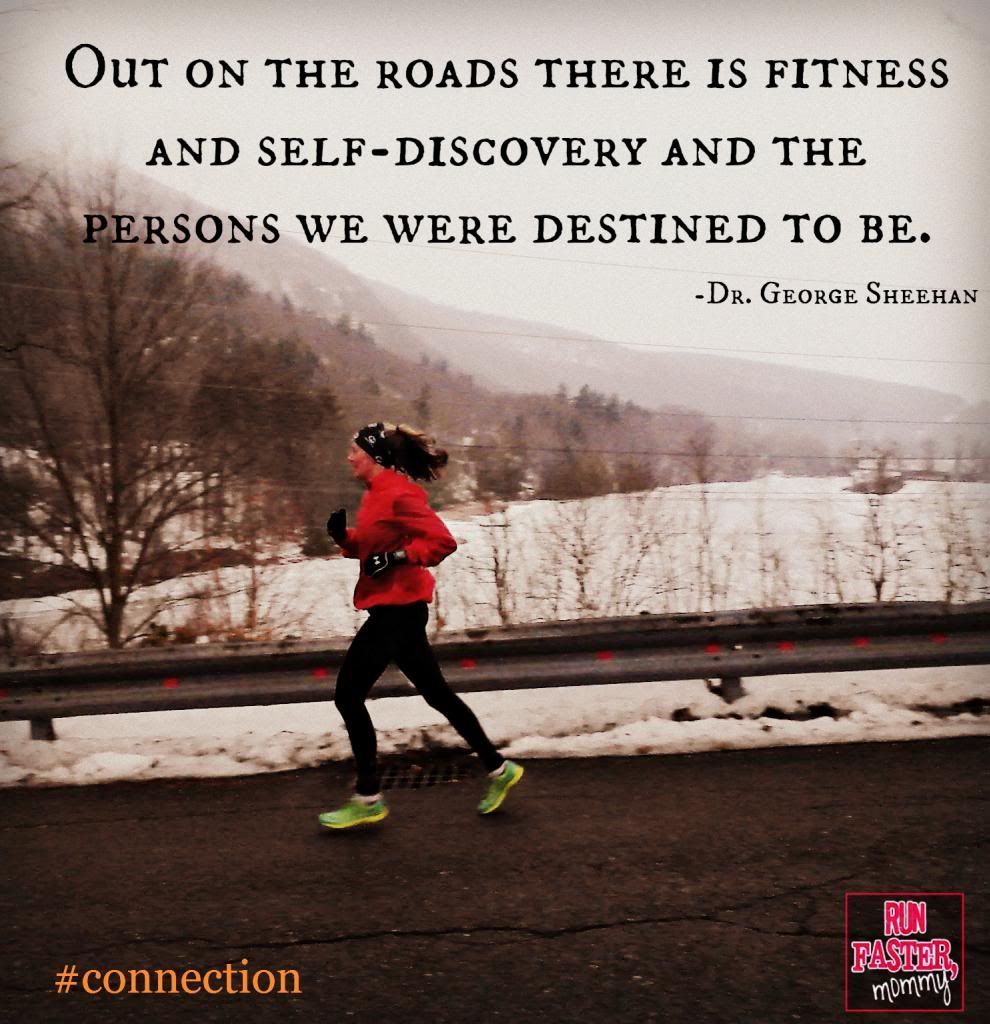 GET OUTSIDE! Orenco jacket, Mix Master Move Glide shoes. Photo credit: Geoffrey Hart