Last Updated on November 27, 2020 by Heather Hart, ACSM EP, CSCS
Today we're going to talk about something that many readers may find uncomfortable or taboo, but I feel needs to be discussed: running with pelvic organ prolapse. Pelvic organ prolapse (or POP) is incredibly common – upwards of 50% of women will experience it in their lifetime (Weintraub et al, 2020)
Yet we RARELY hear about it, because our vaginas are supposed to bring us shame or some other antiquated nonsense like that. Runners can carry on endlessly about the state of their illiotibial band or plantar faciitis, so as far as I'm concerned, this is another body part that can affect running. So it's up for discussion.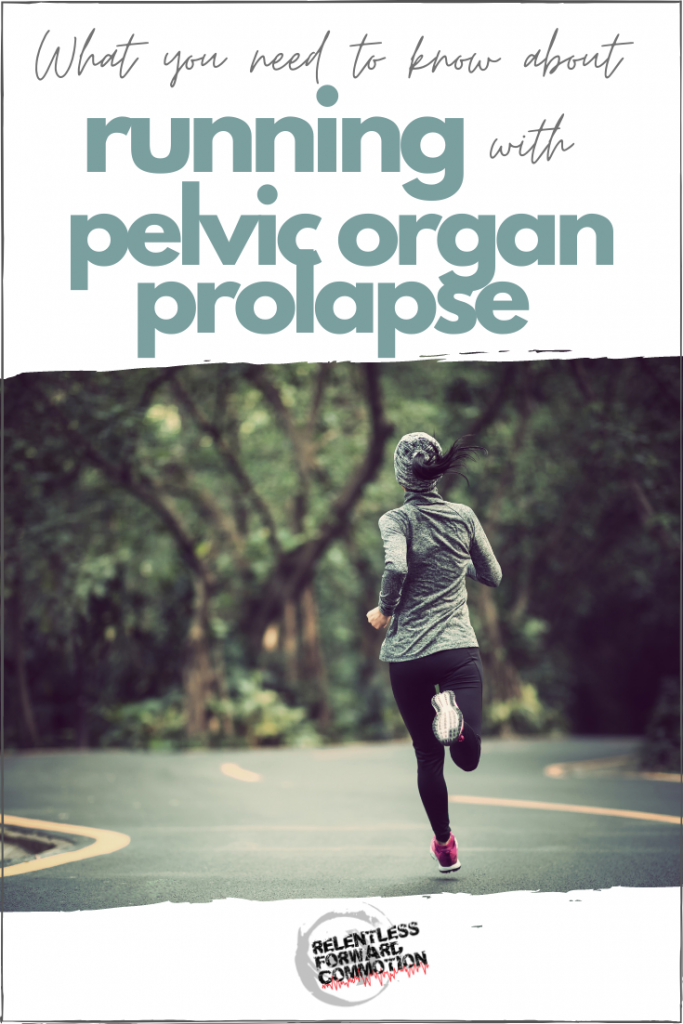 I'm sharing because there are not enough first hand experiences from runners talking about this. I'm sharing because I hope to break taboos when it comes to discussing our bodies. Especially female anatomy. Look, I'm not going to start a post with something along the lines of "this is a lady problem, gentlemen you may want to tune back another day". Nope. Bodies and body parts are not taboo, my friends. Some of us may have different anatomy, sure, but our struggles aren't anything to be embarrassed or ashamed of. So, men, please DO stick around. Especially if you are a coach to, spouse or friend of, or simply supporter of female runners and athletes.
Because for many of us, this is a reality we never wanted to face, but have to.
What Exactly is Pelvic Organ Prolapse?
Whew. Now that I got that long introduction out of the way, let's get on with some science. Much like a hernia, where your intestines push through a weakness in your abdominal wall, a pelvic organ prolapse is when either your uterus, rectum, or bladder (or sometimes all three) push through a weakness in the muscle and tissue of the vaginal wall. Depending on the severity of the prolapse, some women might only feel a pressure or fullness in their vagina or rectum. Others might actually see tissue hanging out.
Surprised you haven't heard of pelvic organ prolapse before? It's likely because many women are too embarrassed to seek help, never mind talk about this problem in a public setting. Which I, of course, think is ridiculous (not their feelings – that I get. I think it's ridiculous that we encourage women to suffer in silence because it's something that involves body parts we've deemed "private" or "unmentionable".)
VAGINAS ARE NOTHING TO BE ASHAMED OF LADIES!
Does Pelvic Organ Prolapse Happen to Men?
Pelvic organ prolapse and pelvic floor disorders do indeed affect men, though much less frequently. Studies show between 2-4% of men suffer from some time of pelvic floor disorder (MacLennen et al, 2005)
How Does Pelvic Organ Prolapse Happen?
There are a number of ways that pelvic organ prolapse can happen to women.
Pregnancy, labor, and childbirth (this is the most common reason)
Obesity.
Respiratory problems with a chronic, long-term cough.
Constipation.
Pelvic organ cancers.
Surgical removal of the uterus (hysterectomy)
That third one? Chronic cough? That's what got me. A gnarly cold with a cough that wouldn't go away after Sadler's Creek Stumble 24 hour race in 2019. One night I woke up coughing violently, and physically felt something let go in my pelvis. The next day I noticed an uncomfortable bulge (it almost felt like a tampon falling out) while I was running. Soon after, a doctor confirmed my suspicions: a prolapse (more on the doctors visit below).
Now, I've put my body through hell in the past. I've birthed two babies (including a really big one, who is also responsible for the DR). I've run thousands of miles, including two 100+ mile races, a 90 miler, an 84 miler, and a 75 miler (and I'm proud of each one). I exercise almost daily, I lift heavy…I train this body to be strong. And what did my body do in turn? It gave out because of a three week cold when I couldn't stop coughing.
Go. Freaking. Figure.
Because I'm a science nerd, I actually looked at research articles regarding this topic. Sure enough COUGHING causes more intra-abdominal pressure than even running and jumping.
Seeing a Urogynecologist
Once my prolapse appeared, I immediately stopped running and lifting. I was fearful of making it worse. It took me two months before finally getting an appointment to see a urogynecologist, a specialist in the world of pelvic organ prolapse. The physician I met with was incredibly professional, thorough, and most importantly, sympathetic. He listened, for a long time, and answered all of the questions I had to ask. He didn't end our appointment until he was certain all of my questions and concerns were addressed. I've never had a doctor show such patience and compassion. No wonder it took so long to get in to see this guy.
(If you're local, I'm happy to give a recommendation.)
My diagnosis was exactly what I expected and already knew: a bladder prolapse (cystole) through the anterior (front) wall of the vagina. The prescribed course of treatment, however, was not what I anticipated. Ultimately, the doctor let me know that a pelvic organ prolapse is considered a "quality of life" issue, not a "life or death" issue.
You see, with my hernias, there was always a chance of strangulation of the intestine. This is considered an emergency situation…and can potentially even lead to death. Thus, surgery was necessary to fix this bodily malfunction. Twice in my case, ugh.
But, when your bladder (or uterus, or rectum) prolapses through the muscle in your vaginal wall? Well…it sucks. It's uncomfortable. It's problematic at times. But it's not going to kill you.
Thus, the physician left me with three options:
Do Nothing.
The "do nothing" option left me feeling equal parts deflated and optimistic. The doctor claimed that a moderate, reasonable amount of running would not make the prolapse any worse. Further, he claimed there was no research/literature available proving otherwise. This of course went against everything I've read in every (gloom and doom filled) online forum. Though, no actual research was provided there either, just hearsay.
Alas, he's the expert, not the internet keyboard warriors. So I cautiously trusted his word.
Admittedly, "doing nothing" almost felt like a "life is hard and these are the cards you drew, so suck it up" sentence. It felt unfair. An air of "why me?" sets in.
Get Fitted for a Pessary
A pessary is a prosthetic device of various shapes and sizes inserted into the vagina to reduce the protrusion of pelvic structures (in my case, the bladder) into the vagina. The idea is that this could be worn while running to reduce symptoms, such as discomfort or even urine leakage.
Surgery
The doctor took time to explain to me exactly what this surgical procedure would look like. It included a hysterectomy, tacking the bladder back up where it belongs, and rebuilding the muscular wall that has collapsed (among other things I don't remember, because it was a lot of medical terminology I was unfamiliar with). This option requires a minimum of 3-4 months of recovery time. No running, no heavy lifting (more than 10 lbs), no sex, etc.
This, currently, was not an option for me, for financial reasons.
So I left the doctors office with permission to run (in moderation), lift (in moderation) and get back into the habit of regular core and posture work, to help aid with pelvic floor health.
Running with Pelvic Organ Prolapse: My Experience
I won't lie, initially I was terrified to continue running or resume any sort of normalcy in my fitness routine. Even though the doctor assured me I would be OK, I feared doing something to make my situation worse. A quick google search will give you dozens upon dozens of articles encouraging women to avoid running with pelvic organ prolapse. Despite what my physician said, many other experts agree that the increased intra-abdominal pressure from high impact sports, like running, can weaken the pelvic floor.
The general online consensus, if you must run, is to:
Keep your distances short.
Mix up your running surfaces: trails, sand, dirt, etc. result in lower impact on the pelvic floor.
Manage your body weight: the weight of the upper body and abdomen is transferred directly to the pelvic floor during high impact exercise such as running. Less weight = less impact.
Alternate running with lower impact exercises (cycling, swimming, etc.)
Shorten your stride and increase turnover to lower impact.
While these tips are helpful, I've found there is more to managing running with a prolapse, which is what I share in the remainder of this post.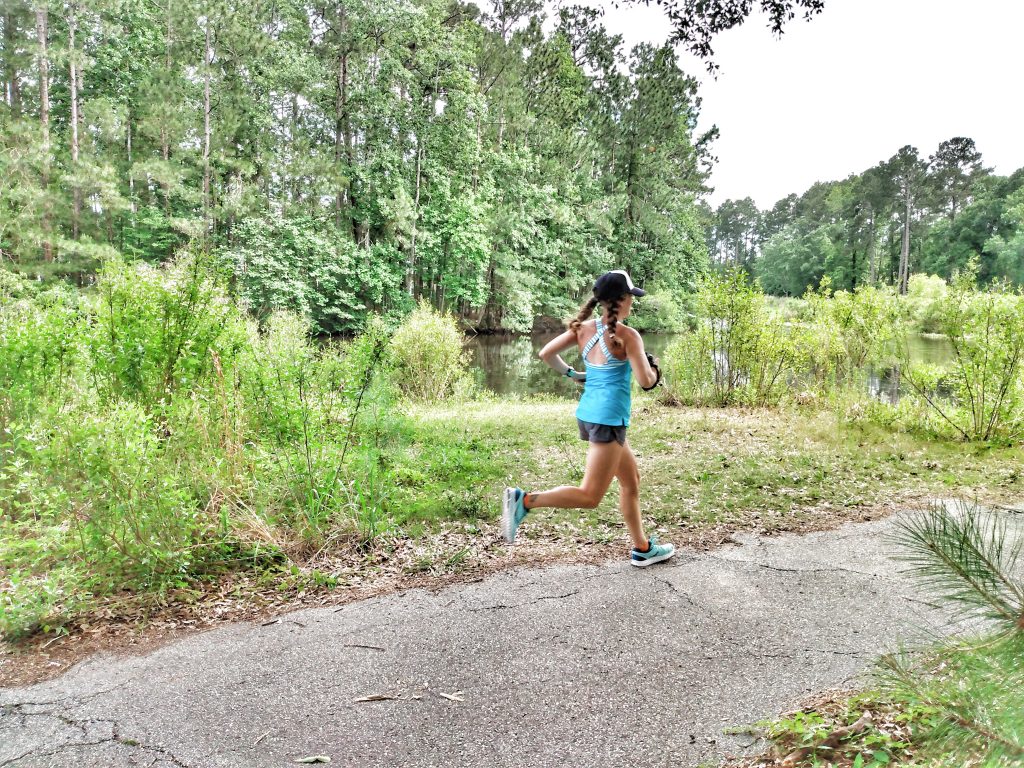 It's important to keep in mind that the following is what I've learned in my personal experience of running with pelvic organ prolapse. Your situation, and the parameters surrounding your prolapse may be different. So as always, please refer your physician for personal recommendations. This post is not meant to diagnose, or treat anyone.
Run Early
It's sounds crazy, but it's completely true: gravity effects the severity of prolapse over the course of the day. I – and many women – are less symptomatic first thing in the morning, after laying down all night, versus at the end of the day, after being on my feet. So I try to take advantage of this, and run earlier rather than later in the day.
Monitor "heaviness"
This goes in line with the aforementioned "run in the morning" point. I have learned to really tune into how my body is feeling, and monitor my prolapse symptoms. If I'm feeling like my pelvic floor is tired, or "heavy", I'll skip a hard or high impact workout (like running). Instead opt for something lower impact (like riding my bike).
For many women, their prolapse will feel "heavier" during their menstrual cycle. It's important to know that pelvic organs are not rigidly held in the exact same position at all times. The bladder and rectum are changing shape and size based on their contents, the uterus is changing size during the course of the monthly menstrual cycle, and even the position of the cervix is changing depending on where you are in your monthly cycle.
Run with a tampon/pessary if necessary
Tampons provide similar temporary relief to prolapse symptoms as a pessary: both provide urethral support and compression. When I run later in the day, or if I'm having a "heavy" feeling day, I will run with a tampon inserted. It alleviates the heavy feeling and allows me to run normally. Again, this is something you should discuss with your doctor first.
Lift with Awareness
Intraabdominal pressure when lifting weights can exacerbate the symptoms of a prolapse. My doctor stressed the importance of learning to focus on letting my muscles do the work, and avoiding the all too common pushing down on or straining the pelvic floor. I won't lie – this is an ongoing practice. But it's definitely helping.
Pelvic Floor Exercises
I am a certified exercise physiologist – but I'll be the first to tell you that pelvic floor strength is not my specialty as a professional. I will tell you that I've read a ton of conflicting information regarding what exercises to do – or not do – to help strengthen your pelvic floor and alleviate pelvic organ prolapse symptoms. It can be confusing and frustrating. Personally, I've focused on integrating more pelvic floor and diastasis recti friendly exercises into my routine (think: heel drops, bird dogs, and bridges), and I feel that they have helped me. My suggestion is to consult a physical therapist who specializes in pelvic floor health who can help guide you and create a pelvic floor strengthening routine that caters to your specific needs.
Healthy Diet
I've spent the better part of this year truly learning how to properly fuel my body (thanks in large part to Coach Will at On Pace Wellness). Proper nutrition supports healthy tissue, which is exactly what we are going for when healing (or at least not exacerbating) a prolapse.
The Mental & Emotional Toll of Pelvic Organ Prolapse:
Arguably, the mental and emotional toll of pelvic organ prolapse really is the hardest part. As a long time endurance athlete, I'm accustomed to being uncomfortable. However, the idea that something is "wrong" with my body, and won't ever easily be fixed, can feel incredibly disheartening. And we aren't talking an ACL tear, this is a very intimate (though not taboo) part of your body that affects day to day life.
Further, as an athlete who spends a ton of time analyzing – and over analyzing – how to train my body to do what I want it to do, the lack of control I felt when developing a prolapse was frustrating.
For me, I've definitely had to weigh the pros and cons of continuing to run. Indeed, there are many women who have chosen to find another form of exercise to enjoy, and not take the risk that accompanies the high impact, repetitive motion of running. Personally, running is a large part of who I am (no matter how many times I try to deny it). Further, running is a form of mental healthcare for me. So, I choose to run.
More than anything, for me, this experience has been a practice in patience, and truly learning to tune into my body, even to this day, nearly a year later.
So, if you've come to this post looking for some hope that you can indeed run despite a prolapse diagnosis, I hope my story helped.
Heather Hart is an ACSM certified Exercise Physiologist, NSCA Certified Strength and Conditioning Specialist (CSCS), UESCA certified Ultrarunning Coach, RRCA certified Running Coach, co-founder of Hart Strength and Endurance Coaching, and creator of this site, Relentless Forward Commotion.   She is a mom of two teen boys, and has been running and racing distances of 5K to 100+ miles for over a decade.  Heather has been writing and encouraging others to find a love for fitness and movement since 2009.