Textbooks state that there are 5 components to physical fitness: cardiovascular endurance, muscular strength, muscular endurance, flexibility, and body composition.
I would like to formally argue that Parkour contains a few more components.  I couldn't tell you WHAT those components are, as they surely move as stealthily as a ninja, so they have clearly been missed by modern science.  But I CAN tell you that whatever they are, I do not possess those components.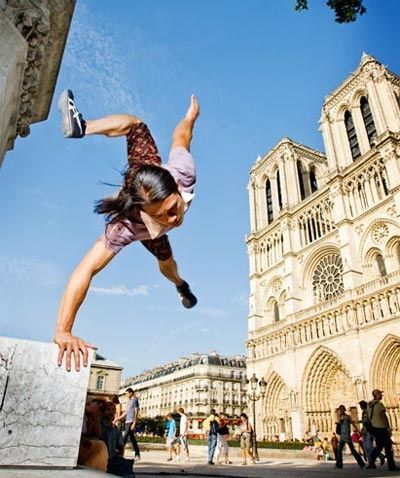 Clearly, that is not me.  (pinterest credit)
Day after day, week after week, I consistently put up heavier weights in the gym.  I can run a sub 20 minute 5k. I could run a full marathon tomorrow if I had to. I can do a FULL range of motion, no kipping, hanging pull up, sometimes two or three in a row. I thought my fitness levels were ideal and well rounded.
One hour of super-novice-beginner parkour has proven otherwise.  For the record, I can not lift my arms over my head this morning.
So here is my official stance on Heather + parkour:
1) Parkour is so much freaking harder than it looks.
2) My kinesthetic awareness kind of sucks. 
3) That was really, hilariously, fun.
FIRST CLASS RECAP:
So, when I say we have a circus school in this town, it turns out we have an honest to goodness circus school in this town.  New England Center for Circus Arts is a large building with rooms just FULL of acrobatic equipment for me to break my neck on.  Fortunately, they put us in a smaller, padded studio.   I'd say the current circus student to newbie ratio was 4:1, and thankfully, I had three other newbie friends with me.  But not Geoff. No, his previous years of martial training put him right into the "we already know how to roll" group. 
We started with a warm up and basic conditioning.  This included a ton of bear crawling and every variation of it, these insane things called gecko push ups that I totally faked my way through, and some core work.  At this point, only 15 minutes in, I was cursing the quesadilla I had eaten before class, and wondering how I EVER imagined I was actually in shape.
And then we started rolling. 
It's so not easy.
A half somersault, half tuck and roll, I felt like a drunk roly poly pill-bug. I'm sure there was a time, say, 6 years old, when rolling and tumbling felt natural.  31 years old is not that time.  It was painfully aware of how I have zero sense of where my body is relative to space, nor where I intend for it to go.  Also, all of that tumbling made me incredibly dizzy.  Again, regretting those dinner quesadillas.
Then there were cartwheels.  And jumping. And spinning while jumping and landing backwards on a balance beam.  And sliding across/flipping over a large padded cylinder.  You know this morning when Geoff and I hit the parking lot we both had to stop ourselves from purposefully sliding across the hood of the car (thankfully, it was covered in frost).
Despite the dizziness, instant soreness, and the fact that I kept rolling right off of the mats instead of in the proposed straight line: I had a blast.  Our instructors were fantastic. And they didn't even make fun of me when I jumped up from each incredibly ungraceful move with a loud "TA DAAAH!" (I bet that's a huge circus school faux pas.)
I left class last night humbled and excited.  Humbled because, well, I have light years to go to become proficient in parkour.  Just like chemistry 101 in college, I may need to repeat this intro class.   And excited because I have been presented with a new challenge. 
The other day, I was asked WHY I push myself physically.  My answer?   I push myself to be better every single day simply because I can. And because life is too short for anything less than that.  Not only do I refuse to take my body for granted, but I insist upon constantly aiming to make it better.  Because I can.   One day of parkour has showed me weaknesses I was unaware of…and that I'm really excited to strengthen.

Moral of this long rambling story: 
Rolling is hard.  Pushing yourself beyond your limits and outside of your comfort zone is incredibly rewarding.