Last Updated on April 1, 2020 by Heather Hart, ACSM EP
Take a seat friends: today we're going to discuss the benefits of strength training for runners, and why you need to add some weights, or incorporate body weight resistance exercises, into your training.
I can hear the collective groan from the endurance crowd.
Listen, I get it. The overwhelming majority of runners choose to run for one simple reason: they LOVE it. But because they love it so much, often the only form of exercise runners want to pursue is, you guessed it, running. And they assume that running is "enough" as far as fitness is concerned, and further, that the only way to get better as a runner…is to run more.
Unfortunately, this couldn't be further from the truth.
Yes, specificity of training is a huge component to successful running. In layman's terms: in order to improve your running, you must run. I won't argue that fact. But strength training is not only beneficial to your training routine (i.e., it will make you faster and stronger), it is vital in helping to help prevent injury, and will contribute to your overall health and fitness levels. And you know I'm 100% a believer in making running a lifetime sport. Which means, you've got to stay strong and healthy enough to run FOR LIFE.
Benefits of Strength Training for Runners
But, I can ramble all day long, or I can show you the actual benefits of strength training for runners, and hope the evidence will be enough to get you to start incorporating strength training into your daily life. Let's dive in:
Prevent Muscular Imbalance
You run. You're fit & strong. No doubt about it. But here's the thing…not all exercise targets muscle groups evenly. For example, runners may assume they have strong legs due to all of the running they do. And it is true…to an extent. But, due to the pulling motion of the quadriceps muscles during running, runners often have stronger quadriceps than hamstrings. In fact, research shows the quads can be anywhere between 30-40 % stronger than the hamstrings. That's massive!
As you can imagine, an imbalance between muscles that are supposed to together can certainly cause problems, or worse, injury. In the quads/hamstrings example, the imbalance is often responsible for knee pain.
But legs aren't the only area prone to imbalance: an imbalance between the core muscles (abdominal, gluteus, low back) can affect your posture, leading to poor running form, and, you guessed it, potential injury. Not to mention decreased running economy and efficiency.
For runners, adequate strength training, targeting all of the major muscle groups, can help prevent injuries or poor running form due to imbalances. Better yet: research shows that evening out muscular imbalances can increase running economy, making you a more efficient runner (source).
Injury Prevention
The muscular imbalances section might have clued you into this concept already. Strong muscles = an even stronger body. Strengthening your muscles is one of the best ways to help protect your body – muscles, tendons, ligaments, and bones – from overuse injuries associated with the high impact nature of running.
For example, let's talk about butts.
Or in more technical terms, the gluteus muscles, a group of three muscles that make up the buttocks. The gluteus muscles are essential to running as they keep the hips, pelvis, and legs aligned, as well as assist in the extension and propulsion of the leg in the running movement. Weaknesses in the gluteus muscles may lead to a wide array of injuries, including the common ailments of shin splints and iliotibial-band syndrome.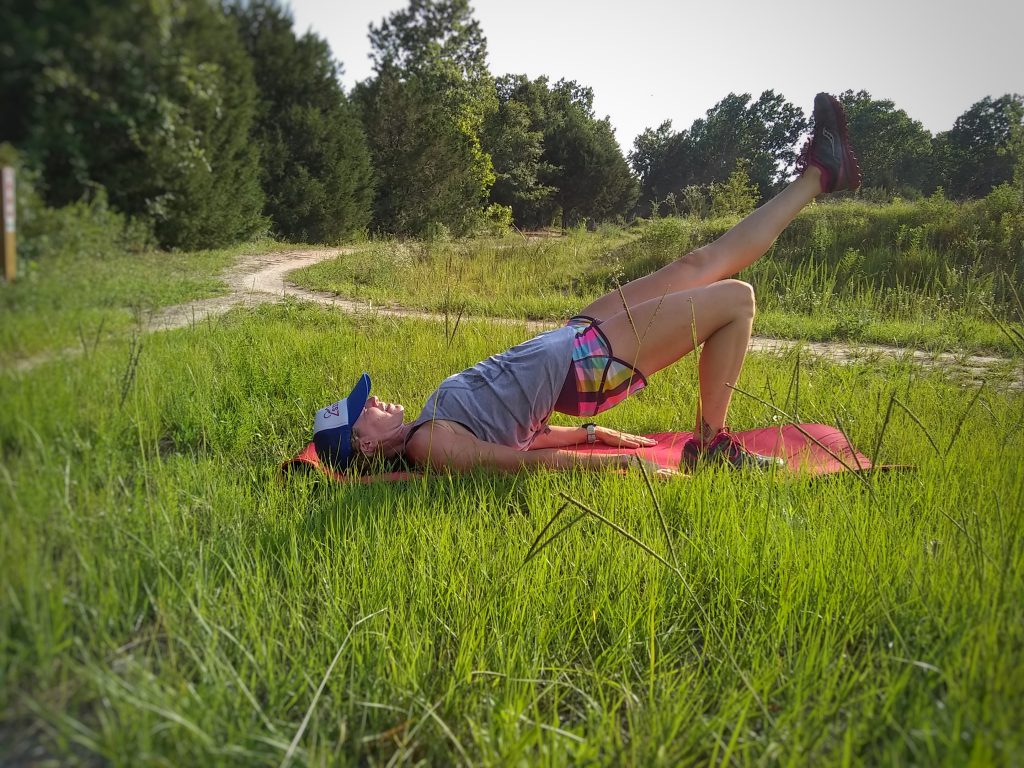 And that's just one example A regular strength training routine keeps your body strong in ways that running alone cannot. And that can help keep you injury free, and thus, help you continue running.
Upper Body Strength Matters to Runners
Running isn't just about your legs.
Sufficient upper body strength is helpful to runners in numerous ways. The swinging of the arms helps to counterbalance and propel the body forward, sparing energy exerted from the lower body.
Further, the stronger the upper body, the less fatigue that will be felt in the upper body at the end of a long run or race. If you've ever run more than 20 miles with a hydration pack on your shoulders, you know exactly what I'm talking about.
Bone Density
When I was in school, a professor, who happens to be a female sub-3-hour marathon runner (she's fast) told our class that she had once had a DEXA scan (bone density) that revealed something alarming: from the waist down, she had excellent bone density, thanks to the many miles she logged weekly. From the waist up, due to the lack of training her upper body, she was considered pre-osteoporosis. She wasn't even 40 years old.
The fact of the matter is this: we lose bone density at the rate of 1% per year after age 40. As bones grow more fragile and susceptible to fracture, they are more likely to fracture or break. Weight bearing exercises can not only help slow the rate of bone loss, they encourage bone growth, increasing density.
Building upper body strength through resistance training will help maintain a healthy, strong bone density in the upper body, a benefit that is not obtained from simply running .
Balance, Stabilization, & Posture
We've talked about the upper and lower body, so let's discuss the importance of your core.
The core, as I'm sure you already know, refers to the group of muscles in the center of the body, excluding arms and legs. In other words: the "abs". The core muscles, such as the abdominals, back, and pelvis, are very important to runners as they help with stabilization and form. A strong core will help with numerous aspects of running, such as balance during technical trail running, or posture during a long road run (slouching, sore back, etc).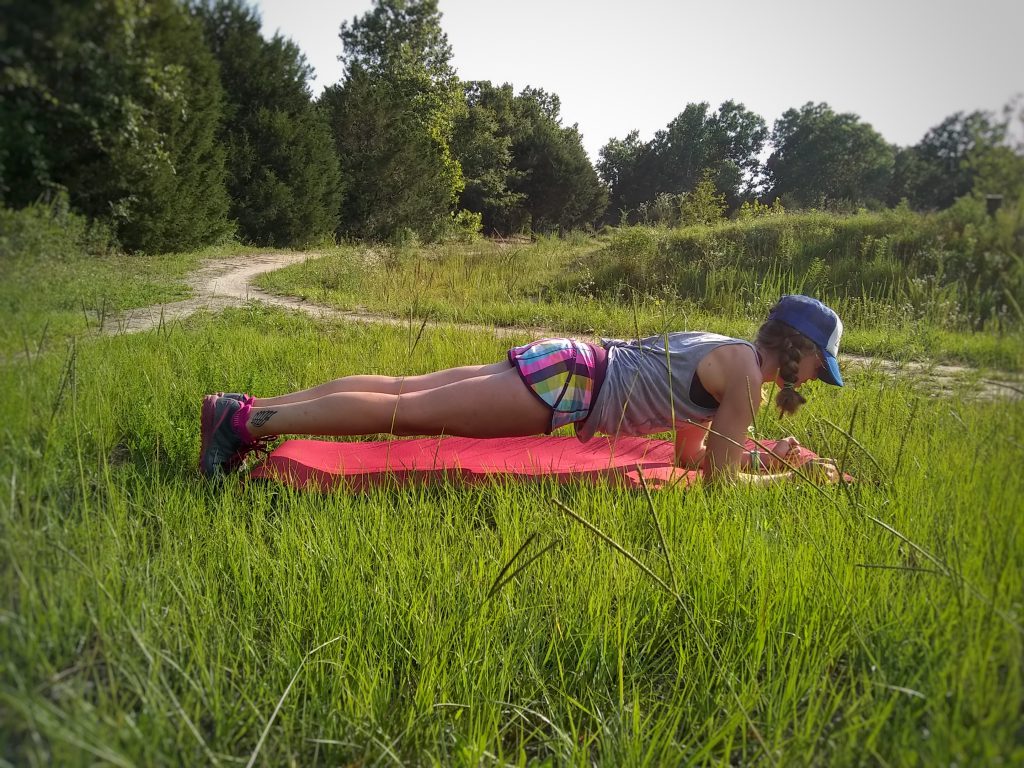 Many effective core strengthening exercises can be done with no equipment, utilizing body weight as the means of resistance. Take for example, the plank, bridge, and bicycle crunch: no equipment needed.
Related post: 8 Core Strengthening Exercises for Trail Runners (No Equipment Necessary)
Running Economy
Running economy is a measure of how much oxygen (or energy) your body requires to run at a particular pace.  This can vary from runner to runner based on a number of factors.
A 2016 research article presented by Balsalobre-Fernández (et al) discovered that  a strength training program including low to high intensity resistance exercises and plyometric exercises performed 2-3 times per week for 8-12 weeks is an effective way to improve running economy in highly trained middle- and long-distance runners.
Strength Training for Runners -Where to Begin:
Hopefully by now I've convinced you to hit the weights and add some resistance training.   A well rounded training plan should include at least two sessions of full body strength training per week, but worst case, one is better than none.

If you are at a gym and unsure of proper form or are feeling uncomfortable with any of the moves, ASK.  As a long time gym employee and fitness professional, I ASSURE you that we don't judge you or think you are "dumb" for asking what a bicep curl looks like, or how to use the leg extension machine.  Seriously,  I'd rather a member ask 100 times how to do an exercise, rather than wing it and hurt themselves.  Not a member of a gym?  That's OK too!  There are a number of reputable trainers on sites such as youtube.com that give basic demonstrations on how to properly execute all of these exercises.
While lifting weights as a means of strength training is more than suitable, it's not the only option. There are many upper body resistance training exercises that require no equipment at all. So, not having access to weights or a gym memebership is no excuse.
Start here:
No Equipment Beginner Strength Training Workout for Trail Runners

No-Equipment Plyometrics Workout for Runners

At Home No – Equipment Upper Body Strength Training Workout

8 Core Strengthening Exercises for Trail Runners (No Equipment Necessary)
In closing: adding weekly strength training sessions to your running program will help increase speed, and decrease the risk of injury. So pick up the weights!
_________________________________________________________________
Are you a runner? When is the last time you strength trained? If you can't remember…what is holding you back?