Confession: I've never been one for "filler" blogs.  You know the ones I'm talking about…the daily diaries that list what the blogger ate for breakfast, did for a workout, and saw on the way to Starbucks.  Nothing of real substance, just, filler. A post to keep the readers coming back and the numbers up.   If that's what you are in to reading or writing, more power to you.  There is nothing wrong with it, and I'm certainly not putting it/you down.  It's just that personally, I tend to be a story teller.  If I don't have a point to argue, a ridiculous story to tell, a random topic to ramble about, or a product to review, I just don't post.  I save the daily run down of events for poor Geoff, who consistently steps up to the plate and asks "how was your day?", fully knowing that I'm about to ramble off about 10 minutes worth of nonsense. 
I figure only one poor soul a day should suffer that burden.
Alas, as you may have noticed, a week has gone by without a post.  I wouldn't necessarily call it "writers block", as my brain certainly isn't blocked…it is overflowing.  And I'm not sure where to even start.   So in an attempt to declutter the brain of random thoughts, I'm going to verbally spew it out in a filler post. A bunch of semi-nonsense. Ten random Heather thoughts, that you may (or may not!) have been able to survive without knowing, but you are about to read anyway.
Ahem.
10) The mail man brought me some new shoes this week!  Two pairs of Vibram Five Fingers (see ya LS and Bikilas) and a surprise pair of Merrell Pace Glove 2's that I wasn't expecting, but STOKED to get.  The original Pace Gloves were my very first Merrells way back when (what a journey Merrell and I have had since!), and after a few days of wearing them around, I can safely say that these are my favorite Merrells yet.  OK tied with the Mix Master Moves, but for different reasons.  Full review coming soon.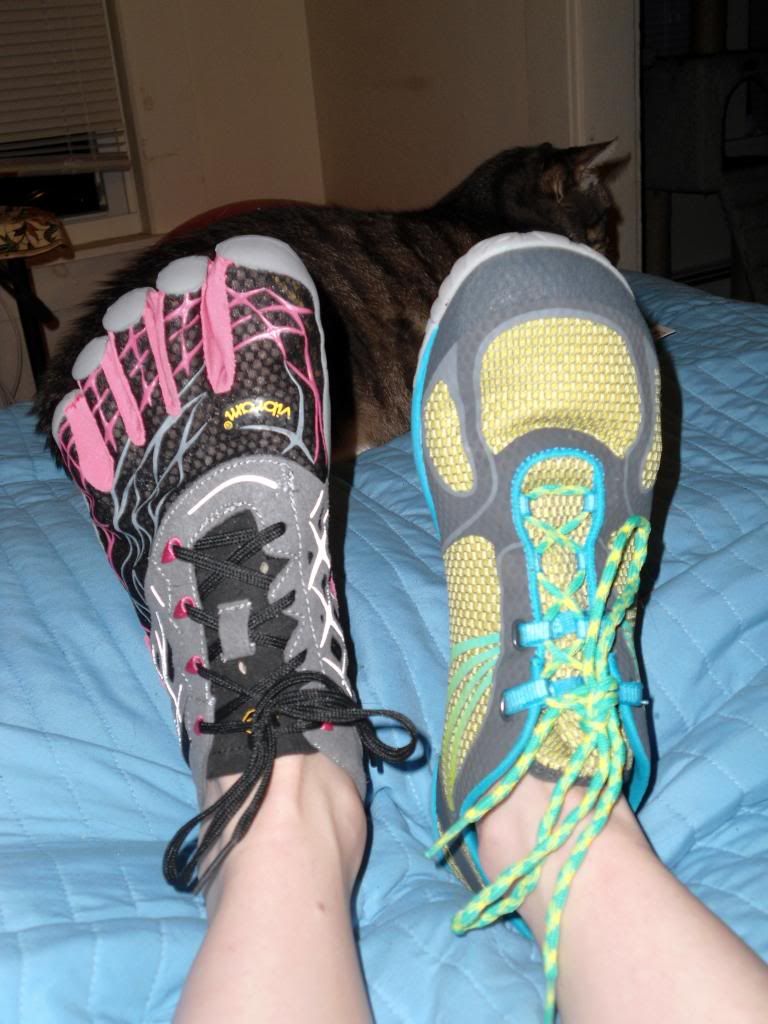 Vibram See Ya LS, Merrell Pace Glove 2, Donut the Cat
9) Our snowshoe race is next weekend (March 2nd, my 31st birthday).  I'm really excited, as it's been a while since I've participated in any sort of "race".  I'm excited to see so many members of my Spartan family.  I'm excited to push myself  (I hate snow) and laugh my head off on this crazy adventure.  And I'm excited that once it's over, I can curse the snow and start counting down the days until spring!
8) There is no high fructose corn syrup in our ketchup. The label says so, in giant, bold lettering.  Isn't marketing offensive and amazing all at once?  
7) Friday was leg day. I set a PR for back squat at 145 lbs.  Today (Wednesday) was leg day again.  I did the same pyramid sets, this time ending with two reps of 165 lbs.  While hard, it was not horrible.  I'm beginning to realize that I seriously underestimate myself in the weight room.  It's crazy to think that last summer, 60 lbs on the lat pull down was a struggle.  Now, I've been throwing around 100+ lbs in almost all of my leg and back exercises all week.  I love when progress sneaks up on you.
6) Let's refer back to #10.  Being brand new to five finger shoes, I've determined I have no feeling in my toes.  I have to put the shoe on then feel each toe with my hands to make sure it is in it's appropriate toe pocket. Most of the time, they aren't.  It's sort of funny…and sort of frustrating.
5) In August, I gave up TV.  Not 100%, as I still watch the morning news from the treadmill at the gym, and will catch the occasional episode of Judge Joe Brown with my Dad if I'm at my parents house on a day off.  But while we technically have cable at our apartment (it came with the internet), we've never hooked it up.  Surprisingly, I do not miss it at all.  Not so surprisingly, thanks to social media, I still feel like I watched the Superbowl and/or the Grammy's.
4) I really should have bought stock in Luna Bar. 
3) Every now and then one of these cats steps on the button that disables the touch pad mouse.  It then takes me about 3-4 frustrating minutes to remember that it's a simple push of the same button to fix the problem.  Clearly, this just happened.
2) 50 miler training is …interesting.  Unlike in the past, where I've completely skipped most of my training plan, I've actually run just about every single scheduled day, and even some off days.  Problem is, I haven't been hitting my mileage.  I'm not sure what jerk face decided training for a June 1st 50 miler over the cold, icy, winter months in Vermont would be a great idea, but they were clearly not thinking.  Oh wait, that was me.  I imagine in the next few weeks it will get easier, as the daylight hours are longer and the ice less prevalent.  The motivation is there, no doubt, but the desire to run 40+ miles a week on the treadmill is not.   Something is better than nothing, that is for sure.
1) I really, really, really need to learn to love the cold. Because I really, really, really can't stand being inside any longer. I miss the outdoors. I miss summer adventures.  Remember when I went here? That was fun. And sunny. And warm.  (I am sooo not meant for narrating videos. Wow.)
And I still hate running on motorized treadmills lined end to end in the gym.  And lifting pumping cast iron weights.   But Vermont in the winter really sucks ya'll.  (Winter has a way of eating away at my positive outlook on most things.) Maybe I should move to San Diego. I want to trail run until  I have to quit because my quads are screaming (and not because my toes are frozen).    We are scheduled for another nor'easter this weekend.  On the bright side, this is just in time for my snowshoe race!
The end.