Now is the time of year in blog world where bloggers dutifully:
a) Recap their adventures/races/highlights of the year.
b) Post some motivational speech about how YOU can reach YOUR  New Year's Resolutions
c) Share their New Years Resolutions for the coming year,  and
d) Provide you, the reader, with some links to "must have" products for 2017.
So, uh…I guess we better get this show on the road, so I don't lose any blogger street cred.
(I'd rather have trail cred, but I digress…)
MY ORIGINAL 2017 RESOLUTIONS included a list of animals I had hoped to see.  Because I'm sure you are dying to know, those animals were: armadillo, mountain goat, moose, sea lion, and sasquatch.
I saw none of them.
Not one.   And it wasn't for a lack of trying,  I even coerced my sister in law to pull over on the very scary, windy highway in Colorado and take the exit that said "Mountain Goat Viewing Area" yet still, no goats.  No armadillos (I looked everywhere while in Alabama), no moose, sea lions, nor any sasquatch.  My 2016 resolution list was a total bust.  Alas, 2016 itself was not a total failure. Not even close.
In fact, it was probably the best year of my life thus far.
I feel slightly guilty saying that, because it seems everyone else can't wait for 2016 to end.  Some horrible, tragic events happened in 2016.   There seems to be an air of anger and hatred in our society.  Plenty of political strife.  Not to mention we lost Prince AND David Bowie, my musical world will never be the same.  But in my own Heather-sphere, it's been nothing but smiles and personal growth, and I'd be remiss if I didn't mention some of the highlights.
In 2016 I:
Spent a TON of time on our local trails.  With friends, family, and even plenty of solo time.   I spent my time out there growing not only as a trail runner, but as a human being.  This is my church, my refuge, my asylum, my happy place…this tiny 7 mile stretch of trail means the world to me.   It still boggles my mind that so many local runners refuse to set foot on this trail, but I suppose that's simply less of a crowd and more trail for me.  I'll take it.
Further, my kids have grown to love the trails this past year, with my youngest up to a speedy 3 miles without stopping.  I am so happy and fortunate to have people in my life who love to do what I love to do.   The result is not only an incredible chance to bond as a family,  and to foster a love for nature in my boys, but the opportunity to put a gazillion more miles on my legs than I ever have before, with the support AND company of those who mean the most to me.  Win-win.
Finished my first 100K.  It wasn't the 100 miles I had hoped for, but I've somehow made peace with the fact that it's going to take a lot more training and a bit more ultra experience before I finish my first hundred.  Listen to me, sounding rational for once.  Oye.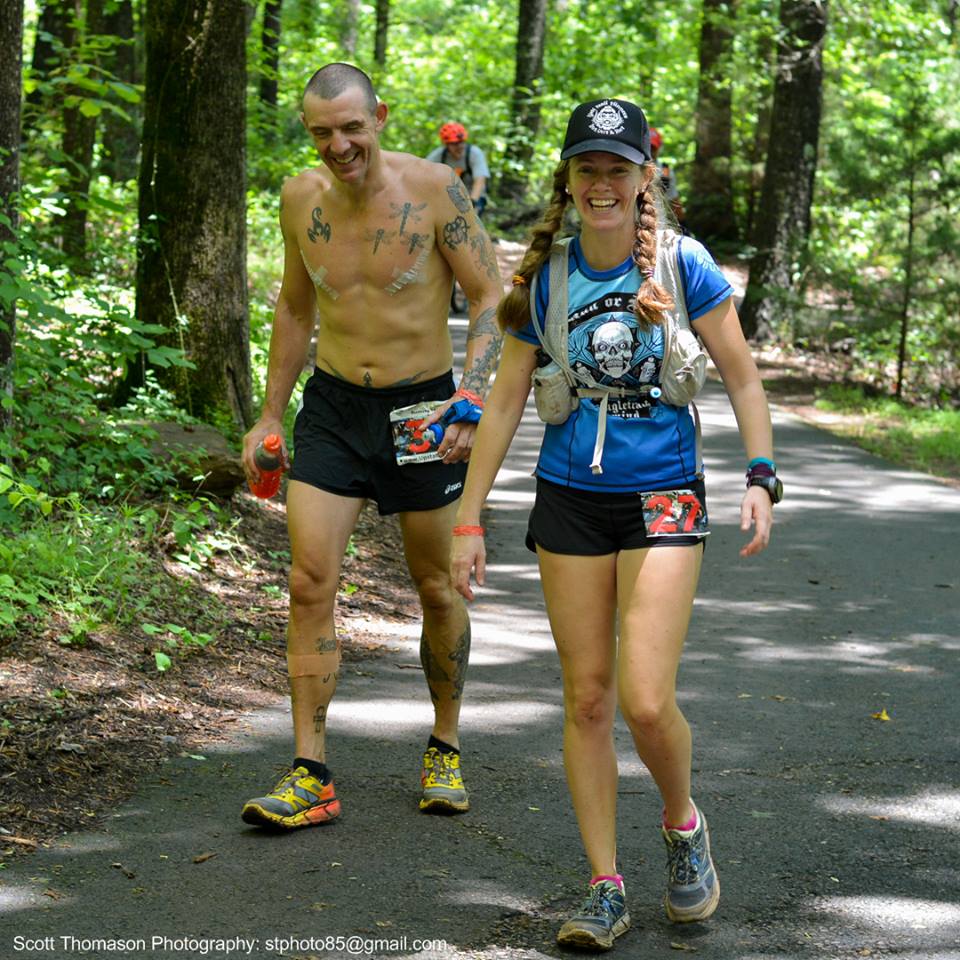 Met some of the most amazing friends that I now consider family.  I could have sworn I've written a blog post about these people, but perhaps it's a classic case of "what happens on the trail, stays on the trail".  Team Out of Bounds Ultra / Team Trail Weenies = my favorite people on earth.  I can hardly remember my time in Myrtle Beach before them, and now I can't imagine my life without them.  They are as crazy, goofy, and giggly as Geoff and I are, and they are incredibly kind, loving, amazing human beings to boot.  And they treat my kids like family. I couldn't ask for more awesome friends.
Side note: I'm wondering why I don't have 6 pack abs after all of the laughter I've shared with these guys over the past year.  It's probably due to the number of craft beers, pudding shots, and ice cream socials we also share together…
Ran through the Colorado Rockies during the 6 day TransRockies Run.   There's no sense in trying to sum up this experience in one catchy paragraph here.  Hell, I already wrote a novel about this experience, I had so much to say. (You can start reading that >> here<< )  But I guess if I had to say something brief, it would be "life changing".  The TransRockies Run was utterly and unequivocally life changing.   Thank you Kahtoola, INC., from the bottom of my heart, for providing this opportunity for us.
Got engaged.  To my very best friend, favorite racing partner, and the love of my life.  At the top of mountain, the highest mountain I've been on to date thus far  (hey, I'm a sheltered East Coast girl). He is indeed a keeper.
Got married.  Real fast.  Two months after the engagement.  Almost like a shot gun wedding, except it wasn't.  Instead, it was absolutely perfect in every possible way.   A trail wedding with all of our friends, family, and incredibly short shorts.  I couldn't have asked for more.
Started an incredible job.  Which has temporarily been the reason why this blog went radio silent.  Let me emphasize: temporarily.   But I feel so fortunate to not only have stumbled upon this opportunity from a work perspective, but also to have stumbled upon the amazing family who brought me in and treats me like one of their own.  I'm a lucky girl and proud to be a part of the #FleetFeetMB family. (I'm not a graceful model, but check out that nutrition wall! My pride and joy at Fleet Feet Myrtle Beach…)
And these are just the highlights.  2016 truly has been an incredible year.  It leaves me giddy with excitement over all of the adventures that are already planned for 2017, as well as all of the adventures I can't even begin to anticipate.
But you'll have to wait until the next year end required blog posts to read about the adventures I already have in store.  That's how this blogging thing works, remember? (See paragraph 1)
Until next time, Merry Christmas my friends. Thank you for being here!