One of the best things about not being an elite athlete is that I can do whatever the hell I want.
Plain and simple.
Years ago I hired a running/triathlon coach.  My goal was to PR in a marathon (Chicago Marathon was the PR plan, with Vermont City Marathon as a practice race) as well as complete my first sprint triathlon.  I was also navigating my way through a full course load in college, working part time,  raising my then 1 & 3 year old sons, and trying to maintain a home with a significant other who worked full time & evenings (a.k.a. we were NEVER home at the same time).  I figured it would be a good idea to take the pressure of figuring out how to train for these races off of myself, and assign it to someone else.  So I got a coach.
Right from the get go, there was friction.  Talk of "A" races vs. "B" races, constant explanation and reasoning behind skipping other races altogether as they didn't align with my goals.  He was constantly frustrated that I missed key workouts, or reworked them to fit in my schedule, as a new mom trying to fit school and work and life into her training program sometimes has to do.  I was constantly being reminded that if I really cared about my goals, I'd stick to the plan.   So begrudgingly, I did the best I could.  I even lied about my distances or laps in the pool a few times, simply to avoid the lectures.  But I pushed forward regardless, with the end goal in mind.
And then the opportunity to run the Warrior Dash came up.
This was back in 2010, when obstacle course racing was practically unheard of.  I had seen an advertisement somewhere for a Warrior Dash, likely a picture of a guy jumping through flames, and I was both intrigued and terrified.  I had to do one.  So when a Warrior Dash location popped up within driving range, and my partner at the time actually conceded to running a race with me (his first race ever) there was no stopping me.  Not even the fact that I had the first of my two marathons a week later.  I was going to run that Warrior Dash.
I just wasn't going to tell my coach about it.
The long and short of what followed next is that microseconds after my own epic fire jumping photo op, I fell, got a second degree tear in my ankle, couldn't run for 8 weeks, missed both marathons, and I fired my coach.
I went through phases of depression (not being able to run for 8 weeks will do that to any runner), found a new love for obstacle racing (despite the injury), but most importantly I came out on the other side of this fiasco with a new perspective:
Do what makes you happy.
I bet you're wondering where I'm going with this post, and rightfully so, I tend to ramble.   This morning I was writing an assigned freelance post about obstacle course racing.  I thought to myself how I suddenly feel disconnected from the OCR world, as I haven't set foot on a course since October.
Then, coincidence or the universe speaking to me, I'm not sure, I was included in Ekaterina Solovieva's (a badass woman in the world of OCR) post,  The 50 Most Inspirational WOMEN in Obstacle Racing.  Though absolutely humbled and honored to be included with the likes of Amelia Boone, Margaret Schlachter, Rose Wetzel-Sinnett, and other women seriously shaking up and making a mark in the world of OCR, I felt out of place and unworthy of the nomination.   These women are badass, STRONG, incredible athletes…I'm just a girl who sometimes really likes to climb walls, crawl through mud, and write about it.   And I haven't even done so in months.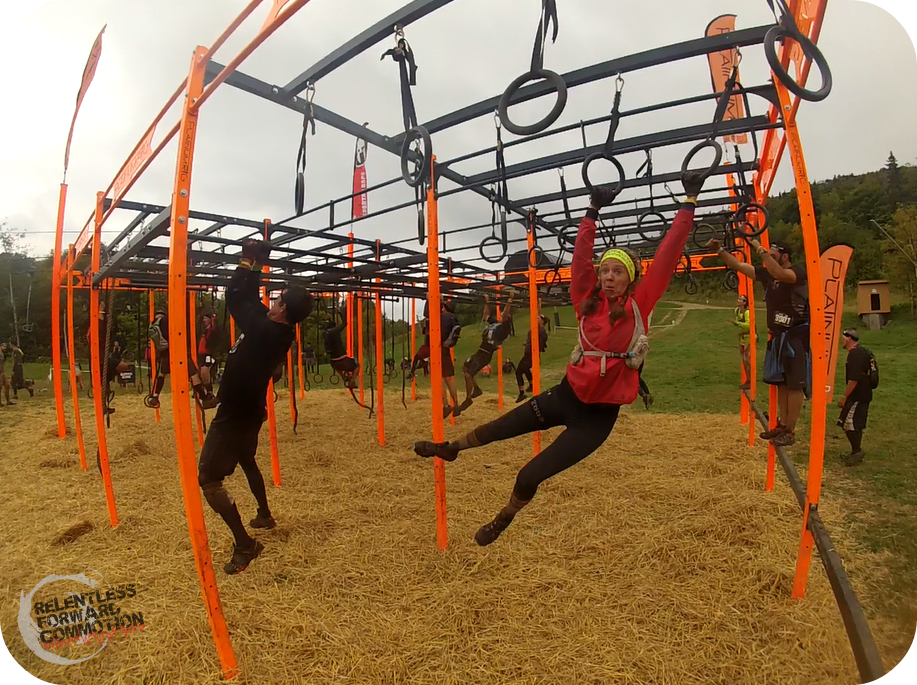 But I quickly told myself to shut the hell up.
I've been criticized in the blogging world for lacking sport-specific focus.  I find this accusation hilarious, even though it's 100% accurate, I'll be the first to admit it.  What is hilarious to me is that some people seem to think it even matters.  Over the years my passions have drifted, ebbed and flowed, and have come back around again.  One year I'm loving obstacle racing, while the next I'm focused on getting stronger at the gym and trying to set a bench press PR.   Right now, my heart and soul are focused on trail running and getting my foot into the ultra running world.  In two weeks I'll be a resident of South Carolina again, where undoubtedly my best friend will sucker me into joining the cult that is CrossFit, so I'm sure I'll be hyper focused on that for a while.
I love to surf. I love to hike.  For a while I was all about mountain biking.  Some days, I'd way rather run with an amazing group of friends instead of putting in a 17 mile training run, even if the training plan says I should.    Sometimes I come out on top, sometimes I'm left saying "I should have trained harder",  but most of the time I just enjoy being able to do what I do.
You see, I'll probably never qualify for the Boston Marathon any time soon, or OCR worlds, or Spartan Race championship… but I wouldn't necessarily say it's because I lack the focus to do nothing but run and make qualifying attempts.
It's because I really don't want to spend all of my time and focus on nothing but attempting to qualify.
Don't get me wrong, there is something to be said for those who can pick a goal and stop at nothing until they achieve it.  I admire you, I truly do.  But my point is, who is to say that the goal has to ALWAYS be so specific?  Do we HAVE to run a qualifying time, or make top three in the next Spartan race to qualify for Worlds?  Do we constantly have to put forth heavier weights every single day in every single WOD, or pick a single sport and declare to the world "I AM AN______ (Ironman, elite obstacle racer, body builder, etc.)"
Or is simply striving to live life to its fullest, staying fit, healthy, happy, and active every day enough?
Life is short, and there are SO MANY AMAZING ADVENTURES to be had.   I personally would rather experience them all, rather than be really, exceptionally good at just one.   So, a sincere thanks to all of you for sticking with me through it all, elite status or not.   I've had a lot of fun and met some amazing people, and I don't plan on stopping anytime soon.
And thank you SOLO, for the shout out <3