An interesting thing about journaling, or in my case, keeping a public blog for over a decade, is the ability to go back and reflect on events or patterns in your life. In my case, it's no secret that I am very cyclic with my training. It goes well, until suddenly it doesn't, and I crash and burn, usually in some sort of impressive way. But each time, I learn, and I grow, and each come back makes me that much stronger.
So…here we go again.
This year has been nothing short of a roller coaster, to say the least.   It started with a bang, a successful 100 mile finish that went off pretty much without a hitch.  Despite the two hours of pouring rain in the middle of the night, and one brief, 20 minute bonk that my friend Eric successfully navigated me out of, everything went according to plan.  I was – and am – still thrilled with that performance.
And then everything went to shit.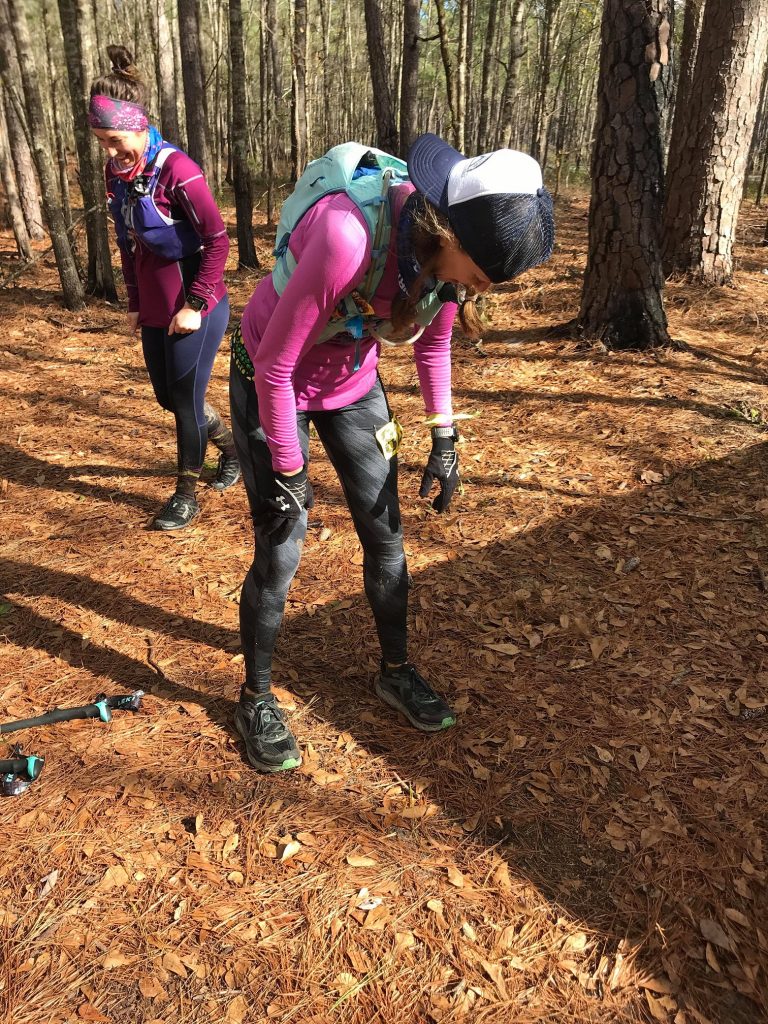 It started, of course, with me racing a 6 hour event not two weeks later.  And I don't just mean running, but RACING to try and win. And I won…but at a huge cost.
My body was pissed.
None the less, I kept pushing. Two a day workouts, sometimes more. Heavy mileage, lots of climbing. Georgia Death Race was on the horizon, and I was not going to let that course get the best of me.
Except it did.  I ended my day barely halfway through the race with a big fat DNF.
But my name had been drawn for the Vermont 100 lottery, so I still had a chance to secure a Western States qualifying ticket, and earn a buckle in my home state. So I pushed harder, and harder.
Hell Hole Hundred weekend arrived, and I raced (and won) the 50K.  I then tacked on one more 16 mile loop to help out a friend's 100 mile relay team when one of their runners bailed last minute.   I felt awesome.
And then the next morning, while teaching a group fitness class at the gym, my gastrocnemius (calf) muscle tore.
Instead of throwing myself a pity party, I took this as a sign from the universe to just STOP.
Rest.
And for once in my life, I did. I physically, and emotionally, allowed myself to just BE. I couldn't run, but I didn't try to make up for it by pushing hard elsewhere. I stopped signing up for races, and didn't make plans for once I was healed. I left my job at the gym, to focus on my blog and coaching business. Doing so not only took a huge mental burden off of my shoulders (I was constantly rushing from one job to the next on top of mom duties and my own training) but I removed another source of overtraining from my life: teaching classes. My students loved that I was an active participant, and while I always put them first, I was still putting too much stress on my body.
I think society has taught us to view "self care" as spa days and glasses of champagne, but for me, it turns out that self care is the ability to allow myself permission to just stop.
Stop counting miles and wondering if every training run was beneficial or not.
Stop pushing so hard simply because I can.
Stop saying "yes" to everyone.
Stop running myself into the ground for the sake of others.
Stop trying to hide my grief through physical exertion.
Just. Stop.
The last four and a half months have been eye opening. Of course, once I healed I still ran, but other than track workouts with Geoff, I didn't follow any sort of training schedule. I ran if I felt like it, but more often than not, I was on my mountain bike or in the gym lifting weights. My body has rebelled in it's own way, quickly packing on weight, ensuring my running shorts don't fit quite like they used to. But despite the added pounds, despite the fact that I feel "out of shape", my body is starting to feel rested again. Nothing randomly aches. I don't crash at 5 pm every day, struggling to make it through dinner with my kids. I don't walk around with this overwhelming anxious feeling of "what do I have to get done next?" on my shoulders.
It feels good.
Today Geoff and I were able to participate in a research study that included a body composition test in a Bod Pod, as well as a resting metabolic rate test using a metabolic cart. I will dive deeper into this topic in another blog post, but in short, the results confirmed something I was suspicious about all along. I know my diet isn't as good as it should be, content wise, but in the big picture, I've been massively under fueling to maintain my activity levels.
It sounds silly, but I feel vindicated. It explains so much of why my training went to shit, why I was always tired, why my recovery was hit or miss. Yeah, I was doing a lot. But in the big picture, compared to many other ultra-athletes, my training volume wasn't that crazy. Especially when you consider I've been doing this for over a decade now.
Point of all of this rambling: sometimes we need a giant crash and burn to re-evaluate. We are all an experiment of one, and that experiment is ongoing for life.
After much thought, and a really, really good run on Monday, I decided to register for the 2020 Hell Hole Hundred – 100 miler. As much as ultra training consumes my life, it's a part of my life, and while I won't say I feel "lost" without it…I do genuinely miss it. And for whatever reason, out of all of the 100 milers in the world, the prospect of running Hell Hole is the race that relit the flame in my heart.
Which is ridiculous. If you've ever been on that course, you know why. It's definitely not fun or anything.
But..I know this course like the back of my hand. Including the incessantly flooded parts.
It's only 90 minutes from my home, so it won't be a huge financial – or time – obligation to get there. Speaking of financial, it's part of the $30 club I belong to with Eagle Endurance, so registering didn't cost me anything "extra" other than the $30 a month I already pay the RD (seriously, it's the greatest concept ever). I'll be training in almost identical climates on identical terrain. I've gotten significantly better at training and racing in the heat – to the point that I almost thrive in it (as much as one can thrive in running in 90+ degrees). It makes sense in everyway.
But more importantly…I'm excited again. And that's pretty freaking cool.
So, here's to the next 220 days of training. Better focus, better recovery, better nutrition…hopefully less stress. Training smarter, with all of the knowledge I've learned from the successes and more importantly, short comings, of this past year. My only goal is to make it to the starting line feeling GOOD again.
The finish line will be an added bonus.