I wanted to take a moment to write a post about THIS very blog, but it has to start with a story about mental health. I know it's not everyone's favorite topic to discuss, so I'll try to keep this part short.
I wish I could explain to you what it feels like to come out of a fog you only sort-of knew you were living in.
I knew I spent a better part of the last decade somewhat anxious and struggling. But I had no idea how bad it really was. To be honest, I just assumed this is what life was like as an "adult". Life is hard. Life is chaotic. Life is always "busy". Life is confusing.
One day this Fall, a few months into finally seeking help for my mental health, my therapist sat down next to me on the couch in her office, and handed me a printed piece of paper to read.
On it was my name, birthday, patient number, and a list of diagnoses. At the top of the list:
Major depressive disorder.
It was a surreal moment. That's a BIG, scary diagnosis. The defensive side of me immediately tried to dismiss it as false. A mistake. Not me, not the woman who loves to laugh, and who gets out of bed everyday, and who has the motivation to not only go for runs, but to train for ultramarathons. I know I'm not perfect, but MAJOR depressive disorder? It couldn't be.
Yet over time, as I continued to cry my way through session after session while digging up so much shit I had mentally dissociated with…the diagnosis not only seemed more feasible, it became glaringly obvious.
Especially as I began to work through those things and experience a relief I didn't know I so desperately needed.
In short, the multi-faceted and intense approach to healing I've taken over the last 5 months (sobriety, weekly therapy, medication for ADHD, putting in the WORK to heal, even when it's been really hard) has been life changing. And as it progresses, I realize more and more that sure enough, I was in a state of life altering depression.
One of the ways the depression manifested itself, for me, was living in a constant state of "going through the motions"…and doing it well enough that most people didn't even notice anything was wrong.
But the problem with simply going through the motions when it comes to work, is that the end result is usually a low quality of work…or at least "lower-ER" quality than if you had approached the task – whatever it may be – with enthusiasm and care.
(This is where we're getting to the blog, I promise)
There was a point last year where I wanted to give this (imagine me motioning all around at your computer screen) all up. The blog, coaching, all of it. And it wasn't a fleeting thought: it was something I struggled with for multiple MONTHS on end. I vented to my closest friends. I cried to my husband. I lamented to my mother-in-law how I wanted a career change.
But to everyone else: I kept my mouth shut, and kept going through the motions.
My husband, who was incredibly supportive, strongly urged me to not say too much publicly while I tried to figure out my path. I had not only personally built a career out of this blog, but I had used it as a stepping stone to launch a successful coaching business that now employed both of us full time. Walking away would have been incredibly detrimental to our entire family's livelihood, and everything I had worked so hard for over the last 12+ years.
I no longer had enthusiasm for what I was doing. I no longer really "cared" about running or exercise science. Little did I realize at the time, that this was all a sign of something SO much bigger. If I had really paid careful attention, I would have noticed how I was faking enthusiasm and care for pretty much EVERYTHING, not just running.
But, I heeded my husband's advice and kept quiet, save for a few blog or social media posts that I quickly deleted not long after publishing. Because frankly, I knew I had to do SOMETHING for work, and I didn't know what else to do. Nothing sparked my enthusiasm.
I had simply stopped caring.
So I faked my way through piecing together and publishing endless blog posts, just enough to keep Google happy and keep the advertising money coming in. I mustered up enough effort to keep my clients safe and make sure they achieved their goals.
But the honest truth?
It was FAR from my best work.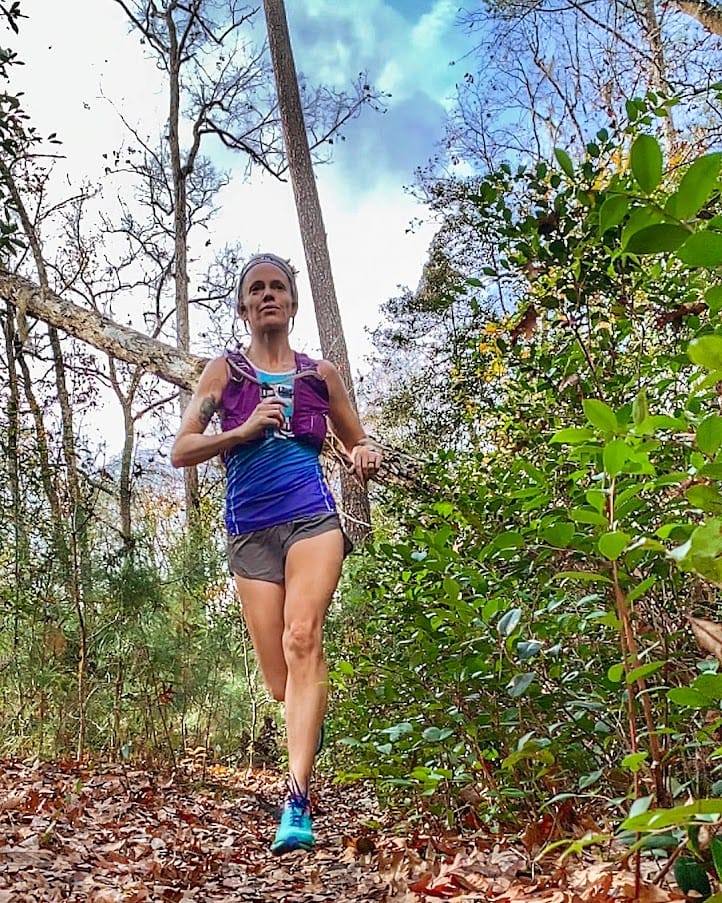 Fast forward to now. One of the most unexpected, and so incredibly welcome, side effects of this healing journey is the reignited passion I have for learning and expanding my knowledge. I have spent a better part of the last few months absolutely POURING over research studies, scientific journal articles, and non-fiction text books. I'm listening to educational podcasts – something I've never before in my life been able to do (my brain simply couldn't focus on the words, I'd find myself tuning out every other sentence, my mind wandering to something else completely, only to realize after 20 minutes that I had absolutely no idea what the podcast host was even talking about.)
I'm enthusiastically writing emails and workout comments to clients so long they are either going to start asking for CliffsNotes, or simply remind me that they don't actually need details of the Krebs Cycle, they just want me to tell them how many carbohydrates to eat per hour during their long run.
I briefly joked about it on social media a few weeks ago, but I wasn't kidding when I said I spent a full week down an all-consuming rabbit hold reading studies and articles about the effectiveness of sodium supplementation in ultramarathon runners. It was honestly non-stop for a full week, unless I was sleeping or driving my kids to and from school. When I finally published my blog post, and asked my husband to proof read it, he said, and I quote "I don't have to read it. You've already TOLD me everything in it. You haven't STOPPED talking about it." (I swear to you, he is incredibly supportive, but I really did go overboard with my unexpected enthusiasm for this subject matter).
And the combination of the excitement I feel absorbing new information, combined with this lingering (and honestly, somewhat somber) feeling that none of this would be new to me had I not been living so much of the last decade not being able to get out of my own way, leaves me with this insatiable desire to learn/read/listen/write/DO more.
My friends, THIS is the version of Heather I haven't seen in YEARS.
The one who sat in the front row of every lecture hall, because I didn't want anyone to literally get in the way of my ability to absorb new information. The version of Heather who would get her homework done IN school because once she started learning about a topic, she didn't want to stop. The one who coined the hashtag #EXSSNERD with some classmates and a professor who happened to be a friend, because we would geek out over science. The Heather that enjoyed discussing or even debating complex subject matter, because the dialogue would both further her understanding AND her confidence.
The opposite of the version of Heather constantly riddled with imposter syndrome, who not only feared she had no idea what she was talking about, but at times struggled to put together coherent sentences using anything beyond basic vocabulary. I honestly could not remember words, my mind feeling blank, and I wondered why any bit of intelligence I used to have felt further and further away with each passing day.
Speaking of proverbial rabbit holes, want to go down one? Head over to pubmed.gov and start reading about the relationship between depression and cognitive dysfunction. When you get bored, switch over the relationship between the long term effects of heavy alcohol consumption on cognitive decline. It's amazing to me I never made these connections before. At the same time, it's no surprise that I was oblivious.
But I digress.
Sometimes you don't realize how much of yourself you've lost, until the parts that you didn't realize were missing – the parts you used to LOVE – start to return. And as I can almost literally feel this brain of mine exercising in ways it hasn't in far too long, I'm realizing how much of what I've published on this blog in the last handful of years is…lacking.
I want to say it's "total crap", and I want to admit how, when re-reading much of it, I get pangs of embarrassment at how many corners I cut in both the content and methods with which I researched, as well as the actual writing of the final post.
But ultimately, I refuse to beat myself up or belittle my struggles, that were very, very real. And no, it's not total crap…but it could be better. Much better.
So, lacking is the term I'm going with. Incomplete. Far from my best work. And because this little corner of the internet is not just a hobby, but part of my JOB, it matters to me that I fix it.
Point being, if you start to notice newly published blog posts in this space and think "wait, hasn't she written about this before? " the answer is yes, yes I have. But now, I want to do it even better (stupid freaking SEO be damned).
And now you know why. And I hope you'll take the time to re-read it.
I won't lie, part of me wonders if sharing ANY of this is a good idea. Will I betray my readers, my clients, by admitting that there were times I didn't do my due-diligence, that I didn't try my best, or worst of all, that there were times where I didn't care?
Possibly.
There are certain expectations you hold experts to, and when you find that they haven't held themselves to those same expectations, trust can be lost.
But an important practice I have remained true to over the last nearly 13 years I've spent writing this blog and sharing on social media, is to be transparent about my struggles. Because by only sharing our successes, we further perpetuate the idea that our struggles should be kept quiet, and that we should suffer alone.
But we aren't alone. We all mess up, we all make mistakes. Sometimes, we even downright fail. All of us.
The important thing, I think, is what we do after we fail.
Whether you choose to publicly share your struggles or to keep them private is most certainly a personal choice, one that I deeply respect. But whether or not you choose to be openly vulnerable, I hope that no matter what…when you fail, you get back up. Even if it takes you YEARS to muster up the courage, pick yourself up and try again.
I hope you try to right your wrongs, to fix your mistakes, to continue to grow, to continue to learn, continue to do better and BE better, without shame or embarrassment. And I hope that while you celebrate the growth, you also find room to you forgive yourself. Because that, too, is pretty damn powerful.
Keep fucking going my friends. I believe in you.