Last week was one of the highest volume – mileage wise – weeks I've had in a long time. It seems like all spring I was either tapering, racing, recovering, or spending hours climbing stadium stairs while covering little mileage, haha. Though the 62 miles I ran this week are just the start of a few big mileage weeks to come, and they are coming quickly.
Hell, Vermont 100 is only 60 days away.
I hit 100% of my prescribed mileage, which in truth made me feel more accomplished than the actual running itself, haha. Scheduling over here in the Hart household is chaos and never constant, so it's always a pleasant surprise when things go exactly as planned. Scratch pleasant surprise – more like "incredibly rare occurrence."
This week included:
62 miles total
22 mile / 10 mile back to back long runs
1 track/stadium workout
1 spin class (approx. 90 minutes: 30 solo warm up, 60 class)
1 plyometrics & core class
1 lower body strength training session (approx. 90 minutes)
1 "push" strength session (chest, shoulders, triceps, approx. 60 minutes)
1 "pull" strength session (back and biceps, approx. 60 minutes)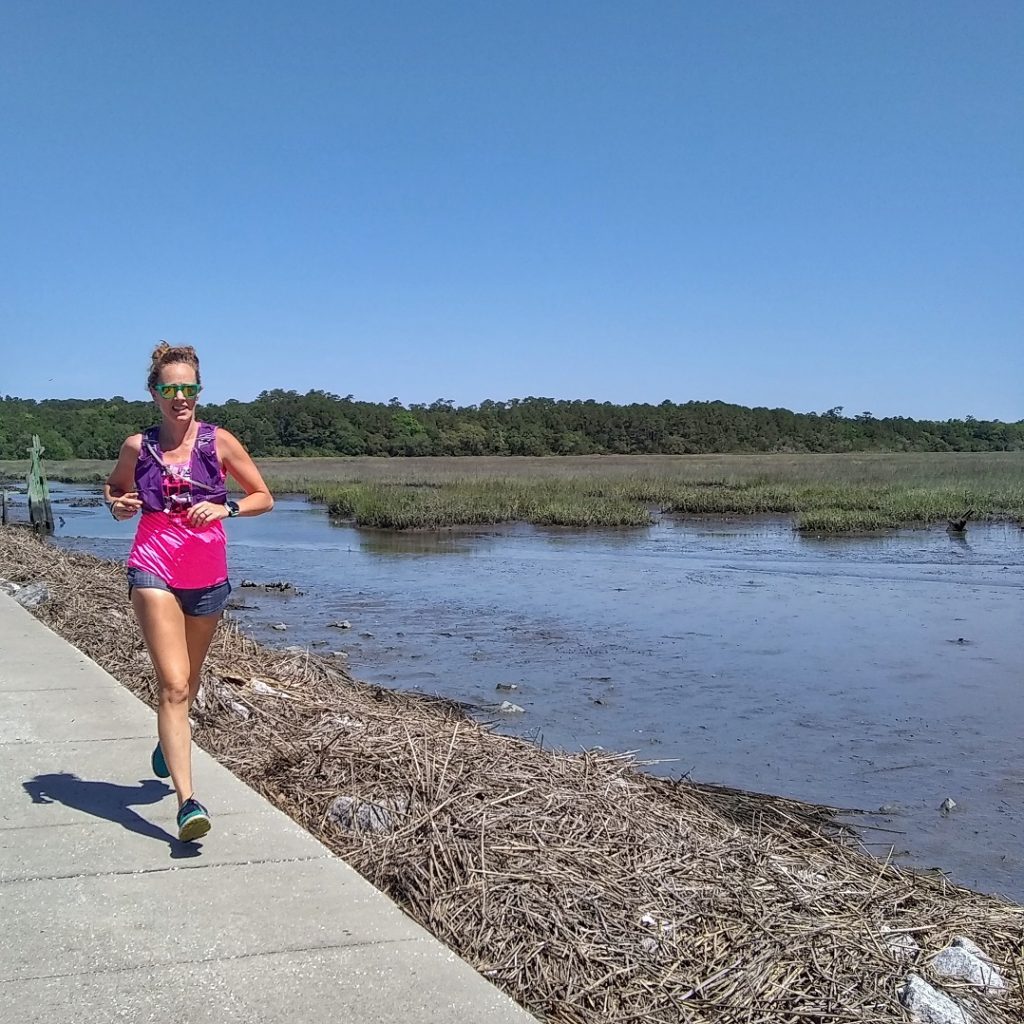 Highlights from this week included:
– A Monday night run with a million little hill repeats on trail. We don't have a ton of hills here in Myrtle Beach, so even if they were only a couple of feet high, I ran up and down them a bunch of times. The rest of our group probably thought I had lost my mind, but it ended up being a really awesome workout.
– Lots of midday, HOT runs. Temperatures have quickly hit the mid 80's, and are slowly creeping up by the day. So is the humidity. This will be our 5th summer since we moved back to the Carolinas from Vermont. I learned the hard way that first summer that the key to a successful summer of running is to acclimate early. Unfortunately, that first year we were thrown into the late June sufferfest straight from Vermont, where mornings were still hovering in the 50's. I thought I was going to die. Alas, I didn't – and I learned that when the heat starts to pick up you get out there, and you get out often.
Of course, I joke that I'm going to be 100% ready for a late July race in Vermont – and as such, it'll probably be 50 degrees and raining on race day. Because that's what New England likes to do in the summer: keep you guessing.
– A quick Thursday morning 3.3 miler on the trail with one of our favorite race directors, Matt Hammersmith from Upstate Ultra, who was in town for a quick Myrtle Beach vacation. Thankfully, he let me lead the run…because this guy regularly throws down marathon paces that I can't even hold for 400 meters.
View this post on Instagram
While I'm having a good time, and truly enjoying, putting in training miles, I won't lie: I haven't even begun to wrap my mind around running 100 miles again. The last few attempts – and most recent 100 mile finish – have all been here in the Lowcountry / Francis Marion swamp forest, which at this point I feel as though I know like the back of my hand.
Vermont 100? I've never set foot on the course. At least, I don't think I have. I grew up in the area (20 minutes North of the race start, to be exact) but those were the days where I dreaded when my soccer coach would make us run a single mile. I never got around to picturing running 100 miles on those back roads. It makes the visualization process of the training (which I believe to be a valuable part of the process: visualizing the highs, the lows, and planning how you'll get through them)…interesting. Not bad, just different.
I put in a call for Vermont pacers, and may have a few leads. I figure I'll start planning logistics when we're a month out. I'm also starting to make the shift of putting in my training runs at random hours of the day – and will soon be adding late night runs – rather than running at the same time every day. The lack of predictability is great for mental toughness, and it teaches your body how to run at any given time. Because with a hundred miler, you're literally going to be running at ALL hours of the day…and night.
Next week (which is actually this week, since I'm a few days behind in posting this recap) is a bit of a cutback week (only 50 miles schedule) and the next week a higher mileage week, culminating with the Hell Hole Hundred 50 miler. Which, for the record, isn't actually a thing. I had to sign up for the 50k, which consists of two 16 mile loops, then I'll head back out with the 100 mile runners for one loop of their 18 mile course, and hopefully end up somewhere with a 50 mile long run, to make the ultra training gods happy. It will no doubt, be an adventure.
So I'm concluding this post with a training summary of: so far, so good.