As 2019 comes to a close I find myself in a precarious position. With 2 days left in the year, I've already been forced to back out of essentially all of my "big goals" for the first half of 2020.  I've seen the little screen on  ultrasignup.com that says "we're sorry you can't make it" when you un-register from a race more times this week than I've seen in my entire life. 
Hell Hole 100 PR goals? Gone. Cremator? Nope. All of those new races in the $30 club? Not going to happen.
I could be pissed about a medical condition that happens, that's common, and that's going to take a little bit (to potentially quite a bit) of time before it's resolved. I could be upset that this unexpected physical road bump has rudely taken precedence over my preconceived 2020 plans.
But instead I'm choosing to focus on the good things that did happen this year. And then I'm going to talk about the good things that are going to happen next year. Stick around, this one gets…interesting.
THE 2019 HIGHLIGHTS:
Frozen Hell Hole 100
To be 100% honest, my performance at Frozen Hell Hole is probably the one thing holding my sanity together right now in this unexpected running hiatus. No, it wasn't particularly fast (28 hours and 13 ish minutes), but it went exactly according to plan.
After a disastrous performance (but a finish none the less) at the 2017 Knock on Wood 100 miler, I was left feeling very unsatisfied. Yes, even though I earned the belt buckle and covered all 100(+) miles. But the race definitely didn't go as planned, and I knew I was capable of so much more.
That race was followed with a handful of failed 100 miler attempts, including a DNF at mile 90 at the 2018 Knock on Wood.
But my training cycle for the 2019 Frozen Hell Hole 100 went relatively well. And race day, despite a pouring rain monsoon of a storm during the overnight hours, went according to plan. I bonked just once for approximately 15 minutes, but was able to turn it around. I felt GOOD. And for a lack of better words, it was very satisfying to know I was capable of that.
Saddlers Creek Stumble
I went into this one untrained and without a plan. It was also my first 24 hour attempt completely solo – I didn't run with anyone or have any pacers. I was just going to go out there and run…and see what happened. And much to my surprise, the race went really, really well.
It wasn't my fastest performance ever, but I felt mentally very strong, which was a huge confidence booster. I was able to identify and rectify my "lows", as well as race smart during my "highs". This race truly gave me the confidence to know that I do have my place in this sport, all of my other finishes have not been flukes.
Winning the race was just icing on the cake. (read that recap HERE)
I Ran the Naked 5K Again – and Won.
Yeah. That happened, again. Third times a charm, because I won.
(Sorry, no pictures of this one, haha, but you can read the recap HERE.)
Speaking of Winning –
I also took first place at the Hallucination 6 hour race in February, and Hell Hole 50K in June. I think that makes for the most "first place" titles I've claimed in a calendar year. Neato.
I Made my Adventure Race Debut
After YEARS of nagging me to do an adventure race (and honestly, I was never against it, it just never worked with our schedule) my husband finally got his wish and we ran our first adventure race together. (He had run a few in the past, so this wasn't his first AR rodeo).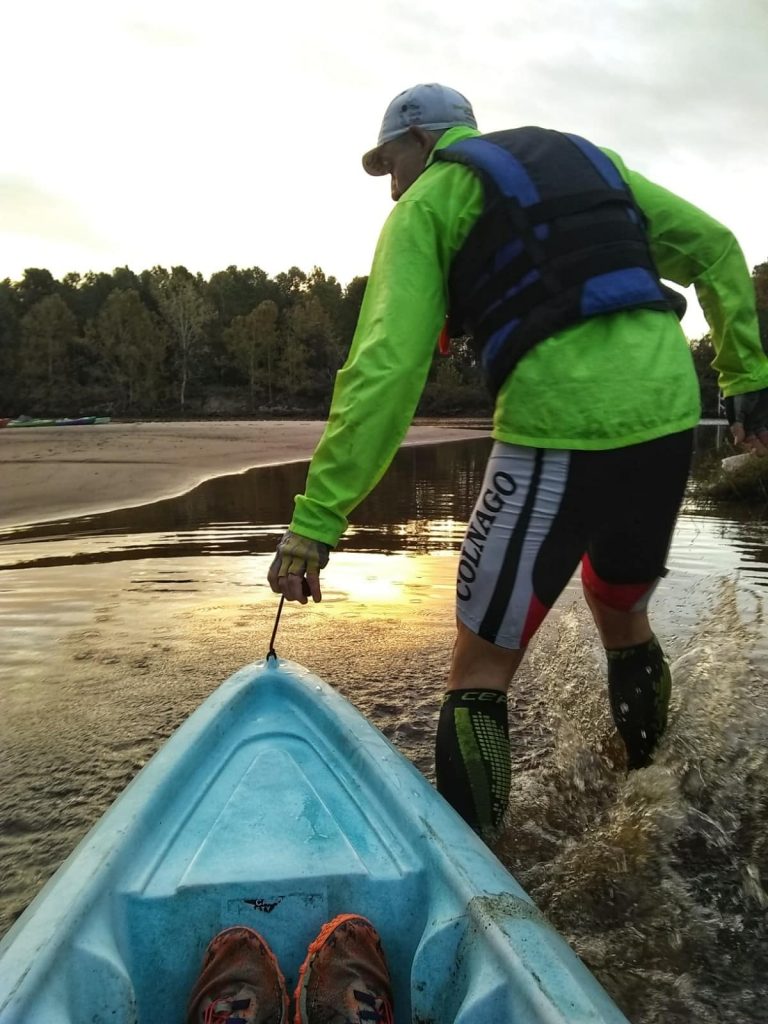 I had far more fun than I thought I would, and raced much harder than I thought I would (the competitive side came out). We managed to snag a win on this one too.
Other Stuff:
Of course, there were countless other highs in 2019.
Summer Camp with FitApproach was a life changing experience. My heart is still full.
Summer vacation on Cape Cod with my family
Finally diving into this blog, full time (still scary to think about).
Continued success with our coaching business (mostly Geoff, he's killing it)
Adding Ploppy to our family
We adopted the new Adventuremoblie 2.0
We also adopted the tandem bicycle – and I haven't hurt myself on it (yet).
I kept a couple of house plants alive for the ENTIRE year (that's a record)
I got my bird tattoo for my Dad
THE 2019 LOWS: (but with silver linings)
Georgia Death Race
Whew, where to even begin with this one. I didn't even make it halfway. I had a bad, bad day at the Georgia Death Race. And honestly, I was still in the depths of freshly grieving the loss of my father. Training happened, but it wasn't as effective as it could have been. Hell, there are a million reasons and excuses I could give.
But.
I was able to raise over $4,500 for the American Cancer Society. And I was able to stand up in front of a ton of badass ultra runners, and talk about my Dad. And honestly? That in and of itself was enough. I have no regrets, and I have no feelings of "unfinished business". While it didn't turn out the way I had planned, I'm at peace with my GDR experience.
I tore my Calf Muscle.
I tore my calf teaching a group fitness class. Lame. I missed Vermont 100 because of it. Double lame. But, I survived, and a few months later, was able to run again with no issues. The rest from running was needed, despite the injury, I just didn't know it at the time.
I Grieved
A whole lot. This year has been full of immense grief, as I still process the unexpected loss of my Dad. But with the grief has come growth, in more ways that I can begin to describe (but I certainly try). I hate that Dad is gone, I hate that my mom, sisters, and I have to feel this pain. But I truly believe that pivotal moments in life, like this one, help shape us into the people we are. Even after his death, my father is helping me realize what matters most in life. For that, I am grateful.
LOOKING AHEAD:
To be honest, I wasn't sure where to write this part of the post: here or over on the other / new non running blog. Because suddenly it appears my 2020 will involve a lot more "non running" than I imagined.
I'm not sure how to put the following into words, but nevertheless, I'm going to try. I'm not overly upset or feeling defeated by currently not being able to run until further notice. I'm actually doing surprisingly well – though I've suddenly become hyper aware of how all anyone talks about in my world is running. But I digress. I'm mentally and emotionally in a happy place – despite the sudden lack of an activity that I consider to be a thread that at times, literally holds me together.
But, all of that said, I feel a little…strange.
Not lost. No, I know where I am. I might not know what the future holds, but I know it will all work out. EVENTUALLY. I am fully confident in that fact. Rather, I feel strange that I'm not more upset about this whole thing.
And I recognize that feeling bad that I don't feel upset is in and of itself strange.
But the truth is I'm feeling this strong, almost overwhelming pull in a completely different direction. A desire to find out what else is out there, what else sets my soul on fire the way running does. And suddenly all of this time NOT running is allowing me to pursue these other things.
Perhaps I've been subconsciously burnt out on running. I mean, I practically eat, sleep, and breathe this sport, and have for the last decade. Maybe my brain is recognizing that it's time to finally explore all of the other things that make me "ME", and my heart is finally giving me permission to do so (and of course my pelvis joined in on the fun, forcing me to stop running, thanks a lot, body…).
I realize this sounds absurd, but it almost as if I feel I'm betraying the world and community that has become my everything over the last decade. Because I'm unexpectedly having to step out for a while…and I'm not that mad about it.
Last week while visiting my sister and brother in law for Christmas, my sister inadvertently said something that I found very profound:
"You're allowed to change."
I honestly can't even remember the context of the conversation, but her words echoed in my brain and made their way to my heart, a place where I didn't know I needed to hear those words. You are always allowed to change. You do not owe an explanation.
And with those words, I will share my goals for 2020
Heather's 2020 To Do List:
Get my current medical situation fixed, so I can run again (see? I'm not going anywhere)
Continue to grow this blog, providing helpful and educational content (I've got specific numbers in my head and written down). I love this blog and I love the opportunities it has provided for myself as well as my family. But most of all, I love sharing my passion and knowledge with others. So, even if I'm on a running hiatus, this space will not be slowing down. Quite the contrary.
Tackle the South Carolina State Park "Ultimate Outsider" challenge. The challenge is to simply visit all 47 of our State Parks and get a "passport" stamp in your book. There is no time limit, but I'd love to get at least HALF of them in 2020. I don't plan to live in this state forever, so might as well check them out while we are here.

We had planned to take on this challenge in 2019, but hit a fast and furious road block when Kain lost his finger at Pee Dee State Park. It kind of put a temporary damper on our family adventure motivation. So uhh…time for a re-do.
Get more comfortable on my mountain bike. Geoff has been giving me a healthy dose of good natured peer pressure to sign up for a mountain bike race. I'm not there yet, for a number of reasons. But I'd like to be.
Go camping in (and spend time exploring) both Tennessee and West Virginia. Because I've only driven through those states, and what I saw was absolutely gorgeous. Plus both are within a reasonable driving distance. (Now taking recommendations for places to visit).
Go back onto the white water at Tuckfest this year (note: ON the water, definitely not IN the water). Honestly, it scared the ever living sh*t out of me this past year when I wound up in a white water rafting RACE (!), and I couldn't wait for it to be over. Which is why I need to do it again.
Read more books. I'm ashamed of how little I read, especially since I am such an advocate and lover of written word. But if it's not an article on the internet, I probably didn't read it this year. Meanwhile, my 11 year old finishes a book every 4 days it seems, so I'm going to take a page out of his book (haha, book puns) and make a conscious effort to read more. "SMART" goal setting says you need to make these sorts of goals measurable, so I'm going to say 20 books. That's my goal. And I'm totally counting the one I'm 1/3 through now, even though I started it in 2019.
Hike a mountain I have not hiked before. Any one will do. Actually, let's make that two mountains.
Cook more. Yeah, 37 years old and I'm finally learning how to be a "grown up", and cook more than vegan chicken nuggets. Dare I say…I'm enjoying myself. Don't expect any food blogs out of me anytime soon (or ever), but I have learned how to chop garlic. So watch out world.
Knock out a couple of items off of my 40 by 40 list, because, uhhhh…I'm turning 38 in a few months and I'm woefully behind on this kickass list.
Grow the "new" blog, and get accepted to Mediavine (the advertising partner I use on this blog) by December of 2020. This is one more step towards our long term goal of buying an RV and living on the road. Yeah, so cliche, but to give us credit, we had this idea long before we had instagram accounts (hashtag vanlife, or whatever).

You can help by visiting www.bigfootsearchparty.com and subscribing (and more importantly, reading) new posts over there when I publish them. It will be a combination of the Heather rambling you've grown to love (I think?) and non running outdoor adventures.
And lastly, be more open to whatever life throws my way. Because if I've learned anything in the last 15 months, it's that we are largely NOT in control of what happens in life. We are, however, control of how we react to those unexpected things. And this life? It's a really, amazing, kickass gift. I hope in 2020 that I can continue to learn how to appreciate it even more.
Thank you for all of your support this year, and over the last decade. It's truly an honor to share my words in this space with you guys. I hope you'll stick around for what's to come!