Last Updated on May 24, 2023 by Heather Hart, ACSM EP, CSCS
Looking for an unbiased review of the Adidas Adizero Boston 11 running shoe? I've got you covered. Unlike my husband, my honest shoe reviews have never gotten me fired from a job, but nevertheless, they are never influenced by any brand. But for transparency sake, these shoes were provided to me for review purposes, at no cost.
In my mind, I'm a badass trail and ultrarunner, floating over gnarly, technical trails, bagging peaks like a regular mountain goat.
In reality, I'm a trail and ultra running enthusiast who lives in the middle of a cookie cutter, suburban, borderline retirement community. The closest "trails" we have are the remnants of the now defunct golf course this community was built on. And yeah…those trails are paved.
Needless to say, I run more paved miles than I do trail miles these days. Therefore, my running shoe arsenal is a solid 50-50 split between road running and trail running shoes.
When the Adidas Adizero Boston 11 showed up on my front porch, I greeted them with a "what ARE these?" mix of confusion and excitement over a shoe that was clearly designed for my current pavement and treadmill miles.
Truth be told, I've never run in the Adizero Boston model. A little google sleuthing tells me that the original Adizero Boston was released in 2010, debuting as a lightweight, long distance running shoe specifically designed to tackle the marathon distance. 12 years later, Adidas has launched the 11th iteration in this series.
My first impression after opening the box was that the Adizero Boston is no doubt a maximal shoe. It looks big, burly, and like it means business. Next I noticed the geometry of the shoe: the beveled heels and obvious toe spring angle were more aggressive than the beefy, highly cushioned shoes I'm used to seeing in the ultra running world.
In short, at first glance I couldn't tell if the Boston 11 was supposed to be a marshmallow cushiony shoe, akin to a Hoka, or some sort of performance shoe.
Turns out, it's a little bit of both.
About the Adizero Boston 11:
According to Adidas, the Adizero Boston 11 shoes are built for mid-to-long distance running, bringing race-day quality to your training, with a "propulsive, fast, durable shoe" (their words).
This appeals both to the 20 year old speed demon still lingering within me, and the now 40 year old practical side that scoffs at running shoes that need to be replaced after only 200 miles.
Adizero Boston 11 Technical Specs
For my fellow running shoe nerds (aficionados, take your pick), here are the technical specs you need to know about the latest Adidas Adizero Boston 11:
Shoe type: Neutral, road running
Weight: 9.9 oz (Mens US size 9) / 8.9 oz (Women's US size 8)
Offset (drop): 8.5 mm (heel: 39.5 mm / forefoot: 31 mm)
Upper: Lightweight mesh, containing a minimum of 50% recycled content
Midsole: Dual layer Lightstrike Pro+ cushioning

ENERGYRODS: plastic (not carbon) rod design to limit energy loss

Outsole: Continental™ Rubber
MSRP: $160
What's an EnergyRod?
Every running shoe brand has their own technology, and Adidas is no exception. EnergyRods, according to Adidas, mimic the metatarsal bones of the foot, allowing runners to maintain their speed for longer, optimizing running economy, providing maximum energy return, and creating less physical impact on the body (their claims, not mine).
In some Adizero models other than the Boston, these EnergyRods are infused with carbon, while in others they are made of fiberglass.
These? They look like plastic to me, but I'll admit I'm far more versed on energy synthesis in humans rather than shoes. Now, who wants to talk about the Krebs cycle?
Does the Boston 11 Feature a Carbon Plate?
A number of larger online running shoe retailers mention in their descriptions that the Boston 11 features a midsole carbon plate for added responsiveness and propulsion.
However, the Adidas site makes no mention of the carbon plate, and the $160 price tag seems a little shy of the going rate for running shoes featuring a carbon fiber plate, which typically range between $225-$300.
I did reach out to Adidas customer support for an answer. The initial customer service member was not able to give me an answer, but said someone from the product development team would email me. I'll update this post when they do.
What's New for the Boston 11?
If the Adizero Boston is your regular running shoe, you may be wondering what's new with the 11th model in the series.
First, the redesigned upper of the Boston 11 features a more breathable design than that of the Boston 10, and drops the weight of the shoe by about 0.4-0.5 oz. This upper is made fro 50% recycled materials – score one for the environment.
Next, apparently is the addition of this tiny piece of fabric that the pros over at running warehouse referred to as a "heel flip". From a technical perspective, it seems like they may be helpful in pulling the shoe on, in order to avoid the upper of the heel collapsing when you push your foot into the shoe.
Lastly, they cost an extra $20 over last year's model. That's no surprise, as seemingly everything has become more expensive over the last year due to supply chain demand issues.
Adizero Boston 11 Review
So now we've covered everything you could have probably found on the Adidas website, let's cover how this shoe actually feels and performs. On to the review…
Appearance:
While I'll admit that aesthetics are the least important feature of a running shoe, you and I both know that people care about these things.
Now, I am a child of the 80's / 90's. I'm not ashamed to admit that I immediately gravitate to anything featuring a hot pink and neon green color combo.
These shoes would match perfectly with my New Kids on the Block fanny pack…if only I still had it. Regretfully, I do not…so instead, let's all take a quick second to admire how well this particular colorway matches my husband's Surly Pugsley, that he has lovingly named Thorton Mellonballer.
Moving on…
Fit:
Length: I found the length of the Boston 11 to fit true to size. I normally wear a size women's 10.5, and I found the 10.5 to fit with the ideal amount of room to spare (about a half an inch between the end of my big toe and the end of the shoe).
Past reports of the Boston 10 all point to the previous model running small. However, that seems to have been rectified in the Boston 11.
Width: Those of you who have read my reviews before know that I have what I refer to as "claustrophobic feet". While my feet are in no way wide (in fact, the mid to rear of my foot are pretty narrow), a combination of being barefoot as often as possible and a genetic disposition to bunions has left me preferring a wider forefoot in my shoes. The Boston 11 gave me just that.
Comfort:
I find the Adizero Boston 11 to be a relatively comfortable shoe. I've found no design flaws that caused hot-spots (such as oddly placed overlays), or any sort of features I wish were done differently, as far as fit and comfort goes.
Typically, I cringe a little when I see a very thin shoe tongue, as I've found that the thinner material sometimes makes it feel sharp. I've had no such issues with the Boston 11.
Speaking of the tongue, it is gusseted, connecting to side of the upper creating more of a "sock" fit, to help prevent it from slipping.
Further, there is a piece of what I presume to be foam integrated into the tongue to help prevent any uncomfortable pressure points from the lacing system. As a runner who frequently utilizes the "heel lock" method of lacing, I find this extra padding incredibly useful.
The Run:
While my personal running shoe collection is pretty varied and extensive, I feel it may be helpful to first share my most frequently used lineup, for comparison:
Road shoes:
0-10 miles: Saucony Kinvara (6.5 oz, 4 mm drop, 28 mm stack height)
10+ miles: Hoka Clifton (7.2 oz, 5 mm drop, 29 mm stack height)
Trail shoes:
0-10 miles: Hoka Zinal (6.9 oz, 5 mm drop, 21 mm stack height) or Altra Lone Peak (8.7 oz, 0 mm drop, 25 mm stack height)
10+ miles: Hoka Challenger ATR (8.1 oz, 5 mm drop, 32 mm stack height)
As you can see, I tend to stick to lower heel-toe-differential, and alternate between lighter, more minimal shoes, and approaching what is considered a maximally cushioned running shoe (typically defined as 30-50 mm stack height)
Responsive, Non-Maximal Feel:
I fully expected the Adizero Boston 11 to feel either: a) squishy and not responsive, akin to the long, slow ride of most Hoka models I've worn, or b) clunky and brick like. Especially considering the weight – close to 9 oz is definitely heavier than what I'm used to running in.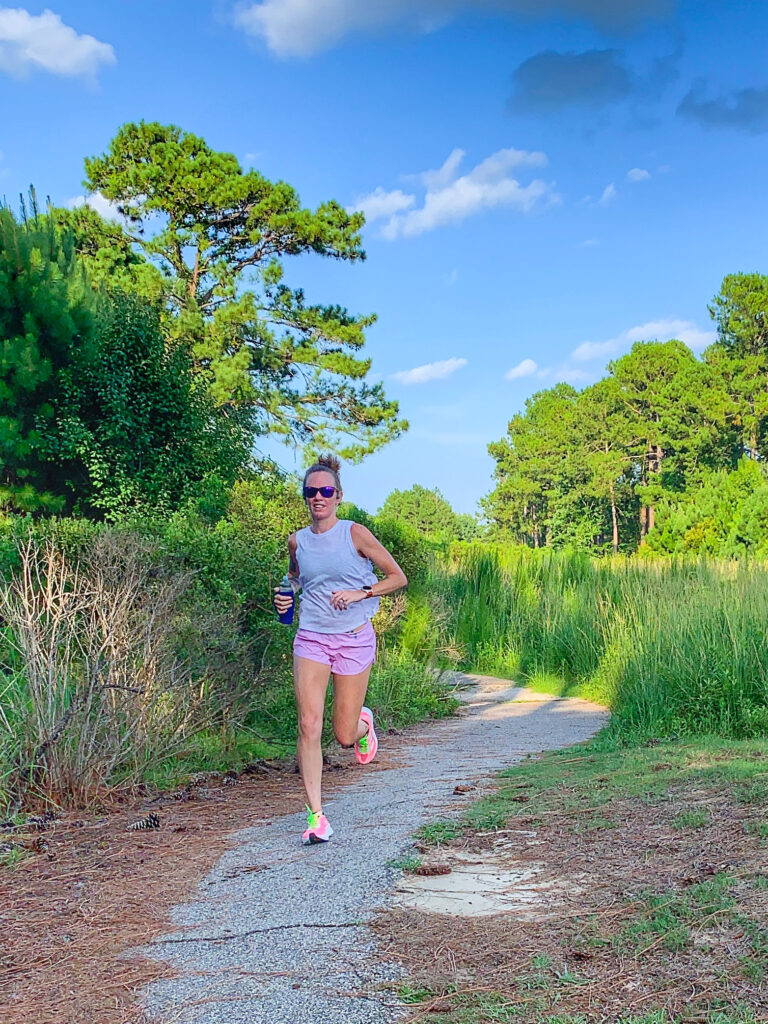 It only took me a few steps to realize it was neither of those things. Rather, the Boston 11 felt firm (but not stiff), fast, and dare I say…snappy. The toe spring angle (upward curvature of the mid and outsole of the forefoot) encourages your foot to continue rolling through the foot strike, and into toe off with minimal effort.
It's such an obvious curve that immediately upon putting the shoes on, I found myself leaning forward and rolling through my toes while just standing there.
The rocker, paired with the lateral beveled heel will especially help heel strikers with a speedy transition through the foot strike and back off of the ground.
Cushion/Stiffness Rating:
I read a lot of reviews of the Boston 10, and apparently, many long time Adizero Boston shoes were not happy with them. Apparently versions 1-9 were a more lightweight, marathon racing shoe, while version 10 was a complete overhaul into the maximal, beefy shoe we see the Boston as today. Many complained that the Boston 10's were too stiff, and never really able to be "broken in" over many miles.

To be completely transparent, I've yet to put in a single double-digit run in these shoes (and likely won't, as I've found my body is happiest sticking in the 3-6mm drop range for long runs) so I cannot speak to the comfort after more than an hour.
But for the miles that I have covered, my opinion is that the Boston 11 isn't uncomfortably stiff. That said, it is certainly not super flexible, either.
Breathability:
It's July. I live in Coastal South Carolina. It's approximately 1,000 degrees with a dew point of 5 million. I can honestly say that the Adizero Boston 11 is plenty breathable.
Durability:
The durability of this shoe is still to be determined. Admittedly, I've put a whopping 10 miles on these shoes over three runs in the last few days (hey, I'm taking an ultra running sabbatical and exploring the world of multiport – not triathlon, the other one.)
That said, I will update this post later this month when I've had the chance to log another few dozen miles on the shoe.
Adizero Boston 11 Final Thoughts:
The Boston 11 is not a shoe I would have ever thought to pick for myself. On paper, it's bulky, heavy, and that cushioned stack height is more than this 130lbs of runner needs.
In action, however, I was pleasantly surprised at how the Boston 11 feels the opposite of all of those things. I didn't notice the weight, and they didn't feel unwieldy. In fact, the shoe feels incredibly fast for its all around size.
Ultimately, I think the still-to-be-determined durability piece of the puzzle is going to be the final deal breaking factor on whether or not I feel the Boston 11 is worth $160. If it continues to feel this responsive, and I can get a solid 400+ miles out of the pair? I will absolutely continue to use them.
Overall, I feel this shoe fills a very specific niche in the shoe market: a highly cushioned, durable shoe that doesn't feel marshmallowy, energy sucking soft.
So far, the Adidas Adizero Boston 11 gets a 4 out of 5 stars.
Heather Hart is an ACSM certified Exercise Physiologist, NSCA Certified Strength and Conditioning Specialist (CSCS), UESCA certified Ultrarunning Coach, RRCA certified Running Coach, co-founder of Hart Strength and Endurance Coaching, and creator of this site, Relentless Forward Commotion.   She is a mom of two teen boys, and has been running and racing distances of 5K to 100+ miles for over a decade.  Heather has been writing and encouraging others to find a love for fitness and movement since 2009.