Last Updated on August 17, 2021 by Heather Hart, ACSM EP
All my husband wanted for his 51st birthday was a trip to the Crowders Mountain State Park permanent orienteering course. Fortunately, I'm much better at reading topo maps while stomping through the forest than I am at baking cakes or planning parties, so I didn't hesitate to help make this trip happen.
As many of you know, Geoff mainly tags along in the ultramarathon scene because as they say a "happy wife is a happy life" (or something like that). But if you ask him, his sport of choice is Adventure Racing. One of the major disciplines of the sport of AR is orienteering, or, using a map, a compass, and navigation skills (read: no GPS) to find your way from point to point.
The key word here is "skills", something neither one of us have a ton of quite yet.
Now, don't get me wrong: we can both read a map and take a bearing on a compass. But let's be honest, despite a few finishes under our belts, we are both still pretty new to the sport of AR. Further, living in Myrtle Beach doesn't afford us a ton of practice in either department when it comes to mountain or remote racing. So we both thought this would be an excellent idea to practice our orienteering skills in a location neither one of us have ever visited before.
Crowders Mountain State Park Permanent Orienteering Course
As you may have gathered by reading this far, Crowders Mountain State Park, located in Kings Mountain, North Carolina, has a permanent orienteering course in place. Meaning, you can head to the park at any given time to run through the course on your own – no need to wait for a race or an official event.
23 wooden posts that serve as check points (or, CP's) are spread throughout the park – some in easier to find places, and some require much more navigational skills. A detailed map of the check points and a clue sheet are available for downloading and printing both on the State Park and the Carolina Orienteering Klubb websites.
And that's pretty much the extent of the details you get online. Which really, is half the fun.
The short version of this blog post? The Crowders Mountain O-course is a lot of fun. It features check points that are located right on the trail, check points that require some serious bush-wacking, and check points that are somewhere in the middle, difficulty wise. It's a great opportunity to either practice orienteering for the first time, or to try honing in your navigation skills.
But I'm betting some of you aren't here for the short version.
Adventure Race Training with the Harts
Now, it wouldn't be a true adventure with the Harts if things didn't go woefully off the tracks, and this adventure was no exception. So let's start at the beginning, shall we?
(NOTE: I'll be sharing pictures of the CP's, but without any spoilers or identifying clues as to where they are located.)
The Unplanned-Unplug
We started our day in the usual adventure fashion: breakfast, lube on the feet, gear in the car, and headed out for the day, right on time.
But as soon as we got into the car to drive from Kings Mountain State Park (where we were camping), to Crowders Mountain State Park, Geoff's phone died. And not in a "the battery is dead" sort of way, it just…died. Most likely due to the fact that it had spent the majority of Saturday morning in his hydration pack pocket while he sweat a few gallons of fluid all over it, due to the 90+ degree temps and coastal South Carolina humidity. Also likely due to the fact that his phone was a few years old and had most definitely seen better days. Regardless of the exact cause, neither one of us were surprised that his phone finally gave up on life.
But wait, it gets better.
I, too, am a bit of a recluse, inadvertently destructive, dirtbag of a human when it comes to my gear . And that's why I still carried around a 3 year old Motorola pre-paid cell phone, lovingly named "Swampie" because I dropped it in the swamp while running through the Francis Marion National Forest. It took a solid 48 hours of digging mud out of the charging port before I could bring it back to life, but I was successful…sort of. From that point on (7 months prior) Swampie would ONLY charge with one specific charging cord, and 9 times out of 10, only when plugged into a wall outlet.
You're probably guessing where this is going, so let me get to it: as soon as we realized Geoff's phone was done for, Swampie, too, decided to stop charging.
So now we're in a semi-remote area we are completely unfamiliar with, on the brink of having no GPS service, and without working cell phones. So we decide to use the last of my cell phone battery (hovering at 23% and quickly dropping, as a 3 year old cell phone that spent time in the bottom of a swamp tends to have crappy battery life) to navigate us to the closest Walmart, where we can reluctantly purchase two, brand new cell phones.
I would like to also point out that once we arrive to the parking lot, Geoff realizes he doesn't have a shirt. (I told you we're dirtbags). Thankfully, he squeezed his beefy arms into one of mine.
Lost Already
A ridiculous amount of unexpected money later, we have both acquired new phones that we don't know how to work. But there will be time for that later. Instead, we punch "Crowders Mountain State Park" into what's left of the battery on my old phone, and 10 minutes later, find ourselves at a trailhead.
Except…once we exit the car and I begin looking at the map on the kiosk, I realize there are three different parking locations for Crowders Mountain State Park. And the one we are at (Linwood Road access)? It is not the one we want for the orienteering course.
Of course it's not.
Back to the car we go.
Can You Get to the Orienteering Part of this Story Already?
Now with 4% battery life left on the old phone, we finally find ourselves in the parking lot of the Sparrow Springs Visitors Center. We exit the car, park ourselves on the grass just in front of the main entrance, and use the free wi-fi to FINALLY set up our new phones. The fear of being stranded without a map or directions home made us cave to responsibility before fun.
(Personally, I've gone the pre-paid route with cell phone service for the last 10 years, so if you're wondering why the heck we had to do all of this ourselves, there's your answer. )
Anyway.
We're ready to adventure. We load up all of our gear – hydration packs, nutrition, map cases, and compasses – and hit the trail.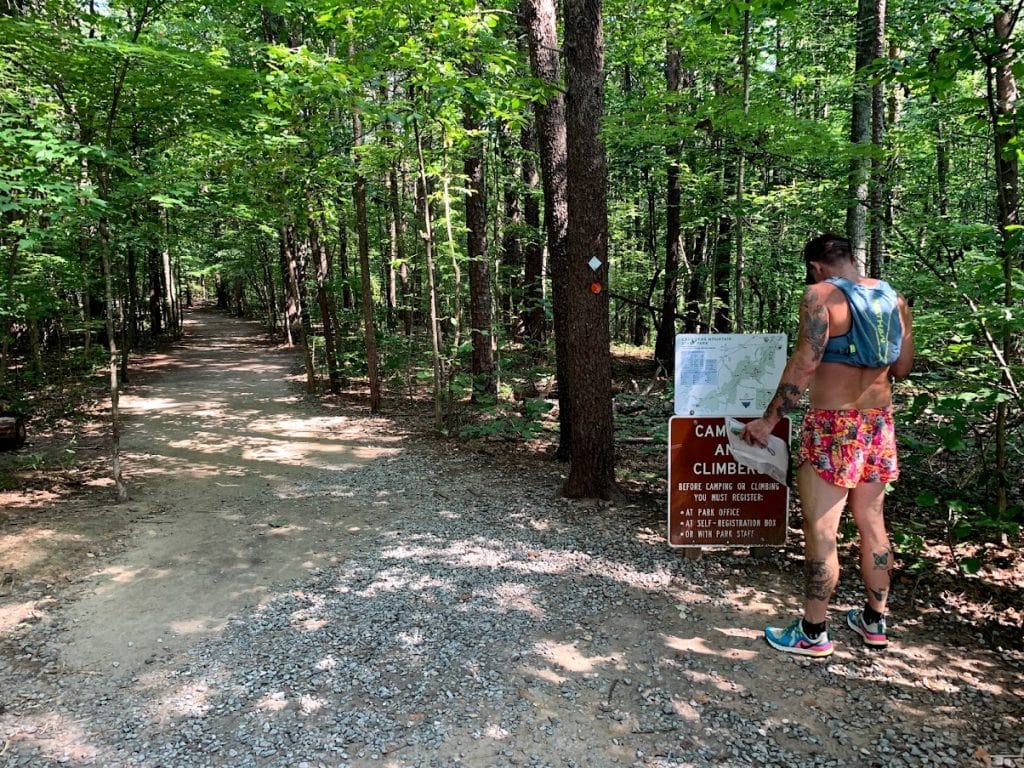 We head to where we expect our first check point to be…aaaaaand it's not there.
Lost Again.
It's a wonder we somehow moderately thrive in the sport of Adventure Racing. It's now been a solid 2 hours since we left our campsite, if not more, and we still haven't even figured out where the hell we are.
I naively assume that clearly, they just "didn't have the check point physically there" anymore, but we were in the right place nevertheless. And so we run East down the trail, towards where I thought I'd find the next CP. Except, as we pass the spot I most definitely thought the next CP would be, we find it's not there either.
So we regroup, using a fallen tree as a table for our maps. And by "regroup" I mean bicker with each each other for a bit, and then assure a well meaning passerby that we aren't REALLY lost.
(Well, maybe we were sort of lost, but we were out there to lost on purpose, and then find our way out again.)
Eventually, we determine that the location we are currently standing in is most definitely OFF the map, and our initial "start" point was not the start at all. Expert navigator Heather at your service. (Insert eyeball roll here)
But now, even more confident that I am certain where we are (for real this time) we turn around. If I'm right, check point #11 should be riiiiiight about…..HERE:
FINALLY. Just like in an actual Adventure Race, there is a moment of relief when we realize we aren't totally incompetent at navigation and finding check points. It just takes some warming up.
(That's the excuse I'm going with.)
From here we decide to head all the way out to CP #1, and work our way numerically through the check points. And all goes well…for the most part. Highlights and low points include:
Actual vertical gain and loss, something we don't have in Myrtle Beach.
Realizing my husband desperately needs some trail-proof glasses if he's going to help our team navigate:
Spending the day running around the forest, being a goofball with my husband
And of course, successfully finding all 23 check points after initially getting lost…twice.
(Oh and then Geoff sprained his ankle, resulting in us hobbling a slow 2 miles back to the car. It seemed like an appropriate finish to our already crazy day.)
Hitting up the Crowder's Mountain State Park permanent orienteering course was not only a perfect way to spend a fun day in the woods, but it was a great opportunity to practice our navigation skills. And perhaps realize that we maybe do have a tiny idea of what we are doing after all.
If you live in the area, or happen to be visiting the Charlotte, NC region, I'd definitely recommend giving the O-course a visit. The terrain at Crowders Mountain – constantly varying but not overly dense forests – makes for great map reading and navigating practice, without being overly difficult. Plus the State Park as a whole is simply beautiful, with some stunning summit views if you want a longer hike outside of the O-course.
Oh, and while GPS is not used during traditional orienteering, it might not hurt to make sure your phone isn't nearing the end of it's life before you head out on your adventure. Just a general suggestion, from experience.