Last Updated on January 22, 2022 by Heather Hart, ACSM EP, CSCS
Nearly three months ago I was sent a pair of Cadence Adventure Sandals from Earth Runners Sandals for review. Yes – three months ago. The delay in publishing this post is not a time management error (though I'll admit, my attention span often leaves a lot to be desired). Rather, it's taken me three months to truly form an opinion on these sandals.
Spoiler alert: I love them. While designed to be an adventure sandal, I've also started using them as my everyday shoe. Easy to do when you work from home and live in South Carolina, where it's always sandal weather.
Let's get to the review: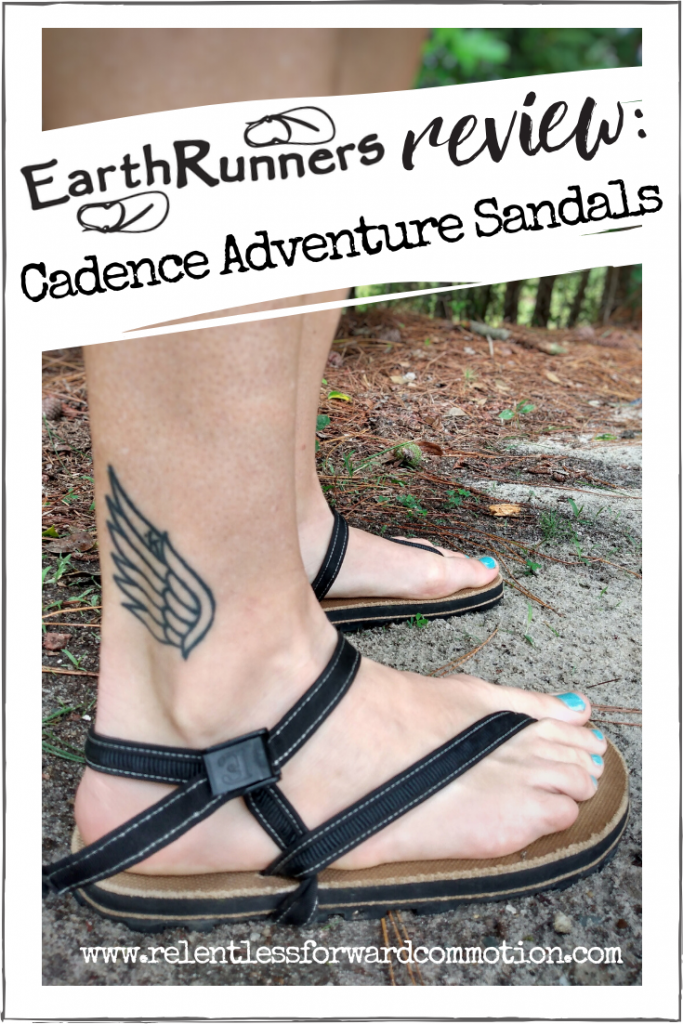 Cadence Adventure Sandal Review:
About Earth Runners
Earth Runners is a minimalist sandal company based out of California. Their mission? To help recover our connection with nature and reestablish healthy physical and biological functions. Earth Runners makes a number of different models of sandals designed for everything from every day wear, to running, and even extreme adventure.
Cadence Adventure Sandal Specs
The Cadence Adventure Sandal is Earth Runners take on the ancient running sandal design, utilizing modern materials and methods to create a durable and secure minimalist, yet adventure-ready sandal. The Cadence Adventure Sandal was designed for optimal biomechanics and performance for trail runners. During their testing phase, Earth Runner's put them to work completing both the Broken Arrow Sky Race and the Pikes Peak Ultra: both gnarly courses with a bunch of elevation gain and loss.
I, of course, would be testing them out in the not-so-brutal trails of coastal South Carolina, but none the less, I was excited to get them on my feet. First up, let's look at the specs of the Cadence Adventure Sandal:
Weight: 9.35 oz (single sandal, men's size 9)
Definitely heavier than a standard pair of flip flops, but with purpose: they are built to withstand rugged terrain and whatever adventure you throw their way. The weight doesn't bother me.
18mm stack height / zero drop (heel/toe differential)
Lacing system:
9/16" Wide
1/2″ Hydrophobic Polyester Webbing Core
1″ Mil-Spec Nylon Reinforcement (Wrapped)
Conductive Stainless Steel Thread
Copper Ground Plug
Available in 5 color options
All terrain Earth Grip wicking footbed (1 mm)
Earth Grip footbed is designed for sweat-wicking and traction while on outdoor adventures. As the footbed gets wet (from sweat, river crossings, etc.) the composition pulls  moisture away from the foot and into the cotton canvas membrane helping to preserve traction. By preventing moisture from accumulating and pooling under the foot, traction is maintained in both wet and dry conditions.
High rebound EVA Mountain midsole (9 mm)
A resilient midsole that offered the foot feel and protection required to excel in the gnarliest adventures, created with a material that has excellent shock absorption while remaining responsive. 
Earth Rock Plate (1 mm)
The composite Earth Rock Plate offers ample firmness and spring to the sandals during the running cycle to help reduce foot fatigue. Additionally, this pliable layer adds protection from unforgiving alpine terrain allowing the foot to relax into each step without muting out all the proprioceptive benefits minimalist footwear has to offer.
BioGrip Vibram Outsole (7 mm)
The Megagrip rubber outsole is Vibram's premier high performance compound for grip and longevity. It features optimally sized and spaced lugs to balance performance and weight, offering great traction on loose earth, mud, and slick rocks.
MSRP:
The Cadence Adventure Sandal retails for $99.
Cadence Adventure Sandal: My Review
Now that we've got the technical stuff out of the way, let's talk about my experience with the Cadence Adventure Sandal.
Sizing
Before the shoe even got to my door, I had to figure out what size I would need. All of Earth Runner's shoes are unisex sizes. The sizing chart on the Earth Runner's website provides comparison information, but more importantly, gives you the option to print out a handy PDF of your suspected size shoe. You then stand on the print out to make sure this is the correct size for you.
Personally, I was definitely torn between two sizes. So I reached out to Earth Runner's (I even sent them pictures of my feet, haha) who were incredibly helpful with their suggestions. They told me when in doubt, to go with the smaller size. Because these aren't standard running shoes, you don't need that "extra space" for your toes to move around: your toes are already free. Therefore, I ended up sizing down to a women's 10, from my normal women's 10.5 running shoe.
The fit ended up being perfect.
First Impressions / Lacing System
This is where my review gets a little tricky. My first impression of the Cadence Adventure Sandal was that the lacing system was wildly stiff and uncomfortable. I had to spend quite a bit of time adjusting the laces to get them to the point where they felt like they fit my feet.
And even then, the webbing was so stiff, it actually hurt. I mean, to the point where I took them off in the car while running errands, because my feet were screaming at me.
(But bear with me, this story takes a turn).
I reached out to Earth Runner's about this and their response left me relieved. They said this is actually normal. Because the webbing on the Cadence Adventure Sandal is purposefully thicker than the lifestyle sandals, they can take upwards of 10 hours of wear to break in.  They also suggested that I could speed up the break in process a little by getting the thong of the lace wet and twisting it away from the area of discomfort.
I did that, and it worked wonderfully.
Running in the Cadence Adventure Sandal
While I have some amazing sandal clad ultra runners in my life, I'd describe my sandal running experience as "novice". I'm still in the 5K and under distance. I do enjoy running in sandals in general, but it's also something I haven't dedicated massive amounts of time to yet. I'm not anti-running shoe, but I do enjoy the freedom of movement I experience running in sandals. And obviously, my claustrophobic toes absolutely love it.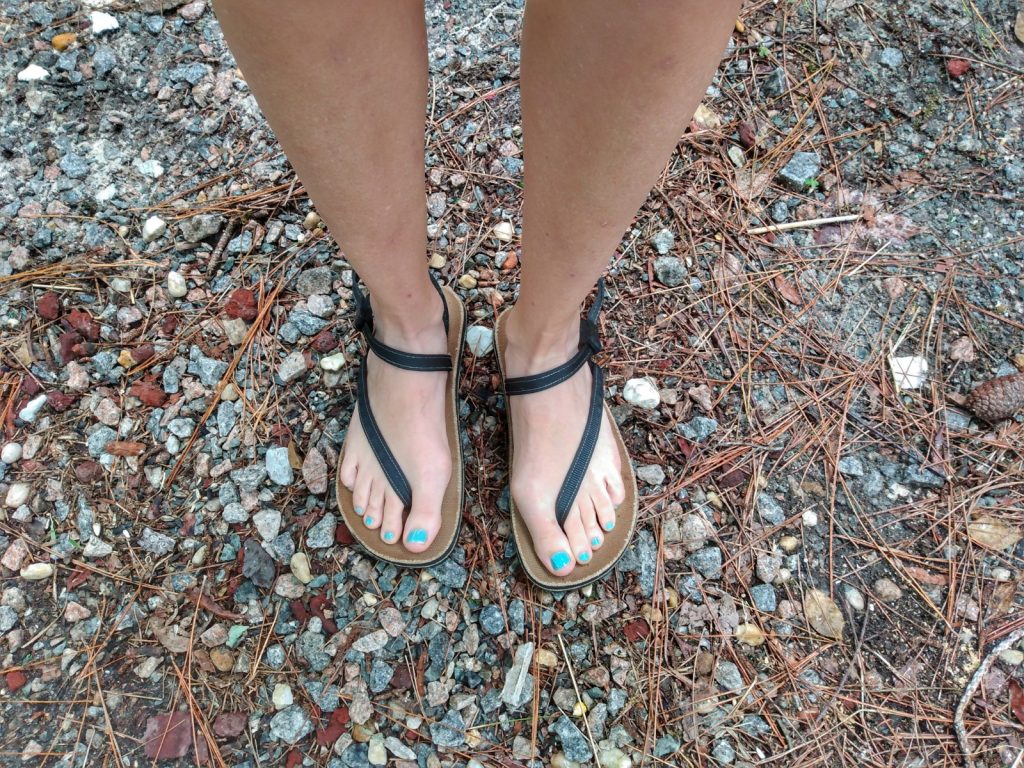 The Cadence Adventure Sandal was the first sandal I've run in that feature the between the toe thong fit (versus a strap across the forefoot). The biggest thing I noticed about the thong fit compared to across the forefoot was that it prevented debris from getting under my foot. Perhaps my foot was not lifting as much off of the footbed.
But, to be completely transparent: I don't love them for running. The strap, while so much more comfortable for everyday wear, is still a bit too aggressive between my toes. I think that this could be solved with perhaps a pair of toe socks (or, if I grew bigger toes).
Further, when I tighten the sandal enough to be comfortable for running (and not feeling as they are too loose) the buckle hits right under my lateral malleolus (the bony part that sticks out on the side of your ankle) and feels uncomfortable.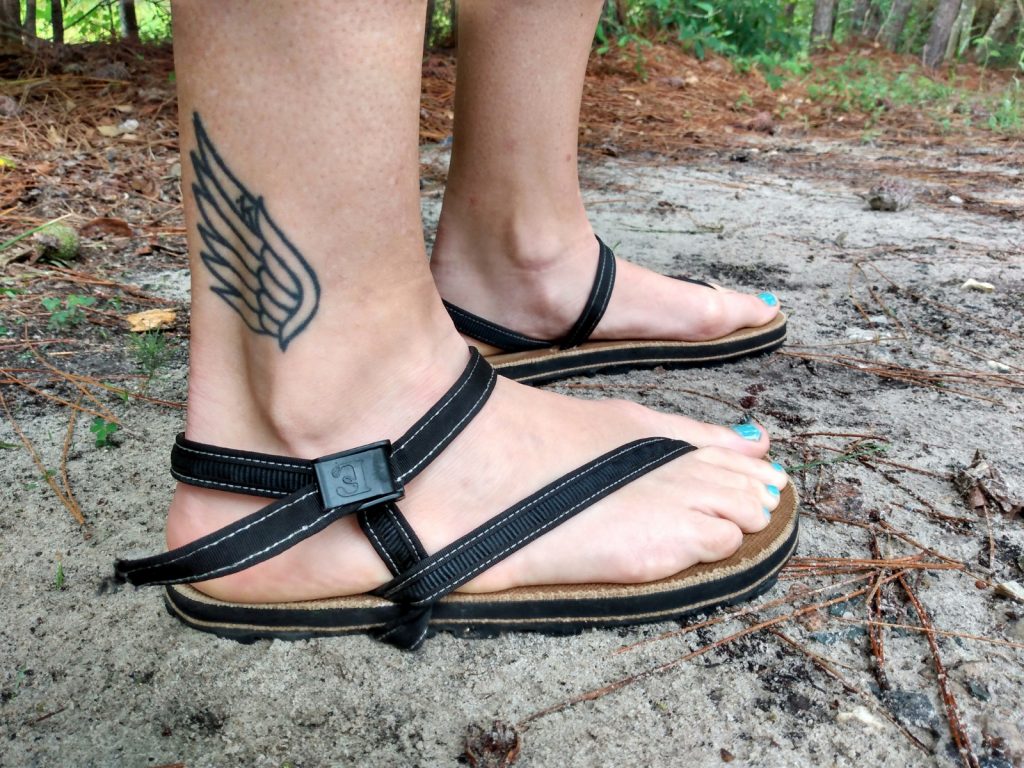 So, as much as I want to love the Cadence Adventure Sandal for running, I feel the unisex sizing might just be too big / too aggressive for my relatively smaller foot (though, size 10 is nothing to scoff at!)
Other Cadence Adventure Sandal Adventures:
Now that said, I've done far more than run in this pair of sandals. And as mentioned, I absolutely LOVE these sandals as everyday shoes. And I've certainly put them through the ringer:
I've taken them for bike rides, stand up paddleboard adventures, and hikes. I wore them for an entire weekend volunteering at an ultra aid station in the middle of the woods, and while packing up my entire apartment to move into a new home. And almost daily, I wear them as my everyday shoe, to the grocery store and the mailbox.
I love these shoes.
Final Thoughts:
While I couldn't get into the Earth Runner's Cadence Adventure sandals as an actual running shoe, they are a home run for a "daily life" shoe. If you are looking for a comfortable sandal that is rugged enough to withstand running errands in town, then immediately out on a hike, perhaps a kayak or SUP session, and then lounging in your backyard – this is the sandal for you. I don't have to worry about the durability of this sandal, or it's ability to keep up with whatever sort of adventures life might hand me on any given day.
So, thank you Earth Runner's for the introduction. Though our relationship has budded slower than anticipated, I think the Cadence Adventure Sandal and I will be life long adventure partners.
Disclaimer: Earth Runner's provided me a review pair of Cadence Adventure Sandals at no cost to me. All opinions stated are my own.
Heather Hart is an ACSM certified Exercise Physiologist, NSCA Certified Strength and Conditioning Specialist (CSCS), UESCA certified Ultrarunning Coach, RRCA certified Running Coach, co-founder of Hart Strength and Endurance Coaching, and creator of this site, Relentless Forward Commotion.   She is a mom of two teen boys, and has been running and racing distances of 5K to 100+ miles for over a decade.  Heather has been writing and encouraging others to find a love for fitness and movement since 2009.