Last Updated on September 27, 2019 by Heather Hart, ACSM EP
Runner's World connected me with Mizuno, who provided me with a pair of Mizuno Enigma 5 shoes to test free of charge. I also received additional compensation in exchange for testing, talking about and reviewing the shoes. Although this post is sponsored, all opinions are my own.
While I sit here in the air conditioned living room/office of mine, the sun blazing at a mild (for this summer) 89 degrees, it seems hard to remember that just a few months ago my view was not of green trees and singing birds, but instead of ice and snow.  And more ice and more snow.  This winter felt like it lasted for YEARS, and now that we have the opportunity to run outside pretty much whenever we feel like it, I've taken full advantage.
As the mileage is increasing by leaps and bounds, so are the opportunities to review new shoes and share my findings.
Hence the massive influx in shoe review posts the last few weeks.
Today's shoe review: Mizuno Wave Enigma 5
Specs:
Style: Neutral
Weight: 8.8 0z
Heel to toe drop:  12 mm
Fit: true to size
-New u-shape full-length parallel wave provides the Mizuno trademark responsive feel.
-Combination of new u4icX and u4ic midsole foam provide cushioning.
-Upgraded upper materials, including extra breathable mesh, provide a glove-like fit.
What Mizuno Says:
Max cushioning. That's what you'll get with this neutral women's running shoe from Mizuno. With new midsole cushioning and a new premium sock liner, the Wave Enigma 5 also provides maximum shock attenuation, which helps soften the road ahead for a more efficient run. Now that's max comfort.  The Wave Enigma 5 is perfect for higher mileage runners. This neutral running shoe is built for runners who are training for longer races, as well as runners who could use a little extra cushion on recovery days.
Review:
As I've written in the past, my experience with Mizuno is relatively new.  I know many people who have been running in Mizunos for years, but unfortunately I am not one of them.  Thus my opinions and experiences with this shoe are solely based upon this very model, and I have no comparison to previous models of the Mizuno Wave Enigma.
Now, if you are new to my shoe reviews, here's a quick rundown on MY feet: I prefer a neutral shoe, and am often found in barefoot or "minimal" shoes.  These terms are becoming taboo in the shoe industry, but the point is, my feet prefer the "less is more" approach, though not always.  I feel it is important to be aware of my preferences when reading my reviews, to understand that aspects of a shoe that don't necessarily work for me, doesn't mean that it is a fault with the shoe.
Alright, all of that said, on to the Mizuno Wave Enigma 5.
First impressions: there is a lot of shoe here, considering it only weighs 8.8 oz.  The amount of support and cushioning in this shoe would have left me guessing it would have weighed at least a few more ounces, so I was pleasantly surprised that they don't feel like cement blocks on my feet.
The fit is true to size; I am a size 10 and the size 10 Enigmas fit comfortably with enough room to spare in the toe area.  In other words, I would not recommend sizing up, order the same size you typically run in for long distance shoes.  The width felt neutral to me, I had no issues lacing these shoes as I sometimes do with wider shoes.  The toebox is pretty standard for road running shoes, slightly narrow.  It should be noted, I have pretty narrow feet, so if you have wide feet, I'd certainly recommend trying these on before ordering, as many other reviews noted the shoe to feel really tight around the center.  For me, that "tightness" felt more supportive than anything; this shoe really hugs your foot.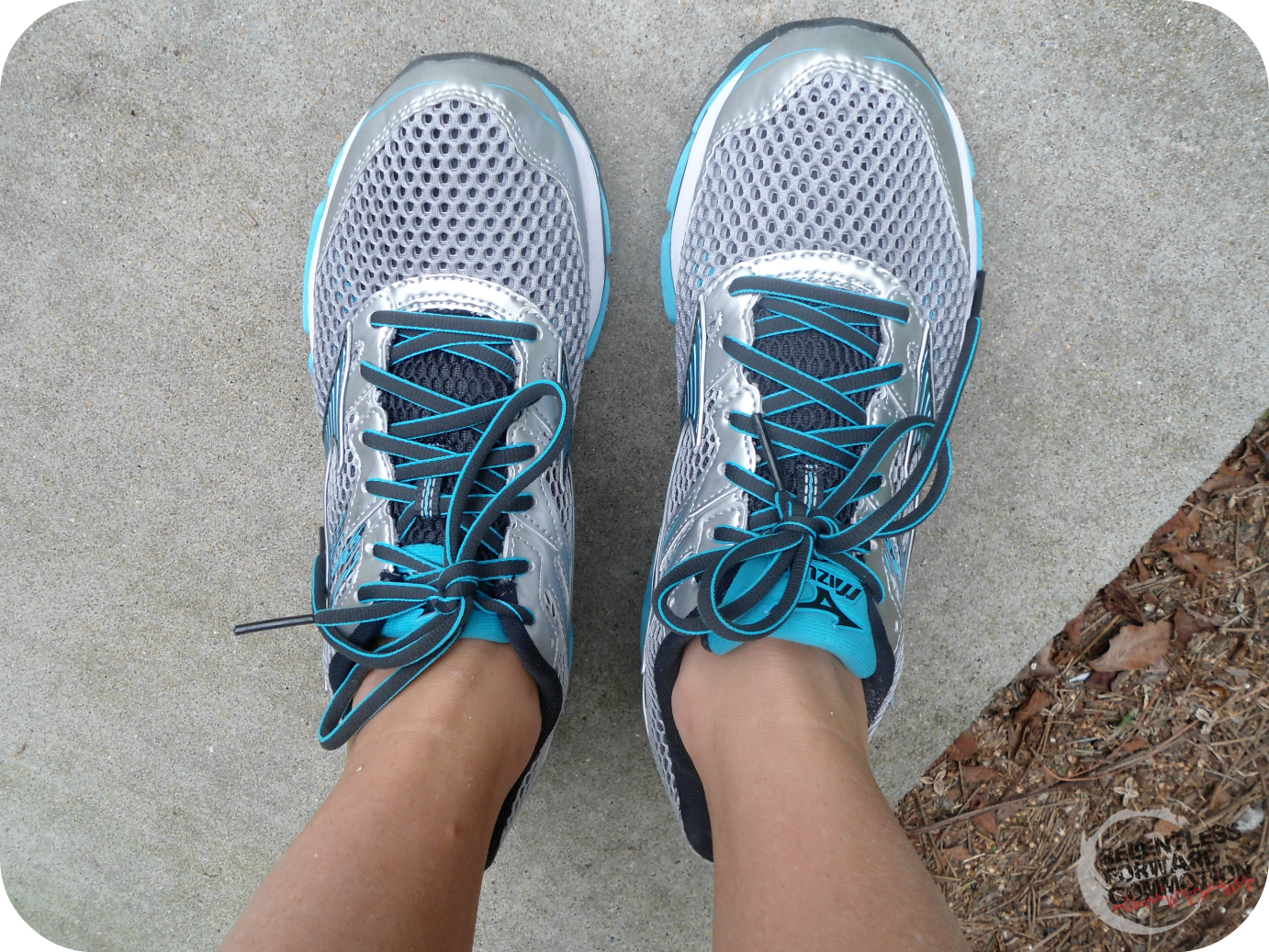 While running in this shoe I could definitely feel the cushion and responsiveness, both of which I did appreciate. I often find that neutral shoes with such significant cushion can often feel clunky, and these did not. The 12 mm heel drop is a lot more than I prefer, but makes this shoe perfect for heel strikers, as there is significant cushion in the heel.
The upper is incredibly soft and cushioned…almost maybe overly so. I found the upper/heel cup to push inward towards my ankles and Achilles tendon. While no chafing or blistering occurred, it was slightly distracting to me.  This feature however may be beneficial for those who need the added support and stability in the ankle.
In summary: I found the Mizuno Wave Enigma 5 to be far more cushion and stability than *I* prefer, but as mentioned above, this is not necessarily a bad thing.  Mizuno advertises this shoe as being designed for higher mileage runners, built for runners who are training for longer races, as well as runners who could use a little extra cushion on recovery days.  And this shoe delivers exactly that: cushion.   If you are a runner who feels you need " a little more"… more cushion and more stability… yet prefers a neutral shoe and doesn't want to resort to a traditional, built up support or stability shoe, then the Enigma 5 might be perfect for you.
The shoe itself seems to be constructed soundly (no issues with wear, tears, hot spots, etc.), and truly was very comfortable.  As far as aesthetics go, this may be the most "neutral", color wise, shoe I've worn in a LONG time.  Nothing neon, nothing shouting "look at me!", just a standard running shoe.  The women's option comes in white with blue accents (pictured) or purple,  and the men's black with red accents or blue with yellow accents.
To learn more about the Mizuno Wave Enigma 5, as well as to be notified when it becomes available for purchase, check out the shoe on the Mizuno Running website:
Have any questions regarding this shoe?  Please comment below and I will do my best to try and answer them!