Last Updated on December 4, 2020 by Heather Hart, ACSM EP
Run streaking tends to be a bit of a controversial topic in the running world. Or, at least in my running world. I'll come right out and say that I'm not a huge fan of run streaking for most individuals. And if we're being honest, that opinion isn't always met with a positive reaction. It's not that I don't think run streaking isn't a fun, and admirable concept. But frankly, most individuals I see attempting a run streak are not in the appropriate physical condition or mental space to safely run every single day.
And as a fitness and running professional, I hate seeing people get hurt (or mentally burning out).
But, before you close out this post, let me assure you that I do recognize that there are some positives to streaking. And further, countless runners can – and have – successfully completed impressive run streaks. As my clients will tell you: I'll never tell someone they can't or shouldn't streak. I'm not that much of a naysayer.
In this post I'll present all of the information – both good and bad – as to whether run streaking is a good idea. I'll also share with you a number of first hand experiences from runners who had successful, and less than successful, run streak experiences. Hopefully at the end of the post, you'll be able to make your own educated decision as to whether run streaking is right for you.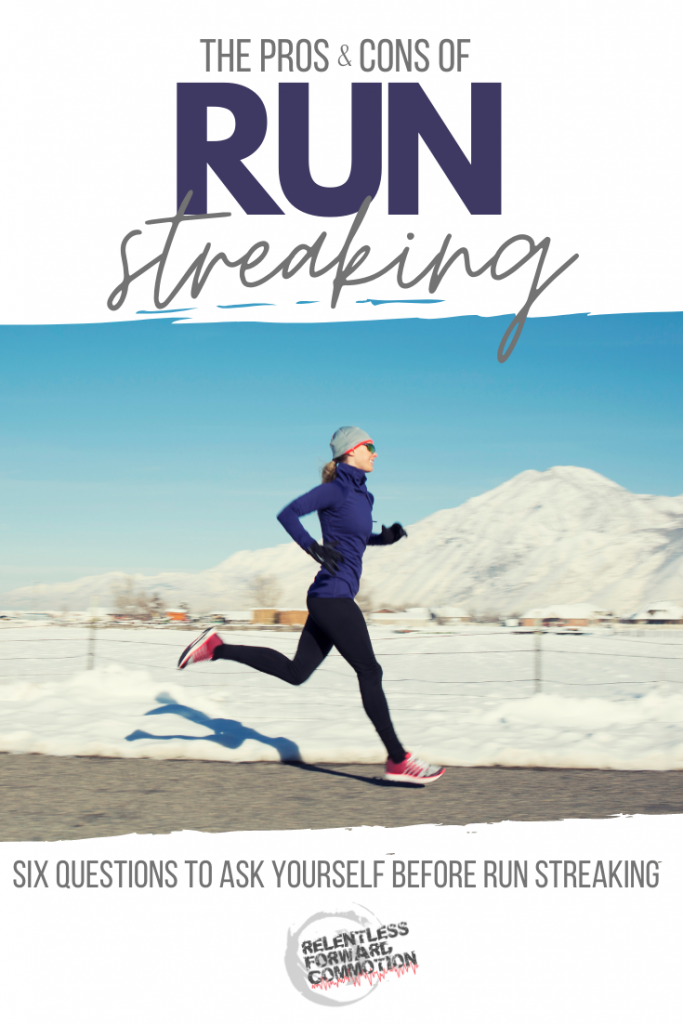 What is a Run Streak?
The official definition of a running streak, as adopted by the Streak Runners International, Inc., and United States Running Streak Association, Inc., is to run at least one mile (1.61 kilometers) within each calendar day. A run streak could last a month, it could be a year, it could be indefinitely.
According to the Streak Runners International/United States Running Streak Association, there are currently 2,485 reported runners who are currently maintaining a streak of 1 year or more. Two people, Jon Sutherland and Jim G. Pearson, are on year number 50 of streaking (as of the date of publication of this post).
People have a number of reasons why they choose to run streak, from gaining a sense of personal discipline, to trying to become more active.
Or maybe, they just love a good challenge. But one common trend I see – often surrounding New Year's resolutions – is the idea that run streaking will make you a better/faster/stronger runner. I typically see this among newer, less experienced athletes, who truly do have the best of intentions at heart.
So will run streaking make you better/faster/stronger? Let's dive in.
Running Streak Benefits
Let's start with the positive sides of run streaking (See? I told you I'd be positive about this!):
Habit Forming
Want to make running a habit? Like eating, sleeping, and taking your daily vitamin (which, for the record, I am horrible at remembering to do)? Try run streaking. After an extended run streak, running will become second nature. You likely won't have to think hard about getting out the door to run, it's simply become a normal part of your day.
Motivation
In the same sense that run streaking can be habit forming, it also comes with it's own built in form of motivation. Nothing will get you to lace up your running shoes like knowing you have a 100+ day streak you don't want to break!
Consistency
Consistent running is arguably one of the best ways to become a better runner. With consistency comes adaptation. In other words, your body adapts to the physical stress running places upon it with continued exposure to the stress (aka: running more). This can yield less soreness, and possibly help prevent injury.
Confidence Building
Ultrarunner Chris Varnadoe completed a 16 week running streak while training for the 2020 Swamp Fox 2I0 mile ultramarathon. When asked why he chose to streak, he said "I lack confidence when it comes to running, so knowing that I have ran everyday leading into race really helps me with the confidence!" (FYI, he finished in an impressive 59 hours and 46 minutes on a very flooded, unfavorable course).
Squashing Excuses
Committing to a run streak means you can no longer come up with unfounded excuses as to why you don't want to run that day. David Pharr, who is currently in the middle of an 11 year running streak, explains how streaking helped him squash the habit of making excuses:
"Every day you are going to get up and run at least 1 mile. When it is hot or cold, clear or rainy, or when you are sick or tired, you will get your one mile in." David continues "Before streaking I would often times fall out of the 'getting in shape' habit very easily. One day it would be too hot or cold. Another day you don't feel like it. And then before you know it; it has been a month since you ran."
Are Run Streaks Bad for You?
And now, for the negatives of run streaking. Because with the good, comes the bad:
No True Rest Days
There is a reason one of the seven principles of exercise is the principle of rest and recovery. And that's because rest is integral to maximize the benefits of training. The obvious benefit of a rest day is just that: you are giving your body rest. But so much more happens during those periods of downtime. Your muscles, joints, and bones are given a chance to repair and recover on a cellular level, as well as adapt to the training volume imposed on them in the workouts prior to the rest day.
Without recovery and adaptation, you can not perform your next workout at optimal effort. In other words, not resting may compromise your ability to get stronger and faster.
Arguably, a one mile run may not require an entire day off from running for adequate recovery. But the problem with streaking lies in the fact that when you do truly NEED a rest day – you can't take one while maintaining your streak.
"Just about every time I've tried a streak I do it just long enough to run into an injury. And you can't outrun an injury. I truly believe that rest days are REST DAYS. I know that many people get a lot out of streaking, and I may try another again some day for a new goal, but as I return from an injury, I know that my body appreciates not running any more than 3 consecutive days." – David Hylton, co-founder of Twitter's #RunChat
Potential Risk of Injury
Will running every day cause more injury? Potentially. A systemic review published in the International Journal of Sports and Physical Therapy set out to examine the link between training characteristics (volume, duration, frequency, and intensity) and running related injuries. Results were mixed:
A "U-shaped" pattern between frequency and development of running related injuries may exist: Taunton et al5 found an increased risk of injury among female runners training one time per week. While McKean et al,74 Jacobs et al,13 Macera et al,22 and Walter et al,11 reported an increased risk among runners training 6-7 times per week compared with those training 2-5 times per week.

Based on this, one might conclude that the ideal frequency is 2-5 running sessions per week. However, in the studies by Macera et al22 and Walter et al11 no additional risk was found after controlling for running volume. Therefore, Brill and Macera23 suggested that cumulative distance is a better indicator of injury risk than the lack of rest between runs. Thus, based on all the studies included in this review it must be concluded that it is not possible to determine the specific role of running frequency with regard to injury.

Neilson et al, 2012
What does that all mean? That science certainly still doesn't know if running everyday is a direct cause of running injuries. But for those who are prone to aches and pains associated with the act of running, it only makes sense that more frequent running may not be the best idea.
Risk of Burnout
Burnout, or overtraining syndrome, is a condition in which an athlete experiences fatigue and declining performance in sport despite continuing or increased training. Overtraining can be a physical experience, emotional experience, or often, both. It can result in mood changes, decreased motivation, frequent injuries, decreased immune system, and more.
Running more, and resting less, absolutely puts you at risk for training burnout.
Unnecessary Mental/Emotional Pressure
I've seen runners post on social media how, even after a long exhausting day, they've had to hop on their treadmill at 11 pm (for example) just so they could continue a run streak. I've seen runners absolutely devastated they had to miss a day of running while streaking because of some outside, unavoidable situation (childcare, work commitment, an emergency, etc.)
The downside to streaking, and the reason I stopped the challenge, is that it's TOO rigid. While I prefer to run every day when things are going well, I also need to feel like it's alright to take a day off if I need it. I found that when I was streaking, I would push myself out to run a mile even when it would have been better to not run at all. I like the freedom to be able to take a day off, if I feel an injury coming on, life gets in the way or I just need a mental break from running for a day, without feeling like I have just failed a challenge. " – Carol Plumer, former streaker
Run streaking can begin to feel like a chore for some, and when that happens, you may lose your joy for running. And if you don't love to run, why bother?
6 Questions to Ask Yourself before Run Streaking
Now that we've covered the pros and cons of run streaking, you may be wondering if you're a candidate for a run streak. Ask yourself the following questions, and be honest to yourself with your answers:
Are you new to running?
If so, the run streak might not be a good idea for you. The United States Running Streak Association recommends that no one should attempt a daily running streak until they have been running on a regular basis for at least six months, with no more than three to five outings per week.
As mentioned already, running every single day may open you up to potential overuse injuries and mental and physical burnout. Those who have more running experience have bodies that are more adapted to the act of running, and are less likely to sustain an overuse injury.
Are you injury prone?
This is probably an obvious point, but it should still be said. Do you find yourself complaining every few weeks of a sore knee, twisted ankle, or painful shin splints that seemingly come out of nowhere?
Are you constantly battling an injury or wearing some sort of brace to prevent another persistent pain? Are you one of those runners who pushes through every ache and pain, thinking you can just "run through it?"
If you answered "yes" to any of the above (or let's be honest, if you stubbornly didn't answer yes, but know deep down in your heart the answer is "yes"…I'm on to you, I know how runners can be…) then streaking probably isn't for you. When in doubt, check with your doctor first.
Can you mix up your runs?
Are you capable of designing a run streaking plan that allows you to mix up the volume and intensity of your runs? Because you absolutely should.
Scratch that, you absolutely NEED to mix up your runs.
Go into your run streak with a solid plan. Even experienced runners in the best of shape can mentally and physically burnout from doing the same thing every single day. Alternate your running sessions between hard runs or races, slow recovery runs, longer distances, and shorter distances.
Don't be ashamed to cover the minimum required one mile if your body is telling you it needs rest. (Better yet, don't be ashamed to take the day completely off if your body is telling you it needs rest.) Your body needs recovery in one way or another.
Switching your runs up between varying paces and distances will allow your body to actively recover, while also prevent you from getting bored doing the same thing over and over.
Can you still find time for cross training?
Running every single day may seem like more than enough physical activity, but you shouldn't ignore the fitness needs of the rest of your body simply for the sake of a challenge.
Be sure to still incorporate cross training, strength training, and flexibility (stretching) into your weekly workouts to keep you strong and healthy.
Are you smart enough to know when to quit?
If your body is screaming at you for a rest day, if your once nagging hip is now borderline excruciating pain, if you are running a fever and very ill, if your personal life is being negatively affected…will you be able to say enough is enough? In other words…don't be stubborn, or stupid.
Will missing a day constitute failure in your eyes?
Because listening to your body should never be considered failure. NEVER.
 7 Running Streak Tips to Stay Safe During Your Challenge
On what should be rest or recovery days, stick with the bare minimum distance (typically a mile) and ensure your pace and effort are genuinely easy.

Keep an eye on your overall weekly mileage volume increases. Adapt your longer workouts to account for the added mileage of streaking.

Make sure your nutrition is designed to sustain your running streak, and help promote recovery.

Have a good sleep strategy. Much of our bodies healing and recovery occurs during sleep.

Make sure your run streak remains a fun challenge, and does not negatively interfere with the rest of your life.

Know your limits: risking injury is not worth continuing a running streak.

Keep it fun! Streaking should be something you enjoy doing. There may be occasional days where you aren't feeling as motivated. But if you notice an overall trend that you aren't enjoying the streak, really stop and analyze
What Is A Good Run Streak?
Ultimately, a good run streak is one you can do while remaining healthy and injury free. Some runners may be able to maintain multiple weeks, months, or years without any negative impact to their physical or mental health.
However, other runners may not be able to sustain longer run streaks without putting their body, running, and training at risk of overuse injury.
Bottom line? A good running streak is going to vary from runner to runner. What's "good" for you may look different than what is "good" for someone else, and that's OK!
Run Streak Final Thoughts:
Run streaking can be fun. At least I imagine so, I've never actually done it myself for more than a week. But I can say that it is amazing to see what your body, your willpower, and your mental fortitude are capable of.
That said, absolutely no challenge, resolution, nor bragging rights are worth a serious injury, especially one that could potentially take you out of the running game permanently.
So really think twice before you make a resolution to "run streak" for a significant period of time. You can absolutely build a quality, healthy habit of running WITHOUT having to run every single day. In fact, most coaches and professionals would prefer you do so.
Love always,
Your friendly running blogger/coach/exercise physiologist who has made really dumb training mistakes in the past, and now writes about them so you don't have to make the same mistakes.