Ultramarathon reality check: it seems like the further you run, the more gear you're going to need. If you're new to the trail and ultra scene, you may be wondering if trekking poles are an integral piece of running equipment that you should invest in. The answer, of course, is "maybe". As with everything, there are pros and cons to running with trekking poles, and your need for them may be based on not only personal preference, but a case by case (and race by race) situation.
Trekking poles have become increasingly popular among runners, so much so that many companies now make running specific poles. These poles tend to be lighter than traditional hiking poles, and often fold up so they can easily be carried in a hydration pack when not in use. The obvious con here, however, is that they are still another bulky piece of gear that you need to carry. So do you REALLY need them? Let's break it down – just like a convenient Z- pole
Pros & Cons of Running with Trekking Poles
Pro: Take A Load Off!
Trekking poles allow you to distribute some of the workload from your legs to your arms. This is extremely helpful in delaying fatigue when climbing and descending, both of which can be very taxing to your leg muscles (as any runner who has tackled some crazy vert will assure you). Think of it like utilizing the banister on a staircase to help push yourself up the stairs with your arms, rather than relying solely on your leg muscles.
Further, during later stages of an ultra when your feet are absolutely beat up, trekking poles can help take pressure and weight off of your lower body. Elevation or not: your tired, swollen feet will thank you.
Con: Some Upper Body Strength is Required
While Trekking Poles aren't heavy (mine weigh in at a measly 230 grams, or about a half of a pound each) the repetitive motion of the forward swing, plant, and lift of trekking poles may be more upper body movement than you are typically used to while running. I hate to list this as a "con", because I truly love to see all runners strength training their entire bodies. However, if you don't, you'll likely notice the use of these muscles if using trekking poles for an extended period of time.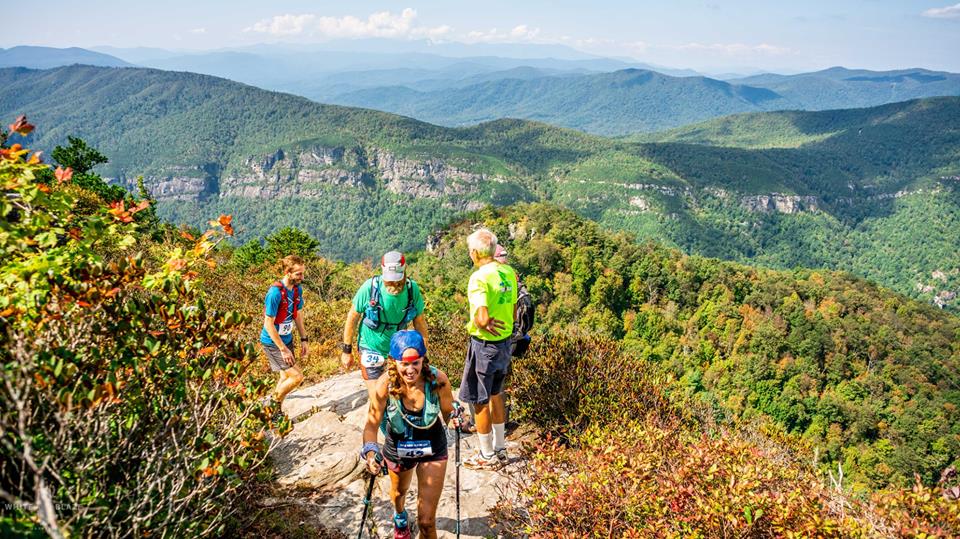 Pro: Balance & Confidence
Climbing or descending gnarly, technical terrain can be intimidating for those of us born without mountain goat legs (I'm looking at you, Killian). Finding – and trusting – balance on uneven terrain can be physically and mentally exhausting. Trekking poles give you four points of contact with the ground- your feet and the poles – which can lend to better balance.
Mountains aside, poles can also be used as a point of solid contact in mud, swamps, snow, or other soft terrain.
Con: There's a Learning Curve
Trekking poles look simple enough to use, but ask any runner about the first time they attempted to use trekking poles, and they will assure you that they can definitely feel awkward at first. Between finding the correct height and comfortable position for your body, to figuring out a continuous movement pattern that helps – not hinders – your movement, trekking poles can definitely require a little practice.
You also learn over time what sort of terrain your trekking poles will work well on (dirt, gravel, etc.) and what sort of terrain they may slip on (solid rock). And don't forget trying to maneuver the aid station snack table with poles in your hands, or how to hold them when running. Therefore, I always recommend you practice with your trekking poles during training, before relying on them during a race.
Trekking poles, especially when fitted correctly, can help runners maintain a better, more upright posture. Fatigue – whether from climbing, carrying a hydration pack, or simply covering long distances – often causes runners to hinge forward at the waist and lean forward.  (So does a weak core and back, so don't skimp on your strength training).  Maintaining upright posture can help prevent low back pain, shoulder pain, or other issues associated with bad posture.
Pro: Better Posture
Con: They CAN Be Dangerous.
Let's face it, most things can be dangerous when used improperly. But trekking poles fall into the "you'll shoot your eye out, kid!" level of potential danger. In various races, I've seen people swing poles too far back and hit other runners (hell, I got hit incessantly with them during Stage 2 of the TransRockies Run). I've seen people lean their body weight into a pole, only to have the pole slip. They are essentially a giant, sometimes sharp stick that you run with.
Pro: Multiple Uses Besides Running
The possibilities for trekking pole uses are only limited by your imagination. While I hope that you don't have to use your trekking poles for any of the following, they could potentially also be used for:
self defense (against the likes of bees, bears, boars – just kidding. Don't poke any of those with your trekking poles)
retrieving a lost shoe from a river
building a shelter or tent
cooking s'mores or hot dogs over an open flame
a splint, after you broke your leg because your trekking poles made you TOO confident on the downhills.
Cons: Trekking Poles Might Not Be Allowed
On a more serious note, always check with race rules before assuming that trekking poles are acceptable. Just like earbuds and strollers, some race directors don't allow trekking poles for various reasons – be it a safety issue or simply because the race director doesn't think you "need" them.
In summary: do you need trekking poles? NEED is a strong word. Athletes can – and have – survived incredibly arduous mountain courses without poles. However, for longer distances courses or even stage races with a lot of vertical gain, trekking poles can be handy. Find a friend that owns a pari, ask to borrow them for a training run, and see if trekking poles are right for you!