Last Updated on January 22, 2022 by Heather Hart, ACSM EP
Unless you've been hiding under a rock (with no internet access under said rock), you've probably noticed the massive uptick in mentions about CBD oil.  CBD products are, without a doubt, "trendy" right now, and as such, it seems a million companies have come out of the woodwork to hop on the CBD oil bandwagon.  The endurance community is no exception, with topical pain relievers and even protein powders containing CBD extract marketed specifically towards runners and cyclists.
So what exactly is CBD oil, and should you be using it?  Will it give you a training advantage, or can it harm you in any way?
Let's get science-y:
What is CBD, and is this even legal?
I'm going to cut right to the chase and get the most frequently asked question out of the way: isn't CBD related to marijuana? And how is that legal?
Cannabis is a family of plants with two primary classifications — indica and sativa. While marijuana (pot, weed, dope, whatever you want to call it) can be considered a member of either the indica or sativa families, hemp is a member of the sativa family. Both marijuana and hemp plants contain hundreds of different compounds called phytocannabinoids, two of which you've likely heard of are tetrahydrocannabinol (THC) and cannabidiol (CBD).
Here comes the first very important distinction:
THC is the chemical compound in marijuana that gets you intoxicated ("high").   CBD, on the other hand, does not contain any psychoactive properties (i.e will not get you high), and is non addictive.
Second important distinction:
While hemp contains a very low concentration of THC (0.3% or less), marijuana is abundant in THC with concentrations between 15% to 40%.
Therefore in the case of the CBD oils and other CBD products you are currently seeing on the market, typically the CBD extract is derived from the hemp plant specifically grown to be high in CBD.  This extract typically contains below 0.3% THC, and is 100% legal in all 50 states after the passing of the Hemp Farming Act of 2018. 
Humans have cannabinoids too.
Endogenous cannabinoids, to be exact.  Ready for some more big science?
The endocannabinoid system is a biological system composed of endocannabinoids, which are endogenous lipid-based retrograde neurotransmitters that bind to cannabinoid receptors, and cannabinoid receptor proteins that are expressed throughout the vertebrate central nervous system and peripheral nervous system (source).  The endocannabinoid system plays a crucial role in the human body by regulating a range of physiological processes, including energy levels, mood, appetite, pain, stress, immune activity, fertility, blood pressure, bone density, glucose metabolism, and so much more.   CBD can mimic and augment the effects of endocannabinoids in our system, helping our bodies naturally maintain an internal balance by encouraging use of our own endocannabinoids. 
Alright, let's get to the good stuff:
What are the benefits of CBD?
There are a number of purported benefits of CBD, including (but not limited to):
Anti-inflammatory properties
Pain relief
Reduction of anxiety and stress
Relief for those with insomnia & sleep disorders
Reduced risk of diabetes and obesity
Reduced risk of cancer
Maintain and regulate brain health
Protection against bone disease / broken bones
Lowered risk of cardiovascular disease
Protection and healing of the skin
(Check out *this informative article* , which cites extensive research and evidence for all of the above claims.)
What are the dangers of CBD?
A 2018 report from the World Health Organization states that no adverse health outcomes of pure CBD use have been found thus far.  However, possible side effects include nausea, vomiting, diarrhea, bloating and dizziness. Further, it is thought that CBD may interact with certain medications. Therefore, if you have any concerns at all, it is very important that you discuss CBD oil use with your physician, to ensure your safety and avoid potentially harmful interactions.
How can CBD help runners?
Of course, all of the benefits listed above a plus for everyone.  Who doesn't love decreased risks of cancer and cardiovascular disease? Now that said, runners and other endurance athletes are always looking for a little edge when it comes to running and training recovery.  Why?  Because if we can recover quicker, we can train and race harder.  CBD oil might just be that safe, legal, recovery advantage everyone is constantly looking for.  Let's dive deeper:
Anti-inflammatory properties
Inflammation is simply a side effect of training and racing, no way around it.   Inflammation is our bodies natural reaction to physical stress, and running – especially the higher mileage of ultra running – are a stressor.  Now, acute inflammation on it's own is a good thing: our body is flooding injured areas (and don't think of this as a big picture injury, but rather even microscopic tears in our muscle fibers that naturally occur during training) with white blood cells carrying chemicals that help remove waste products and encourage healing.
Unfortunately, runner's tend to take things to extremes, it's what we do (I'm looking at you, fellow ultra runners).   Constant inflammation from constant training can trigger a heightened inflammatory response, and now we've taken our acute inflammation to chronic inflammation.  This can be bad, and can even cause those happy chemicals trying to help heal our body to turn on us, and attack our cells instead, causing further damage
CBD has been found to significantly relieve inflammation and it's symptoms, which can include pain, swelling, and stiffness.
Sleep
When you sleep, your body releases human growth hormone (HGH). HGH is produced by the pituitary gland and released into the bloodstream. It is the main hormone responsible for recovery, rebuilding damaged tissue, and helping develop stronger bones and muscles.  HGH also helps convert fat to fuel and keeps our bones strong. If you don't sleep enough, you don't produce enough HGH. Not only that, but not getting enough sleep may stimulate the production of cortisol, a stress hormone that slows down recovery.
And more cortisol might equal poor sleep.  See how this cycle could be detrimental?
CBD has been shown to help aid in not only falling asleep, but staying asleep.
Pain Relief
Research shows that there is substantial evidence that CBD can help reduce chronic pain (source), as well as pain and muscle spasms experienced by patients with multiple sclerosis (source) and arthritis (source).  Further, researchers also found that subjects were not likely to build up a tolerance to the effects of CBD, so they would not need to increase their dose continually.
So obviously, this safe, effective pain relief has to work for the normal aches and pains runners often experience during longer bouts of training or racing, right?
How do I use CBD?
CBD can be found in a number of forms, but two of the most popular products as far as the endurance community go will be tinctures and topicals.
CBD tinctures:
Tinctures are one of the more common options available across the board for all populations (not just athletes).  Compared to any other products, tinctures and concentrates are probably the most pure CBD products, as manufacturers don't do any separate processing of the CBD oil.  Tinctures are typically taken sublingually: a few drops under the tongue.  However, tinctures are available in a variety of strengths, so it's important to do your research and find out what strength and dosage works right for you.
CBD topicals:
Topicals are going to be products like creams, salves, balms, etc. that are infused with CBD.   In the running world, you're going to see a lot of "muscle pain relief" type creams.  The CBD infused topicals are meant to help more directly with skin or joint related issues, with the CBD being absorbed directly through the skin.  As such, these topicals may also be infused with other traditional ingredients such as peppermint or menthol to help aid in pain relief.
How do I choose a CBD product?
Here's where the big disclaimer in this post shows up.  CBD, much like the supplement industry as a whole, is not widely regulated.   And, as mentioned at the very beginning of this post, due to the current rise in popularity of CBD use, seemingly everyone is trying to hop on the bandwagon, some for legitimate reasons, some to make a quick buck.  So in short: buyer beware.
A 2018 study in the Netherlands took 46 different CBD oils available for purchase, and analyzed their contents. In many cases the analyzed cannabinoid content strongly differed from the claimed content on the label (some including well over 1% of THC), while in 7 samples no cannabinoids (CBD or THC) were found at all (source).   This is a very important thing to keep in mind if you are subject to drug testing for your job, or other reasons.  While the 0.3% THC content likely will not register on a drug test, you always run the risk that it may, especially if you are unsure about the exact content of THC in your CBD extract.
So how do you choose? 
Do your research.  Ask your friends who are knowledgeable in the topic of CBD (like one of my favorites, Seth from Chronic Trips).  See if the company you are considering is transparent about the sources of their CBD, and how their hemp plants are grown.
For example, a recent CBD product line I've been using is Aethics, based out of Colorado. Their website will quickly tell you that they are licensed and regulated by the Colorado Department of Agriculture, and their growing process exceeds all state and federal organic growing requirements.  Their farm grows chemical and pesticide-free, laboratory tested hemp that produces high potency CBD with only trace amount of THC (<0.3%).  And further, they explain that they extract CBD oil from their hand-cut and dried plants using a cold fusion process to effectively retain the cannabinoids and terpenes.
Conclusion:
I personally walk a very fine line between modern Western medicine and more holistic approaches to overall health.  I do believe in the need for pharmaceuticals and seeking professional medical help when it is necessary.  However, I also believe that there are a number of more natural approaches to health that can be taken as preventative measures, and aid in overall wellness.  Plants are definitely one of them.
For me, including high quality CBD products (both oils sublingually and topicals on my sore muscles and joints) have been life changing, both physically and emotionally.  I know that sounds extreme, but I would not be making such claims publicly if I did not believe it to be true.  A consistent routine of CBD oil drops sublingually has helped curb my anxiety, as well as given me the ability to focus, so I can knock out 2,000 word blog posts like this one.
The topicals have given me almost immediate relief from pain associated with a heavy training load.  In fact, during my last 100 miler, a CBD topical helped almost immediately dissipate quad pain I was experiencing at mile 70 ish, so I was able to continue running.  I take solace knowing that I am using a product that more natural than some of the over the counter muscle relief rubs that tend to burn and smell like a nursing home (you know exactly what I'm talking about).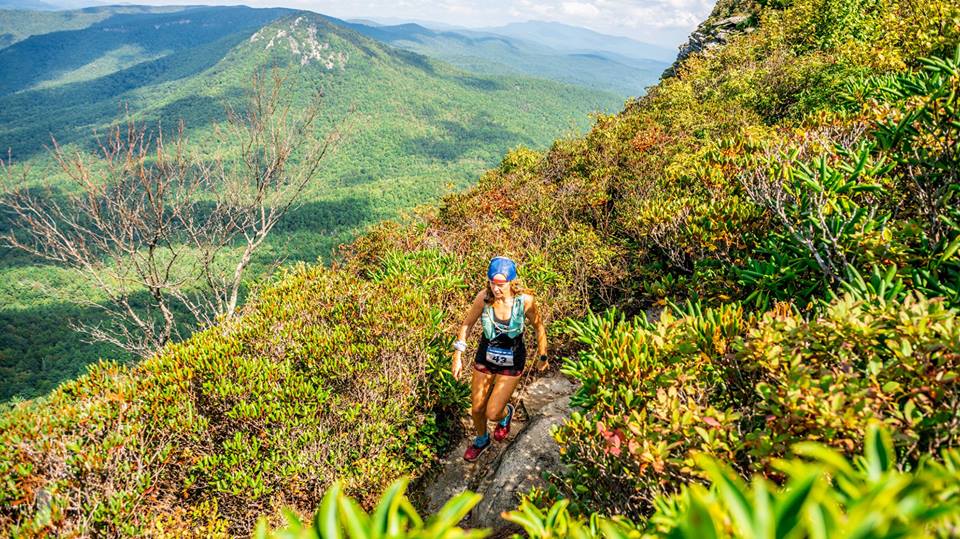 In short, I've become a believer of the benefits of CBD products. As always, it's important to make informed decisions about what is right for your body and your lifestyle.  For me?  I'll continue using CBD as an integral part of my training and running lifestyle!
___________________________________
While this post was thoroughly researched, the information provided here is not medical advice and should not be treated as such.  Aethics provided me with product at no cost, however all opinions stated about the product are my own.