Last Updated on November 27, 2018 by Heather Hart, ACSM EP, CSCS
I spent a ton of time on the treadmill this week.  I can feel the collective groan from my trail and ultra family.  Hell, probably even the roadies too.  No one likes the poor treadmill, or "dreadmill" as it has not so affectionately been named over the years.   The way I see it though, is that this is another tool in my arsenal to help me reach my goals.  Especially when my options are "treadmill" or "don't run at all" due to time constraints. Or in some cases, weather (no shame in my cold weather game).
Here's a brief insight into last weeks training. This one is short (well, for me) because time is short today.  But I wanted to publish this one anyway.
Monday:
10 miles, outdoors (I just finished telling you I spent a lot of time on the treadmill, didn't I?) Slow, steady recovery pace.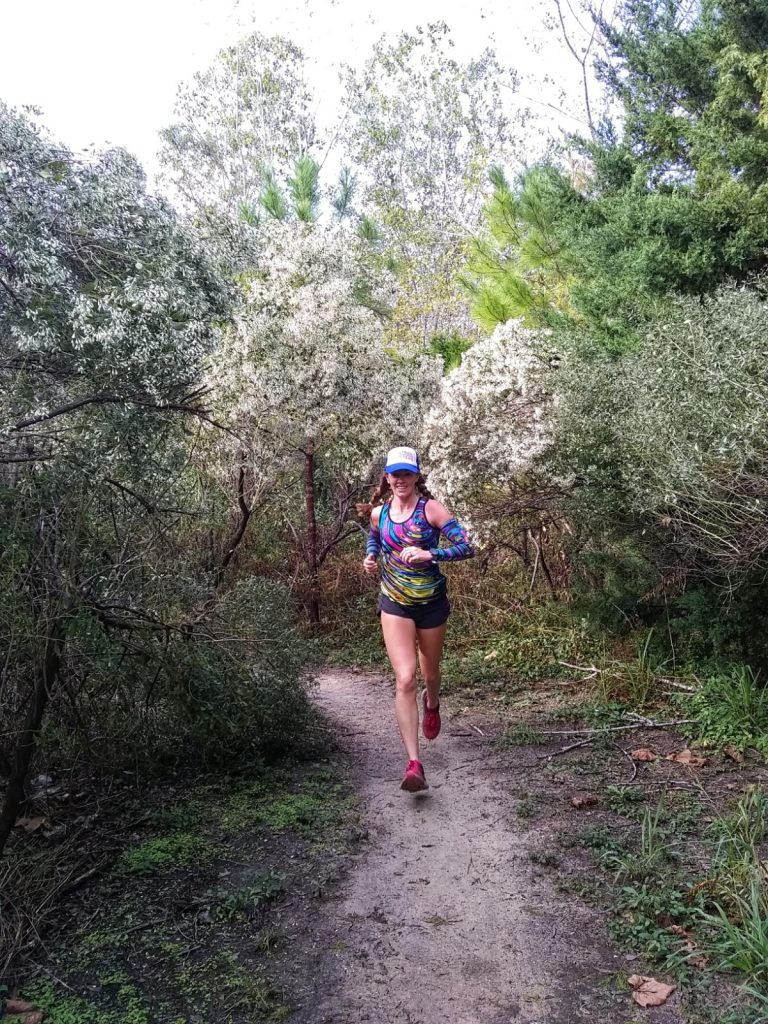 Tuesday was a lower body (legs/hips/glutes) strength training day, followed by plyometrics class.  I like to do both on the same day, because I can get the "holy cow my legs hurt" post workout DOMS all over at the same time.
Wednesday: 
First I started with a 4 mile treadmill climbing workout.  It went like this (try it, it's fun)
Hike 1 mile @ 15% grade, 3.0 mph.
Run 1 mile @ 1% , increasing the speed by 1.0 every 0.1 of a mile.  I started at 6.1 mph and ended at 7.0 mph.
Hike 1 mile @ 15% grade, 3.0 mph. 
Run 1 mile @ 1%, increasing the speed by 1.0 every 0.1 of a mile.  I started at 6.1 mph and ended at 7.0 mph.
That night I went to the track with friends and did a ladder of sorts that included varying distance sprints paired with varying stadium stair intervals.  In total, I knocked out another 4 miles and 2,000 steps, or 1,166.67 feet gained.  Yeah I'm a nerd and count all of this stuff. 
Thursday was rest day for me, so instead I facilitated the very first ever Trail Weenie Turkey Trot and Green Bean Casserole Mile.  It was, indeed, as amazing as it sounds.
Friday
Friday morning we woke up to 35 degree temps. Now, it's November, and I realize that 38 degree is "not that cold" for many of you.  But if you scroll up, you'll notice I was in a tank top on Monday. Dropping from nearly 70 degrees to 35 is hard for this Vermonter turned Southerner.
Geoff suggested the treadmill…and I didn't protest.
For fun, I polled you guys on Instagram to see which you felt was the lesser of the two evils, and 88% of you said "the cold".  Well, count me in with that 12%…I sweat my tail off on the treadmill for 14 miles and felt no shame.
I've taken to watching running documentaries on YouTube during my runs.  You'd be amazed at how awesome of a distraction watching other people run in really beautiful places can be.  Stay tuned for a list of my favorite videos.
Saturday
Back to back long runs are an integral part of my training.  Some ultra coaches don't believe in this method, but it has worked wonders for my endurance and, more than anything, mental strength.  Getting back out there on tired legs teaches you how to push through those tired, miserable miles at the end of an ultra.  Fortunately, my legs weren't tired at all from only 14 miles, but the point remains the same.
We ran ten more miles, on a combo of dirt and paved road, as our trails were closed due to the rain.

Sunday:
Rest, glorious rest.
SUMMARY:
While I hit all of my scheduled runs, I definitely shorted myself on strength training this week.  You win some, you lose some.  But it was equal parts a "cutback" week and a "sort of taper" week for a race, so the rest was probably a good thing.
Also…I definitely didn't do any yoga this week. Again.  I'm not mad.
WHAT'S UP NEXT:
I'm running (racing?) Last Chance 50K this weekend. It's in my beloved/miserable Francis Marion National Forest (aka the "swamp"). I ran the 25K last year, and the 50K is just doubling up on the 25K course.  I'm using it more as a training run, but if I feel good, I may push the pace and see what I can do. It's a great course for a little extra speed.
Heather Hart is an ACSM certified Exercise Physiologist, NSCA Certified Strength and Conditioning Specialist (CSCS), UESCA certified Ultrarunning Coach, RRCA certified Running Coach, co-founder of Hart Strength and Endurance Coaching, and creator of this site, Relentless Forward Commotion.   She is a mom of two teen boys, and has been running and racing distances of 5K to 100+ miles for over a decade.  Heather has been writing and encouraging others to find a love for fitness and movement since 2009.