Last Updated on January 22, 2023 by Heather Hart, ACSM EP, CSCS
Wondering if the UltrAspire Basham Race Vest will fit your running, training, and racing needs? I've put this hydration vest to the test for the last two months in order to bring you this in depth product review. We'll cover all of the details, good and bad, so you decide if this vest is right for you.
Who am I? I'm Heather – fitness professional, ultrarunner, adventurer, and connoisseur of outdoor athletic gear. Yes, my garage looks like the return department of a sporting goods center (gear covered in mud tossed around haphazardly), but it's easy to justify a bunch of "stuff" when you gear test and write about it for a living.
Oh, and if you marry an adventure racer who has a ridiculous gear closet of their own. (Follow me for more life-hack tips.)
But back to the hydration vest.
UltrAspire Basham Race Vest Review:
There was a time in my running life, many, many years ago, where I couldn't fathom why one would need an entire vest or pack to carry all of their running belongings. A small waist belt to hold my phone, and maybe a hand-held water bottle was all I needed.
Then I took up trail and ultrarunning and discovered the joy that is a hydration vest. Not only do I enjoy having all of the necessities I need – water, food, and my phone – on me in a way that allows me to still run with my hands free, but I also like having room for the extras.
Enter: the UltrAspire Basham Race Vest.
I've said it before and I'll say it again: my hydration vests / packs are akin to the classic mom purse: whatever you need, it's probably in there. Bandaids? Check. Snacks? I've got them. Backup GoPro battery? Of course. A random extra pair of socks carried around incase of emergencies? Probably in there.
I wouldn't be surprised if you found some crumpled up receipts and a rouge tic tac or two, but I digress.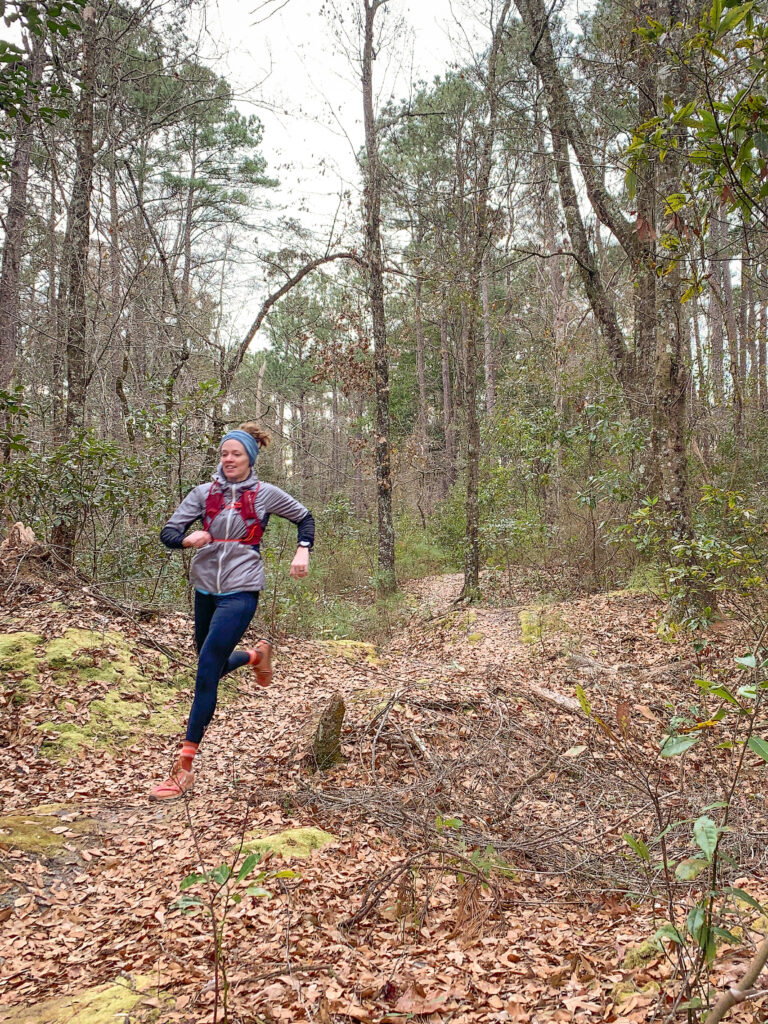 And so, it's rare for me to leave the house for a run, no matter how long or short, without a pack. But, despite having fallen in love with ultra distances, not all of my training runs are worthy of a traditional vest or pack.
In fact, more often than not, you'll find me putting in a 4-6 mile loop here in the quaint little suburban neighborhood. And I wanted a small "just in-case" type of vest to wear for said occasions.
Enter: the UltrAspire Basham Race Vest.
What is the Basham Race Vest?
UltrAspire designed this vest for one of their elite athletes, Amanda Basham. She's a badass ultrarunning mom of two, who requested a pack designed specifically for her racing needs.
What sets the Basham Race Vest apart from almost every other vest I've tested is it's incredibly small footprint paired with the ability to actually hold "stuff". We'll get more into these details further in the review, but let's start with the basics.
Who the Basham Race Vest Will Work Best For:
In my opinion, the Basham Race vest is perfect for the following types of athletes or racing situations:
Shorter distance runners who want access to some water, don't want to carry a handheld bottle, and definitely do not want a big, sloshing hydration bladder.
Trail or ultrarunners who will have frequent access to aid stations or water refills (I'm looking at you, Western States with 20 aid stations spread over a 100 mile course).
Anyone who wants a race vest/pack with a very small footprint.
Basham Race Vest Technical Specs:
For those who love the technical specs down to the ounces, here's what you need to know.
Total Volume: 122 c.i. (2 L)
Hydration Style: bottle. Includes 1 UltrAspire UltraFlask 550 Hybrid Bottle, and can fit two 550ml soft flasks in the front pockets
Hydration bladder compatible: No
Weight: 6.4 oz (181 g) without bottle, 9.4 oz (266 g) with bottle
Fit: Unisex
Size: Universal (Chest Size: 26″-48″)
Cost: $89.95
Fabric / Materials:
The very first thing I noticed about the Basham vest is how incredibly lightweight the fabric is. Nearly the entire vest is comprised of a lightweight, breathable mesh. Yet this mesh still feels durable, not as if it's going to easily tear in any situation at all.
Fabric specs from UltrAspires website:
Lightweight, soft, breathable, but strong, large-holed mesh pulls moisture away from the body to keep skin dry and cool.
Silicone and PU coated feather-weight nylon fabrics resist water, abrasion and tears.
Plush feeling micro-fiber polyester edges, soft and non-abrasive against skin and clothing.
Sweat proof webbing—won't absorb water or get saturated and heavy.
Safety stitched bar tack on all stress points.
Zig zagged stitching over elastic for ultra-durability, increased stretch and rebound.
Max 02 sternum ™ for unrestricted breathing while maintaining a stable pack. Uses shock cord with good stretch for unrestricted breathing but also good rebound on the stretch for a stable ride.
Fit:
The Basham Race Vest is hands down the smallest, lightest, most form fitting race vest I've ever worn. In fact, it doesn't even feel like I'm wearing a vest at all.
I attribute this to two things: the ErgoFit design, and the fact that this vest was designed with a small footprint in mind.
ErgoFit Design
UltrAspire's ErgoFit Design promotes freedom of movement and stability through s-curve shoulder straps. These result in better weight distribution and greater range of motion in your arms without being inhibited by the straps.
As with so many things in the sporting world, most hydration vests I've tried in the past feel as though they were designed with an average* 5'10", 170lb male ultrarunner in mind. They often feel a bit too big throughout the shoulders, and a bit too tight in the chest for a female body.
(*We made up those "averages", but I think you get the idea.)
Sternum Straps
The Basham vest uses UltrAspire's Max O2 Form™ sternum strap system, which is composed of stretchy shock cord for unrestricted breathing while maintaining a stable pack.
As I mentioned in my Zygos 5.0 review, I was initially hesitant that the stretchy cords would be secure enough to keep these vests in place while running…but they work.
Small Footprint
By "footprint", I'm referring to how much surface area the pack itself covers on your body. The UltrAspire Basham covers very, very little, which is absolutely perfect if you live in the sweaty, humid, swamp that is the SouthEast, like I do.
In all seriousness, the small footprint of this vest reduces weight and increases heat dissipation, making it ideal for both warm AND race situations.
Pockets / Storage:
Now, because this vest was designed to be lightweight for racing purposes, the idea is that you're carrying the bare minimum needed. Therefore the UltrAspire Basham Race Vest doesn't have a zillion pockets, like the Zygos 5.0 or the Epic XT 2.0.
However, despite being such a small pack, I was surprised at how much it actually can hold. Let's take a look at all of the places you can store stuff:
Front Zippered Pocket
On the upper left chest strap is a secure, zippered pocket. This pocket is made of a 4 way stretch mesh material, allowing it to expand to accommodate a good bit of "stuff".
Personally this is where I choose to store things I don't want to inadvertently drop, such as my car keys, cash, or ID.
Cell Phone Pocket
On the upper right chest strap is a rectangle mesh pocket. This pocket was specifically designed to hold a cell phone (another requirement from Amanda Basham). It may look small, but it stretches to accommodate even larger phones.
My favorite part about this pocket is that it features a stretch cord from the vest to the top of the pocket. This will help secure your phone in place, so it doesn't accidentally fall out.
Alternatively, it helps secure the straw of a soft flask.
2 Flat Mesh Front Pockets
The lower left and right chest straps have two more 4 way stretch mesh pockets. These are ideal for holding gels or other food items. You could also easily fit something like an inhaler, or pepper spray here.
Insulated Bottle Compartment
The lower back of the vest includes a foam insulated bottle compartment, designed specifically to hold the UltraFlask 550mL bottle (included with the pack, though you can purchase these separately to have backup bottles).
Can you use other bottles with the Basham Vest?
I tried putting other bottles into the Basham vest bottle compartment, and they did fit. I had luck with both a standard 24 ounce bicycle type water bottle, and the UltrAspire Human 20 2.0 bottle. Both fit, however, the bottles were more noticeable when wearing the vest.
I attribute this to the fact that the UltraFlask 550 has a flat surface to sit comfortably against your back. Therefore I definitely recommend sticking with this bottle when wearing the Basham vest. However, you can rest assured knowing other bottles will indeed fit into the bottle pocket.
Back Quick Stash Pocket #1:
The upper half of the back side of the Basham Vest has a large quick stash pocket, that secures closed with a magnet. This pocket is ideal for something like a second water bottle, a jacket, or more snacks. I easily fit a packable, hooded jacket into this pack with room to spare.
Back Quick Stash Pocket #2:
A 4 way mesh stretch sits right on top of the insulated bottle compartment. This pocket is perfect for securely stashing extra fuel, such as gels or bars.
Performance:
So now that I've demonstrated that the deceivingly small Basham vest can indeed hold a good bit of "stuff", let's talk about how well it actually holds up while running.
My biggest concern before running with the Basham vest was that I was going to hate the placement of the water bottle. I've run with other vests that hold full, ridgid bottles before (such as the Orangemud double barrel quiver), and I hated how the water sloshed around in the bottles.
Don't even get me started on water-bottle waist packs, I won't touch them.
Much to my surprise, I experienced no sloshing with the Basham vest. I think it's a combination of the positioning (mid to lower back) combined with the fact that the bottle itself is not completely round.
Further, the four-way-stretch mesh held everything I had in the pockets (such as my cell phone and gels) tightly and securely. There was absolutely no bouncing or shifting of the items, or the pack for that matter.
In fact, I often forgot I was wearing the pack at all. Which is how a running vest should feel.
Because I received the pack in November, I haven't been able to give it the true "will it or won't it chafe in 100% humidity" test. However, because I do live in South Carolina, I have had the opportunity to run in the vest more than once wearing nothing but a tank top. Despite having the pack resting on bare, exposed skin, I experienced zero chafing or irritation.
Basham Race Vest Cons:
The biggest "con" I found is that if you have any sort of shoulder mobility issues, you may find the location of the bottle hard to reach.
Personally, I would never normally consider myself to have mobility issues. However, the first time I wore the Basham vest, I was immediately reminded of the fact that my right shoulder does sit a little lower than my left making some movements a little more difficult…like reaching behind my back.
It took a little practice / neuromuscular memory to get it right. Now, I can remove the bottle from the back of the vest while running, however, I have not been able to successfully replace the bottle in the pack while running. I have to stop and use both hands.
This is a "me" issue, and I know for a fact that others are able to draw the bottle, take a drink, and replace it in its pocket without having to stop.
The bottle location becomes worse seemingly the larger you are. I had my husband try on the vest, and while we were absolutely able to make the vest fit him comfortably, he couldn't reach the bottle at all.
However, my 210+lb weight-room-loving-husband certainly doesn't have the exact same build as an elite female ultrarunner, so take that for what it's worth.
Lastly, you have to be careful where you grab the bottle, or you may inadvertently open the bottle nozzle while trying to grab for it, and end up pouring water all down your backside.
Like I did, while filming the pictures for this very blog post.
UltrAspire Basham Race Vest Final Thoughts:
Despite the potential difficulty of the water bottle placement, I still really love the fit and feel of this pack.
To sum this review up, my favorite features of the UltrAspire Basham Race Vest include:
Small footprint
Lightweight materials
The phone pocket (no bouncing!)
The ability to have water and food on me "just in case", without feeling like I'm unnecessarily carrying a massive pack.
I will continue to use this pack for local neighborhood runs, and wouldn't hesitate at all to use it in any sort of race scenario where I didn't have to carry a ton of mandatory gear, and knew I'd be able to refuel with water and food over shorter, frequent intervals.
I would absolutely recommend this vest to any runner who wants a hands-free way to carry water, fuel, and other gear, but doesn't want to "feel" weighted down by a traditional hydration vest or hydration pack.
Questions about my experience with the UltrAspire Basham Race Vest? Leave a comment below!
Heather Hart is an ACSM certified Exercise Physiologist, NSCA Certified Strength and Conditioning Specialist (CSCS), UESCA certified Ultrarunning Coach, RRCA certified Running Coach, co-founder of Hart Strength and Endurance Coaching, and creator of this site, Relentless Forward Commotion.   She is a mom of two teen boys, and has been running and racing distances of 5K to 100+ miles for over a decade.  Heather has been writing and encouraging others to find a love for fitness and movement since 2009.