Last Updated on November 4, 2019 by Heather Hart, ACSM EP
Adding an adventure race to my endurance resume has been a long time coming, and I cannot tell you how excited I was to have the opportunity to run my first AR in my current home town.  But before I tell you all about the Independent Republic Adventure Race, held here in Myrtle Beach, I've got to give you a little background story.
Of course…I have a story for everything.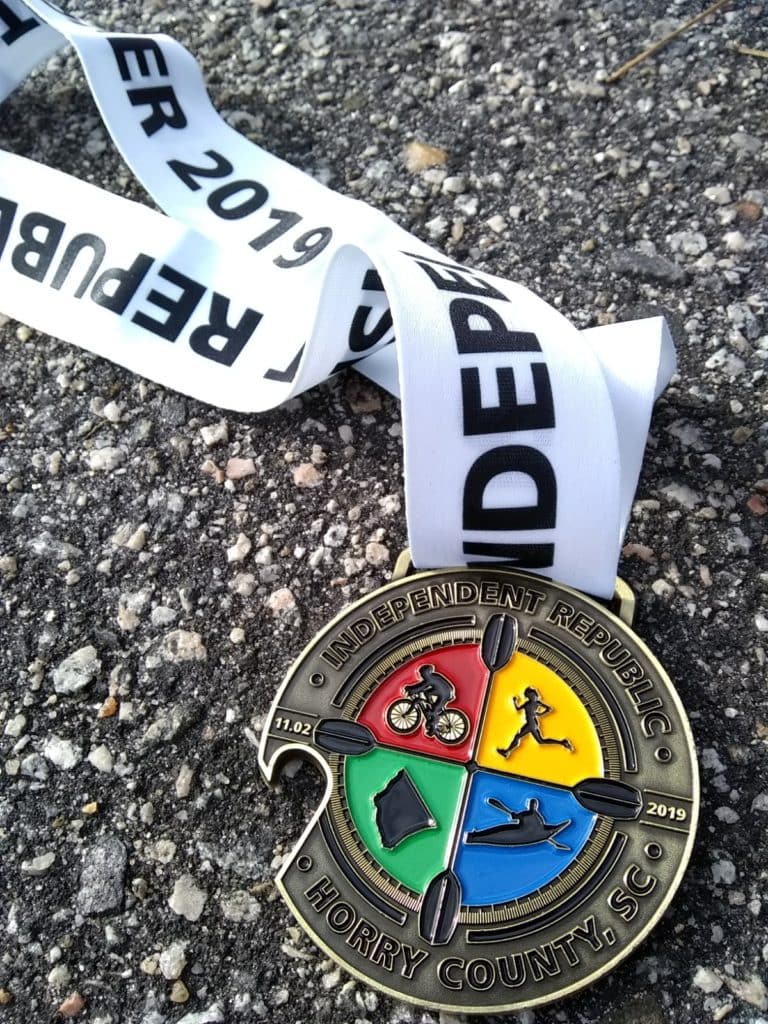 When Geoff and I met back in 2012 and first moved in together, we didn't have internet or cable. What we did have was a box of random DVD's. Occasionally, I would put in a random DVD to provide some sort of background noise while I worked around the apartment. One day I popped in a DVD recap of something called "Primal Quest". It quickly turned from background noise to a blackhole where I lost about 90 minutes of my life, because I stopped what I was doing and became enthralled with what I saw on the screen.
Despite being a 6 year veteran of marathon distances, triathlons, and even obstacle course racing at that point, I had never heard of an adventure race. But there on the screen in front of me was one of the most insane physical feats I had ever witnessed. Teams of four were running, mountain biking, rappelling, white water kayaking, and even riding horses around some of the most gorgeous and harsh looking terrain you could imagine, all trying to find checkpoints on a map, with nothing but compasses.
And that was my first introduction to adventure racing. Incase you've never heard of adventure racing either, here's the definition straight from Wikipedia:
Adventure racing is typically a multi-disciplinary team sport involving navigation over an unmarked wilderness course with races extending anywhere from two hours up to two weeks in length. Some races offer solo competition as well. The principal disciplines in adventure racing include trekking, mountain biking, and paddling although races can incorporate a multitude of other disciplines including climbing, abseiling, horse riding, skiing and white water rafting. Teams generally vary in gender mix and in size from two to five competitors, however the premier format is considered to be mixed gender teams of four racers. There is typically no suspension of the clock during races, irrespective of length; elapsed competition time runs concurrently with real time, and competitors must choose if or when to rest."- Wikipedia
As it turned out, Geoff had participated in adventure races in the past, loved them, and has spent the last 7 years of our relationship trying to figure out how to get me to do one. It wasn't that I didn't want to do one, rather, it was that the opportunity to participate in an AR had simply never presented itself …or worked with my crazy ultramarathon schedule.
Until now.
A few months back I received a message from a local friend letting me know that the County we live in was putting on their first adventure race, with a 3 hour and a 10 hour option. I told Geoff, and before I could somehow manage to blow this opportunity by filling my race schedule with something else…he registered us as a team for the 3 hour event.
Pre-Race
We knew our race would include: running, kayaking, mountain biking, and of course, orienteering. To be 100% honest, Geoff and I didn't necessarily train specifically for this race. It's no secret: we run a lot. We also enjoy mountain biking, and ever since finally securing a saddle that doesn't try to destroy me, I've been riding much more frequently. As far as the paddling goes…we both hoped past experience paddling kayaks plus five days a week in the weight room at the gym would cut it.
The day before the race we headed down to the Carolina Forest Rec Center for participant check in. We were greeted by friendly faces who gave us a gigantic map, as well as a list of the UTM coordinates (Universal Transverse Mercator) of the 12 checkpoints we would need to find during the race. Typically, the map and coordinates are given out a few hours before race start (and this was the case for the 10 hour race). However, as the 3 hour race was designed to be an introduction to adventure racing, so the race directors were kind enough to provide the coordinates early, giving participants time to figure out what the heck they were doing.
We were also given pint glasses, a swag bag with Buffs, GU, and a UTM grid tool.
So, one would think, having done this numerous times before, that Geoff would have the whole "plotting UTM coordinates" thing down. And he did…sort of. The problem came in that we decided to first plot all of our boat coordinates, and found ourselves wildly confused that they all ended up being in what appeared to be a neighborhood.
On land.
This made absolutely no sense. How were we going to take the boat on land? And this, my friends, is why I'm grateful we chose to start with an adventure race that allowed us to take the map and coordinates home for the entire night before the race. Because we spent no short of 2 hours googling, learning different ways to plot UTM coordinates with different tools, and even reverse googling locations, finding the coordinates in degree-minute-second format, and converting them to UTM.
Long live the internet.
Eventually I took it upon myself to plot the run sections, and knew exactly where they would be (sort of) when I circled the coordinates on the map. They landed right on a local trail called "baby Hulk", as well as an access road about a mile from the trail behind a powerline station. Those locations made sense, so that allowed me to deduce that we were, in fact, plotting the check points the correct way. So either the original boat coordinates were wrong…or they were indeed on land.
The good news was that the next day, the race directors would let us take a peek at their master map before the race started, to ensure we had plotted correctly.
Race Day
After a 5:00 am wake up, we arrive to the race start around 6:20 am. I'm not nervous in the slightest:  I have no expectations, but I also know that I'm fully capable of "doing endurance stuff" for three hours.  I know the terrain, I know this area like the back of my hand.  We had deduced via plotting the checkpoints that we would be running, riding, and kayaking from and around the Horry County Bike & Run park.  As many of you know, this is my home away from home.  My little family spends countless hours a week running, riding, and adventuring out here.  We volunteer regularly helping to build and maintain the trails.  Hell, we even got married out here.  So I was pretty confident that I knew what we were in store for.
Maybe TOO confident.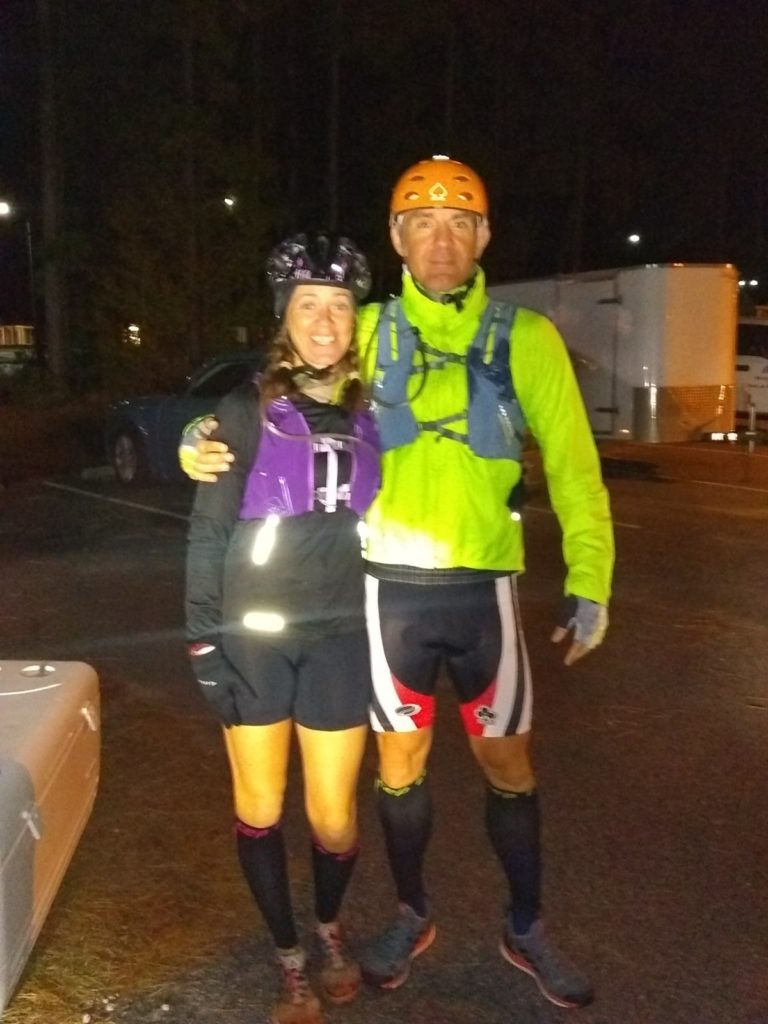 We double check our map against the master map, and discover that we had indeed plotted the boat coordinates correctly. They weren't on the water…though you'd need a kayak to get to them. We finish getting ready, and then line up for the start on our mountain bikes.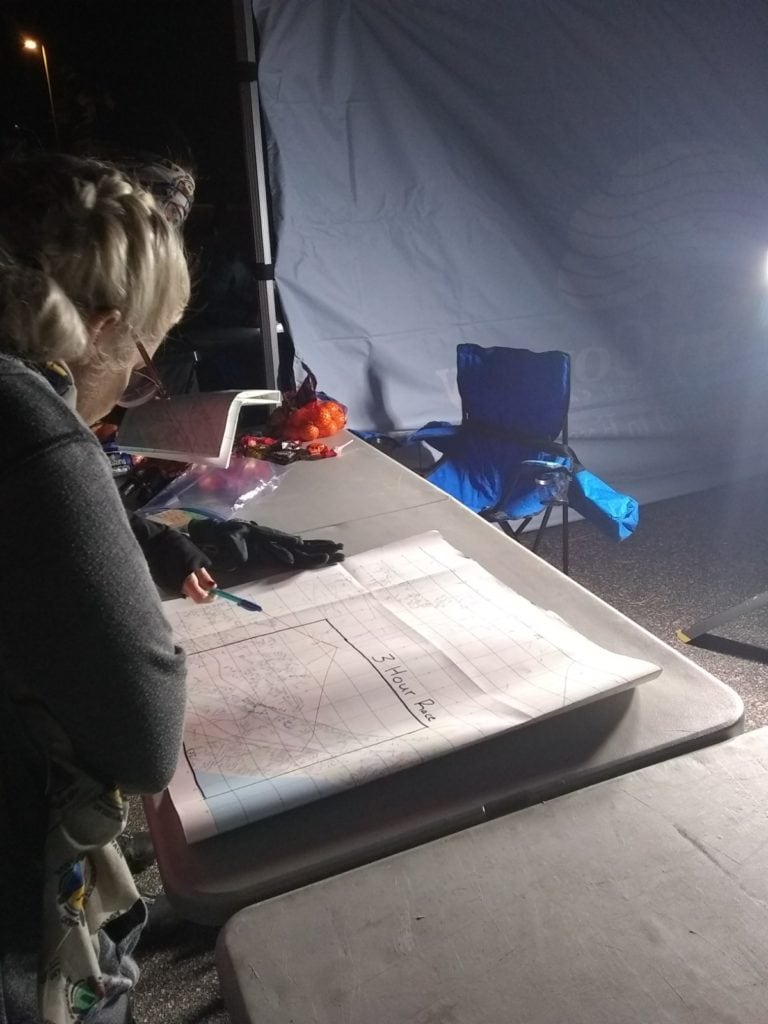 3, 2, 1 – GO.
Here's a quick summary of how I race: I'm almost always "running my own race". I have my own goals for race day, and I try to stick to them. But if you say "GO", and I take off at my desired pace…and I find myself either close to or in the lead? Well now we are RACING. As in, I might try to win this thing.
And that's exactly what happened here.
Well, no, actually what happened first was we heard "GO", and everyone took off on their bikes to the end of the parking lot…where the entire group got stuck behind a pickup truck with at trailer trying to merge onto the road. It was still dark out, and there was a surprisingly large number of cars on this four lane road at 7:00 am on a Saturday…and we needed to turn left, with no light. The group sat there for about 2-3 full minutes, though it felt like an eternity, before the truck merged into the traffic and we all took advantage of the opening.
We take off down the paved road. We're riding about two miles from the start of the race to the trail head on some busy roads. Fortunately there isn't a ton of traffic. Unfortunately I have a single cog of gears ( or ring, or whatever. Geoff is trying to tell me the proper terminology, which apparently isn't that, but I'm talking runners here), and I'm trying to keep up with my husband, who is on a triple. In short, he is effortlessly moving along and I'm hauling ass in my biggest gear trying to keep up with him, and my quads and lungs are on FIRE. I'm immediately red lining, which is a blessing in disguise, because it doesn't allow me even an ounce of energy to entertain the idea that I'm terrified of riding on the roads in Myrtle Beach.
The sun is just starting to rise. We are the first to arrive to the trailhead, and ride down a fire road to grab our kayaks. We had rented a tandem kayak that weighed a ton and came with crappy paddles, but at least we didn't' have to provide our own (and then find a place to store it in our tiny apartment), so for that, we were grateful.
We not so gracefully get the kayak down this massive set of stairs that are crumbling (Geoff fell through the whole where a step is missing) and successfully get on the water. A couple of groups are right on our tail, carrying their kayaks into the water behind us. We start paddling South on the Intracoastal Waterway, trying to find our rhythm. I'm in the front, and Geoff is in the back. He's in control of steering, I'm just providing extra power.
Except I spent the summer in kayaks with my little ones, having to do all of the steering. More than once I instinctively try to correct our path, only to get an earful from Geoff. Once he even hits me in the head with the paddle…and I'm still not sure I entirely believe it was an accident, haha.
We're paddling along, looking for the mouth of a stream/brook on our right hand side, which we had deduced was going to be the best place to park our boat and start looking for the three land-boat coordinates. Now remember, the course for an adventure race is not marked. YOU need to figure out the best path to get to where you need to go. We have a general idea of how far we need to paddle…but we are paddling against the current, and it feels like we've gone much further than we probably have. We keep thinking we'll see the mouth of the stream "just around that corner" but every corner and curve in the waterway just led to another dock or waterfront property.
My arms are on FIRE, and I'm now soaking wet, as every paddle stroke of Geoff's covers me in droplets of water. But just about one mile later, we find what we are looking for. We paddle the kayak as far up the mouth of the stream as we can, and then get out of the boat and park it on the sand.
Time to find the first check point.
I know what I'm looking for, I've seen pictures of these big white and orange check point flags before. What I don't know is exactly how hidden they'll be…or how far away they are from where we are at that very moment. Geoff says the pro's have it down to a science, they can almost nail down the location of the check points to less than a dozen meters, knowing exactly how many steps/paces away they have to walk. I climb to the top of the river bank hoping to magically see the checkpoints…but I don't.
No worries though, because I have Geoff.
He tells me to pull out my compass (it's my Dad's. He'd be thrilled.) and the map. Geoff takes a bearing (I still have no idea how to do this), hands the compass back, tells me to put the "red in the shed" (keep the arrow in the other arrow…I'm still working on my navigation terminology, don't judge) and walk. So I do.
The compass takes me butt sledding down into a 20 foot dirt pit, across the bottom of the pit, and then back up the briar and weed covered other side. We're not even at checkpoint one, and my shoes are filled with dirt and now I'm bleeding. This could go one of two ways, and fortunately, I'm loving it. I get to the top of the hill, look out across the field and see it way off in the distance: a check point. I may not have navigation skills down yet, but I still have great eyes.
I point it out to Geoff, and as we start heading towards the check point, we inadvertently stumble across another check point. Beginners luck? Maybe.
Geoff grabs our punch card and gets the required check point punch. Each checkpoint has a different patterned hole punch that you match up to the number on your card (conveniently laminated, because this sport is, well, wet) to prove that you've been there. We quickly run to the second check point way off into the distance.
From here we know that the third boat check point should be at the very top of the stream, almost where it meets the main road on the front end of the neighborhood. So we take off running along the edge of the forest, trying to stay relatively out of site of the other teams (remember, this is a competition)…even though we haven't seen any other teams catch up yet.
We find check point #3 without any difficulty, and run straight back to our kayak. In total, we covered about another mile running through this section. When we arrive back to our kayaks, we see half a dozen teams just starting to park their boats and head out to find the checkpoints. So of course, competitive Heather is now out and making her full debut.
We jump back in the kayaks, and immediately get stuck…but my gentlemen of a husband tows us out into deeper water.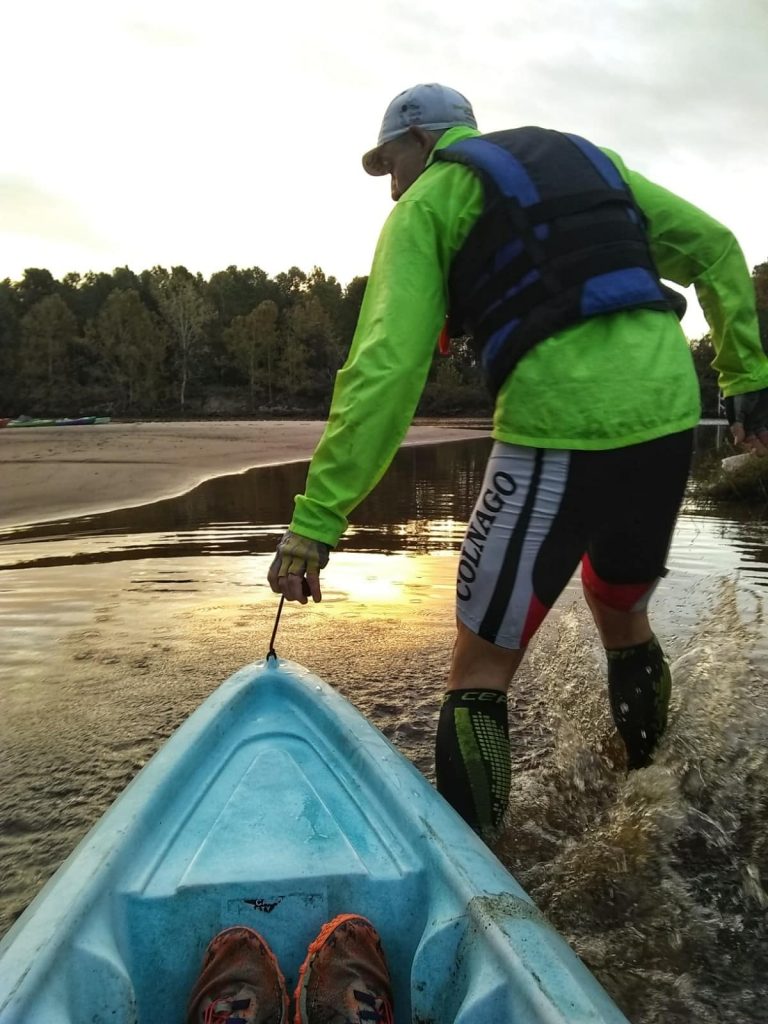 We're headed back to the trail to drop off the kayak where we picked it up. Fortunately, we're now headed with the current and paddling is SO much easier. I'm still getting wet, but Geoff isn't hitting me in the head, and even smiles for a selfie, which never happens.
We pass some more teams headed in the opposite direction, but there's no one else in the water headed back towards transition. We're in good spirits, and confident.
Once again…maybe too confident.
We're out of the water and back at transition in less than an hour since the start. We drop off the kayak, shed a few layers, and head out for the run.
And this, my friends, is where being overconfident bit us in the ass.
I knew looking at the map and where we had plotted our next four check points that three of the four run CP's would be in a section of trail known as "baby Hulk". Baby Hulk has been in a bit of a limbo of ownership for the past two years. As such we were told to put a halt on building and maintaining the trails, temporarily. So personally, I haven't been out there in at least a year. Turns out mother nature can do some SERIOUS reclaiming of her land in that short amount of time. Because when we arrived to the section in the field where the trail started…there was no trail to be found.
Keep in mind, I've run hundreds of miles on this particular trail section over the last 5 years, but that morning I couldn't even begin to tell you where the trail used to start. So we start bushwhacking through the gnarly shrubbery, getting torn up by thorns and angry plants in the process. We stumble around looking for the trail, assuming check point would be on the trail. Except we still can't find the trail, never mind the check point.
I have no idea how long we stumble around out there looking for this checkpoint. At least 15 minutes. At this point Geoff suggests we back track and try coming at the check point from the road that parallels this piece of property. I think we should go looking for check points 5 & 6, as I'm absolutely confident they are on the other end of this used-to-be-a-trail, which is easy enough to get to from the trailhead (it's a loop). We bicker for just a few seconds before he seems to understand my reasoning, and we head for CP's 5 &6. Luckily, we find them without much trouble.
We decide at this point to head back out to the road, run the mile down to CP 4 which should be easy enough to find right behind the power station. As we are headed back out of the used-to-be-a-trail we are totally surprised to run into another team, and then another. The 15 minutes or so we spent trying to find CP 7 lost us any lead we had. But, no time to stress.
We hit the road and run. CP 4 is about 1 mile from where we are, and about 1.5 miles from transition. In adventure racing, race directors will often add check points that are out of the way. You have to come up with a strategy to determine if it's even worth your time to try and hit those check points. Fortunately, running is our specialty, and we know we can get our heads down and get this one done. Sure enough, CP4 is EXACTLY where I thought it would be. Maybe I'm not so bad at this adventure racing thing after all. We check the time, and determine that we have enough time to try and find CP 7 again before heading to bike transition.
Long story short: we waste at least another 15 minutes hopelessly trying to find CP7. The only consolation is that we run into countless other teams in the same area, looking for the same CP. At least we aren't alone. I pop out of the woods covered in blood, and feeling like I definitely gave finding this CP valid attempt. With now about 45 minutes left in the race, we decide to head back to our bikes.
We're told that the bike check points will be on the mountain bike trail. As such, we're not given exact UTM coordinates for these points, and instead told we simply have to ride the entire trail to find them. Having ridden this trail countless times, I know it takes me about 50 ish minutes to complete. We don't have that much time before the race ends, so we head out and hope for the best.
We find the first two check points quickly on the first section of trail. We head into the next section hoping to find the last two check points…but only come up with one. Once we pop off of that section back onto the fire road, I look at my watch and realize we only have 14 minutes to make it the 2.5 miles back to the start/finish. Normally, this wouldn't be a problem, but it's now nearly 10:00 am on a Saturday in Myrtle Beach. There's going to be traffic…and traffic lights.
And there was.
We leave the last bike check point out there, unfound (by us) and head back. But despite terrifying traffic, and despite the fact that I notice Geoff's rear tire is nearly flat, we make it back to the finish line with three minutes to spare.
There were a few other teams done, but they had collected less check points than we had. Now, here's the crazy part about adventure racing. You have a time limit, but, you don't necessarily HAVE to finish in that time frame. It varies race to race, but in this particular race, you would be deducted 1check point for each 15 minutes you were late to the finish line. So even though Geoff and I had finished with 10 of the 12 check points within the time limit, someone could show up 15 minutes late with all 12 check points and still beat us.
So we had to wait. (And while we waited, we were provided with boxed lunches from the county!)
Sure enough, another team came in with 11 checkpoints…but they were also 45 minutes past the finish time so they were deducted 3 points, making us the overall winners of the 3 hour adventure race.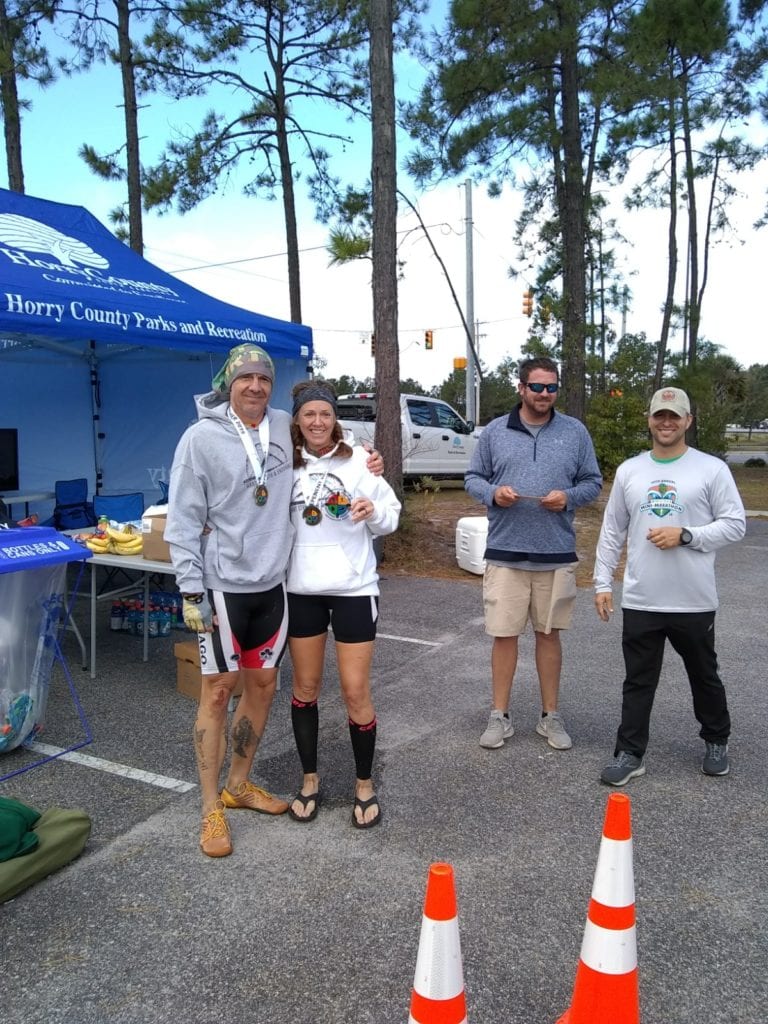 All in all Horry County Parks and Rec knocked it out of the park (pun totally intended) with this adventure race. Being my first adventure race, I found it to be the perfect amount of "difficult" for a 3 hour / beginner level adventure race. Geoff, who has done 24+ hour adventure races, said this was executed perfectly and exactly what he expected for a 3 hour race.
In short, I'm hooked. I had a great time and definitely look forward to adding another adventure race to my resume in the future. And I truly hope that the county decides to put this race on next year, so I can sign up for the 10 hour version.
Oh, and incase you were wondering about check point #7, the one we couldn't find? According to the RD, it was 12 feet up a tree. Totally and completely legal in this sport.
We just forgot to look up.