Last Updated on October 13, 2018 by Heather Hart, ACSM EP, CSCS
I am grateful that we live in a time where slowly, the stigmas associated with mental health are diminishing.  People are more comfortable stepping up and saying "Hey, I'm not always OK…and that's OK."
So it is with that knowledge that I too will step up and say that I suffer from generalized anxiety disorder.  I attribute it to equal parts genetics and a number of negative and traumatic experiences in my early adulthood.  I'm fortunate that the days which the anxiety renders me useless are few and far between, but they do exist.  More often are the days where anxiety quietly nags, like a rogue piece of a sandspur stuck to the edge of your sock that you can't ever seem to get rid of.  It doesn't hinder me from doing what I need to do, but it incessantly and painfully digs at my skin.   Then, of course, there are plenty of days where the anxiety disappears altogether, and I forget it is even a "thing" that plagues me.  Those days are the best, but like everything, they are fleeting, and eventually the cycle begins once again.
Over the years I have learned, for the most part, what triggers my anxiety.  More importantly, I have learned what helps ward off the worst of it, keeping those downright debilitating days to a minimum.    As you probably guessed by now, running is one of those staples for keeping me in a positive, balanced mental state.
There are a number of research studies (like this one and this one) that have proven that regular aerobic activity used as a form cognitive-behavioral therapy can contribute to a decrease in overall symptoms of anxiety and depression, and result in a more positive outcome for patients.
(Please note that this post describes my experiences in how running has helped me deal with emotional help.  It is not a diagnosis or treatment suggestion for anyone else, nor is it a suggestion that other options are inferior or superior. )
Self-Producing Anti-Anxiety Medication
The so called "runner's high"?  It's a real thing.   During exercise, the body naturally produces chemicals and hormones such as endorphins, norepinephrine, dopamine, serotonin, and endocannabinoids.  All of which can cause a "happy" and even "high" feeling.   And for me, running provides just the right amount of these happy chemicals my brain needs to chill out on a day to day basis.
Now don't get me wrong, there are legitimate reasons and needs for anxiety medications, and for some people, naturally produced hormones through exercise might not be enough.  For me, the natural production of extra feel good hormones is enough to keep my anxiety at bay and emotional well being in check, when done on a regular basis.   This is most noticeable when I don't run or exercise for a few days in a row, and my anxiety doesn't creep up, but sprints back in at full speed.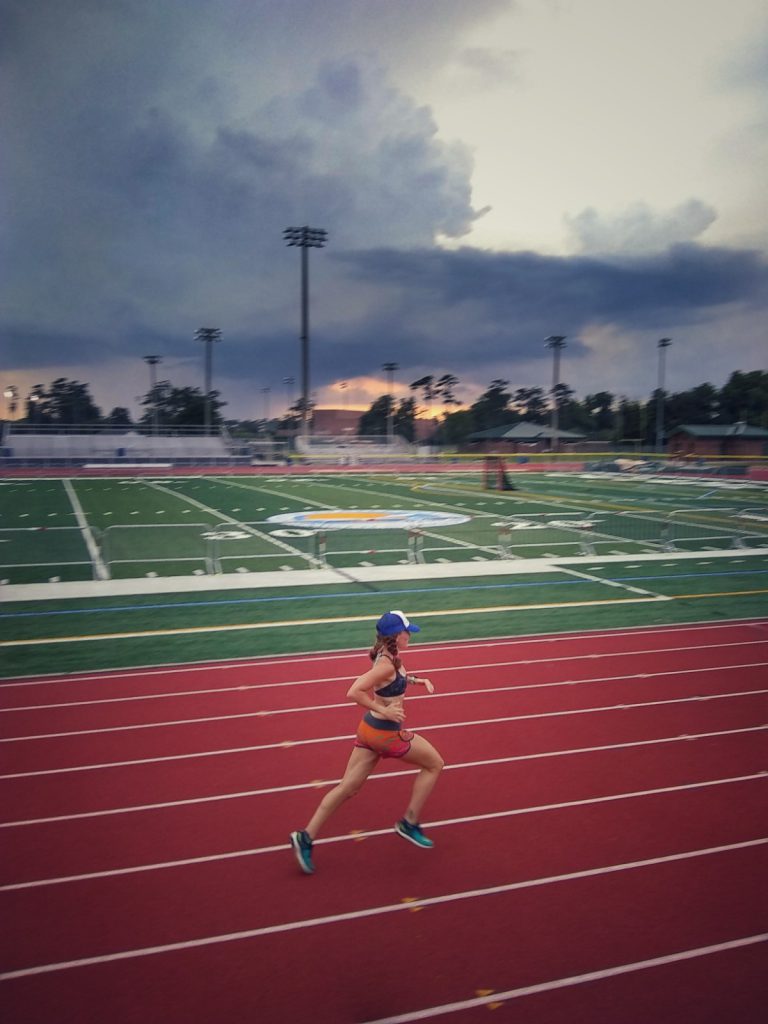 Further, research shows that exercise can actually reorganize the brain so that it's response to stress is reduced, and anxiety is less likely to interfere with normal brain function (source).  Three cheers for science.
Forced Time In My Head
People always talk about running being a time when they can literally "run away from their problems".  And I definitely do agree: for an hour (or more), the problems of the world are pushed aside.  You don't have to fold laundry, or pay bills, or listen to your boss yell at you, or wait in the school car line…you get the idea.
But one of the crippling issues I've dealt with – or in this case, not dealt with – for much of my adult life has been learning to sit with emotional discomfort.  It's definitely a reason why I've struggled with alcohol abuse (it numbs the pain and distracts me from those thoughts), and honestly, one of the reasons I took to running in the first place (see aforementioned "running away from problems").  I've learned, however, that avoidance only exacerbates my anxiety when I sober up or return home and am once again forced to face my fears, worries, and anxiety.
For me, I had to learn how to face the emotional discomfort head on.   A great way for me to do that is while running.
These days I view solo running time as an opportunity for meditation of sorts.  A chance to breakdown and truly figure out what is, to work through my problems, to quiet the distractions of the outside world and work on my coping mechanisms.
Control
Part of my anxiety stems from a time in my life where I truly felt I had little control of my environment, my safety, and my future.   With running, I am in complete control.  I willingly choose the physical and emotional pain I put myself through.  Further, I choose when I get to be strong, or when I want to rest. No one else can tell me what I am capable of.
Better Sleep
When my anxiety is high, I can't sleep.  When I can't sleep, I spend the entire next day struggling to get through work/motherhood/life in general, which makes my anxiety worse.  It's a bad cycle to be in.  But when I run, particularly when my running volume is high, I barely make it off the couch and into bed by 9 pm, and then I typically sleep undisturbed through the night.   I wake up feeling refreshed, and ready to tackle a new day in a positive mindset.  This is a good cycle to be in.
Positive Goals
Running, and in particular, racing, gives me something to focus on and look forward to.  Now don't get me wrong, I have two incredible little kids, and an amazing husband that all contribute to the idea of a bright future.  Sometimes when my anxiety is high, the future can feel very abstract and out of reach.  Racing goals are something concrete and short term, and give me something to focus on when I feel like my anxiety is spinning out of control.  (see above: control.)
Let me be the first to say that when you are suffering from anxiety or depression, or simply feeling unlike yourself or out of control of your emotions, please do not be afraid to ask for help.  These are not issues that you have to tackle alone.   While running has been a godsend to my mental health, it might not work for everyone.
For general information on mental health and to locate treatment services in your area, call the Substance Abuse and Mental Health Services Administration (SAMHSA) Treatment Referral Helpline at 1-800-662-HELP (4357). SAMHSA also has a  Behavioral Health Treatment Locator on it's website that can be searched based on location.
Heather Hart is an ACSM certified Exercise Physiologist, NSCA Certified Strength and Conditioning Specialist (CSCS), UESCA certified Ultrarunning Coach, RRCA certified Running Coach, co-founder of Hart Strength and Endurance Coaching, and creator of this site, Relentless Forward Commotion.   She is a mom of two teen boys, and has been running and racing distances of 5K to 100+ miles for over a decade.  Heather has been writing and encouraging others to find a love for fitness and movement since 2009.