Last Updated on January 14, 2021 by Heather Hart, ACSM EP, CSCS
Is your day to day nutrition helping or hindering your running? I reached out to performance nutritionist Wilfredo Benetiz of On Pace Wellness, to get to the bottom of these top 7 everyday nutrition mistakes runners make.
A common misconception in the running world is that if you run enough, you can eat whatever you want. To some extent this is true: you are a grown adult, you CAN eat whatever you want. But as the saying goes, you can't out run a bad diet (much to many runner's disappointment. Believe me, I am the poster child for this phenomenon). Food can be an incredibly powerful tool, used to help fuel stronger runs, and promote recovery between workouts. Alternatively, a poor diet can hinder performance, progression, and recovery.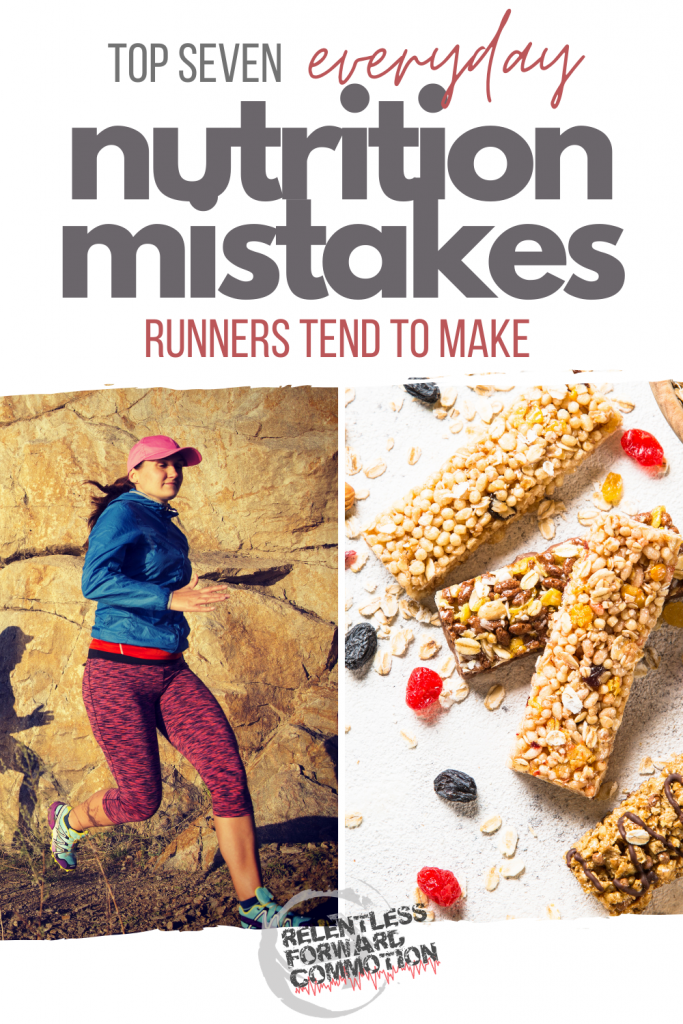 Nutrition is certainly a very personal topic, with various diets being followed for moral or even religious reasoning. Nutrition is also something that some people can find shame in, so I want to say up front that this post is written from a performance perspective only. So, if you're kind of winging your diet, with the idea that "you run a lot so you can eat pretty much anything", but wondering if that's actually true, this post is for you.
Are You Making These Running Nutrition Mistakes?
Wilfredo Benitez, aka "Coach Will" holds a ​Master's of Science in Nutrition, and works with a variety of athletes from everyday, mid-pack runners, to elite ultrarunners and Olympic marathoners. Naturally, he has seen the eating habits of all types of runners, from elites like Hayden Hawks and Lucy Bartholomew, to average janes like myself.
I asked if he could provide me with a list of what he views as the top nutrition mistakes runners make, and he did not disappoint.
And if we're being honest, I cringed a little as I read his responses – because I've been (or currently am) guilty of every single one of these mistakes at one point or another. Let's dive in:
Not Hydrating Enough
Hydration is one of the simplest areas of nutrition, but at the same it's probably the most far-reaching. Dehydration can speed up time to fatigue, slower recovery, injury risk, sleep issues, imbalanced energy, and so much more.
You run, you drink water. So you might assume you've got nutrition covered. But are you drinking enough?
Well according to Coach Will, 8-8 ounce glasses of water a day isn't enough. "This outdated advice gets someone pretty decent water intake, but it is not enough to fully hydrate runners, let alone ultrarunners."
But how do I know if I'm drinking enough?
According to Coach Will, there are a lot of factors behind properly hydrating, which is why there isn't a one recommendation-fits-all situation. However, the following formula is better than stopping at 8 glasses per day:
Take your weight, cut  that number in half, and add 15-20oz more than that. Use this new number as your minimum intake of water per day.
For example, if you are a 150 lb athlete, your minimum water intake should be approximately 90 – 95 ounces per day.

"You might need less or more" says Coach Will, "but it's a good starting point for most people, whom numerous studies show are simply not drinking enough water on a daily basis. "
Don't forget about hydrating before and after your runs. Aim for 10 ounces within the hour of running, drink water during if running more than 90 minutes or so, and rehydrate after with 10-20 ounces.
Fueling (or not fueling) the same for different types of workouts
Do you eat the same thing before every workout, regardless of what type of intensity or duration? Time to rethink that strategy.
"I've seen a lot of runners think that because they can run their easy runs or long runs without much fuel, they can do the same for their speedier sessions." says coach Will. "This doesn't exactly compute for all runners. Some may get away with this, but most will not."
Since these more difficult and higher intensity workouts happen less frequently during the week (typically only 1 or 2 sessions), you can maximize your potential during the workout by fueling properly.
How do you make sure you have enough fuel for the workout?
According to Coach Will: "you make sure that you have eaten a carbohydrate-centric meal (can be small) within 2 hours or so of the workout. Some runners may need to eat closer to the workout than this, and my advice to all runners is to play around with this and find the timing and portions that work best for you."
Refueling with Only Protein After Runs / Workouts
By now most athletes know that protein is vital for repairing tissue damage from exercise. But what about glycogen replenishment? As a quick refresher: our bodies store carbohydrates in the form of glycogen in our muscles and liver. When your body needs fuel, the glycogen is broken down to glucose. The glucose is then oxidized to carbon dioxide and water through cellular respiration, creating ATP (adenosine triphosphate), the form of "energy" our bodies use at the cellular level.

In short: glycogen stores are important.

Runners need to make sure they're replenishing with carbohydrates to fully optimize muscle recovery.
How Should You Refuel After a Run?
"You may have heard of the 4:1 ratio. Some research backs up replenishing with nutrition after exercise in a way that supplies 4 grams of carbohydrates for every 1 gram of protein. Implementing this or getting your ratio close to this may work for you, so it's worth experimenting here too." says Coach Will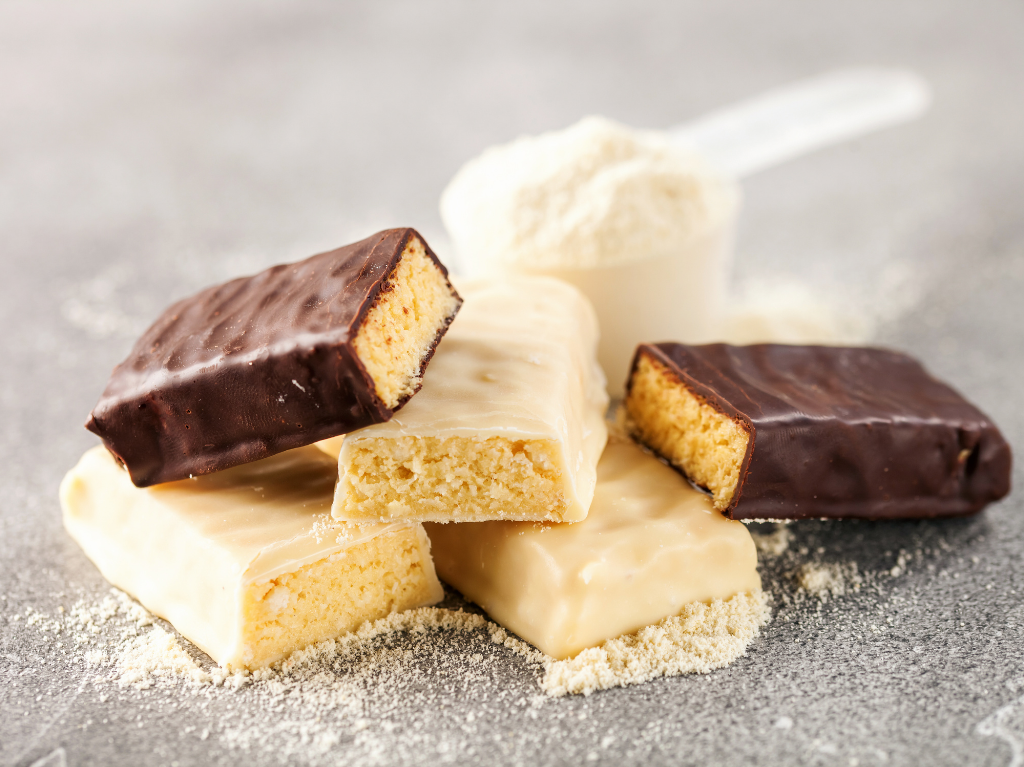 But it not only matters what you eat – when you eat it is arguably just as important.
"I would argue that timing is probably more important than perfecting the ratio." says Coach Will "Aim to replenish with wholesome nutrition within 45 minutes after ending physical activity. Do this with whole foods and water, and if necessary you can use protein powder or something similar. If you are someone who can't tolerate food for at least an hour or longer, then you may want to opt for smoothies or a homemade protein-carb mixed shake, or some other kind of easily digestible food that will work for you."
Eating (virtually) the same thing every day
Do you eat the exact same meals over and over, especially breakfast and lunch? Meal preppers – I'm looking at you. And myself, if we're being honest. As I write this post, I have a dozen matching containers in the refrigerator with pre-made breakfast and lunch for the rest of the week.
Eating the same thing over and over limits the variety of foods you get into your diet. And according to Coach Will, variety matters.
"One of the most important things we can do as runners is to vary our nutrition. By doing this, we offer our bodies a healthy variety of nutrients and we are best supporting gut bacteria diversity which is immensely important for optimal health and potentially even for athletic performance (this is an early but growing research focus). You may have heard the advice to 'eat the rainbow.; This is why: to increase the nutrients that come from eating so many different foods from green foods to blue/purple, red/orange, and even white and black foods (forbidden rice, anybody?).
Coach Will's Helpful Tip: Write down colors on your next grocery list and make sure you're buying at least 1 food from each major color, include white and black too.
Eating Bars Too Frequently
Oh, snack bars. Protein bars, Luna Bars, Lara Bars, Clif Bars, Quest Bars, KIND bars, PRO bars…I'll be the first to admit I love the bars. But according to Coach Will, these should be used as an occasional convenience, not regular meal replacements.
"Bars can be really convenient, and tasty! I know this and I utilize them. But I recognize that some bars are glorified candy bars with way too much chocolate and sugar or other ingredients that aren't exactly nourishing such as certain preservatives." says Coach Will.
"If you're someone who eats bars, aim to do so on occasion versus regularly, and be smart about your choices. Choose foods with less ingredients versus a long list of them, and aim for bars with low added sugar. And if you don't tolerate dairy foods well, you may want to choose bars that are dairy-free, including that don't include whey protein."
Over Carb-loading the Night Before a Race
I'd be willing to bet that there isn't a runner on earth who hasn't heard of the practice of carbloading. But incase you haven't: carbohydrate loading is the process of strategically topping off glycogen stores within the body prior to a race, so your body has fuel to pull from. But does that mean stuffing your face full of a huge platter of pasta the night before a race?
Maybe not. Coach Will likes to take a different approach with his athletes.
"Carbloading before a race can indeed be helpful," says Coach Will, "but I typically encourage my athlete clients to start emphasizing carbs in their diet (increasing both the percentage of overall intake as well as grams) starting 2 if not 3 days before the race, not just the day and especially not just the night before. By doing this, you are slowly increasing and keeping your glycogen stores topped off, rather than overloading the system the night before the race and thus risking a lot: not sleeping well; gastrointestinal distress; and worst of all, poor race performance."
Related post: What to Eat the Week Before an Ultramarathon – Race Taper Nutrition
"The nuances of this may look different from runner to runner, but if you're someone that only increases carbs at your pre-race dinner, I encourage you to try out this different approach and see how it works for you. Keep the pasta or pizza dinner if you want, but also increase some potatoes and rice and quinoa, etc. earlier on. I really think your performance will benefit from this."
Beer Immediately After a Race
A post race beer isn't bad…it just shouldn't be the priority.
"Celebrate that race, by all means! Drink the beer. Eat those pancakes or that burger." says Coach Will "But first: drink water and get in electrolytes if you can, whether that be from an electrolyte replacement tablet/powder or whole food such as fruit. Focus on this in the immediacy after your race is complete, and celebrate after. Your recovery will be much better if you adhere to this versus going for the beer right away."
Nutrition CAN be Overwhelming…
…at least I've always felt this way. But one thing Coach Will has taught me through practice is that small changes add up, and over time, with consistency, those changes become habits. If you've read this post and think "I MAKE ALL OF THESE MISTAKES!" and feel frustrated: stop. Deep breath. Try to make one small change in your diet at a time. When it becomes habit, move on to the next one.
And if you want professional help, I cannot recommend Coach Will's services enough. As an ultrarunner himself, he understands the particular needs of the sport of running. You can reach him at onpacewellness.com, or via his Instagram profile, @OnPaceWellness.