Last Updated on January 27, 2022 by Heather Hart, ACSM EP, CSCS
Race day is looming in the very near distance, and you've got a million questions running through your mind. One of them might be regarding what you should eat the week before an ultramarathon. Does it differ from typical training nutrition? How does it compare to what you would eat before shorter distance races, such as a half or full marathon? Are you overthinking all of this?
Don't worry, you aren't alone.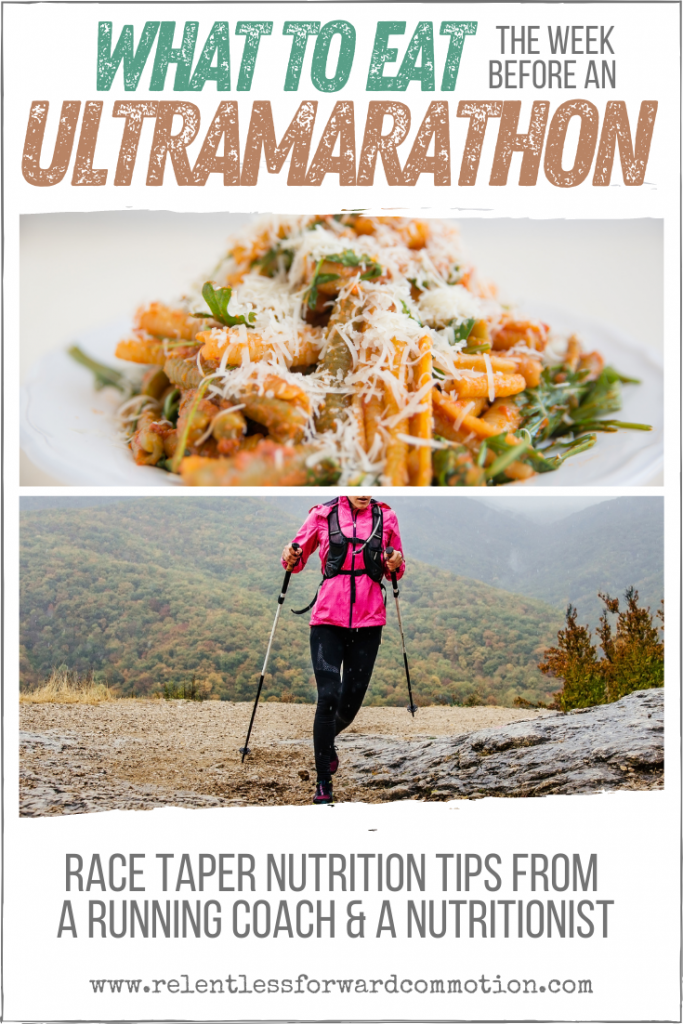 You see, ultramarathon tapers can be long – typically two to three weeks. That gives you plenty of time to plan for (and sometimes overthink) race day. And if we're being honest, it also gives you plenty of time to contemplate everything you've done right, or wrong, leading up to this point. Taper nerves: they are the worst.
At this point, there is little left you can do by way of physical training. "The hay is in the barn", as runners like to say. But there are last minute preparations that can still contribute to race day success. One of them is your taper week nutrition.
What to Eat the Week Before an Ultramarathon:
I've reached out to Wilfredo Benitez, MScN, M.Ed. , nutritionist and running coach behind On Pace Wellness to help answer some ultra specific questions, as to what runners should eat the week before an ultramarathon. Coach Will, who is an ultrarunner himself, helps athletes from age groupers to Olympians manage their nutrition for peak athletic performance. In short: he knows his stuff.
(And if you're looking to work with a performance nutritionist, I highly, HIGHLY recommend his services.)
In this post, we'll address your nutrition during the week (or weeks) leading up to your ultramarathon. If you're looking for race day/ mid race fueling suggestions, please refer to the post: "Fueling for an Ultramarathon: A Complete Guide to Race Day Nutrition",
What Foods Should you Focus on the Week Before an Ultra?
Runners, you should know this already. But as we all know runners are stubborn and hard headed. So listen to my words carefully nonetheless: NOTHING NEW ON RACE WEEK.
"I've seen some new foods be introduced and then sometimes it can lead to symptoms that arise and they may be related or not," says Coach Will "but the last two things you want are for GI or metabolic symptoms to arise (e.g. tiredness) and for you to lose confidence in your nutrition and GI system."
Now is not the time to experiment with foods that are completely new to your system. But assuming you have a decent diet already?
Coach Will says: Omega-3 fatty acids and protein are the way to go.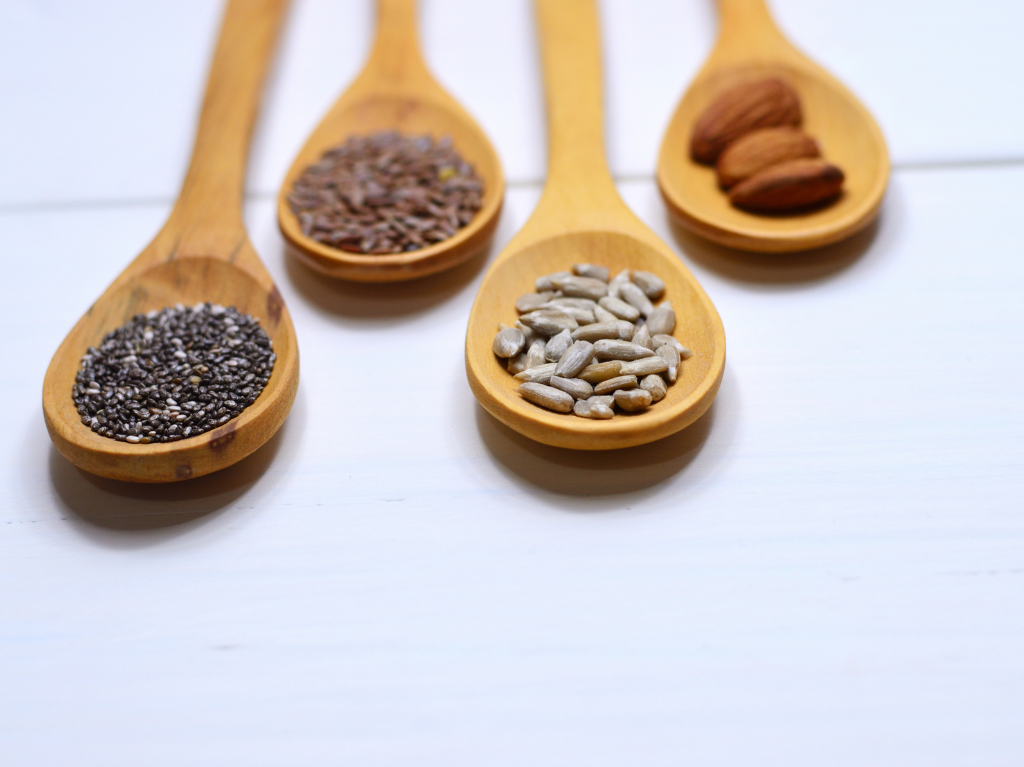 "Keep omega-3 rich foods in your nutrition to help deal with the inflammation that will ensue from ultrarunning, and get them from sources such as hemp seeds, chia seeds, flax seeds, walnuts, and fatty fish. And making sure you're getting enough protein in your diet in the days leading up to the race will put the body in a better place to recover. When patients are scheduled for surgical operations, it's recommended that they increase their protein intake in the week leading up to the procedure to give the body more nutrition to support the healing process; the same concept holds true for heading into a big race! "
Carbohydrate Loading for an Ultramarathon: How Does it Work?
So we've mentioned good fats and protein, but what about the holy grail of long distance running nutrition: carboyhdrates?
Carbohydrates are the most efficient, and thus your bodies preferred source of fuel while running. Carbs are quickly and easily converted to glycogen and stored in your cells. When you need energy, your body can rapidly convert glycogen to glucose and release it into your bloodstream to burn.
Chances are as a runner you are already familiar with the concept of "carbohydrate loading". Outwardly, this often looks like a runner stuffing their gullet full of spaghetti the night before a big race. More specifically, carbohydrate loading is the process of strategically topping off glycogen stores within the body prior to a race, so your body has fuel to pull from.
Due to the nature of ultramarathons, which typically last anywhere from 5-30 hours or more, there is absolutely no way a runner can "store" enough glycogen to get them through a race. A mid race supplement strategy is absolutely critical. But starting with a "full" tank helps.
How to carb-load as an ultrarunner:
"I recommend my runners to start carb-loading 2-3 days leading up to the race." says Coach Will "Don't stuff yourself with pizza, pasta, or even brown rice the night before and risk overdoing it and overloading your digestive system. That's not helping anyone.
"Instead, start increasing the percentage of carbs in your meals throughout the day starting 2-3 days out, and gradually increasing as you get closer and closer to race day. For example, 3 days out, you can do everything else normally, but then increase the percentage of carbs in your dinner. Two days out, increase the percentage of carbs at breakfast and also at dinner. One day out, increase the percentage of carbs at all three meals. Of course, this doesn't necessarily need to be done for everyone as some people may already be eating a sufficient amount of carbohydrates on a daily basis, but generally, this method should work well for most people"
Wait, what about Fat?
You may have read or heard that due to the nature of ultramarathons – slower speeds, lower efforts, and lower heart rates – that you are burning fat instead of carbohydrates. That's somewhat, but not entirely true.
Generally speaking, your body will first process carbohydrates, then fats, then proteins. The "Fat burning zone" generally occurs at about 60-70% of your maximum heart rate. There you are utilizing mainly (but not all) fat as a fuel source over carbohydrates. Even then, carbohydrates enable fat metabolism.
Now, fat contains over twice as many calories per gram as carbohydrates. (One gram of fat contains 9 calories. One gram of carbohydrate contains 4 calories. Calories are energy, or the "fuel". ) Thus, it is slower burning, as it takes longer to convert to fuel, and requires oxygen to carry out this process (aerobic metabolism). There are definitely benefits to tapping into fat stores as a source of fuel.
But, a common misconception here is that there is a magical "switch" where your body goes from entirely utilizing carbohydrates to entirely using fats as fuel. That's simply not true. Even at a lower heart rate and lower effort, carbohydrates are still required.
Fat Adaptation
Now, you may have heard of "fat adaptation" as a method of endurance fueling. In order to skip the carbs and use mainly fat as your fuel source, you typically need to train your body in a fasted state, i.e: when carbohydrates are not available in the blood stream. Fat adapted athletes do tend to utilize fat more than carb heavy athletes, but again, carbohydrates are still required.

Now, the big question: is there an advantage to ultrarunners running fasted versus relying on a more glycogen-dependent state?
" Nope. At least, not that research shows us or that I've seen in my general knowledge of ultrarunners I work with." says Coach Will "A runner may be able to run great while training more in a fasted state, and that same runner may run really great while fueling up with carbs regularly."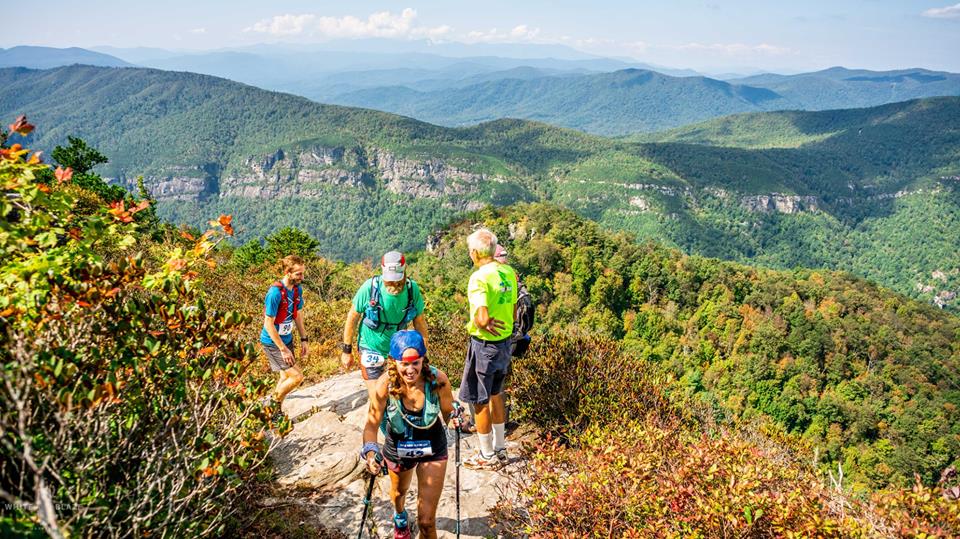 Further:
"Dr. Stacey Simms, PhD has led the field here and her research generally discourages female runners from running fasted due to hormonal activity of the female body. There are exceptions of course, but it is highly encouraged that women go about fasted running in a strategic, supported, and knowledgeable manner. "
Point being? If you have trained fueling with carbohydrates…continue to race fueling with carbohydrates.
What Foods Should You Avoid the Week Before an Ultra?
We've talked about all of the things you should focus on eating the week before your ultra, but what about the things you should avoid?
According to Coach Will, in the weeks leading up to the big race, it makes sense to avoid or greatly reduce the common foods that the body tends to not love:
Alcohol
Greasy foods
Heavily processed foods
Added sugars.
Coach Will also mentions that you should obviously avoid foods that you already know don't make you, personally, feel great. Some of those items may include:
Dairy
Wheat/Gluten
Beans
Soy
You know your body best, so now is the time to avoid things that make you feel less than optimal. "As you get closer to your race, you want the body to be fully recovered and ready to go. " says Coach Will, "Just like tapering gives the muscles time to recover and adapt, reducing these kinds of foods can help the body's various systems also optimally prepare for a big endeavor! "
Can I Have a Beer?
Yeah, I asked coach Will about beer. There's no denying that the ultra and trail community love their craft beer, and I've certainly seen people (and perhaps myself, I'll admit it) justify beer as "carb loading".
But is it a good idea?
"Generally speaking, you'll probably be fine if your race is days later, but best practice is to stay clear of it that week and save the alcohol for a bit of celebrating after (hydrate first!)." says Coach Will "Some may point to alcohol as a source of carbs and while that is true, the effects of alcohol on metabolism and sleep is surely not the same as other carbohydrate sources. "
Race Taper Nutrition: Conclusions
The big takeaways when it comes to what to eat the week before an ultramarathon:
Do not experiment with new foods during this time. Eat what you already know your body likes.
Focus on foods that will encourage optimal fueling & promote recovery
Avoid foods that may stress out your body
Save the junk & celebrations for post race.
Looking for more ultramarathon taper week topics?
Check out these posts to help you get through your ultramarathon race taper:
Heather Hart is an ACSM certified Exercise Physiologist, NSCA Certified Strength and Conditioning Specialist (CSCS), UESCA certified Ultrarunning Coach, RRCA certified Running Coach, co-founder of Hart Strength and Endurance Coaching, and creator of this site, Relentless Forward Commotion.   She is a mom of two teen boys, and has been running and racing distances of 5K to 100+ miles for over a decade.  Heather has been writing and encouraging others to find a love for fitness and movement since 2009.