Last Updated on April 19, 2023 by Heather Hart, ACSM EP, CSCS
The following collection of running quotes was assembled by Raquel Neto, a UESCA certified running and ultramarathon coach. At any given time, Raquel can be found road tripping across the country and running on all types of trails with her favorite four-legged running partner, Leo.
While we always feel better after a run, it is not a guarantee that we will be gung-ho to lace up our sneakers and get out the door. For some of us, we may need a little extra motivation before we lace up and head outside or to the dreaded treadmill—aka the dreadmill.
When I am heading out for a run that I may not be most interested in for whatever reason—"life happens," is generally the culprit—I throw on some heavy music and try to remember that I've done harder things in life. I often wish someone would meet me at my home and literally kick me out the door. Perhaps lock me out of my house, that could likely work.
More realistically, if you need a little extra push, check out this list of running quotes and pick a few that sticks with you most.
It can prove helpful to be reminded that we are not alone in this, and of why we do this in the first place. You never know when a few words strung together can shift your entire mindset. Maybe pick one to become your new mantra. Heck, print a list of your favorites and tape it to your bathroom wall or make one into your phone's wallpaper. Whatever works for you when you need that nudge!
INSPIRATIONAL RUNNING QUOTES
We've got this! Here are some favorite quotes from folks to use as refreshers for getting out that door:
1. "The miracle isn't that I finished. The miracle is that I had the courage to start." –John Bingham, No Need for Speed: A Beginner's Guide to the Joy of Running
2. "In running, it doesn't matter whether you come in first, in the middle of the pack, or last. You can say, 'I have finished.' There is a lot of satisfaction in that." -Fred Lebow, New York City Marathon co-founder
3. "Something happens to me when I run. People think it's crazy when I say it. All of my ideas come in when I run. That is my time where it's just me, where I get to create." -Theo Rossi
4. "Run when you can, walk if you have to, crawl if you must, just never give up." -Dean Karnazes
5. "Run often. Run long. But never outrun your joy of running." -Julie Isphording
RACE DAY RUNNING QUOTES
A secret weapon on race day may be a motto or mantra for you. Here are some words for some extra motivation when you toe that line:
6. "Even when you have gone as far as you can, and everything hurts, and you are staring at the specter of self-doubt, you can fin a biy more strength deep inside you if you look closely enough" -Hal Higdon
7. "Racing is the fun part; it's the reward of all the hard work." -Kara Goucher
8. "Runners just do it—they run for the finish line even if someone else has reached it first." -Unknown
9. "Winning has nothing to do with racing. Most days don't have races anyway. Winning is about the struggle and effort and optimism, and never, ever, ever giving up." -Amby Burfoot
10. "There is no finish line like the one you questioned." -Rob Steger
11. "In the first half of the race, don't be an idiot. In the second half, don't be a wimp!" -Scott Douglas
QUOTES ABOUT RUNNING THROUGH PAIN
Running can be a literal pain in the butt sometimes, unfortunately. Please professional medical opinions for any persistent pain you are experiencing. That being said, we know that in order to grow in our running careers, we are going to have to push our bodies past our comfort zones. Below are some reminders:
12. "Pain is temporary. It may last a minute, or an hour, or a day, or a year, but eventually it will subside and something else will take its place. If I quit, however, it lasts forever." -Lance Armstrong
13. "Pain unlocks a secret doorway in the mind, one that leads to both peak performance and beautiful silence." -David Goggins
14. "The pain of running is an excellent remedy for many other pains." -Unknown
15. "Pain is inevitable. Suffering is optional." -Haruki Murakami
16. "Nothing, not even pain, lasts forever. If I can just keep putting one foot in front of the other, I will eventually get to the end." -Kim Cowart
17. "My legs almost always hurt (a lot) [by mile 21], and you can either choose to let that pain dictate the last five miles of the race, or you can decide to lean into it and appreciate that you are lucky enough to push your body this hard. You need to re-wire your brain to believe that this is how you're supposed to feel, and keep running your hardest in spite of it." -Veronica (Jackson) Graziano
QUOTES ON MENTAL TOUGHNESS IN RUNNING
There have been many, many runs I have not wanted to go on. Here are some quotes to help you dig deep and tap into that mental toughness you know exists:
18. "A lot of people run a race to see who's the fastest. I run to see who has the most guts." -Steve Prefontaine
19. "Long distance running is 90 percent mental and the other half is physical." -Rich Davis
20. "If you train your mind for running, everything else will be easy." -Amby Burfoot
21. "You can keep going and your legs might hurt for a week, or you can quit and your mind will hurt for a lifetime." -Mark Allen
22. "Things that hurt, instruct." -Benjamin Franklin
23. "Strength does not come from physical capacity. It comes from an indomitable will." -Mahatma Gandhi
QUOTES ON PERSISTENCE AND NOT GIVING UP
Often times, we can get in our own ways. Sneaky imposter syndrome may rear its ugly little head; the lies tell us we aren't fast enough, strong enough. Here are some reminders from folks whom have likely felt the same:
24. "Your body will argue that there is no justifiable reason to continue. Your only recourse is to call on your spirit, which fortunately functions independently of logic." -Tim Noakes
25. "Just stick with it. What seems hard now will one day be your warm-up" -Unknown
26. "The will to win means nothing without the will to prepare." -Juma Inkangaa
27. "My legs almost always hurt (a lot) [by mile 21], and you can either choose to let that pain dictate the last five miles of the race, or you can decide to lean into it and appreciate that you are lucky enough to push your body this hard. You need to re-wire your brain to believe that this is how you're supposed to feel, and keep running your hardest in spite of it." -Veronica (Jackson) Graziano, 2020 Olympics Trials Qualifier and member of the Tracksmith Hare A.C. Boston Racing Team
28. "All it takes is all you got." -Marc Davis
29. "The only way to define your limits is by going beyond them." -Arthur Clarke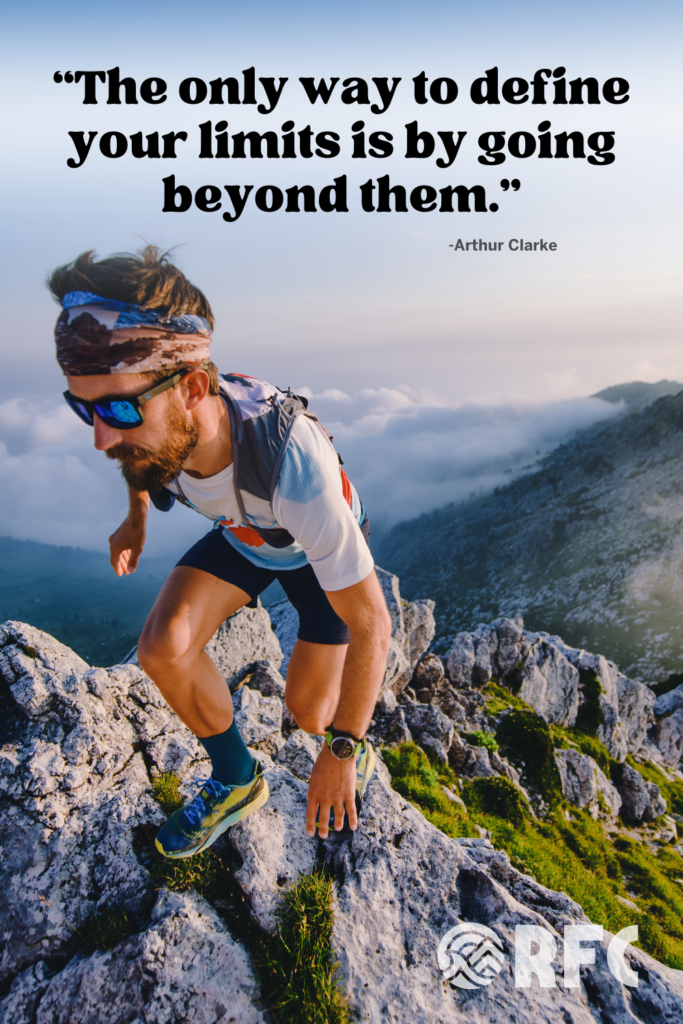 30. "When you get to the end of your rope, tie a knot and hang on." -Theodore Roosevelt
31. "If you can't fly then run, if you can't run then walk, if you can't walk then crawl, but whatever you do you have to keep moving forward." -Martin Luther King, Jr.
32. "Winning is great, sure, but if you are really going to do something in life, the secret is learning how to lose. Nobody goes undefeated all the time. If you can pick up after a crushing defeat, and go on to win again, you are going to be a champion someday." -Wilma Rudolph, Olympic sprinter
SHORT RUNNING QUOTES
Especially on those early morning runs-before I am awake enough to realize what I am doing- give me straight and to the point information. Here are some short and sweet quotes to remind yourself of:
33. "You can do it!" -Rob Schneider, Waterboy
34. "I breathe in strength and breathe out weakness." -Amy Hastings Cragg, American track and field athlete
35. "I don't run to add days to my life, I run to add life to my days." -Ronald Rook
36. "As we run, we become." -Amby Burfoot
37. "One run can change your day, many runs can change your life." -Unknown
38. "Run often. Run long. But never outrun your joy of running." -Julie Isphording
RUNNING QUOTES FROM CELEBRITIES
Celebrities, they're just like us! Let's see what some of them have to say about running:
39. "Go fast enough to get there, but slow enough to see." -Jimmy Buffett
40. "The pain you feel today will be the strength you feel tomorrow." – Arndol Schwarzenegger
41. "Unless you puke, faint, or die, keep going!" -Jillian Michaels
42. "I'm all about breaking mental boundaries, and training for a marathon falls right into the Jedi mind-training I need." -Alicia Keys
43. "Of all the sports I've tried, some have come and gone but running has always been there for me. It's the simplest of things to do: shove your trainers on and just go." -Mel C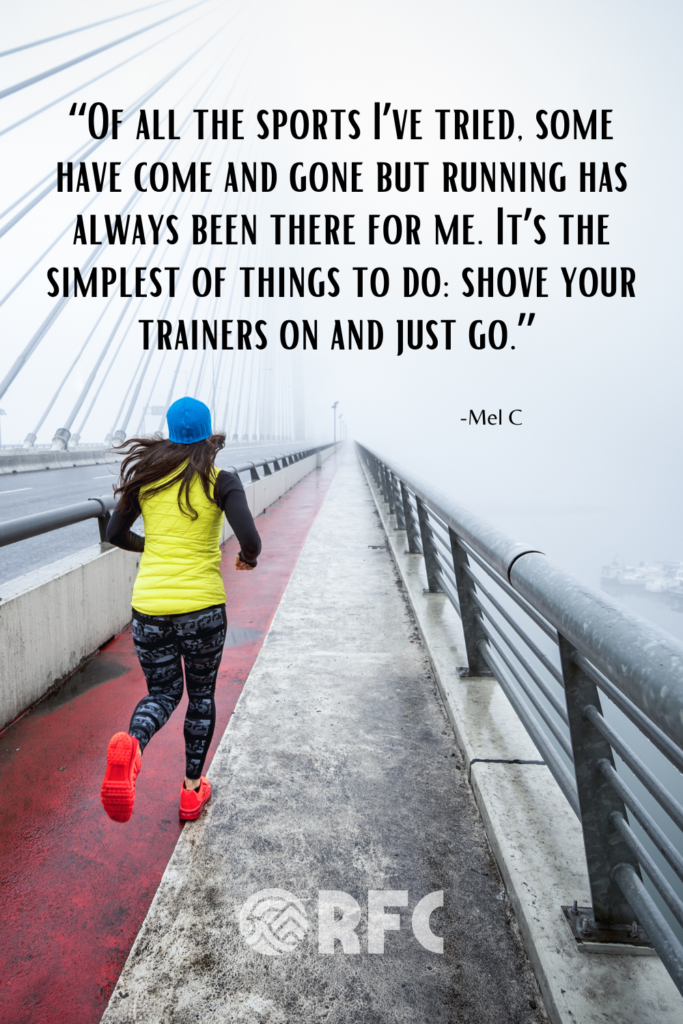 44. "If I continue to set goals and accomplish those goals, that means I'm doing something right." -Kevin Hart
45. "The only failure is not to try." -George Clooney
46. "Running is the quickest endorphin hit I can get. I like to do it really early in the morning, before everyone gets up. It gives me a clear head and sort of resets the clock. It's like, 'OK, I got that out of the way. Now I can deal with people.'" -Julie Bowen
QUOTES FROM PRO ATHLETES
Who better to get recipes for success from? Read below for some inspiration from some other rad athletes:
47. "If the sun comes up, I have a chance." -Venus Williams
48. "I hated every minute of training, but I said, "Don't quit. Suffer now and live the rest of your life as a champion." -Muhammad Ali
49. "Kill them with success and bury them with a smile." -Usain Bolt
50. "I've failed over and over again in my life. And that is why I succeed." -Michael Jordan
51. "We all have dreams. But in order to make dreams come into reality, it takes an awful lot of determination, dedication, self-discipline, and effort." -Jesse Owens
52. "It doesn't matter how fast or how far you're going. If you're putting on your shoes and going out for a run, you are a runner, you are in that club." -Kara Goucher
FUNNY RUNNING QUOTES
I am a silly goose at heart. Read these for a laugh for motivation on this sport we love (or love to hate):
53. "Our running shoes have magic in them. The power to transform a bad day into a good day; frustration into speed; self-doubt into confidence; chocolate cake into muscle." -Mina Samuels
54. "Running is kind of like coffee. The first time you drink it you might not like it. It's bitter and leaves a bad taste in your mouth but you kind of like the way it makes you feel. However, after a few times, it starts to taste better and then all of a sudden you're hooked and it's the new best part of waking up." -Amy Hastings
55. "Laughter is inner jogging." -Norman Cousins.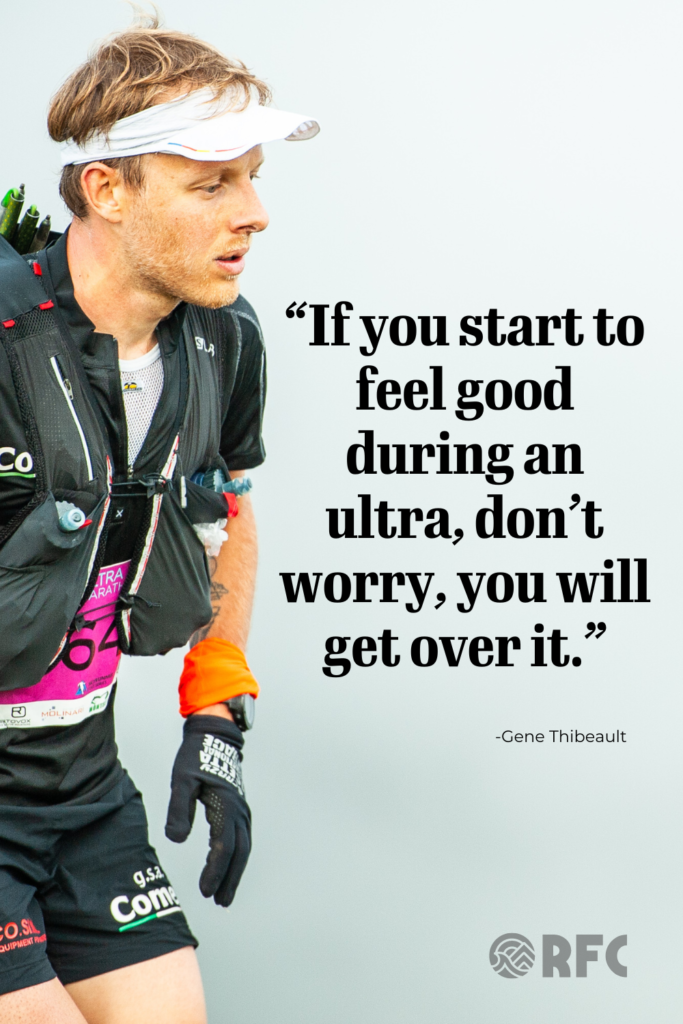 56. "Marathon runners with bad shoes suffer the agony of de feet." -Unknown
57. "A good run is like a cup of coffee. I'm much nicer after I've had one." -Unknown
58. "If you start to feel good during an ultra, don't worry, you will get over it." -Gene Thibeault
RUNNING QUOTES FROM LITERARY GREATS
When I am not running, you can find me buried in a novel. Here some quotes from some authors that may help you dig deep when you'd rather be on the couch with a book:
59. "If one could run without getting tired I don't think one would often want to do anything else." -C.S Lewis
60. "Only those who risk going too far can possibly find out how far they can go." -TS Elliot
61. "Running! If there's any activity happier, more exhilarating, more nourishing to the imagination, I can't think of what it might be. In running the mind flees with the body, the mysterious efflorescence of language seems to pulse in the brain, in rhythm with our feet and the swinging of our arms." -Joyce Carol Oates
62. "I'll be happy if running and I can grow old together." -Haruki Murakami
63. "All great achievements require time." -Maya Angelou
64. "Here are some who like to run. They run for fun in the hot, hot sun." –Dr. Suess
65. "It is not by muscle, speed or physical dexterity that great things are achieved, but by reflection, force of character and judgement." –Marcus Tulles Cicero
66. "Bid me run and I will strive with things impossible." –William Shakespeare
67. "Every journey begins with a single step." -Maya Angelou
TRAIL RUNNING QUOTES
Let's get dirty! Here are some quotes about getting in the woods and running around:
68. "Of all the paths you take in life, make sure a few of them are dirt." -John Muir
69. "Running is a grownup's lost link to playing outside." -Kristen Armstrong
70. "Trail running ruined my life." -Unknown
71. "Mountains have a way of dealing with overconfidence." -Hermann Buhl
72. "Trail runners do it in the woods." -Unknown
QUOTES ABOUT ULTRAMARATHONS
Love it or hate it, 50k to 50 hours +, there is plenty of time during an ultramarathon to get stuck in a negative loop. Here are some reminders to help you stay positive while you're out there:
73. "If it's a nod from society you're looking for, run a marathon. But if it's a life-changing experience of personal strength and perseverance that you want, finish an ultra." -Vanessa Runs, The Summit Seeker
74. "There's no way to un-run an ultramarathon. The world is the same but your view of yourself is now fundamentally different." -Paul Butzi
75. "Any idiot can run a marathon, it takes a special kind of idiot to run an ultra marathon." -Alan Cabelly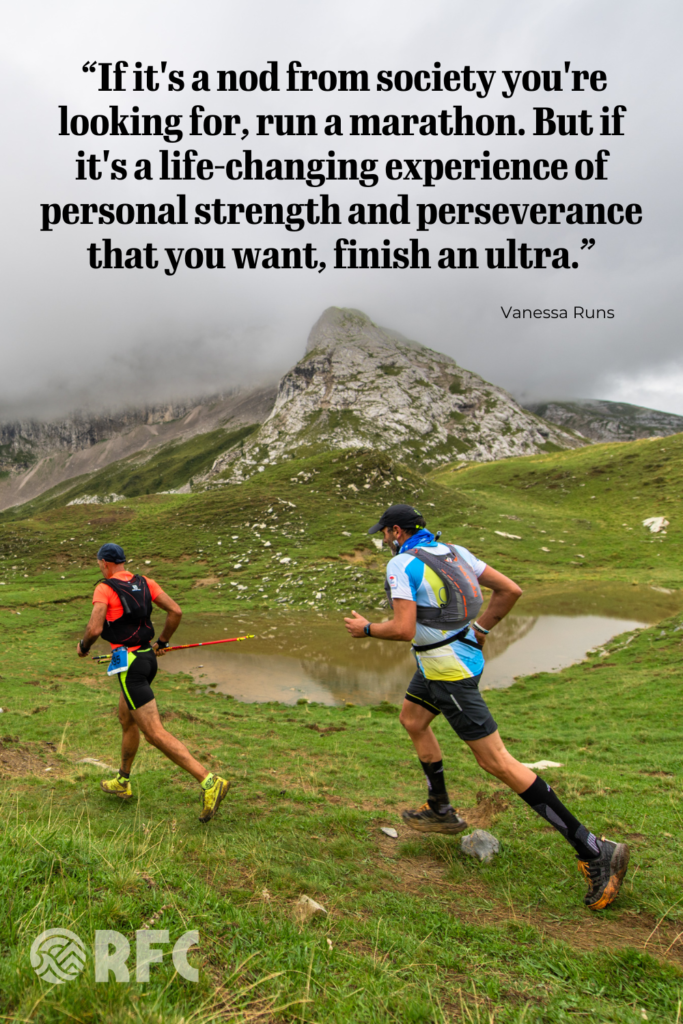 76. "Good things come slow – especially in distance running." -Bill Dellinger
77. "Perhaps the genius of ultra running is its supreme lack of utility. It makes no sense in a world of space ships and supercomputers to run vast distances on foot. There is no money in it and no fame, frequently not even the approval of peers. But as poets, apostles and philosophers have insisted from the dawn of time, there is more to life than logic and common sense. The ultra runners know this instinctively. And they know something else that is lost on the sedentary. They understand, perhaps better than anyone, that the doors to the spirit will swing open with physical effort. In running such long and taxing distances they answer a call from the deepest realms of their being — a call that asks who they are …" -David Blaikie
78. "My first ultra marathon took from me what I didn't know I had and showed me what I didn't know I was missing." -Wicked Trail Running
79. "Long distance running is 90 percent mental and the other half is physical." -Rich Davis
INSTAGRAM CAPTION RUNNING QUOTES
Ready to let the world know about those goals or training runs you crushed? Here are some clever, fun captions for your Instagram post, you bad ass, runner, you:
80. "We run when we're scared, we run when we're ecstatic, we run away from our problems and run around for a good time." -Christopher McDougall
81. "If you still look cute after working out, you didn't go hard enough." -Unknown
82. "I've got 99 problems, so I went on a run to ignore them all." -Unknown
83. "There is magic in misery. Just ask any runner." -Dean Karnazes
84. "A good laugh and a long run are the two best cures for anything." -Unknown
85. "The person who starts the race is not the same person who finishes the race." -Unknown
TRACK & FIELD RUNNING QUOTES
I don't know about you, but speed work days are the most gruesome for me. I despise even one lap on the track. Below are some quotes from track and field professionals to inspire you and me to get out there and put the work in:
86. "Life is often compared to a marathon, but I think it is more like being a sprinter; long stretches of hard work punctuated by brief moments in which we are given the opportunity to perform at our best." -Michael Johnson.
87. "The difference between the impossible and the possible lies in determination." -Usain bolt
88. "You can't flirt with the track. You must marry it." -Bill Easton.
89. "A lot of people run a race to see who is the fastest. I run to see who has the most guts, who can punish himself into exhausting pace, and then at the end, punish himself even more." -Steve Prefontain
90. "Failure I can live with. Not trying is what I can't handle." -Sanya Richards-Ross
91. "The five S's of sports training are: Stamina, Speed, Strength, Skill and Spirit; but the greatest of these is Spirit." -Ken Doherty
92. "The mind is absolutely instrumental in achieving results, even for athletes. Sports psychology is a very small part, but it's extremely important when you're winning and losing races by hundredths and even thousandths of a second."– Michael Johnson
QUOTES ON MARATHONS
The OG, the marathon. 26.2 of pure _________. You can fill that in with whatever you define the marathon as. If you haven't already, don't worry, it'll keep you coming back, regardless of what word you put in that blank. Here are some quotes to remember that you can get through this suckfest, er, I mean, incredible running experience:
93. "The marathon's about being in contention over the last 10K. That's when it's about what you have in your core. You have run all the strength, all the superficial fitness out of yourself, and it really comes down to what's left inside you. To be able to draw deep and pull something out of yourself is one of the most tremendous things about the marathon." -Rob de Castella
94. "You can never be sure. That's what makes the marathon both fearsome and fascinating. The deeper you go into the unknown, the more uncertain you become. But then you finish. And you wonder later, 'How did I do that?' This question compels you to keep making the journey from the usual to the magical." -Joe Henderson
95. "The marathon never ceases to be a race of joy, a race of wonder." -Hal Higdon
96. "So many people crossing the finish line of a marathon look as happy as when I won. They have tears in their eyes. The sport is full of winners." -Gary Muhrcke, winner of the first NYC Marathon
97. "I dare you to train for a marathon, and not have it change your life." -Susan Sidoriak
98. "Everything you wanted to know about yourself you can learn in 26.2 miles." -Lori Culnane.
99. "The marathon is not really about the marathon, it's about the shared struggle. And it's not only the marathon, but the training." -Bill Buffum
RUNNING AS LIFE METAPHOR QUOTES
Don't you dare roll your eyes! Life IS like running a marathon! Here are some correlational examples:
100. "Running is the classical road to self-consciousness, self-awareness, and self-reliance." -Noel Carroll
101. "Awakenings are always terrifying, as they force you to realize that your past has been lived in confinement. The most disturbing part is when you recognize that the shackles holding you down are largely ones you have placed upon yourself." -Dean Karnazes
102. "For me, running is both exercise and a metaphor. Running day after day, piling up the races, bit by bit I raise the bar, and by clearing each level I elevate myself." -Haruki Murakami
103. "Struggling and suffering are the essence of a life worth living. If you're not pushing yourself beyond the comfort zone, if you're not demanding more from yourself – expanding and learning as you go – you're choosing a numb existence. You're denying yourself an extraordinary trip." -Dean Karnazes
104. "Life begins at the end of your comfort zone." -Neale Donald Walsch
105. "Life is for participating, not for spectating." -Katherine Switzer, the first woman to run the Boston Marathon as an officially registered competitor
106. "Running is the greatest metaphor for life, because you get out of it what you put into it." Oprah Winfrey
QUOTES ABOUT TRAINING CONSISTENCY
If you're a seasoned runner, you know that putting in the training is the way to crush your goals. To the youngins/those blessed by the running gods, put in the work anyway! I'm going to go with an accurate cliché here, consistency is key. Below are some reminders:
107. "We are what we repeatedly do. Excellence, then, is not an act, but a habit." -Aristotle
108. "If you train your mind for running, everything else will be easy." -Amby Burfoot
109. "In the midst of an ordinary training day, I try to remind myself that I am preparing for the extraordinary." -Shalane Flanagan
110. "Consistency in fitness and exercise is built against one's wishes and maintained only because the alternative is worse." -George Sheehan
111. "Some days it just flows and I feel like I'm born to do this, other days it feels like I'm trudging through hell. Every day I make the choice to show up and see what I've got, and to try and be better. My advice: keep showing up." Des Linden
BRAVING THE WEATHER RUNNING QUOTES
What team are you on, team hot weather or cold? Give me hats and gloves season! Here are some quotes to get you out there to weather the, um, weather:
112. "If you wait for the perfect conditions, nothing will ever get done" -Unknown
113. "Bad weather always looks worse through a window" -Tom Lehrer
114. "The cold never bothered me anyway" -Elsa
115. "There is a great advantage in training under unfavorable conditions. It is better to train under bad conditions, for the difference is then a tremendous relief in a race." -Emil Zatopek
116. "When it's pouring rain and you're bowling along through the wet, there's a satisfaction in knowing that you're out there and the others aren't" -Peter Snell
FAITH BASED RUNNING QUOTES
Whatever you believe in, just be a good person and put in the training. Here are some quotes and verses that may resonate:
117. "I have fought the good fight, I have finished the race, I have kept the faith." -Timothy 4:7
118. "But those who hope in the LORD will renew their strength. They will soar on wings like eagles; they will run and not grow weary, they will walk and not be faint." – Isaiah 40:31
119. "God never said that the journey would be easy, but He did say that the arrival would be worthwhile" -Max Lucado
120. "I can do all things through Christ who gives me strength." – Philippians 4:13
121. "To keep the body in good health is a duty… otherwise we shall not be able to keep our mind strong and clear." -Buddha
RUNNING QUOTES FROM MOVIES
Here's a list of some fun running quotes from films you may have seen:
122. "I'm feeling very Olympic today. How about you?" -Sanka Coffie, 'Cool Runnings'.
123. "All I wanna do is go the distance." -Rocky Balboa
124. "Exercise gives you endorphins. Endorphins make you happy. Happy people just don't shoot their husbands, they just don't." -Legally Blonde
125. "Nobody is gonna hit as hard as life, but it ain't how hard you can hit. It's how hard you can get hit and keep moving forward. It's how much you can take, and keep moving forward. That's how winning is done." –Rocky Balboa
126. "Just keep swimming. Just keep swimming. Just keep swimming, swimming, swimming. What do we do? We swim, swim." – Dory in Finding Nemo
127. "I just felt like running." -Forrest Gump
128. "If you don't train like it's real, you're dead when it is." -Angel Has Fallen
LOVING YOURSELF, WHEREVER YOU'RE AT
These last ones are a reminder that you are a warrior. Take a moment and think about all of the things your body is capable of. Now I want you to whisper -or scream- a "thank you" to your body. You powerhouse, you.
129. "The more I run, the more I love my body. Not because it's perfect, far from it, but because with every mile it is proving to me that I am capable of more than I ever thought possible." -Unknown
130. "Running has always been a relief and a sanctuary—something that makes me feel good, both physically and mentally. For me, it's not so much about the health benefits. Those are great, but I believe that the best thing about running is the joy it brings to life." -Kara Goucher
131. "I often hear someone say I'm not a real runner. We are all runners, some just run faster than others. I never met a fake runner." -Bart Yasso
Thanks for reading, runners! I hope you've found this smorgasbord of motivational running quotes helpful. Whether you find yourself stuck in a training rut or are just starting out in this incredible sport, may they serve as reminders of what you already know-you are an athlete, a runner, a beast.
Raquel Neto, B.S., is a UESCA certified running and ultramarathon coach who fell in love with the sport a decade ago. What started as a goal of collecting bling, became a way to exemplify structure and discipline in other areas of her life. After finishing her first 100 mile ultramarathon, Raquel hopes to continue helping others dig deep to meet the goals they thought may have been out of reach.