Last Updated on October 27, 2020 by Heather Hart, ACSM EP
Runners absolutely love to participate in races. Chances are if you are reading this post, you too know the thrill (and potential soreness) of a finish line. But picture the excitement and exhaustion that goes into completing a race, and then imagine doing it over and over again, multiple days in a row. Yep, in this post we're going to talk about stage races. More specifically, how to train for a multi day running event.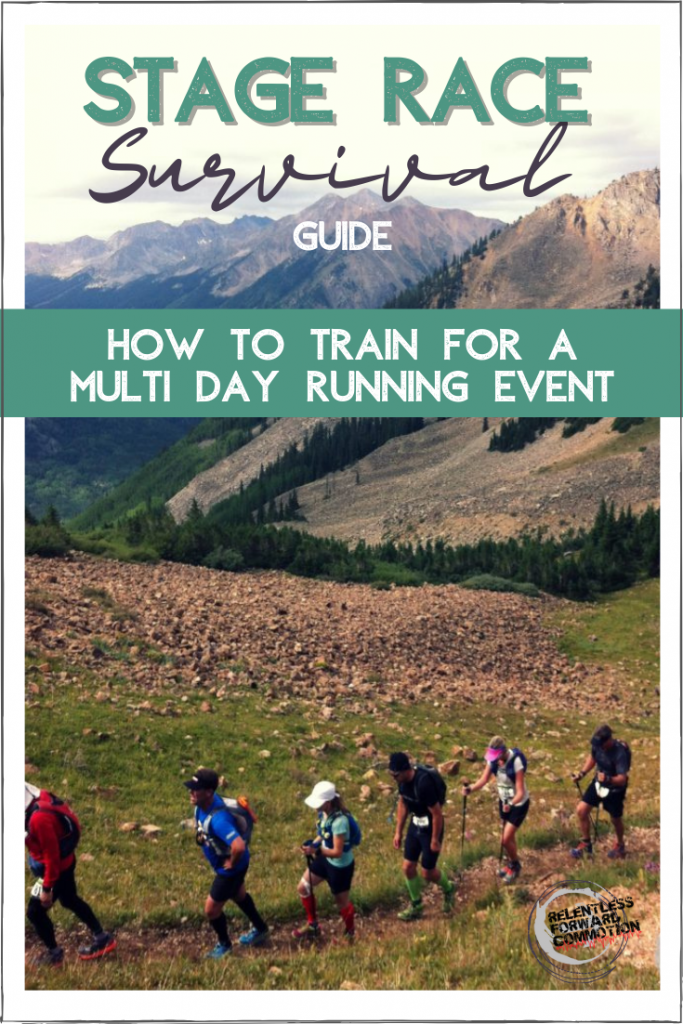 In 2016 I had the opportunity to participate in my first official stage race: the 6 day TransRockies Run. 120 miles across the Colorado Rockies, with six stages ranging from 12 to 26 miles each. Though I had run ultramarathons before, TransRockies was the first time I had done anything of this magnitude. Not only was I running at altitudes and elevations we can only dream of in my hometown of Myrtle Beach, but we were running them for six solid days in a row.
Though I had run back to back long runs in the past as a part of training for ultramarathons, never in my life had I done this kind of mileage more than two days in a row. Nevermind six. Needless to say, training for the TransRockies Run required a very unique approach.
What is a Stage Race?
A stage race is typically a point to point race broken into specific, shorter segments to be completed over multiple days. Unlike a relay race (such as Ragnar or Hood to Coast), where participants share the overall distance as a team, stage racers complete the same distance as their competitors each day. Nights are spent at the same location resting, and everyone starts the next stage together the following morning. The winner is determined by fastest total time for all segments combined, rather than who gets to the ultimate finish line first.
How is this different from a Multi Day Race?
A multi day race may or may not have specified daily distances. For example, the Last Annual Vol State Road Race is a 314 mile race across the state of Tennessee. You have ten days to complete the race, but how far you run each day is entirely up to you.
Another examples of a multi day race is "6 Days in the Dome" where runners complete laps around an indoor track for 6 days. When they stop, when they sleep, how far they go each day is completely up to them.
In both of these examples, the overall "winner" is whoever gets to the predetermined finish line first, or, who logs the most miles in the designated amount of time.
How to Train for a Multi Day Running Event:
Regardless if you are training for a stage race or a multi day race, the basic idea behind training remains the same. You've got to be able to run long distances, multiple days in a row. But there is certainly more to it than that. Let's dive into what it takes to train for a multi day running event or stage race.
Running
I bet you never would have guessed this one, right? (They need to hurry up and invent a sarcasm font already…) We are training for a running event, so naturally the majority of your training should consist of running. Specificity of training, after all. But it's more than aimlessly logging miles and building long runs. Let's break it down:
Effort Based Runs
Our bodies have different physiological responses to different efforts of running. A hard, all out effort workout is going to require more rest and recovery than an aerobic, easy effort workout. Therefore, for the average runner not looking to win their stage race, taking an easier effort approach to running each stage only makes sense. This will ensure faster recovery, allowing you to make it to the start of the next day's stage, instead of waking up with legs that feel utterly trashed.
When training for any endurance event, the majority of your running should be done in the easy effort zone (often referred to as "aerobic" or "Z2"). May runners have success with heart rate training for ensuring that their bodies are truly staying in this zone. However, if you do not use a heart rate method, I suggest going by the "Star Spangled Banner" method. In other words, at any given time during your run, you should be able to bust out your very best rendition of the Star Spangled Banner without gasping for air.
Learning how to base your run on effort, rather than sticking to a specific pace, will allow you to stay in that efficient aerobic zone despite the temperature, elevation gain, or harsh conditions.
Back to Back (to back) Long Runs
Prior to this event, I had never run double digit mileage more than two days in a row. So for me, it was important to train my legs to be able to perform while tired and sore. For TransRockies 6 day run, our mileage was as followed:
20.8 miles
13.3 miles
24.5 miles
14.5 miles
24.1 miles
22.4 miles
Your stage race may have a similar breakdown. Or perhaps you are training for a multi day event that encourages you to go "as far as a you can" each day. Either way, you've got to train your legs to keep going when they are tired, and potentially sore.
Hence, back to back long runs.
Depending on your fitness level and experience, I'd potentially even recommend a 3 day double digit split a couple of times throughout your training cycle. Perhaps a 2 hour / 4 hour / 2 hour breakdown, or something similar (and potentially longer) that will replicate the mileage and experience of your stage race.
Read more about back to back long runs, and why they matter, here:
How to Survive Back-to-Back Long Runs
Simulated Conditions
Is your stage race something like TransRockies, where you are covering tens of thousands of feet of elevation gain? Then train on similar terrain. Practice climbing and descending.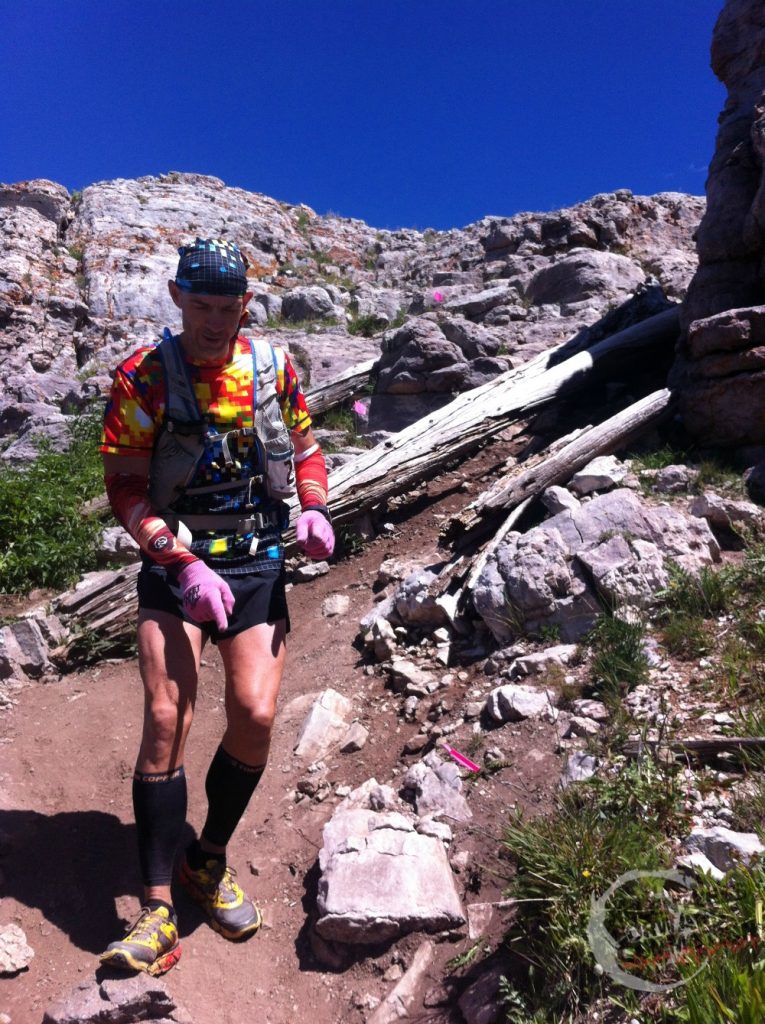 Is your multi-day race something like Last Annual Vol State, where you'll be running on pavement as far as the eye can see? Then train on similar terrain. Get your body used to long mileage on unforgiving pavement.
Will you be running mostly mid day? Over night? You know what to do! Train in conditions that simulate what you'll be running in during your event.
Train with Your Gear
Unless you are running in circles, many stage races or multi day events are going to require you to carry specific gear. It may be a minimum number of calories and liters of water. Or perhaps it's cold weather, emergency gear that takes up a ton of space in your pack. Maybe you just want to bring trekking poles and a bigger-than-your-normal-hydration pack.
Whatever the case may be, make sure you train regularly with those items. You do not want to be caught on day one of your multi-day race realizing your shoulders absolutely cannot handle the weight in your pack, or that you aren't quite sure how to use your trekking poles efficiently.
Strength Training
If you aren't new here, you already know that I am a huge stickler for making sure my running athletes incorporate strength training into the training routines. If you are new here, know this: I get on my strength training soap box often.
In my professional opinion, running slightly less but incorporating regular strength training will make you a stronger, less injury prone runner than just running all of the time. And though I spend much of my non running free time in the gym, I know most people don't have that kind of time. So your strength training doesn't have to be terribly in depth (or even done in a gym), just consistent. I recommend runners aim for a minimum of two days of upper body and two days of lower body strength training per week, of each major muscle group. Let's break it down further:
Core
Your core, including your abdominal muscles, lower back, hips, and glutes, are key to running success. These are the muscles that keep you in an upright position (and who doesn't want that!) and help assist in forward movement of your legs, as well as climbing those aforementioned mountains! Work on strengthening all of the layers of your abdominal muscles (rectus, transverse, and obliques) but do not forget to target your low back, hips, and glutes, as these are all important for overall core strength.
Check out: 8 Core Strengthening Exercises for Runners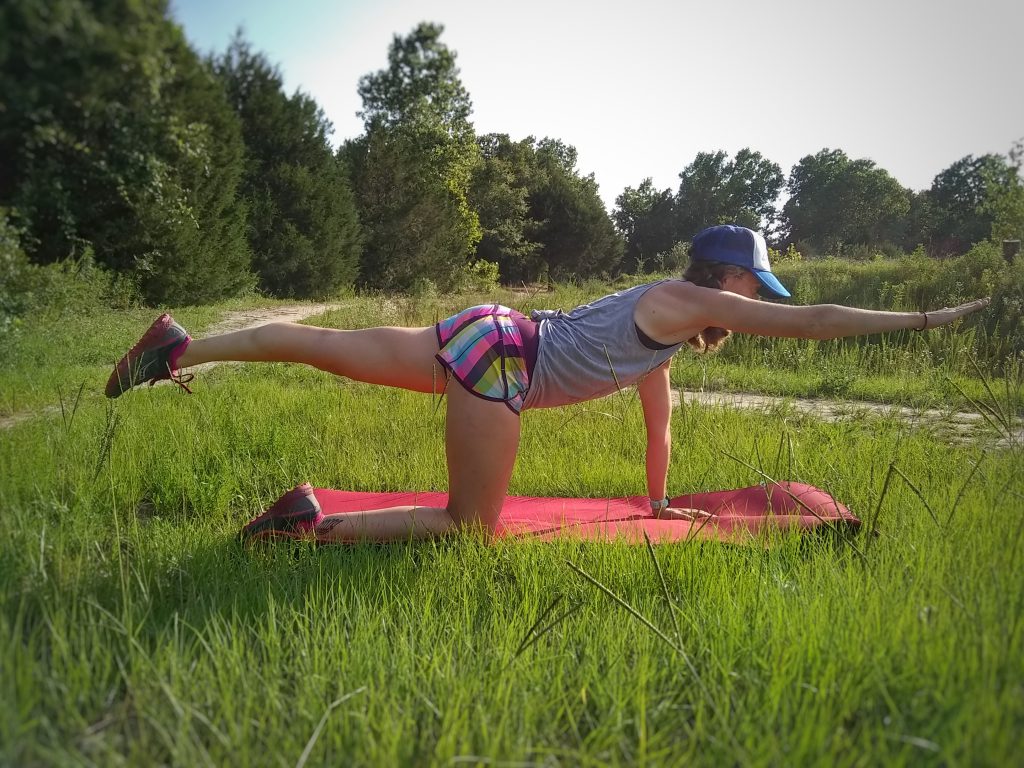 Upper Body
Remember the aforementioned required gear that you may need to carry? Plus the weight of your hydration pack, required nutrition, and anything else you may be carrying with you? That weighs heavier on your shoulders and back than you may think.
And those trekking poles? They may feel light at first, but after multiple hours, will be taxing on your shoulders and triceps.
Having a strong upper body, specifically strong, balanced shoulders, chest, and back muscles, will not only help you haul your gear through multiple days of racing, but will encourage proper posture, preventing you from hunching over as you get tired.
Lower Body
I often hear runners say "I don't need to strength train my lower body, I already do that while running." Well, that's only partially true. Yes, the weight bearing exercise of running does indeed help strengthen the muscles of your lower body. However, running is also a very repetitive movement movement.
Check out: 6 Lower Leg Stregnth, Stability, and Balance Exercises for Runners
Stronger muscles will help slow down the rate of fatigue, as well as help prevent injuries associated with running or even a slight misstep on the trail. They will help ensure that you can continue to push through multiple days of racing.
Practice Recovery Techniques
Recovery between stages/days during your multi day race will be absolutely imperative. So the best time to practice your recovery routine is during training. Things to consider include:
recovery focused nutrition after each stage / day
stretching, foam rolling, or massage routine
recovery products such as compression socks, recovery sandals, etc.
any topical recovery products you may enjoy
active recovery: will you continue to move post run? Or immediately sit/sleep?
sleep patterns: how many hours of rest do you need for optimal recovery?
Practicing your recovery routine makes it habit, and ensures it will not be overlooked during your race.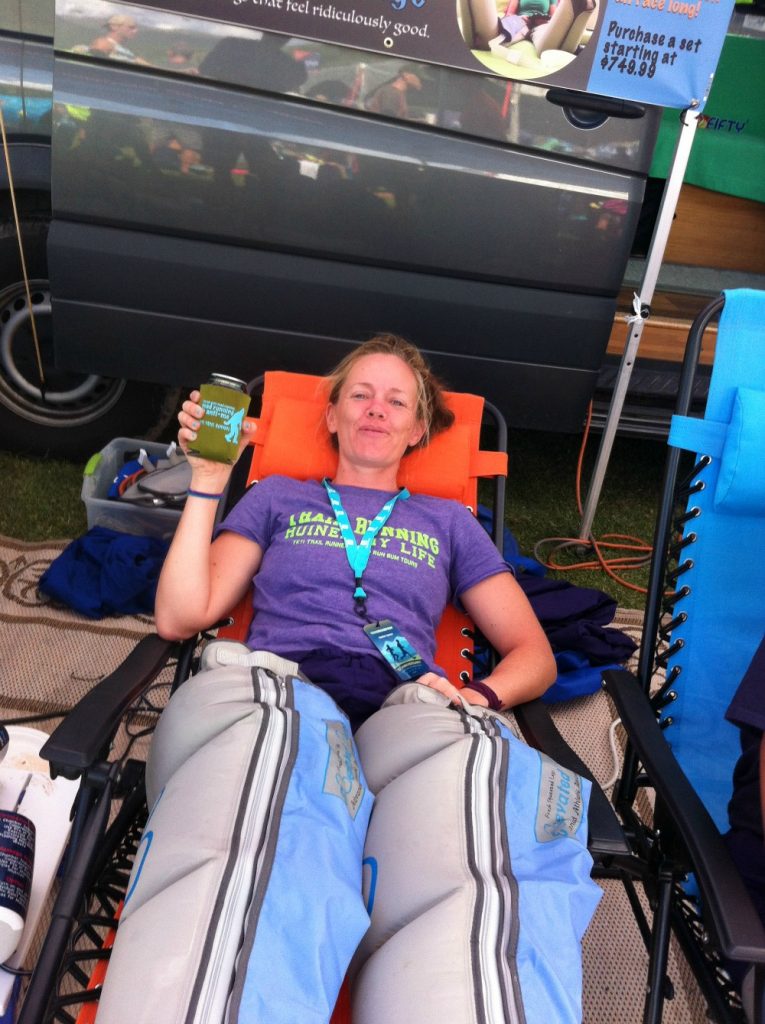 Nutrition
Proper nutrition while training and racing can absolutely give you the upper hand when it comes to recovery. Personally, I have had the opportunity to work with an incredible endurance nutrition coach ( Wilfredo Benitez, MScN, M.Ed. at On Pace Wellness) and was absolutely amazed at what a difference endurance focused nutrition made on my recovery.
Now, I'm not saying you necessarily need to hire a professional to ensure that you are eating correctly. However, paying attention to your diet, ensuring you are getting the nutrients you need, and focusing on foods that have healing properties can make a world of difference when it comes to training for something as intense as a multi day race.
Further, you've got to properly fuel your body to replenish glycogen stores that are used up during your run. "Refuel" if you will. Eating is imperative for success in a multi day event, and should be "trained" for, just like your running.
Rest
Another wildly important piece of the "how to train for a multi day running event" puzzle: REST.
One of the biggest mistakes many runners make, especially those who are excited for an upcoming event, is training TOO hard and not allowing enough time for the body to rest and recover. It is during rest periods (specifically during actual sleep) that our bodies work hard to rebuild the muscles we broke down during training.
Training for a stage race is going to require a high volume of training, so rest periods need to match the effort. In other words: don't ignore rest days, and ensure you are getting adequate sleep.
Mental Fortitude
I suppose this training aspect of training for a multi day race is optional, but it is an incredibly important one for me. Let's face it: there are going to be some downright sucky moments out there during the race. I'm pretty sure we all expect it, that's part of what we sign up for these events for. But there will be moments when you are downright exhausted. Sore. Wishing you were anywhere but running.
So like anything in sport, you have to train for it.
Training your mind to be able to recognize these lows, and eventually climb out of them, is paramount. One of the best ways to train for these uncomfortable situations is through experience. You know that you've run with tired, sore legs before, and you survived. So you'll recognize that feeling, and remind yourself that you CAN do this.
Need More Help?
If you are looking to train for a multi day running event or stage race, chances are you might be looking for an exact training plan. Unfortunately, as these races can vary greatly in distance and demands – as such, training plans will vary too. Which is why I haven't posted a generic training plan specifically designed for stage racing.
That said, if you are looking for a personalized training plan, or one on one coaching, we can help. Hart Strength and Endurance Coaching would be more than happy to discuss the possibility of one-on-one coaching to give you a more detailed outline and support to reach your specific multi day or stage race goals. Feel free to contact us at [email protected] for more information.