Last Updated on October 4, 2019 by Heather Hart, ACSM EP, CSCS
Making the jump from half marathon to full marathon training can be overwhelming. Unlike the smaller increases in distances from a 5K to a 10K, 10K to a half marathon, training volume more than doubles when you make the leap from a half to the full marathon distance.  Everyone will tell you how incredible the journey to your first marathon finish line can be. Rarely do you hear about the not as pleasant realities of marathon training.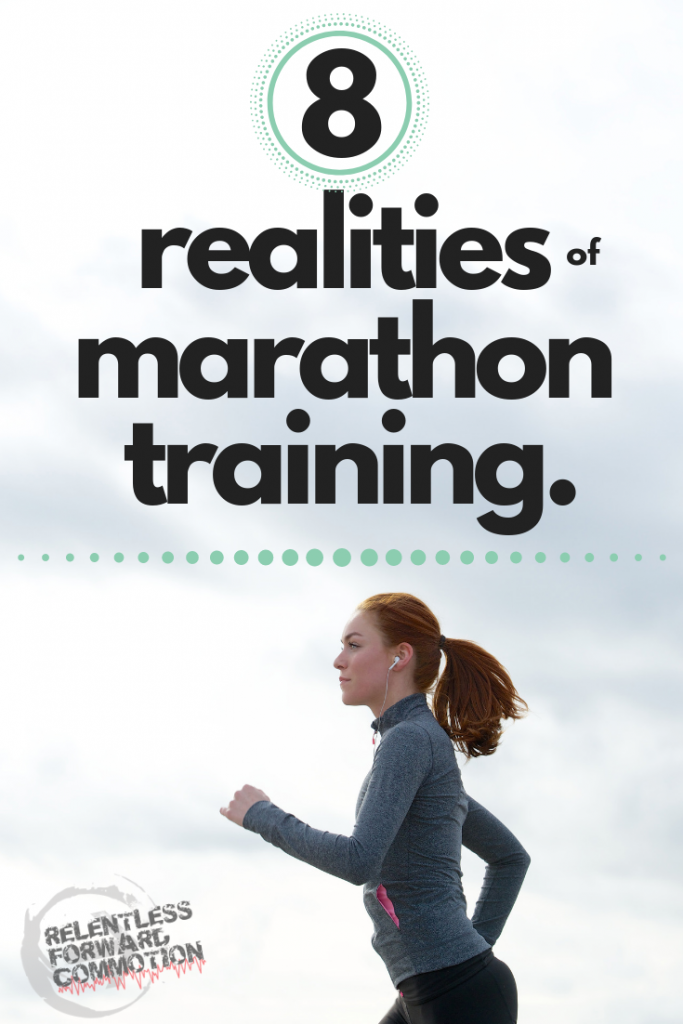 A lifetime ago, before I was a obsessed runner myself, I would hear of someone training for a marathon and assume they were the ultimate example of dedication and athleticism. I mean, running 26.2 miles, who does that? Only a true, badass runner at the top of their motivated, focused game, that's who.
Or so I thought.
My own journey into distance running has revealed the truth: marathon training can be messy, chaotic, and sometimes seem absolutely foolish.  Especially for us non-professional, non-elite athlete mortals. But after ten years, dozens of marathons (and beyond), and coaching dozens of runners through their own marathon training, I can tell you this: rarely does everything go according to plan.
8 Realities of Marathon Training
(in no particular order…)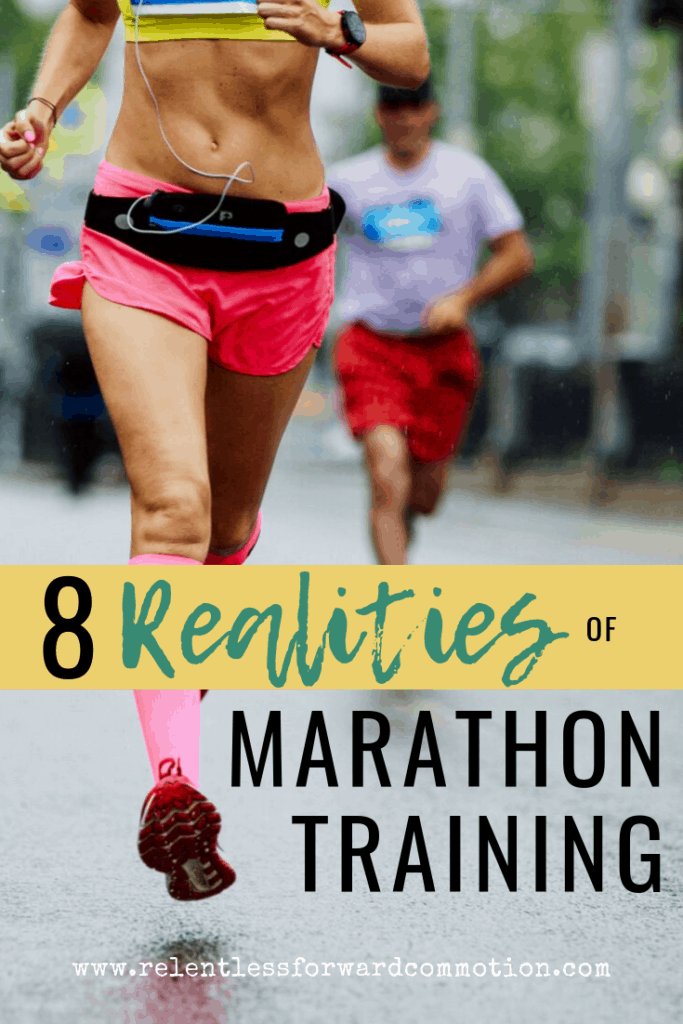 Your body rarely feels 100%.
The goal with marathon training is to follow a specific, gradual build that helps your body adapt to the stress of running volume as that volume increases, all while avoiding injury.  Even without major injuries, when you are in the throes of marathon training, there almost always seems to be something that leaves you feeling less than 100% .  If the delayed onset muscle soreness from a long run isn't plaguing you, the random blister you got on your last run is. Or the chaffing from that unbelievably humid run paired with a new sports bra. Or the upset stomach from that new energy gel or post run recovery drink you tried. Or just a general feeling of slight fatigue.
You do, however, get used to it.  You get used to letting out a slight groan every time you get up from your office chair.  You get used to the "hurts so good" feeling of foam rolling.  You get used to your toes looking less than perfect.   And you begin to recognize what's simply a side effect of increased training volume, and what might be a sign of pushing too hard. 
Related: Beyond DOMS:  How to Know When Your Body Needs A Break
You're really hungry. All of the time.
There is something about a three hour training run that will make you absolutely ravenous. The "runchies", as I like to call them, are often relentless.  Some days, especially as your mileage increases, you'll feel like you simply can't keep up with fueling your body and therefore you want to eat absolutely everything in sight.
Because of this, many people find they actually gain a few pounds during marathon training, rather than becoming some svelte runner, like the ones you see gracing the cover of magazines. Avoid this trap by making sure you properly hydrate and refuel after every training run.
Related: 4 Ways to Avoid Marathon Training Weight Gain
You casually speak "runner" in non running situations.
"So did you hear that John just got a PR and a BQ last week, even though he almost bonked and thought he was going to DNF? It must have been that new GU he took before he hit the wall!" You'll find yourself slipping running vernacular into every day conversations, utterly confusing the non runner crowd. What's more, you become slightly frustrated over the fact that people can't understand that a 10K and a marathon are NOT the same thing, not at all.
Related: Runner Lingo: 50+ Definitions of Common Running Terms & Acronyms
Heather Hart is an ACSM certified Exercise Physiologist, NSCA Certified Strength and Conditioning Specialist (CSCS), UESCA certified Ultrarunning Coach, RRCA certified Running Coach, co-founder of Hart Strength and Endurance Coaching, and creator of this site, Relentless Forward Commotion.   She is a mom of two teen boys, and has been running and racing distances of 5K to 100+ miles for over a decade.  Heather has been writing and encouraging others to find a love for fitness and movement since 2009.