Last Updated on December 10, 2019 by Heather Hart, ACSM EP, CSCS
Today, two of my passions collide: running and crafting!! (oh you didn't know I have a Martha Stewart side? I still need to blog about my beloved Cricut…)  In this post, I'm going to share how I crafted a homemade  DIY running medal display and award shelf from simply items at the craft store.  Best of all? It only cost me less than $13.00.
Some of you may remember me asking what you do with your race medals. I think it was only in the cafemom runner's group and on tribal running…so if I didn't ask YOU please still feel free to share ( I really would LOVE to see/hear about it!)
Here's my "before" mess…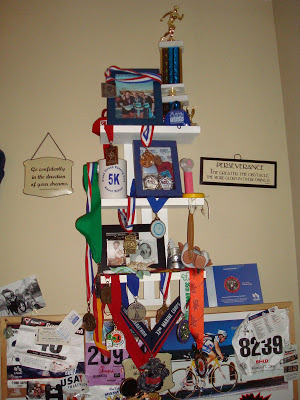 As you can see, it's an utter disaster, and needs some serious love.  After much thought and research, I finally came up with the idea of a wall quilt rack, like this one (Amazon affiliate link). But, being crafty and cheap, haha, I decided to make one by myself.  Here's how I did it:
How to Make a DIY Running Medal Display in 5 Easy (seriously!) Steps: 
SUPPLIES:
Armed with my 40% off one regularly priced item coupon (seriously, never pay full price there), I headed to Michael's craft store and bought my supplies:  a 36 inch shelf and a 36 inch wooden dowel. Including the mini hack saw I needed to purchase for this project (hey, you never know when that may come in handy in the future) I spent a grand total of $12.46.
Not surprising, in my craft box at home I already had black paint and wood varnish. Being that I would be hanging this display in the mutual "game room", I asked Rich what color I should paint the shelf, if I painted it at all. Black was his suggestion, and I went along with it.
Your total cost may vary based on whether or not you need to purchase a craft saw (like I did) or paint and wood varnish (like I did not).
THE BUILD:
(editor's – that's me – note:  When I first wrote this post ten years ago, I severely underestimated the need to take photos of this project as I went along. I apologize for the lack of step-by-step visuals!) 
Step One: 
Measure the distance between the sides of the shelf where the dowel will sit, and mark it exactly on the dowel.  You are going to want the dowel to fit snugly into the shelf, while supporting the weight of the medals.
Step Two:
Cut the dowel to the exact measurement, and see if you can jam it into the space between the sides of the shelf.  Yeah, that's the technical explanation (can you tell this isn't a craft blog?)  You may need to shave a teeny tiny bit of the dowel down to make it fit.
Step Three: 
Paint the shelf, if you so desire! I used black craft paint , and followed it up with wood varnish.  Pro-tip: use the wood varnish OUTDOORS.  It's really, really smelly.
Step Four: 
If your shelf doesn't come with pre-drilled hanging holes (again, that's probably not the technical term) add some shelf brackets.
Step Five:
Hang on the wall, and admire your crafty work. Dun dun da dun….dun dun DAAA DUUUNN!! (that's my big unveiling song)
AFTER: A shrine to my running! A little egotistical, yes, but I can see it from my treadmill, and that makes me happy.

The medals go in chronological order…oldest on the left, newest (Little River Blue Crab Festival 5K!) on the far right. I hope to add many, many, MANY more to it in the future 🙂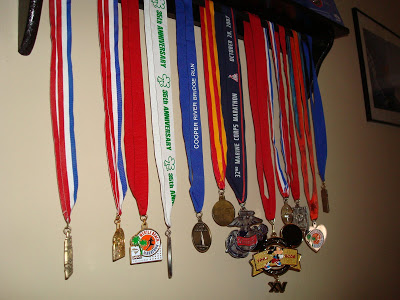 Hooray! And now, to get on the aforementioned treadmill ….hope you all had a fantastic weekend!
Heather Hart is an ACSM certified Exercise Physiologist, NSCA Certified Strength and Conditioning Specialist (CSCS), UESCA certified Ultrarunning Coach, RRCA certified Running Coach, co-founder of Hart Strength and Endurance Coaching, and creator of this site, Relentless Forward Commotion.   She is a mom of two teen boys, and has been running and racing distances of 5K to 100+ miles for over a decade.  Heather has been writing and encouraging others to find a love for fitness and movement since 2009.