Last Updated on March 9, 2022 by Heather Hart, ACSM EP, CSCS
One of the highlights of my month is when I get the "Your Cairn box has shipped" email in my inbox.   Incase you've missed the last handful of reviews, let me sum up the Cairn subscription concept: it's an adventure in a box.   For as little as $22 a month, you receive a box full of not just samples, but actual useful outdoor tools for the hiker, camper, trail runner, or simply outdoor lover in all of us.
I've had a Cairn subscription for about 5 months now, and have yet to be disappointed.  But the June and July's boxes have been total home runs, hit waaaaaay out of the "what you should expect in a subscription box" park. So much so, that I'm pretty ashamed that I haven't blogged about June's box until now.  So without any more procrastination, may I present you with a double shot of a Cairn box review.
JUNE:
Cotopaxi Luzon del Dia 18L Daypack
I had been eyeballing one of these ever since I saw it in the Backpacker Spring Gear Guide (which coincidentally, came in my April Cairn box).  Admittedly, what appealed to me at first was the colorways of this pack.
The Luzon del Dia that is for sale on the website is designed with total creative control by employees in the Philippines, meaning no two bags are alike.  The Cairn Luzon del Dia, however, was made in exclusive colorways for Cairn subscribers only.
The Cotopaxi Luzon del Dia features a highly packable design, repurposed ripstop nylon, mesh backpack straps, and internal hydration sleeve that make up the perfect adventure pack.  It is lightweight and 100% handmade.
What I love about the Luzon del Dia the most is how small it packs up, making it a perfect "random adventure" daypack.  It easily holds a hydration bladder and all of my gear, yet is incredibly lightweight, unlike many of my other daypacks.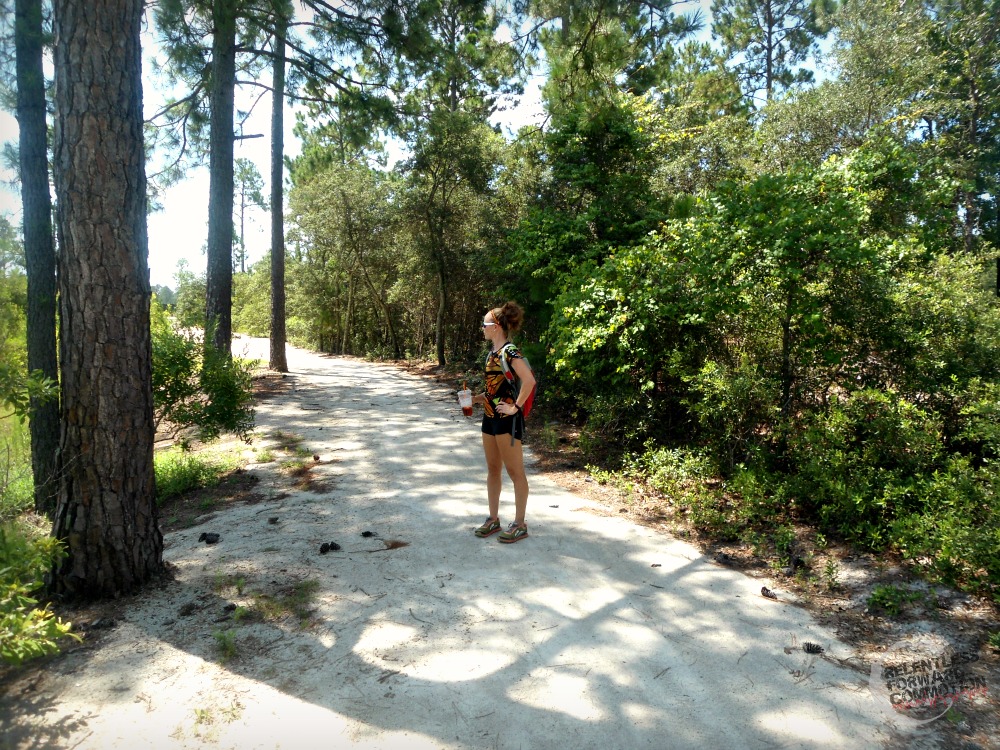 Mountain House New York Style Cheesecake Bits
There is still such a novelty about freeze dried food.  For me, at least.  Perhaps it's my inner child who still remembers the freeze dried ice cream for sale at the NASA gift shop on a family visit to Florida. They can freeze dry anything!
I was pleasantly surprised with the taste of these bites from Mountain House. Believe it or not, these things taste just like cheesecake.  The taste of cream cheese nearly overwhelmed me, as I expected a sort of dry, stale, overly sweet type of crouton.  Made with rich cream cheese, brown sugar, notes of citrus, and a graham crust, these little treats are the perfect snack to pack on your next adventure.
Rumpl Beer Blanket
The little card that comes in the Cairn box clearly states that you'll probably need tow of these beer blankets, because friends will steal them.  Now, I'm not pointing any fingers, but for the life of me, I can't find my Rumpl beer blanket.
Hmmmm.
Thankfully, my friends Lorelei and Hannah, both loyal Cairn subscribers, were quick to share photos of their Rumpl beer blankets.  Heck, Hannah even had hers at work and was able to take a photo the second I asked for one.
All of the technology from Rumpl's award winning compressible, technical camp blankets, but in a "blanket" for your beer.  Adorable.
JULY:
July's box I immediately dubbed as "TransRockies Run" box, as if Cairn had curated it just for my upcoming adventures.
RUN Performance Gum
One of my most favorite things in the world is caffeine.  If I could keep only one vice in this world it would be caffeine.  I love it. I need it. I'm not ashamed.   I also don't drink coffee, so as you can imagine, this is an interesting scenario I often find myself in.  So caffeinated gum seemed perfect.
One piece of Run Gum contains 50 mg caffeine, 20 mg taurine, 110% RDA of Vitamin B6, and 50% of B12. My review on the gum….uh, erm, well…I didn't love it.
It *did* indeed give me a caffeinated boost.  It did not taste very good.  In fact, the taste got progressively worse with each chew.  I imagine it's the B vitamins I'm tasting.  I initially tried the cinnamon flavor, and as I'm typing this very post, I'm chewing the "Fruit" flavor.  Just to double check that I truly don't like the taste of this gum.
I don't.   In fact my tongue is currently tingling.  Sorry Run gum, I tried.
MSRP: $5.99 for the 3 pack sampler
Surface Dry Touch Ultra Sheer Sunscreen
Did you know that UV rays become 4% more intense for every 1,000 feet you climb above sea level?  So considering we heading from sea level to sunny (well, hopefully sunny)  12,000+ feet above sea level, sunscreen is going to be IMPERATIVE.
I sent Geoff out to work today in the sun wearing the SPF 30 Surface dry touch sunscreen.  I'll update if he comes home with a burn, but I'm willing to bet he won't.   A little test on my own skin revealed that the Surface sunscreen is indeed ultra sheer and dry, it went on fast and didn't leave my hands feeling greasy.  And trust me, living at the beach with two little kids, I know the perils of spending 5 full minutes trying to rub in sunscreen.  No one enjoys that.
Surface dry touch sunscreen is hypoallergenic, dermatologist tested, safe for kids, SPF 30 Broad Spectrum UVA/UVB protection, and water resistant for up to 80 minutes.
Fitsok CF2 Shadow Yarn athletic sock 3 pack
Socks are one of those "THERE ARE NEVER ENOUGH" items in our household, so needless to say I was very excited to receive THREE new pairs of socks in my Cairn box.  I was conveniently sent a pack of size "Large", which fits Men's size 9-11 and Women 10-11.  Geoff is a 10 in men's, I'm a 10 in women's so this meant we both won.
Naturally, we immediately each grabbed a pair, put them on, and hit the trails.  Though I only covered about 8 miles in them, they were incredibly comfortable and cushioned, leaving zero hot spots or chafing.
2Skin Anti-Chafing Gel
To put it bluntly: blisters and chafing suck.  Therefore, I'm always willing to try something new when it comes to preventing this all too common, all too uncomfortable, running ailment.

According to their website, 2Skin by Pjur Active: "Immediately after application on the skin, 2skin creates an invisible protective film as silicone based skin protection with special film-forming ingredients. This reinforces the skin's cell structure, and distributes the stress and pressure on the skin over a larger surface area. This increases protection against chafing, blistering or other unpleasant skin irritations. And: the skin still breathes! The protective film can be individually reinforced by multiple applications of 2skin."
I put a little bit of 2Skin on my feet to simply test out the feel, and had zero issues.  I also had zero blisters, but I wasn't really expecting any on that particular run. I'll get back to you on the effectiveness of 2Skin after TransRockies.
Let's do some math:
The June box contents would retail separately for approximately $60.44
The July box contents would retail separately for approximately $46.99
(Neither of these totals include the discount cards that come in the Cairn boxes, with tons of deals for future purchases)
Your cost: as little as $22.00 .  The amount of adventure you can have with these items?  Endless.

But wait! There's more!
All of the Cairn direct links this post? They are referral links. And what do I get for referring you? Cairn points. What am I doing with all of my Cairn points? PASSING THEM ON TO MY READERS! That's right, every time I earn enough points for a new box, I'll be gifting a Cairn box to one lucky reader.
To enter for your chance to win, use the rafflecopter below. Per usual, there's a gazillion ways to enter, so pick and choose as you please. The fine print: Open to U.S. residents only with a valid email address that responds to my emails! Winning entry will be validated. I will be using my personal Cairn points to provide the winner with (1) month Cairn box gift subscription. Box will ship directly from Cairn. Contest ends at 12:00 AM on 8/5/16. Winner will be notified on this blog AND via email.
Good Luck!
Disclaimer: As a Cairn ambassador, I receive a monthly subscription at no cost to me.  However, all opinions stated are my own.
Heather Hart is an ACSM certified Exercise Physiologist, NSCA Certified Strength and Conditioning Specialist (CSCS), UESCA certified Ultrarunning Coach, RRCA certified Running Coach, co-founder of Hart Strength and Endurance Coaching, and creator of this site, Relentless Forward Commotion.   She is a mom of two teen boys, and has been running and racing distances of 5K to 100+ miles for over a decade.  Heather has been writing and encouraging others to find a love for fitness and movement since 2009.