Last Updated on January 30, 2022 by Heather Hart, ACSM EP, CSCS
It's 2016, and the majority of us are seriously lacking in the "patience" department. I am no exception.  The second I receive a shipping confirmation and tracking order from absolutely anything at all, I begin to stalk the USPS website with reckless abandon.   So imagine my surprise and sheer delight when the April Cairn box showed up at my front door BEFORE the shipping confirmation.   It's the little things in life that make me happy, and despite my attempts to lessen the grip of material objects on my life,  I won't deny this little brown box always puts a huge smile on my face.
So what's in the April box?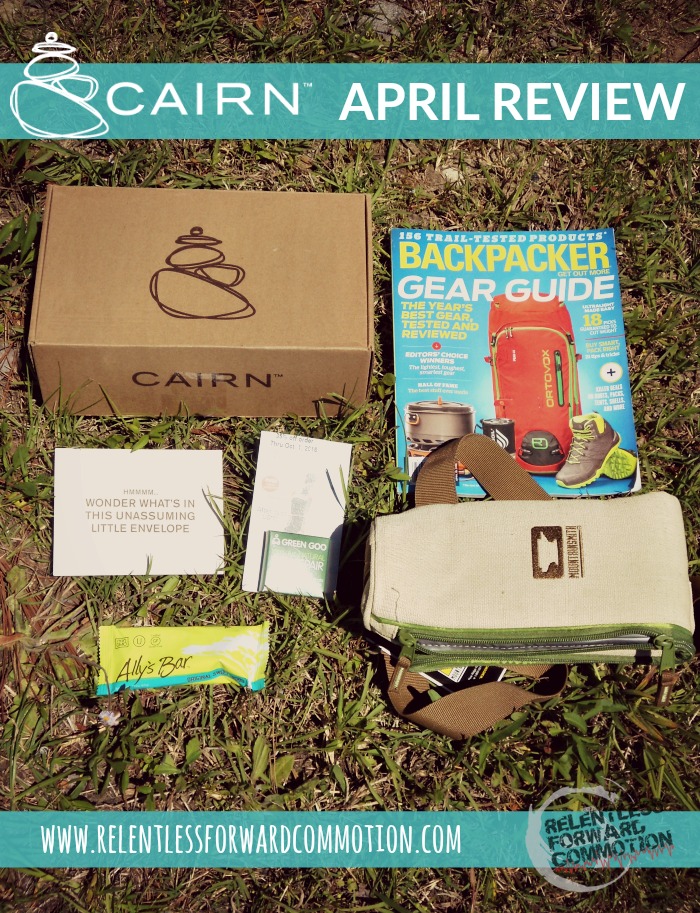 Mountainsmith Hemp Cooler Tube
When I saw this hemp bag all wrapped up and secured with rubber bands inside of the box, I immediately assumed it was some sort of yoga mat holder. I don't know why, but that's what came to mind.  So when I opened it up and discovered it was a 6 pack cooler, I laughed in delight.  It's no secret that I enjoy a microbrew from time to time.  I'm no beer snob (OK, maybe a little) but when you hail from New England, specifically Vermont, it's hard to NOT enjoy good beer.
Anyway, this cooler is a mighty fun invention.  With an adjustable strap, it is significantly easier to tote around than your standard cooler.  And a little unassuming, for what it's worth.  Not that I'd try to sneak a cold brew into an unauthorized zone like the beach or a state park or anything. Ahem.
The Mountainsmith Cooler Sling Tube specs include:
Full length zippered closure
Ideal for standard can and tall boy carry
Adjustable shoulder sling for easy carrying
PEVA waterproof seam-sealed lining
Green Goo Skin Repair
Green Goo Skin Repair, from Sierra Sage Organics, is a 100% all natural skin repair for sunburns, sun spots, puffy eyes, wrinkles, scars, dark circles, and minor burns…according to the package.
Thankfully, I'm currently without any burns…but I won't deny the puffy, wrinkly, dark circle "I have stress in my life" eyeballs.  Sadly, 48 hours of use isn't enough to let you know if this Green Goo makes any visual differences.  But I can attest that the skin repair is non greasy, has a very, very subtle smell, and goes on gently.   Plus the 0.7 ounce tin is the perfect size to toss into a backpack or hydration pack to keep on hand incase of any skin irritationson the trail.
MSRP $9.50
Backpacker Magazine Spring Gear Guide
I remember when I was a little girl, and the Sears Christmas catalog would show up in the mailbox sometime around late October. I would spend hours pouring over the toy section, making extensive lists of the things I wanted Santa Claus to bring me.  The 2016 Backpacker Magazine Spring Gear Guide is exactly the same…except I'm 26 years older and the "toys" I am drooling over are significantly more expensive.  Why yes, Santa, I WOULD love a Leki Breeze Chair and a JetBoil stove and a super lightweight, ultra warm, mummy bag. I promise I've been good!
I hardly ever buy magazines, but when I do, or when one somehow makes its way into our home, I read it cover to cover and back again at least twice.  The 2016 Spring Gear Guide from Backpacker magazine is no exception.
Cover Price: $7.99
Ally's Bar Original Sweet Potato
I'll say it first: sweet potato? IN A BAR?  Ummm…eww.  Maybe.   I actually tried to bribe my kids and then Geoff to take the first taste.  None of them would.   So I went for it.
Like a little kid told to take a bite of his vegetables or he can't leave the dinner table, I took the tiniest possible nibble off of the corner of the bar and braced myself for the taste.  I was pleasantly surprised.   Not to name competitors (sorry Ally) but this almost reminded me of an apple pie flavored Lara bar.  I know, how does one go from sweet potato to apple pie? Your guess is as good as mine.  But the bar, it was delicious.  With 250 all natural, real food calories, 38 g of carbohydrates and 4 g of protein, this is a great "don't let the blood sugar crash" bar for a hike.
MSRP: $3.67
Gear Aid Tenacious Tape Tattoos
While these were supposed to be in the box…they weren't.  Hey, my friends at Cairn are only human, and we all make mistakes (and they gifted us bonus Cairn points to make up for the mistake.)   Anyway, Tenacious Tape Tattoos are ultra-aggressive adhesive gear patches that stays put regardless of the conditions you put them through.  Except instead of traditional squares or circles, these patches come in hilarious shapes.
You know I probably would have put a hole in my jacket on purpose just to use that bigfoot patch.
BONUS DISCOUNTS:
15% off of DrinkTanks
Steel, double wall insulated growlers that hold up to 60 psi.  Perfect for filling up at your local brewery, or even filling with A LOT of coffee. I know how much you coffee drinkers like coffee.
$20 off Your First Order at Fireside Provisions
Fireside Provisions is a meal service that delivers meals for your camping or cabin adventures.  They take all of the thinking and prep-work out of your meals. Just pick your dates, number of mouths to feed, and they deliver the goods to your door, adventure ready.  Just add a campfire.
___________________________________________________________
The March box contents would retail separately for approximately $56.06 (not even including the aforementioned discounts).  Your cost: as little as $22.00 .  The amount of adventure you can have with these items?  Endless.
But wait! There's more!
All of the Cairn direct links in this post? They are referral links.  And what do I get for referring you? Cairn points.  What am I doing with all of my Cairn points? PASSING THEM ON TO MY READERS!  That's right, every time I earn enough points for a new box, I'll be gifting a Cairn box to one lucky reader.  And that starts NOW!
To enter for your chance to win, use the rafflecopter below.  Per usual, there's a gazillion ways to enter, so pick and choose as you please.   The fine print:  Open to U.S. residents only with a valid email address that responds to my emails!  Winning entry will be validated.  I will be using my personal Cairn points to provide the winner with (1) month Cairn box gift subscription.  Box will ship directly from Cairn.   Contest ends at 12:00 AM on 4/26/16.  Winner will be notified on this blog AND via email. 
GOOD LUCK!
Heather Hart is an ACSM certified Exercise Physiologist, NSCA Certified Strength and Conditioning Specialist (CSCS), UESCA certified Ultrarunning Coach, RRCA certified Running Coach, co-founder of Hart Strength and Endurance Coaching, and creator of this site, Relentless Forward Commotion.   She is a mom of two teen boys, and has been running and racing distances of 5K to 100+ miles for over a decade.  Heather has been writing and encouraging others to find a love for fitness and movement since 2009.