Last Updated on February 7, 2017 by Heather Hart, ACSM EP, CSCS
I'll be the first to admit: the week before this race I was a grade A-jerk face.  Actually, "jerk face" isn't the first choice term I would use, but I'm trying to keep this blog rated PG-13.  So fill in the blank as you see fit…especially if you were one of the lucky ones who came into contact with me during those tumultuous times.
Taper madness had turned me into a beast.  I was equal parts nervous for what was to come…and nervous of what I might potentially be capable of.  This was the most prepared I had ever been going into a race, and this "race" was simply a part of training for an even bigger race. I had nothing to lose here but everything to gain, and I suppose that terrified me.
And turned me into an asshole.
My local running friends certainly took the brunt of my "taper tantrums", with me snapping at them every time they even hinted at not taking this race as seriously as I thought they should have been.  I lectured about everything, from rest days, to choosing the spot for our tent city, to laughing too loudly after 9 pm. I did not earn the award for most fun friend ever.  But they humored me, and for that, I am eternally grateful.
Our group headed down to Charleston, SC Friday night, set up camp, ate dinner, and almost immediately, I went to bed.  I was cold. Tired. Anxious. And really wanted the morning to just hurry up and get here already.  I have no doubt that the anxiety I experience before big races has shortened my lifespan.  The things you do for love…
Saturday morning, 6:00 am.  After an incredibly sleepless night due to a windstorm that knocked over our food staging area, and threatened to take down all of our tents, I was grateful that it was finally time to get up.  The wind had died down, thankfully, but the temperatures were in the low 40's.  It was COLD for this Myrtle Beach crew.   I was surprisingly calm, especially considering what a mess I had been for the past few days.  As Geoff quickly got up and out of the tent, I stayed in bed for a few extra minutes. I dug out my race gear and shoved it in my sleeping bag in order to warm it up before I  put it on.   I ate my breakfast, visited the port-a-potty (hey, race day specifics) and used Paul's incredibly warm van to prep my feet for the very long adventure they had ahead of them.
Saturday morning, 7:55 am.  As I stood in the starting corral with the other runners, there were no nerves, I was simply ready.  Focused.  So much so that I wasn't even phased by the fact that Gary Cantrell himself (aka "Laz") was standing inches away from me at the start line.  I've been fascinated with the Barkley Marathons since I first read about the race back in 2010, and an even bigger fan (who isn't) since the documentary made its way to Netflix.  None the less, I couldn't even let myself have a fan girl moment…I was there to do work.
The race director said "go" (I think, I honestly don't remember if there was a gun, or a buzz, or if he just said "go") and we were off.  I immediately settled into the pace I had prescribed myself (mid to high 10:xx miles) with a 4 minute run/1 minute walk ratio.  It's very hard to slow your roll and run at a pace that is minutes slower than you are used to, especially when you are feeling good, but it is absolutely essential over these incredibly long distances.  The course looped around the back of the same field we were all camped in, and then headed down a straight dirt road.  After about a 1/3 of a mile or so, we took a left and headed into a field that looped around a large pond.  The majority of the course was either dirt road, grass road, or rocky gravel road.  Never single track. It was flat and fast…so much so that I had to reel myself in and remind myself to slow down more than once during that first loop.
The first loop was over in the blink of an eye, and we were back at our tent…which we had conveniently planted right at the edge of the woods where runners emerged from the trail.   We were greeted by cheers, friends, and food.   The one thing I had stressed to my crew countless times was the importance of making me eat.   Force the food into my grocery hole, I said, do not take no for an answer! The initial plan was to carry a bottle of tailwind (100 calories) for every two laps, and eat solid food every other lap, for a total of 200-250 calories per hour, give or take.  I'd get a black check mark on my giant piece of cardboard for all of the laps I didn't eat, and I'd only "earn" a red check if they watched me consume my calories.  The goal was to have an even balance of red and black checks, and hopefully, avoid a hangry Heather.
Unfortunately here was a slight miscommunication in the nutrition plan (my fault) and as I rounded the corner finishing my first loop, my friend Felicia handed me a frosted sugar cookie.  I never say no to a sugar cookie…even though I should have that time.   The first full loop I was carrying 200 calories of tailwind.  After the downed cookie, I already had 360 calories in my stomach in less than an hour, and that didn't include the Clif bar I had just eaten for breakfast.
My stomach was already pissed.  Way to mess up your nutrition game 4 miles into the race, Heather.  I tried not to panic, and instead willed my stomach to calm down, hoping I could run through those calories.
When I rounded the third loop I had to inform my crew that I needed to chill out on the eating, just for a minute.  I could see the surprise and confusion on their faces over the fact that I was refusing food ALREADY, and we weren't even 1.5 hours into the race.  I tried to explain quickly the "why" behind my reasoning, but I'm pretty sure they were all thinking that I was the worst type of ultra-diva ever.   Thankfully, my stomach simmered down, and we eventually got on track with the red checks and the black checks.  After the immediate food fiasco, I always ate what I was told.
We ran and we ran. Around and around.  I felt fantastic, and was sticking to my plan.  My crew was amazing at never ASKING me what I wanted, but instead TELLING me what to eat.  It was just what I needed, had I been left to my own devices, I certainly would not have taken in enough calories.
At some point during the second loop, I told Geoff I was going to assign each loop a letter from the alphabet.  If I was struggling during the loop, I'd start naming every word I could think of that started with that letter.  Well, the idea was a hit, and we started with "B" long before anyone was struggling.   We got other runners to join in on the game, and it really did help the time pass by.  Eventually, it got to the point that if someone asked what loop I was on, I'd respond in letters.  "O.  I'm on loop O.  How many numbers is that?" (cue singing the alphabet and counting on my fingers).
Somewhere around mile 22 I was running with Geoff and our friends Sara and Michael.  Sara asked how everyone was feeling, and if anything hurt.  I took a few seconds to analyze myself and responded "nope.  nothing hurts."  I'm pretty sure she didn't believe me because she responded with something along the lines of "how is that even possible?" but it was true.  Nothing hurt. Everything felt great.  And everything continued to feel great for the next few hours.  I'm certainly not an experienced ultra runner in the grand scheme of things, but the few years of experience I do have were starting to pay off.  I knew what kind of fatigue to expect. I knew how to delay it, and how to keep pushing forward.
I changed my shoes a couple of times throughout the race. I didn't have an exact plan, but instead really listened to my body and tried to stay on top of keeping my feet happy. I didn't want to waste time on unnecessary changes if I didn't need them.  I started in Hoka Challenger ATR 2's.   The first shoe change I switched to my Saucony Peregrine 7's, which ended up feeling too small.  I put in two laps on the Peregrines and then changed into my Altra Superior 2.0's.  Those felt great for a few hours, until I needed some more cushion.  Then it was back to the Hoka's until the end of the race.  I reapplied Tri-Slide and Anti-Monkey-Butt three or four times over the course of the 24 hours , and only changed socks once (Balega & Darn Tough).
Because talking about 24 hours of running is highly monotonous (and I forgot most of it already) here are the highlights over the first ten hours:
– Sharing laps and laughs …and selfies…with some incredible friends.  The fun part about such a short looped course is that we constantly ran into each other out there.  It was such a mental high to have smiling, familiar faces on the course.

– Photobombing my friends as they pose for a picture with Laz.  I was running up to the timing table to check in at the end of a lap when I saw them posing for the picture, so I jumped in.  My timing was impeccable.
– Betsy gifting me a mini-stuffed Bigfoot at the 50K mark.  It's the little things that mean so much! Thank you Betsy!
At some point, Geoff had to bail out for a loop.  His stomach wasn't feeling very well, so I told him I'd go on and run another loop while he rested.   Prior to the race we had discussed countless times the possibility of this happening, and had decided that we were both OK with the other person going on if one of us had to bail out for whatever reason.   I was still feeling fantastic, still, so I went on, with my amazing friend Felicia.
Mile 44: Geoff and I headed out on a loop together.  We barely made it a quarter of a mile down the road when he said to me "Honey…go.  Have a good race."  Geoff was struggling, and I knew he sincerely meant it when he told me to go on without him.  So I kissed him and took off.
I was still maintaining between 9:50-10:20/mile pace during my running segments.  This both thrilled and terrified me.  I was so stoked that my training was paying off. Here I was 44 miles into a race, still running, and still feeling amazing.  But deep down I knew that I was probably running TOO fast, and this was bound to blow up in my face.  Yet the cocky side of me, the one who knew I was about to demolish my 50 mile PR, took over, and I likely ran the next few miles far too fast.   Every one of these races is a learning experience, that is for sure.
At the end of the loop where Geoff and I went our separate way, I told the others that Geoff would be back to camp shortly behind me, and that I was good to run alone for a while.  But I wanted music.  I never run with music, but I was getting to the point where I knew I probably needed to zone out for a bit.  I ran to my tent and dug around for my headphones, the ones I had JUST seen earlier that morning.  Of course, they were nowhere to be found.  Paul came to my rescue with a pair of earbuds.  I was also told to grab a headlight, because it would be getting dark soon.  Lastly, I was informed that the crew was going to Starbucks down the road, but they'd be back before my next "food" loop to take care of me.
I spent the next 3 loops/6.4 miles fighting with those damn earbuds. I must have odd shaped ears because I can NEVER get the earbuds to stay put.  It kind of killed my Zen.
And then it got dark.
And I started to get lonely.
After having had company for nearly 10 hours, being alone made me suddenly realize that I was indeed tired.  Really, really tired. And when I got back to our tent, having finished 50 miles…everyone was still gone.
Ultra running is inherently a solo, selfish sport.  It is something you do for yourself, not for anyone else.  By nature, it is incredibly lonely.  This is nothing new to me.  But at that very moment, I was looking forward to celebrating a 50 mile PR with my friends, and there was no one there.  This of course is NOT their fault.  After 10+ hours of catering to my every need, a  quick trip to Starbucks for some hot coffee and a clean restroom was the least they could do for themselves.  None the less, the disappointment temporarily knocked me down.
But I kept going.  It was the only thing to do, really.
When I came back around again and my friends were near once again, I told them I needed caffeine, and company.   And they gave it to me.
Things get blurry from here.
At some point Paul paced me for a few loops, and I remember Geoff being back out on the course with me. I'm not sure if this was before or after the 100K mark.  Geoff bailed when he reached 50 miles, and I had a few loops with just Paul.  Then Emily.  Then my amazing new friends Lisa, Teresa, and Catherine who drove all the way from Myrtle Beach (about a 2 hour drive) just to pace me from 12-2:00 am.  They were incredible.  Everyone was incredible.  Caffeinated Tailwind, at that point, was incredible.  We kept moving forward at about a 15:00/mile.  I was no longer running but I was hauling along at the fastest walking pace I could manage.  Other than an ankle turn on a big rock around mile 70, everything was going well.   Everyone was so incredible at keeping me talking, eating, and moving forward.  And for the most part, other than really wishing I could go to bed, I felt good.  After every loop, they let me put my feet up for 5 minutes, then would get me right back on the course.  It was a perfect little break, physically and mentally.
At 2:00 am I said goodbye to Lisa and Catherine, and Felicia took over pacing duties.  Our first lap together was great.  We were chatting, laughing, and moving.
And then about 1/4 mile into our second lap, everything fell apart.
We were at about mile 76.  My nutrition was spot on.  Everything felt great…until it didn't.  I remember all of sudden I felt like I had tunnel vision, and I felt like I was going to throw up.  Everything, from talking, to breathing, to moving, felt like it took 1,000 times more effort than it had just a few minutes prior.  My conversation all but stopped.  Poor Felicia tried to keep me going.  She kept asking me questions, to which I could only murmur one word answers.  Every time she turned to look at me, her headlamp would cause an overwhelming wave of nausea, but I didn't have the heart…or the energy…to tell her to stop looking at me.  I remember thinking that if she wasn't with me, I would have laid down right there on the trail and took a nap.  The urge to close my eyes was so overwhelming that nothing, not the elements, the cold, the open forest, or the pond that supposedly held alligators, frightened me, I just wanted to lay down.  I would involuntarily close my eyes for a few seconds at a time while moving forward.  Poor Felicia, I could tell she had no idea what to do or say, but I didn't have the energy to tell her that this was probably normal, and I'd be OK eventually.
We finally came around to the end of the loop and reached our tent.  Felicia asked me what I needed, and I muttered "get Geoff".  I sat down in a chair, put my feet on the cooler, and started crying and shivering uncontrollably. I couldn't have stopped these reactions if I tried.  Felicia covered me in a blanket, and Geoff asked me what I wanted to do.   I wanted to go to sleep, so badly, just for a little while.  I felt guilty even saying it.  My "A" goal for this race was to simply keep moving forward for 24 hours without going to sleep.  "B" goal was 80 miles.  According to my GPS, I was at 78.  I knew I could still get up in the morning and finish the "B" goal.    I looked up at the sky and asked Geoff why the stars and trees were moving to fast, to which he replied "You need get in the tent. Now."  I didn't argue.  I wanted nothing more at that moment than to feel warm, safe, and sleep in my husbands arms.
Once in the sleeping bag it occurred to me that my breathing rate was incredibly fast and my heart rate wouldn't slow down.  I was shivering so hard that Geoff had to wrap himself around me to get my body to stop convulsing.   Normally, this involuntary reaction from my body would frighten me, but I was so exhausted that I couldn't be bothered to think much about my body's violent protest.
Sleep came incredibly fast.  Before I knew it, I heard my friend Raquel's voice outside of my tent.  It was 6:00 am.  I don't know how she knew I needed to be up by 6:00, because everyone was asleep when I went to bed.  But I'm incredibly grateful she did, because for whatever reason, my alarm clock never went off.  She told me that my mileage was different than what the official timers had, and if I wanted to reach 80 miles before the race was over, I needed to put in at least TWO more laps, not one.
I put my warm layers back on, crawled out of the tent, grabbed the bottle full of tailwind that I had ditched the night before, and checked in at the timing tent.   It was 6:15 am.  I had an hour and forty five minutes to put in two more loops.   Felicia, Julie, and Geoff tagged along.  The sun still hadn't come up, but we knew it would rise momentarily.  It took me about 15 minutes to move normally again, my legs were stiff.  But once I got going the 15:00/mile walking pace was back.  The two hours of sleep made me feel like a new person.  Rumor has it, Felicia and Julie had to jog at one point to keep up, haha.  I would have loved to run, but my left ankle was aching from the rock I tripped over around mile 70.
I checked in after the first morning loop, and asked the timer if a loop would count past 8:00 am, as long as it was started before 8:00 am.  She said yes.   So I started moving faster.   Another loop went by quickly.  As we came into transition, our team started cheering and said "that's it, right?" I had indeed hit (and exceeded) 80 miles.  But I replied "No…one more".  I still had 35 minutes left.
Off we went.
Now, at this point in the "Hallucination 24 hour race" I bet you are wondering if I hallucinated at all.  The answer is yes…sort of.  A few points in the evening I thought I saw animals that weren't really there.  A pile of sand that I thought was a white cat.  A log on the pond edge that I was certain was an alligator.  But at about 7:30 am came the best hallucination of all.   Geoff and I came around a corner and saw a tall man in dark sweat pants staggering along the trail.  Now, this public trail was just off of a main road, it was certainly possible that non-racers were out here now that the sun had come up.   But this man staggering along was carrying in his left hand what appeared to be a brown, 1 liter plastic bottle of some sort of liquor…and a shot gun.  The butt of the shotgun was what I saw first, and it immediately caught my attention.  I asked Geoff what it looked like the guy ahead of us was carrying and he replied the same "that looks like a gun".  So here we are, 23.5 hours into a race, exhausted, likely unable to run, and now I'm contemplating what this drunk man stumbling through the woods with liquor and a gun is going to do when two fast walking ultra runners approach him.   Geoff and I slowed down almost to a stop.  I asked him what we should do, and he replied "I'm not sure".  I was just about to suggest that we turn around and go back the way we came, no race was worth my life (despite what an appropriate obituary it would be).
But that's when I spotted them…Hokas (a very popular brand of shoe in the trail/ultra world).  The drunk vagabond in the woods with a gun and a bottle of liquor was wearing Hokas.  That couldn't be a coincidence, that had to be a racer.   We approached a little faster until I was able to determine that the gun and liquor bottle were in fact very large mittens being held in a runner's left hand.  Ha.
At this point, I did a little math and figured I'd probably be cutting it TOO close to do even one MORE lap.  Plus my feet hurt…a lot.  So I slowed down and tried to enjoy what would be my very last loop.  Had I known I would have finished that loop only one minute and 27 seconds past the 24 hour mark, I would have gone a little faster, and started loop #4 for the morning.
Alas, 39 loops…84.24 miles…was my final score.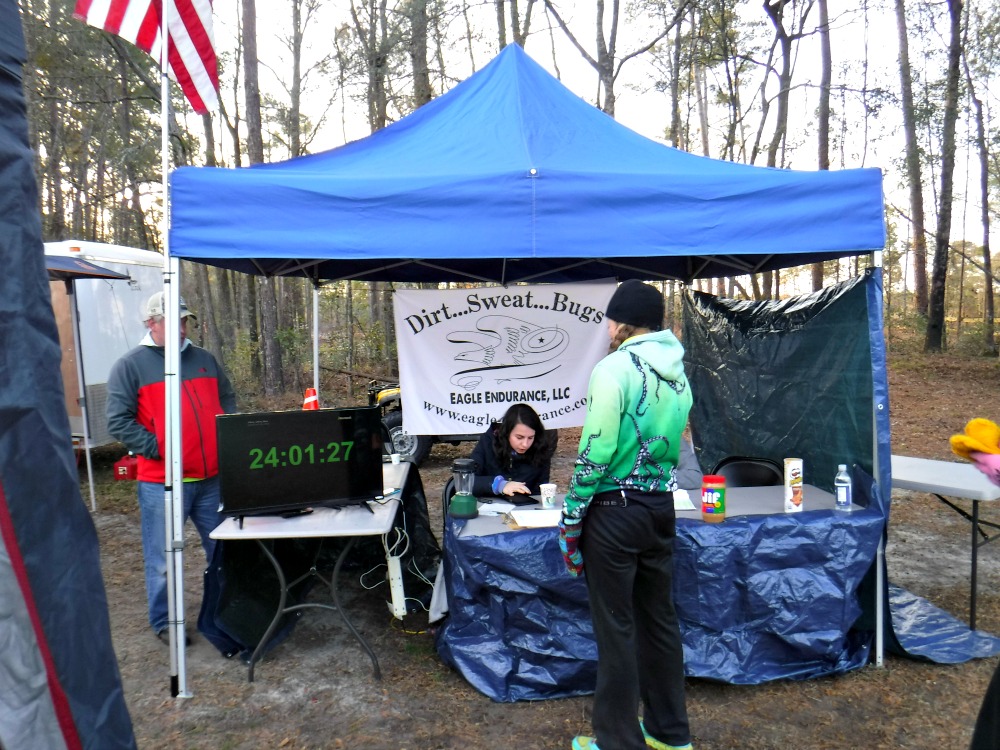 It turns out this would be enough to tie for second place.  The race director, Chad Haffa, congratulated us and handed us our finishers coins.  I won't lie, a part of me was immediately disappointed that I didn't push harder throughout the night and try to earn a 100 mile buckle.  I remember when I finished my first 100K last spring, I thought to myself "holy cow, I'm still nearly FORTY MILES away from a 100 mile finish".  It seemed so far, so impossible.   But that morning, at 84.24 miles, I thought I could have easily put in 16 more miles, 8 more laps.  It suddenly didn't seem out of reach.  I know I could have done it, if the clock would have allowed.  –
But I willed myself to push those thoughts back.  My goals were to be on my feet at 24 hours and to hopefully finish 80 miles.  I did both, AND held my own among women who had Badwater and VolState finishes (just to name a few) under their ultra belt buckles.   And somehow, I managed to tie for 2nd in course records.  Granted, the race is only two years old, but still.  I'm having my moment of ultrasignup.com fame.
After I was finished, I changed for the first time in 24 hours (I was gross) and finished just in time to cheer and bring in our friend Daniel in for his first 100 mile finish.  Poor guy was on the struggle bus big time, but he managed to pull it off.  We are all incredibly proud of him!
…and then Paul made me get into the bed in the back of the van where I almost immediately fell asleep.
_____________________________________________________
WHAT I LEARNED DURING THIS RACE:
(because every one of these things is a learning experience)
1. Having a crew is a deal breaker. SERIOUSLY.  In the past Geoff and I have pretty much fended for ourselves, figuring that we'd be able to take care of each other.  We do, and it works, but it also includes a ton of fumbling and wasted time.   On the other hand, running into the aid station, having a dedicated crew member say "Heather.  Eat these 12 potato chips now. Here's your full bottle of Tailwind. Now go." saves a ridiculous amount of time and effort.
2. I probably (OK…definitely) got a little ahead of myself around the 50 mile mark.  I should have held back on the pace and conserved some of that energy for later.  Would it have prevented the 3:30 am break down? Maybe.  Maybe not.  But I made the classic mistake of chasing a mid race PR that didn't matter in the long run…pun absolutely intended.
3.  In an ultra, there will be highs.  There will be lows.  They will pass. I know this already, in fact, I even gave this advice to Daniel the night before the race.  Still, the lows can be so hard to get through, and it can be easy to forget that they will indeed pass when you are in the middle of one.
4.  My training is working.  Who would have imagined. (Said in my best sarcastic voice).  I probably should have started this consistency and purposeful training stuff years ago.  Better late than never.   But, my performance was everything I had hoped for and more, and 48 hours later I'm walking easily, with very minimal soreness.  No blisters.  No injuries.  Just a bit tired still.  I'm giving myself a few weeks to recover, then putting the focus back on Knock on Wood 100 miler in May, with renewed confidence in my ability to earn a buckle.
5.  I really, really love running ridiculously long distances on trails. But I think we all knew that already.
_____________________________________________________
GEAR and OTHER FUN STUFF:
Nutrition: Mostly Mandrin Orange Tailwind, with a bit of Caffeinated Tropical Buzz Tailwind.  Honey Stinger chocolate waffles, potato chips, baked potato chunks, a few pieces of watermelon, a pizza slice, and tomato soup. That tomato soup at 11:30 pm was probably the best thing I've tasted in my entire life.
Shoes:  Hoka Challenger ATR 2,  Saucony Peregrine 7, Altra Superior 2.o
Garmin Forerunner 235 – need battery life? This is your winner.  At 8 hours running time it still had 23% battery life.  But I plugged it in to a portable battery charger, and charged it on the go. It only took about 2 laps/45 minutes to fully charge. I had to do this twice in 24 hours.
Song stuck in my head for 24 hours:  "These Days" by the Foo Fighters ("One of these days, your heart will stop and play it's final beat/One of these days, the clocks will stop and time won't mean a thing")
My mom's amazing handmade knit mittens.  A little bit of mom magic no doubt helped me get through this race.
_____________________________________________________
THANK YOUS and all of that other sappy-ness:
Emily.  You. Are. AMAZING.  Not that you asked for it, but I'm assigning you the official title of crew captain from here on out.  You had EVERYTHING under control, from when I needed to eat, what I needed to eat, who was pacing me, when I needed to get headlights…everything.  It was like you've done this a million times before. I absolutely, 100% mean it when I say I could not have done what I did without you.  I'm honored to call you a friend.
Paul.  From the entertaining drive down and back, to everything mid race, pacing, feeding me, keeping me company, and more.  Oh and lugging all of my sh*t up three floors to my apartment after the race. You are an incredible friend.  I can't wait for more adventures together.
Felicia.  Thank you for not letting me go to sleep on the trail and get eaten by an alligator.  Seriously, putting up with me while I fell apart could NOT have been easy.  I'm so glad you were there to help me.
Chelsey.  I'm so damn proud of you, official ultra runner!  Your constant smile and enthusiasm was a pick me up for so many of us.  Thanks for being you!
Julie, Sara, Raquel, Michael, other Michael, and Betsy: Thank you for your support.  Your company. Your cheers.  Your hugs. Your not unfriending me when I was a total twat.  All of that and more.  You guys are the best kind of friends a girl could ask for.  I'm proud of ALL of you and what you achieved out there on that course!
Lisa, Teresa, and Catherine for driving 2 hours just to pace me for 2 hours, and then driving 2 more hours home.  That was above and beyond the call of duty, I'm still so amazed that you sacrificed your sleep time to be with me.  I am forever grateful!
Brandi, Howard, & Tim – You guys were there as support crew for Daniel, but you were ALWAYS looking out for me too.  Every time I came in from a lap, if my friends weren't around you'd jump to the ready and ask what I needed.  You didn't have to do that, but the fact that you did meant the world to me.  Thank you.
Gary Cantrell/Lazarus Lake for putting up with all of us who had to pick your brain (I wish I had the time!) and take pictures with you. I know you were there to support your daughter, but you are kind of a big deal to many of us, and meeting us is the closest we'll ever get to our own Barkley Marathon's dreams.  Unless I make it off of the waitlist for the Fall Classic…
Chad Haffa for putting on a fantastic race.   It was an A+ event, and a really fun course.  Plus, I'm not sure if you knew this, but the fruit snacks at the aid station were gelatin free and therefore vegetarian friendly.  You have no idea how happy that made me.
And last but not least…
Geoffrey Hart.  Sure I could do this crazy stuff without you by my side, but it wouldn't be nearly as incredible of a journey.  Thank you for your endless support and unwavering belief in what I'm capable of, even when I sometimes can't see it myself.   I love you more than a blog post could ever say.
On to the next one…
Heather Hart is an ACSM certified Exercise Physiologist, NSCA Certified Strength and Conditioning Specialist (CSCS), UESCA certified Ultrarunning Coach, RRCA certified Running Coach, co-founder of Hart Strength and Endurance Coaching, and creator of this site, Relentless Forward Commotion.   She is a mom of two teen boys, and has been running and racing distances of 5K to 100+ miles for over a decade.  Heather has been writing and encouraging others to find a love for fitness and movement since 2009.