Last Updated on December 1, 2020 by Heather Hart, ACSM EP, CSCS
You've seen the crazy photos your friends have posted online of them covered in mud, swinging across monkey bars, and jumping over fire pits. You've faced your fears and finally pulled the "registration" trigger to join them: you're going to do your first mud run. Which leads you here, wondering how to train for a mud run /obstacle course race.
I'm glad you asked.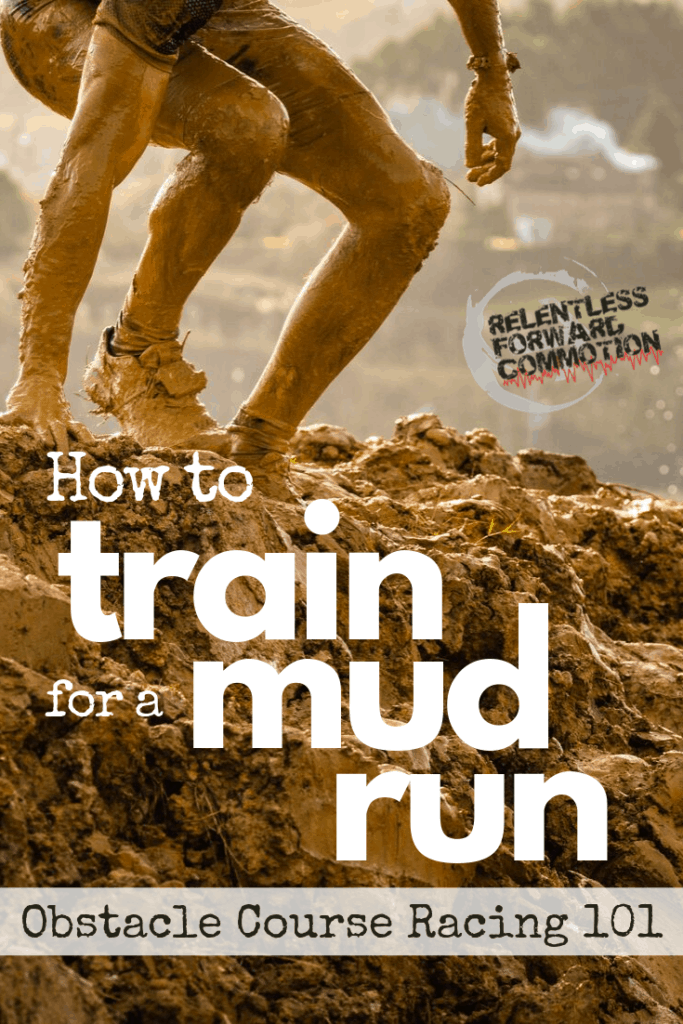 Now, I'm far from an elite in this sport (like my awesome pal Margaret from Dirt in Your Skirt…check out here first time/FAQ post here). However, I am an avid runner, somewhat experienced obstacle course racer (otherwise known as "OCR") , I have a degree in exercise and sport science, and am an ACSM certified Exercise Physiologist. Thus, I know a thing or two about how to train for a mud run / OCR.
Obstacle course races bring something entirely different to the table compared to typically foot races. A chance to run a race, to laugh hysterically at yourself as you play in the mud, and a chance to truly test your limits to see how tough, mentally and physically, you can be.
YES you will face obstacles that bring you out of your comfort zone (let me tell you about the first time I faced "Fire in your Hole" at a Tough Mudder…). But what is life if not a great adventure? So bottom line: do not be intimidated. Sign up, train hard, and most of all BELIEVE in yourself. Be it your first race or your 15th…you CAN do it.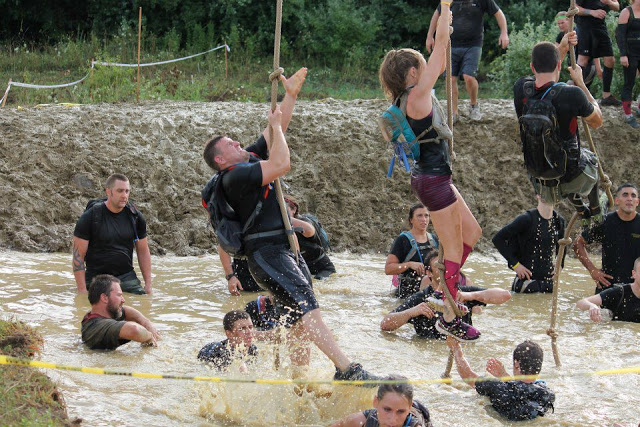 How to Train for a Mud Run
This training guide is a general outline for the healthy individual. Please consult your physician before beginning a new fitness routine. *
I can not tell you exactly what obstacles you will face during your first obstacle race. Every single race series, even from location to location of the same series, will present you with a different course and different obstacles. Some, like the Spartan Race, like to keep those obstacles top secret before the race. You will not know what you will face on the course until, well, you are facing it head on.
Other race series keep things pretty standard. A quick visit of their website will let you know what you are in for. Either way I can give you these general training guidelines.
Running
This is the most important part, so pay attention class. An obstacle race is not your average 5k. You will need to do SO MUCH MORE than simply run. That said….YOU STILL NEED TO RUN.
I can not tell you how many OCR's I've done where I've heard people say "holy cow, I didn't think there would be this much running!" Well folks, 3 miles is still 3 miles, a 10k still a 10k, so on and so forth, you get the idea. The obstacles are not placed one right after the other, you need to somehow cover the distance between them. And that is usually done by…you guessed it…running.
So all of that said, you need to run during your obstacle race training. If you are a brand new runner, I suggest starting with a couch to 5k type program (one can be found here). Of course, the effort required for an obstacle course race is far greater than a regular 5k, however, this type of training plan will ensure that you are building your mileage properly, to avoid any overuse injury.
If you are already an avid runner – keep it up. Four or more days of running, including one long, slow distance day and one interval/speed training. Treadmills and road running are great, trail running, if possible, is even better. The agility required to navigate technical trail best simulates most of the nonsense they make you run through on OCR courses.
Strength Training
Functional Training
This is a fancy term for strength, flexibility, speed, and agility all rolled into one. Basically, what can you do to make yourself faster, stronger, and better at what you do daily in life? Better yet…what can you do to make yourself faster, stronger, and better at all of the obstacles you will be presented race day? You will not run up to an obstacle and be asked to lift a 15 lb dumbbell for 10 repetitions, so why would you train that way?
The best part of functional training…it can be done on little or no budget. No equipment necessary, just your body and your willpower. Combine plyometrics (exercises that help build explosive power and speed…like box jumps, burpees, jumping lunges, etc) with strength exercises…especially body strength exercises (push ups, pull ups, planks, squats, lunges, etc) with minimal or no breaks between exercises to also build your cardiovascular endurance.
For the beginner the idea of coming up with your own crazy routines may sound intimidating. So use your resources: scour the web, sign up for the free daily Spartan WOD (workout of the day) email, ask a trainer, find a training group (like this one!) . DO NOT BE INTIMIDATED: I assure you the OCR community is incredibly supportive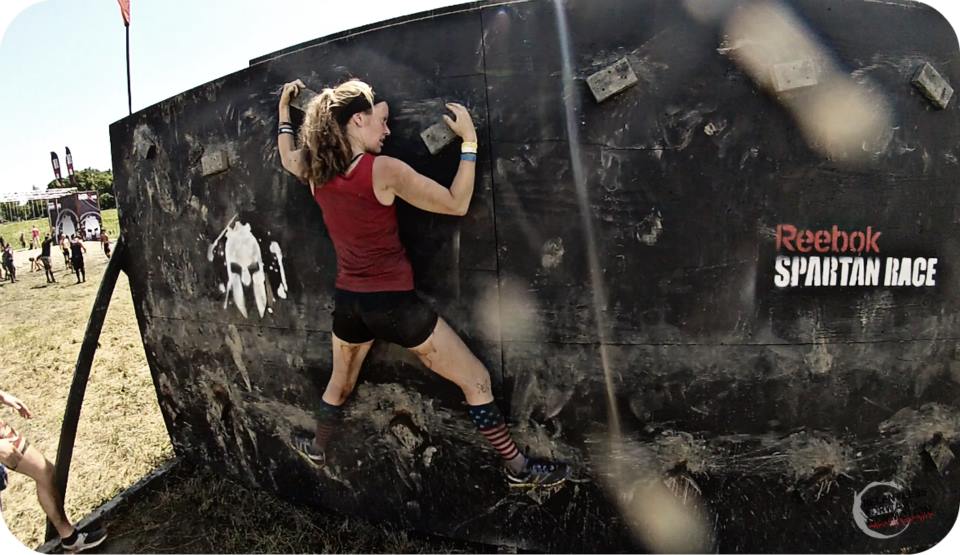 The best part about this type of training? It's completely scalable…meaning, it's just as good for the beginner as it is for the expert. Modify exercises that are too hard at the moment. Do as many rounds as you can in a pre determined amount of time (also referred to as "AMRAP"…"as many rounds as possible") to push your limits each time.
Bottom line:
Do things that are out of the ordinary and push you out of your comfort zone. Carry sandbags, logs, or rocks on a hike. Stop every 1/4 mile of your run for some burpees or squats. Climb over things, and crawl over them too. BONUS POINTS if you can do these thing soaking wet, possibly a little cold, and muddy.
During your race you will face things such as barbed wire army crawls, 8 foot walls you must scale over, heavy things you must carry and so much more…many of which you may not even have imagined before the race. So be creative with your training. Become a well rounded athlete. Be ready to face ANYTHING.  (Gym training tips can be found here)
OCR RACE DAY PREP
Just like ANY OTHER RACE…do not try anything new on race day.  OCR is no exception.  Not a new sports bra, not a new pair of sneakers, and especially not any "new" food. Whatever you ate for breakfast the morning before a training run: eat the morning before your race.
This goes for dinner the night before. The idea of carbohydrate loading is far more than eating a giant bowl of Alfredo the night before the race. Believe me, as you are crawling on your belly under sharp barbed wire, you are gonna wish you didn't do that!
Research different nutrition options and TRY THEM OUT during your training. Find what works for you, and stick with it! If you think you may need food or water during the race, figure out how you are going to carry it. A hydration pack is usually ideal for longer races, as it keeps your hands free to tackle the obstacles.
Clothing :
You are going to get dirty. Wet, muddy, downright disgusting.
If you don't, you aren't having enough fun!
Your clothing and your shoes will quite possibly be destroyed. I've managed to salvage a few things here and there, but typically not without a permanent mud stain and/or barbed wire snag.
Now, before you go and grab your grossest cotton tee shirt and old sneakers in the back of your closet, keep this in mind: as mentioned before, don't try anything new on race day. Just as no one enjoys gastrointestinal issues, no one enjoys the evils of chafing. Wear something that is somewhat snug (helps in the water), fast drying (tech gear), and something you wouldn't mind throwing away at the end.
As far as sneakers go: wear what you have been training in. Most races have a shoe donation pile at the end that will put those muddy kicks to good use instead of simply throwing them away.
Relentless Forward Commotion Tip: if you really want to keep your clothes, black colored items works best for post race clothing salvage!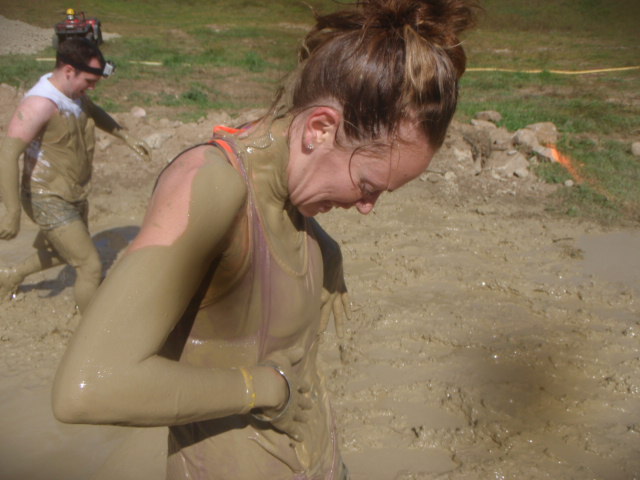 THE RACE
You trained hard, you showed up to the race, and you are toeing the finish line. The three most important tips I have for you at this point are :
Have Fun
Seriously, you are crawling through MUD, can't you hear your mom yelling at your 6 year old self? Splash in that puddle, don't tip toe around it. You came here for a reason, get dirty!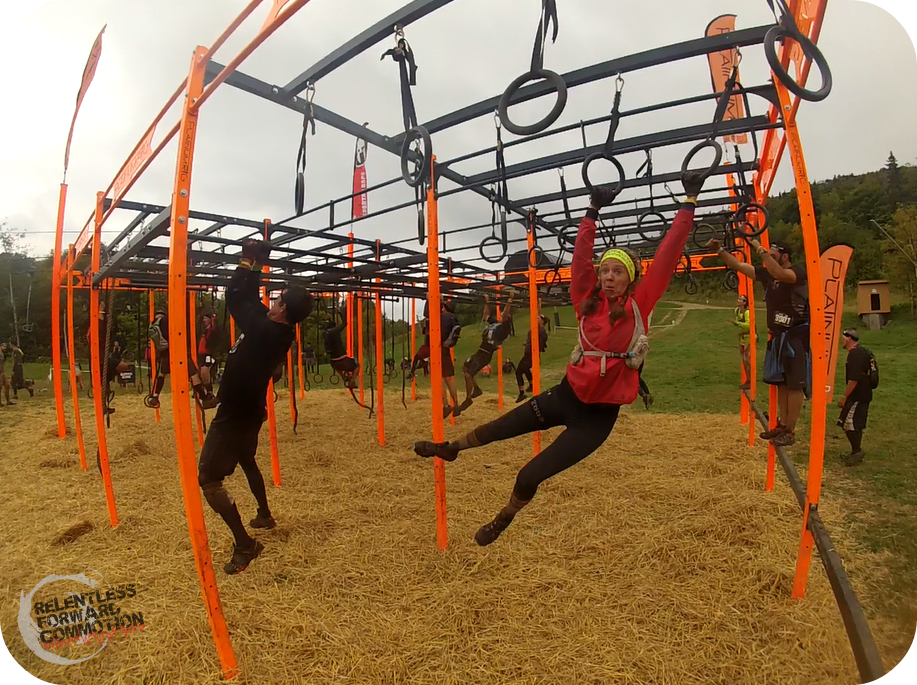 Don't be Afraid to Ask for Help
Wall too high to get over? Ask a fellow participant for a boost. There is something very different about the OCR world. The camaraderie is like no other. Heck, you may even face necessary teamwork. If you need help, I promise you it is there, do not hesitate to ask.
BELIEVE IN YOUSELF
You are capable of far greater than you believe. Now is the time to test your strength, to see what you are made of. DO IT.
SOUND OFF: Have you run a mud run or obstacle race? Have any advice you would like to share? Or are you a first timer? Have any questions you would like answered?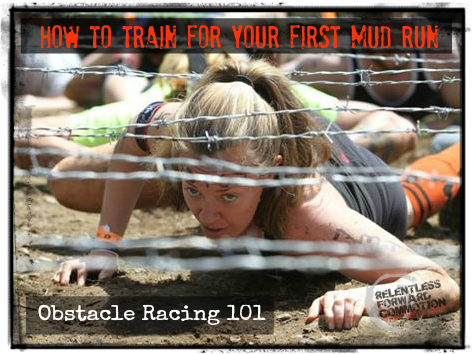 I hope this post was helpful, but I realize may not be thorough. Thus, I'm not only going to reply to all of your questions posted in comments below, but will add/edit this post as necessary to address some FAQ's from my readers.
*Disclaimer: Although I am an ACSM EP-C, please consult a physician before beginning any diet or exercise plan. If you choose to do any of the workouts featured on this website, you do so at your own risk.
Heather Hart is an ACSM certified Exercise Physiologist, NSCA Certified Strength and Conditioning Specialist (CSCS), UESCA certified Ultrarunning Coach, RRCA certified Running Coach, co-founder of Hart Strength and Endurance Coaching, and creator of this site, Relentless Forward Commotion.   She is a mom of two teen boys, and has been running and racing distances of 5K to 100+ miles for over a decade.  Heather has been writing and encouraging others to find a love for fitness and movement since 2009.