Last Updated on June 10, 2018 by Heather Hart, ACSM EP, CSCS
A note to my readers: Though many long time fitness fiends become frustrated with the New Year resolution crowd and all of the influx of "beginner" advice, I love it.  Fitness has absolutely changed my life, more specifically, running has changed my life.  I'd be lying if I didn't admit to becoming giddy when beginners ask for advice on how to become a runner. Therefore, you may have noticed an influx of beginner advice here on the blog over the past month.  I'm rolling with the new year, gladly sharing my advice and experience.  Besides, I can't blog about the monotony of treadmill training everyday while we are in the middle of this sub freezing cold spell.
If you've toyed with the idea of starting to run, or have a friend who has recently taken up running, chances are you've heard of the Couch to 5K program.   But if you haven't: the Couch to 5k is a wildly popular training program that is designed to take a non-runner from a sedentary lifestyle to running a 5k distance race in just nine weeks. Designed by Josh Clark, and originally published on the training website Cool Running, the Couch to 5k program has claimed to help thousands of people become runners and has blossomed into a running movement of its own.  The training plan consists of just three days of training sessions per week, for a total of nine weeks. Each session consists of running and walking intervals, measured by time or distance, progressing forward with the final goal of running either a 5k or 30 minutes, without walking. If you are thinking of using the Couch to 5k program to help get you started on your running journey, consider the following pros and cons to this plan.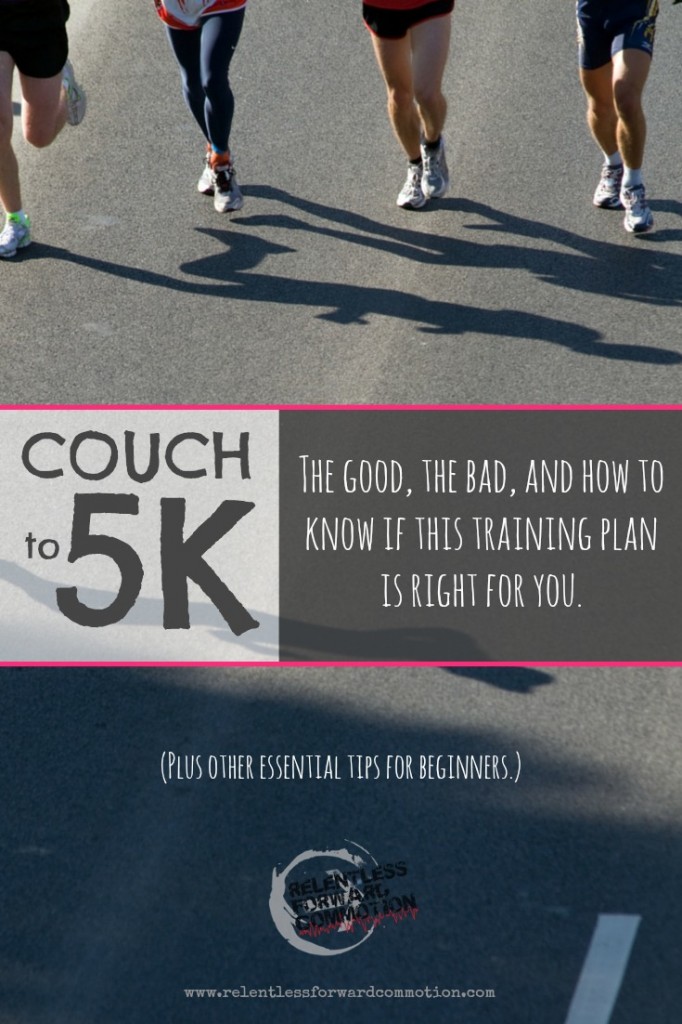 The Good:
Does the thought of running for more than a minute terrify you?  Then this training program is perfect for you.  The Couch to 5k program starts off with short intervals of running combined with generous walking breaks, which is an ideal introduction to running both physically, and mentally  (for example, day # 1 includes the following:  "Brisk five-minute warmup walk. Then alternate 60 seconds of jogging and 90 seconds of walking for a total of 20 minutes").  Josh Clark states in his training program: "Too many people have been turned off of running simply by trying to start off too fast. " Having specific, short distance or time goals prevents the participant from doing too much, too soon, which in turn prevents mental burnout and injury.
There has always been a bit of a stigma behind walking vs. running, but don't let it bother you.   Studies show that a combination of running and walking has been shown to help prevent injuries while building physical endurance and running distance, as well as helping to prevent muscular fatigue.   So you are not any less of a 'badass" for taking walking breaks; quite the contrary, you are a smart runner!
Further, some amazing athletes are well known for their run/walk methods.  Ultra runners (we are talking the people who run 100 + miles at once!)  are notorious for it.  And most famously, this style of training has been made very popular by former Olympic runner Jeff Galloway, who uses the run/walk method to train participants of all levels to run distances up to a marathon and beyond. The Couch to 5k program is variable in the sense that participants may choose to follow the plan by either distance or time. Each training session lists running and walking intervals by time or by distance, depending on the participant's goal. This is helpful for those who are unable to measure the distance they run, or who may have time constraints on their training sessions.
The Bad:
Though the creators of the Couch to 5k program claim that it is for almost everyone, it might not actually be for everyone. Depending on many factors, such as health conditions, or even previous fitness experience, many beginners may find the couch to 5k training program too aggressive. Many beginning runners may find certain weeks include an increase in running distance that proves to be too difficult, and that week may need to be repeated. For example, on training day number three of week five of the program, participants are suggested to run two miles straight without a walk break. This is a significant increase from the three quarter mile interval run, with  half mile walk breaks, the session before. The Couch to 5k program encourages runners to repeat a week if necessary. However, the claim of getting participants off of the couch and onto running a 5k in only nine weeks may become frustrating to some who find they need to repeat a week.
On the other hand, some beginning runners may find the Couch to 5k program not aggressive enough. The Couch to 5k program discourages participants from skipping ahead, which can also prove to be frustrating for those who feel they are capable of doing more.
Conclusion:
Overall, the Couch to 5k training program is a very basic training guide that can be utilized by almost anyone. Even if the full nine week training program is not ideal for all participants, the Couch to 5k program may prove to be a useful starting point for someone looking to start running. The training plan can be found free on the Cool Running website and through the Facebook support page.  In addition, Couch to 5k apps are available to download to your smart phone or tablet, to help you keep track of your training.
Other tips:
Remember, this plan is a general outline and may need to be modified based on your current fitness levels. Do not become frustrated if you must repeat a week, or alternatively, if you feel a session is too easy.   The first week is always the worst week when it comes to starting a new fitness plan; your body might rebel and you feel weak.  Trust me when I tell you, it gets easier.   Think about the big picture, and remember even the most experienced athletes must be patient and learn to trust in their training.  If you find the Couch to 5K program to be simply too hard, or on the other hand, painfully easy, consider looking for alternative training plans or hiring a running coach to design a plan specifically for you.
*Please consult your physician before beginning a new workout routine to ensure your body is healthy enough for exercise
Have you ever used the Couch to 5K program?  Know anyone who has?  Let's hear some first hand success stories (or, any complaints you may have!)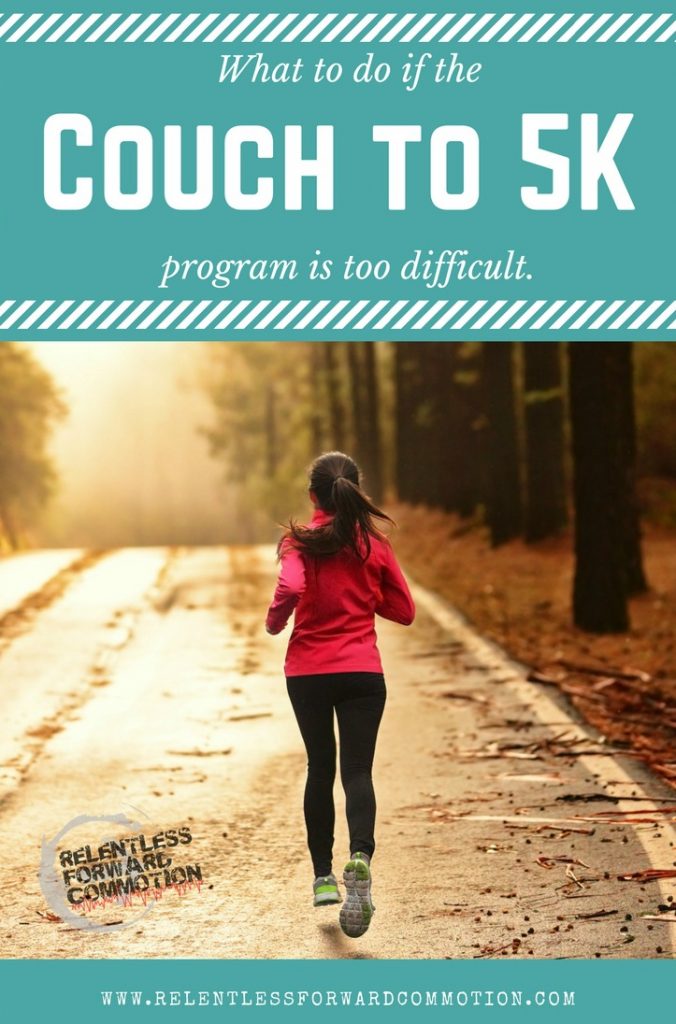 Heather Hart is an ACSM certified Exercise Physiologist, NSCA Certified Strength and Conditioning Specialist (CSCS), UESCA certified Ultrarunning Coach, RRCA certified Running Coach, co-founder of Hart Strength and Endurance Coaching, and creator of this site, Relentless Forward Commotion.   She is a mom of two teen boys, and has been running and racing distances of 5K to 100+ miles for over a decade.  Heather has been writing and encouraging others to find a love for fitness and movement since 2009.