Last Updated on November 8, 2014 by Heather Hart, ACSM EP, CSCS
Isn't it ironic that my slowest, most miserable marathon, could turn out to be the best race experience I've ever had?
Well it did, and it gave me a much needed wake up call proving that the BEST races aren't always your fastest. The story is long, but one I'd love to share, if you have the time.
Friday, younger sister Cathy and I made the short (about an hour and a half) drive up to Wilmington NC. We met up with Holly and Jim at our hotel, hit up Starbucks, and headed down to the expo. Walking very closely behind us to the expo was Jaron Tate from season 3 of the Biggest Loser. I'm not 100% sure it was him, as I didn't have the guts to say "hey are you Jaron from the Biggest loser?" But I knew he was going to be there, and with a quick google search of his picture, my sisters both agreed: it was him. Slight tangent from the race report, but I think it's humorous that I'm 2 for 2 when it comes to spotting Biggest Loser contestants and 140.6 races- Tara Costa at Lake Placid and Jaron Tate at Beach2Battleship.
We picked up our race packets and did the usual expo perusing.

Me, Holly, and Cathy. Cathy hasn't been bitten by the running bug yet, but we keep dragging her along , peer pressuring her the way only siblings can do.

the view from our hotel room!

The goods from packet pickup…best race goody bag ever! I ended up buying a waterbottle too. As if I don't have enough of those already, haha!
The rest of Friday consisted of dropping off Holly's bike and transition bags, and other crazy events that only seem to happen when we are together. Like, trying to take a shortcut behind transition…through the wilderness. (both of my sisters are in this picture, if you look really closely!)
SATURDAY: Before I made the commitment to run the marathon as part of a relay team, I had signed up to volunteer for the race. When I received my volunteer assignment, swim finish, I knew I could still commit to both, as I would have plenty of time to rest between the swim finish and the start of the run. Looking back, getting up at 5:00 am and proceeding to stand outside in the cold for another 5 hours, only to run a marathon later that afternoon PROBABLY wasn't the best idea.
T-1, about 5:45 am, and COLD!
That said, if you EVER get a chance to volunteer at a race, DO IT. It's incredibly rewarding and FUN. My job details included everything from directing athletes towards transition, spectator crowd control (endurance athletes have some of the BEST fans…but MAN they can be pushy! haha!), collecting glasses to bring from the start to the finish, and even some body marking thrown in there. And of course, CHEER LEADING! I was also able to get in some pictures of a few of my friends as they passed (unfortunately, I missed my sister's swim finish as I was at the swim start for the half distance at the time…)
My teammate, Eric, was out of the water in about 45 minutes. 45 minutes for a 2.4 mile swim = INSANELY fast! Apparently the current and rising tide was working in every one's benefit! (note to self…if I ever decide to tackle 140.6, or even 70.3….DO THIS RACE!!!)
After my volunteer duties were finished, I drove back to our hotel, changed, ate, and hung out for a bit. Eventually Jim (brother in law), Cathy (sister) and I headed over to T2 where I was to meet Ron, the cyclist for my relay team. As soon as we got off the water taxi, I was stopped by a woman who asked me if my name was Heather. I said yes….and she said "My name is Heather too, I read your blog!" How awesome! My little sister laughed at me, she thought the whole thing was hysterical (I have an inkling she thinks my blogging is a bit nerdy, haha). Anyway, I was so flattered by the whole thing, but at the same time in such a daze over my impending marathon, that I just mumbled a few words to her and went on my way. So, Heather, if you are reading this, I apologize for running off so quickly! It was great to meet you and I hope your husband had an amazing race!
I snacked and drank water for what felt like HOURS on end. I was starting to get super nervous. Team mate Ron showed up, posting an awesome 5:45 ish for a 112 mile ride. Don't worry, I was about to completely ruin that speedy first 2/3 for them, haha. I got my chip, and took off.
It was about 1:30 pm, in the mid 60's, and just PERFECT for running. I was STOKED. The run course was somewhat hilly. Nothing HUGE other than two big bridges (one on the interstate, and one draw bridge) all within the first couple of miles. Check out the elevation map (I think you can click on it to view it larger)
This course was an out and back: out 6.5 miles, turn around, back 6.5 to T2, turn around and do it again for a total of 26.2 miles. I thought I would HATE this, running the same course 4 times, but actually it was kind of nice.
Mile 1- 8:50
Mile 2- 8:51
Did I mention those were both up and over two bridges? One of which, a draw bridge, which contained about 100 yards of grating. INCREDIBLY awkward to run over! I thought I was going to trip and fall! I was proud of myself for running them (since I'm hill deficient here…) but I'd lean towards saying I once again started off too quickly.
Mile 3- 9:31 -this included a quick porta potty stop. yes, already. I had to go at T2, but I was so afraid the second I went Ron would finish and think I never showed up to run, haha
Mile 4- 9:26 This is more like it!
Mile 5- 9:32
Mile 6- 9:21
Mile 7- 10:55 another porta potty stop. Better safe than sorry, right?
Mile 8- 9:31

These first 8 miles were AWESOME. The run through downtown Wilmington and out to a park were just beautiful. There was actually a wedding going on in the park we ran by, complete with Journey playing as the bride was walking from her limo to enter the ceremony. It made me smile, and wonder if the bride was utterly pissed off that we were all interfering with her ceremony (I watch Bridezillas way too much!). The aid stations at every mile were great, and the volunteers were all awesome. I was on cloud nine. And then…
Mile 9- 10:17… I slowly being to crumble.
YES, again.
In being TERRIFIED of having stomach issues again, I was incredibly hesitant with nutrition. I started off only drinking water and taking 2 sports beans every 2 miles. I didn't bring gel, I didn't bring nuun. About this time, my energy was instantly zapped, and I was cramping. Lack of nutrition and electrolytes, no doubt. Not only was I slowing down, but the calf pain was causing me to walk a few strides here and there
Mile 10 10:28
Mile 11 10:32
Mile 12 10:52 uggh not these bridges again!
Mile 13 11:49 walked most of that overpass.
Back at T2 there was the turn around with the Run special needs bag. I was handed mine and took out another bag of sport beans…and that was it. At that point, it was still warm out, and I thought if it cooled down, I'd put on my gloves and borrowed arm warmers (still waiting on mine from fed-ex!) . I left the long sleeve shirt behind. I'd regret that later…
Mile 14 -12:42 back over that last overpass AGAIN. This would prove to be the worst part of an out and back…finishing at the bottom of a hill only to turn around and run back up it again. I started to panic a little. How can I be this tired ALREADY? I have to do that whole run all over again.
Mile 15-12:26 Bridge #2. For the third time. I would face it once more before the day was done.
Mile 16-15:29. I finally made it over the two bridges, and my stomach started to turn. NO FREAKING WAY. NO NO NO. NOT again. UGGH. I hit up the first porta potty I could to try, um, empty any contents I could before they started wreaking havoc. It only somewhat worked. But more than anything, emotionally, I was done. I was pissed. This wasn't fair. Why can't I have a break? Why can't I have a good race for once?It was cold. The sun was slowly starting to set and there was a steady, cold breeze. I had put the arm warmers on (already lost my favorite pair of gloves that were tucked into my spi-belt, ugh) but they only did so much. My legs were cramping, and the more I walked the colder I got.
Mile 17 – 15:22. My fingers were numb, my calves were on fire. I hadn't stopped for anything to drink or eat since mile 12. I was in that "this is really miserable" daze that I get into, and just forgot. It was bad. I started to cry a little, in between my shivering. I still had 9 whole miles to go. 9 miles , in this condition, seemed impossible.
Mile 18: 18:30. I got to the aid station, sat down on the curb, and started crying. And by crying, I mean, downright sobbing. I couldn't stop shaking. I was so pissed at myself. I felt at that moment I just had no business being out there. I wasn't cut out for marathons, period. Why did I think this race was going to be any different than Baltimore? Apparently I'm just not an endurance runner. I need to just give up on this dream. Give up on a PR, give up on Boston, give up on 50 states. All of these people around me had already done a 2.4 mile swim and a 112 mile bike ride, and they were STILL running. I couldn't even run 14 freaking miles. I take all of this time away from my family, from my studies, and for what? Nothing. I can't do this. I wanted to quit, I absolutely 100% had my mind made up on that. I knew I'd be letting down my teammates, and everyone else cheering me on, but I was just miserable, and didn't care. If a volunteer had come up to me at that moment, I would have quit. I would have handed them my chip and said, call someone to take me back to transition please, I'm done.
Thankfully, no one seemed to notice me sitting there in a pathetic, snotty heap.
I don't know why, but after a few minutes, I just stood up. Still crying, still shivering, I stood up and kept moving forward. After a few minutes I had somewhat composed myself, and looked around. LOOK at these people, Heather! LOOK AT THEM!! Forget all things physical, the mental strength of people who tackle an Ironman distance race is just awe inspiring. They have done so much today. If you give up on ONLY a marathon, you are doing these people, these people who may be out here for another 6 hours, a huge dishonor. I told myself to quit being such a freaking drama queen about MY problems and to get my ass moving. Besides, it would be the only way to warm up. So that's what I did. And it worked.
Mile 19: 16:24. I finally hit the turn around, and was on my last stretch to the finish. Knowing that instantly changed my outlook. At this point, any hopes for a PR were loooong gone. But the race was not over. Let's make the best of it, shall we? I came up to the next aid station. A volunteer asked me what I needed. I told him, I'm not sure. So I strolled over to what would be known as the "Ironman buffet" and dug in. Remember how I mentioned I had stopped eating? Certainly this had put a damper on my attitude. So I helped myself to some grapes, a piece of banana, and some animal cookies. They were the best thing I had put in my stomach ALL DAY! And then someone handed me a some glow sticks. Pink and purple, to match my shirt. I don't care how old you are, glow sticks, outside at night, are FUN!
Mile 20- 14:44 The best mile of this race. The sun had set. While the race directors had claimed the entire run course would be well lit, they weren't 100% accurate on that statement. We were somewhere in the park (remember, the one with the wedding?) and you could barely notice the outline of other runners, never mind the path under your feet. All of a sudden, I saw the outline of someone heading in the oppostie direction…and a bright yellow livestrong shirt. My eyes darted to their race bib, which I could barely make out in the dark. 506…HOLLY!!! My sister!!! Holly was on her second attempt at the 140.6 distance. She had suffered hyponatremia and was pulled off the bike course of Ironman USA (Lake Placid) at the half way point earlier in the summer. It broke her heart as much as it broke the rest of ours. She had trained her ASS off for that race and it didn't end the way we had all hoped. It was in her heart and soul, but that day, her body wouldn't cooperate. Beach 2 Battleship was HER redemption race. Seeing her, 7 miles into her run, with a huge smile on her face, was worth EVERYTHING. I gave her the biggest hug ever and told her how proud I was of her. I knew right then and there she had this race. I ran/walked/shuffled away with a huge smile on my face as well.
Mile 21 14:05. Run/walk/shuffle. Chat with the volunteers, eat some more animal crackers off of the buffet,enjoy the fact that I am lucky enough to participate in such an amazing event. Smile, and Repeat.
Mile 22 – 12:52
Mile 23 – 14:18
Mile 24 – 13:16 I walked when i had to, and never got down on myself about it. I smiled in awe at the people headed in the other direction, just a few miles into their marathon course. I knew they had a long way to go, and I knew that they would endure. I ran through the downtown area, and politely smiled at the people who cheered me on and said "YEAH 619!! YOU ARE AN IRONMAN!" I felt as though I needed a sign saying "I'm just running the relay, but thank you all the same!" I have such, such respect for the race that I hated having anyone suggest I was worthy of the title! I know they meant well, and I appreciated the spectators.
I enjoyed running in the dark, on interstate no less. That's a once in a lifetime opportunity! I passed a young girl running with a prosthetic leg. She was a half ironman participant. I had seen her 4 times on the run. I would finish my very slow 26.2 miles in less time than it would take her to finish 13.1 miles. I told her how freaking AMAZING she was as I passed her by. I'm sure she had heard it all day long, but I hope she knows it's true. THAT is the kind of endurance that should be applauded.
Mile 25 -12:38
Mile 26- 12:51 Ahh those bridges! I appreciated the fact that I wouldn't have to see them again tonight. Towards the top of the second bridge/overpass, there was a lull in traffic. No headlights = PITCH BLACK. It was crazy. I made a comment to a man I was about to pass about the darkness, and we began to chat. He told me this was his first Ironman, and his wife was somewhere on the course behind him. I think the conversation was a very welcome distraction for both of us. That last mile in the dark, on a very empty stretch, could have gone on forever.
the last 0.62 miles (according to Garmin, the race was a bit long!)- 6:32. I congratulated the guy I was running with for his finish and new Ironman status. He asked if I thought we would finish under 12 hours. I saw the clock ahead that read 11:52. I knew that we only had a few hundred yards to go and promised him he would have that , if not a sub 11:55. I congratulated him once again, and took off. I wanted this race to be over. It's funny the surge of energy you can have at the end of the race. Too bad my legs didn't have this in them for the other 26, haha!
I crossed the finish line. 11:54:20 for our team. 5:21:40 for me. My slowest marathon time yet. But I couldn't help but smile. A volunteer came up to me with a Mylar blanket and said "I don't care what you say sweetie, you HAVE to wear this blanket" . I said "TRUST me, I'm not complaining! I'm frozen!" and she just wrapped me up really tight. I was given a BEAST of a medal (it puts Disney medals to shame) and a 140.6 FINISHER shirt, which I don't think I'd ever have the guts to wear in public, as I am highly undeserving of one of these! Maybe I'll sharpie "relay" under the finisher part, haha! I found my teammates who were waiting right there at the finish line for me. They congratulated me and thanked me for doing the "hard part". I apologized for blowing the race, haha. Such awesome guys, I really doubt they cared.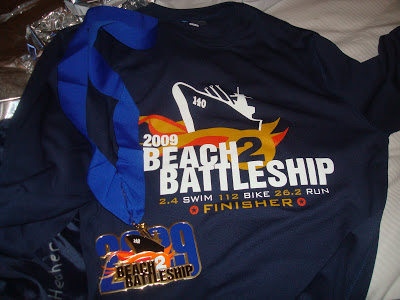 This race was an eye opener for me. It may take me 5 more marathons before I reach a P.R. It may take me 20 more marathons before I get a Boston qualifying time. But should that matter? No. What matters is that I LOVE running. Fast or slow. It's not about your finishing time, it's about the experience. And that experience is simply what YOU make of it. YES , I want to train harder. Yes, I want to be faster. But in the end, it's all about doing what you love. I am thankful for this race, for it was a learning experience, and in the end, a really, really fun time. Thank you for ALL of the support from each and every one of you. I appreciate it more than words could ever express!
But the most amazing part of my weekend, my whole reason for being here, was to see this:
Please forgive the screaming right into the camera…but you would do the same thing if your sister was simply as kick ass as mine is.

I don't care if Ford and their sponsorhip wasn't here to allow an announcer to tell you this, so I will instead. HOLLY SHOEMAKER….YOU ARE AN IRONMAN!!!
Even with a flat tire she finished with a nice 42 minute cushion before the cut off. 140.6 miles. (I'm sure she will post her Ironman story sometime soon on her blog here: http://www.triandbehappy.blogspot.com/) My sister rocks. End of story 🙂
Thanks for reading 🙂
Heather Hart is an ACSM certified Exercise Physiologist, NSCA Certified Strength and Conditioning Specialist (CSCS), UESCA certified Ultrarunning Coach, RRCA certified Running Coach, co-founder of Hart Strength and Endurance Coaching, and creator of this site, Relentless Forward Commotion.   She is a mom of two teen boys, and has been running and racing distances of 5K to 100+ miles for over a decade.  Heather has been writing and encouraging others to find a love for fitness and movement since 2009.