Last Updated on September 6, 2015 by Heather Hart, ACSM EP, CSCS
I REALLY didn't want to go to this GORUCK.
I've been pretty tired lately with the jump in my training, kind of stressed about work, and generally just not in the mood for a torture session.   I spent this past week remembering the hurt and hypothermia that was my only other GORUCK experience, the MOG Mile in Portland, Maine, last October.  I finished that event, but I didn't finish well.   Not a single second of that event would I have considered "fun".
But at some point a few months ago, when GORUCK was having their annual "Christmas in July" 50% off sale, I thought maybe it WOULD be a good idea to give it one more shot.  So Geoff and I registered for the Light here in town.
To spare you the whiny details, I spent Saturday morning quietly bitching and packing my ruck, completely full of nerves.  I wasn't really in the mood for doing planks and inchworm pushups until my arms shook.   But at least I knew I wasn't going to freeze today.
We showed up to our start point, 24th Avenue N in downtown Myrtle Beach,  after arguing about the price of parking (Geoff didn't want to pay $10. I, being an experienced Myrtle-ite, I just made that word up, knew that was going to be the best that we got within walking distance).  Geoff asked if I (and my attitude) wanted to just go home and skip the event.  I was already there. I already packed my ruck. I already paid my entry fee.  Let's just get this over.
We sat in the parking lot as other people and their rucks started to trickle in.  People began to introduce themselves over and over, near obsessively, as you do in a GORUCK. Everyone knows that almost all of the Cadres (or, "guys in charge", for those of you non-ruckers) expect you to know the names of your classmates, or there will be penalties.  (Heather, Geoff, Rebecca, Kathleen, Eric, Mark, Tonya, Celeste, Alicia, Chris, Joe, Chuck, Davin, Andrew, Carrie, Ed, Paul, Ismael. I'm horrible at names, but when endless burpees are at stake, I somehow manage to remember names.)
The weights showed up, the flag showed up, the Cadre (Heath) showed up, and we headed out to the sand.  Reluctantly and as ready as I'd ever be, I followed.
Important Note 1: All credit for photos in this blog post go to Tammy & James Vretis, thank you so much for shadowing!
Non Important Note 2: It's really hard for me to write "Heath".  As someone who spends a lot of time on the computer writing, and whose name happens to be "Heather", my fingers automatically add the "er".  I've spent a lot of time in this post deleting the added "er".
We lined up in two ranks (lines, for us civilians) and Cadre Heath took roll, and inspected our rucks for required weight (if you weigh under 150 lbs, you carry 2 bricks or a 10 lb plate, if you weigh over 150 lbs, you carry 4 bricks or a 20 lb plate), headlamps, water, ID card and $20.  Then he started explaining the goals for the day, as well as told us a little bit about himself.  He kept reiterating over and over that he was a "nice cadre" which made me think he was probably going to be a hardass.
Turns out, I was wrong. I was wrong about the entire day.  That kind of gives away the rest of this post, but then again, so does the fact that I'm smiling big in almost every picture I'm about to post.
I suppose I could (and will try to) recap the ENTIRE 4.5 hour day for you, but much of it all blurs together, as 4.5 hour events tend to do. But the disclaimer here is that things will be left out, and likely out of order as well.
There were a lot of team building exercises, as this is part of the point of a GORUCK event in the first place.  We started with bear crawling back and forth as we introduced ourselves to our fellow classmates.  This went on until we had rotated through the entire class.
We worked on gaining each others trust by doing back to back and hand held squat exercises.
And then, the ever popular fireman's carry.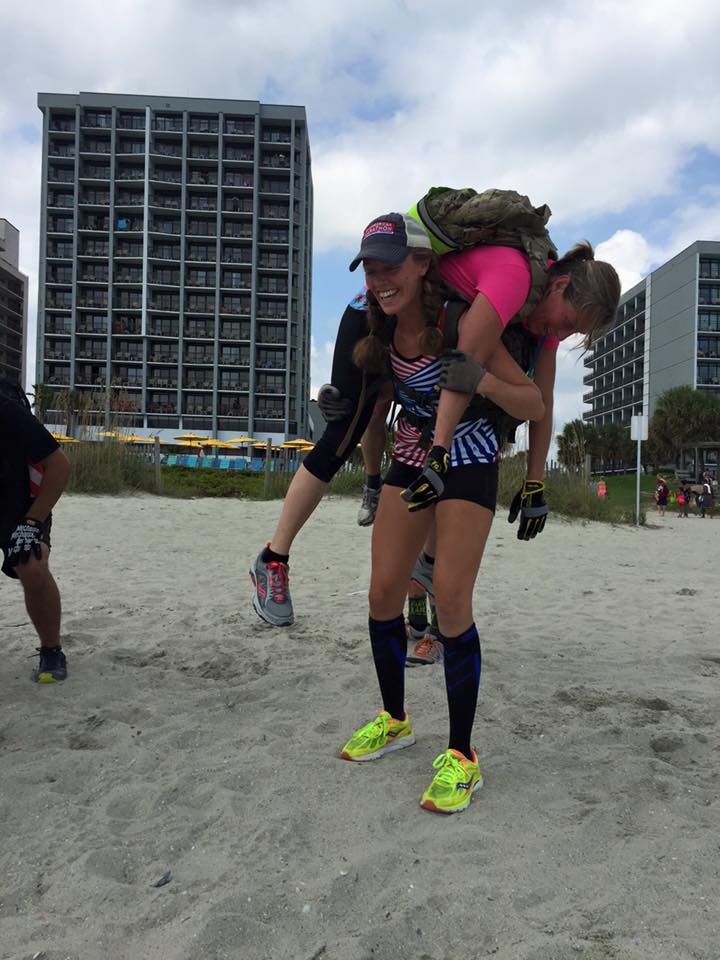 Eventually it was time to ruck, because that's kind of what you do in a  GORUCK, so we lined up in formation and headed South down the beach.  We were given a time and distance goal to meet, and we did so with time to spare.    Having at least 3/4 of the class as veteran GORUCK participants certainly helped with our teamwork, organization, and speed.
Finally the inevitable came: we were headed into the ocean.  Thankfully, the water here is probably somewhere around 80 degrees, compared to the 45 degrees it must have been in Portland.  Plus it was hot out, so this was a treat.   The looks from beach goers as we lined up, rucks on, arm in arm, and marched out into the ocean waist deep was hilarious.
First up: hydro-burpees.  They are exactly what they sound like: burpees underwater.    Cadre Heath assigned us five hydro burpees, with a catch.  He said that during each burpee, he must be able to look out over the ocean and see no trace of us.  This meant that not only did we have to time our burpees just right, but everyone had to stay under for a 3 second count before surfacing.
It was actually incredibly fun.  (And so was getting knocked over by the wave time and time again. Despite all of our faces below, each time that happened, we'd all pop back up laughing.)
Next came a round of "Duck, Duck, Dolphin.   The idea was this: One person goes underwater and holds their breath. Everyone else runs out of the water, up the beach, around a water canteen, and back into the water.  If we all made it back before the person underwater surfaced, we were done with that "game".  If not, we continued.
Cadre asked who felt they were a weak swimmer.
Uh, me, obviously.  Failed triathlete right here!
But I should have known better, because typically volunteering yourself as the weakest link means you're going to be called out.
And I was.  I got to be the first to try and hold my breath…but not until I too first did a lap up the sand and back down to the water again.  You know, to get the lungs nice and exhausted first.
I lasted all of, uhh, 3 seconds or so before a wave knocked me over and my head came out of the water.   I immediately apologized to Cadre and explained I've never been really good in the water, still a bit gun shy from the last GORUCK, where if someone failed, we were punished as a group.  But Cadre surprised me by saying "don't worry.  That's why we are here, to push ourselves out of our comfort zone, right?"
Right.
So this game of Duck Duck Dolphin continued for a few rounds with different people underwater.
We finally made it during a double round with both Eric and Mark underwater; both managed to hold their breath until everyone returned.
A quick round of flutter kicks…

…and we were back on land.  Time to ruck again, another mile southbound.   This time however, we were told we had two options:  fill a giant bag full of sand to carry (approx. 250 lbs) in addition to our team weights, OR gain a casualty (one person must be fireman carried the entire distance).  We initially chose sandbag UNTIL we were informed that at it's full capacity, would weigh 250 lbs, then decided to sacrifice Celeste, the tiniest classmate, for our casualty.
And on we went…
We had to stop every few hundred feet to switch off the person carrying the casualty, but we seemed to pull it together and do it with ease.  People were really great about switching off the team weights when necessary.  A "well oiled machine" Cadre called us.  We weren't too shabby.
Eventually cadre suggested we switch casualties, because being a casualty sucks.  Anyone who has been fireman carried for more than a few feet can attest to that.  I volunteered, handed over my ruck, and became the second casualty.
The good news is we were nearly to our destination, so I didn't have to be carried for too long.
Once we arrived (with time to spare, once again) Cadre had us sit down, drink some water, and relax while he talked to us about the importance of building rapport.  There was also a very funny story about canned pig brains and an emergency outhouse visit during negative 30 degree temps in Mongolia.
It was a nice chance to relax.  Relax? This GORUCK event was soooooooooooooo vastly different from the last one.  At some point, however, I actually got a slight chill (I've adjusted to Southern living WAY too quickly) so I was grateful when it was time to head out again. Rucks on, weights up, and off we went. First goal, a mile in 15 minutes.  We made it with time to spare.
We did some sort of rolling around in the sand as we raced to see which team would make it a specified point first.   We all laid on the ground, then the person on the end would roll on their side while each person hopped over them, in what should have been something resembling a plyometric pushup.   I don't remember.  This actually might have happened later.
We were given a 7 minute time goal to ruck further North back towards our starting point.  The goal was to get as far as possible in those 7 minutes.  We made it to about 19th or 20th avenue, about blocks shy of our 24th avenue end goal.   Our next task was to continue marching forward, while handing our rucks ahead to the person in front of us.  The last person in line, now with no ruck, would sprint to the front.  And so on.
Unfortunately at this point, we had some people starting to fall out.  Perhaps it was the weight, perhaps it was the heat, but I counted my lucky stars that FOR ONCE, I felt 100% fine.  Hardly even tired.  Three cheers for having FINALLY adapted to this South Carolina heat!  So we quit the above task and instead focused on getting everyone through the remaining few blocks.  I offered up my shoulder to one classmate who was particularly struggling, and talked him through those last few minutes, trying to pull him along while slowing down his breathing.
Once we got there, it was back into the ocean to cool everyone off.  This time, trust falls backwards into the water.  Again, hilariously fun.
After we hung out and cooled off in the ocean for a few more minutes, Cadre has us head back up onto shore.  He told us that we had put forth great effort that day, far more than he had expected for a light. Therefore, we deserved one last, kickass activity.
Here it comes, I thought.  The burpees.  The pushups.  All of the sucky things I've been dreading all day, as the last push before we get our patch.
But once again, I was wrong.  Very, very wrong.
Instead, we took our rucks off and placed them in a circle. Then, to the tune of the Beastie Boys hit song "Girls", we played "musical rucks".  Just like musical chairs, when the music stops, you dive onto a ruck. Whoever doesn't have a ruck is out. And so on.   I wish I had the video to share with you (and may in the future…this link may or may not work depending on Facebook privacy settings.)  I couldn't stop laughing at the shenanigans.  (Yes, shenanigans).  There were beach goers and tourists lined up taking videos, so I'm sure if you search Instagram or Youtube long enough, you'll find video.
And then we got our patches.  It was all over.
I was shocked.
Shocked at how easy it was (relatively speaking, don't get me wrong, it was still a physical effort).
I was shocked at how quickly the time passed.
But most of all, I was shocked at how much FUN I had.  Yes, fun.   Just like the GORUCK page promised.  Just like the Cadre ensured.  Fun I would have missed had I stayed home like I wanted to.   New friends I wouldn't have made had I chickened out.
I was surprised at how vastly different this event was compared to my last GORUCK experience.  And from what I understand, the next one will be completely different from these two as well.   But I imagine the most important thing is that you learn and take something different from each event.  From the Mogadishu Mile I learned how to dig deep through that mental barrier. I got into the freezing cold ocean, and after 5 hours of shivering, I got BACK into that ocean.  I wanted to cry, I wanted to run away, but I DID it.
And yesterday, I was reminded that we often miss out on amazing experience because of preconceived notions fears.
Earlier that afternoon, before we left home, I posted a Facebook status saying that sometimes, the things we LEAST want to do end up being things we are incredibly glad we did.  As it turned out, this was no exception.
"Comfort zone" is such a subjective term, and can vary daily.   I've done many uncomfortable races, much longer than even the MOG Mile.   I've spent 12+ hours climbing mountains and doing burpees, cold and miserable.  But on this day, my "comfort zone" was simply leaving my house.   I can't say enough how glad I am that yesterday I chose to step out of my comfort zone
Thank you, class 927 & Cadre Heath for an amazing day.
Heather Hart is an ACSM certified Exercise Physiologist, NSCA Certified Strength and Conditioning Specialist (CSCS), UESCA certified Ultrarunning Coach, RRCA certified Running Coach, co-founder of Hart Strength and Endurance Coaching, and creator of this site, Relentless Forward Commotion.   She is a mom of two teen boys, and has been running and racing distances of 5K to 100+ miles for over a decade.  Heather has been writing and encouraging others to find a love for fitness and movement since 2009.