Last Updated on March 15, 2020 by Heather Hart, ACSM EP
To be honest, even getting to the start of the Palmetto Swamp Fox Adventure race was an adventure in and of itself.
First, there was my medical concerns that left me uncertain if I could even run up until just a few weeks prior to the race. Then, halfway to our campsite at Buck Hall in Awendaw, SC on Friday afternoon, our car got a flat tire. And not just a little hole, but a split on a seam on the inside wall of a fairly new tire. You should have seen us unloading EVERYTHING in the back of the Subaru to get to the spare tire. The parking lot of Publix looked like an REI, with our racing and camping gear strewn everywhere. Oye.
Alas, after much uncertainty with my body, the car, and the world in general, with races being canceled left and right due to the COVID-19 pandemic, our 2020 KanDo Palmetto Swamp Fox Adventure Race was still a go.
What is an Adventure Race?
Since this is only the second time I've mentioned it on this blog, let's have a quick recap of what an Adventure Race actually is. Here's the Wikipedia version:
Adventure racing is typically a multi-disciplinary team sport involving navigation over an unmarked wilderness course with races extending anywhere from two hours up to two weeks in length. Some races offer solo competition as well. The principal disciplines in adventure racing include trekking, mountain biking, and paddling although races can incorporate a multitude of other disciplines including climbing, abseiling, horse riding, skiing and white water rafting. Teams generally vary in gender mix and in size from two to five competitors, however the premier format is considered to be mixed gender teams of four racers. There is typically no suspension of the clock during races, irrespective of length; elapsed competition time runs concurrently with real time, and competitors must choose if or when to rest."- Wikipedia
Essentially, it's a giant scavenger hunt using a map and compass (and no electronic GPS) to find "check points". Check points are marked by "O-flags" hidden in trees – or anywhere, really. There's also a punch that's used to mark your passport card, to prove you've been there (the punches all have different patterns). How you get to said points in your hunt depends on the race.
The most common disciplines are paddling (kayak or canoe), biking, and foot travel (running, hiking, etc.). What an Adventure Race isn't is an obstacle course race (though an obstacle course race can be IN an adventure race…) like Spartan, Tough Mudder, etc. To win an Adventure Race, you must collect the most amount of check points in the least amount of time. But to complete an Adventure Race, you don't necessarily have to get ALL of the check points, you just have to get yourself from the start to the finish in the time limit. (Though, finishing after the time limit doesn't necessarily disqualify you…you might just lose points).
Confused yet? I know I was when Geoff first explained Adventure Racing to me. But, after my first foray into the AR world at the 3 hour Independent Republic AR here in Myrtle Beach last fall, it all started to make sense.
And what I immediately loved that it was a vastly different challenge than my normal endurance world.
In an ultramarathon, you have to train, you have to have a strategy, and you have to be physically and mentally strong. But an Adventure Race truly is like those "choose your own adventure" books of my childhood: there's always an element of uncertainty as to what will come next. The course is there…but how you find it, and which route you choose is almost entirely on you. In ultra running, you learn how to follow the pre-marked course, mentally zone out, and dig deep to challenge yourself. In AR you can't do that. You have to be able to make decisions on the fly, work together with a team to come up with your strategy, and often face the unknown. The trail isn't marked. You don't know when you'll show up to a transition. How many miles will you be running? Depends on how well you find your checkpoints.
In short, it's vastly different, it's a ton of fun, and I am hooked.
Now that we've got that out of the way…on to the review. If you are new to my blog, welcome. I tend to write really, ridiculously long race recaps. But my mom always reads them and thinks they are great, so here we go.
Further, let me preface the rest of this post with the following: I am new to this sport. I am NOT new to blogging. I take pictures of everything, and the RD did say to bring your phone -it was even on the mandatory gear list. I'm not sure if it's taboo to have your phone out during an Adventure Race (due to the possibility of cheating with good ol' Google maps, etc.), but I promise it was in airplane mode the entire time.
Palmetto Swamp Fox Adventure Race Recap
After the flat tire incident, Geoff and I showed up to Buck Hall Recreation Center where we had reserved a campsite for the race. After setting up and eating dinner (food always tastes better when eaten outside!) , we headed to the McClellanville Town Hall for mandatory check in the night before the race. I apologized with a futile "I'm sorry, I'm driving on a donut!" to every car that passed me as I crept down highway 17 at 50 miles per hour.
Mandatory Packet Pickup
After signing our waivers, we were given bracelets with our team name, swag bag (T-shirt, buff, a UTM tool, and some Acel-Gels), our map, and ONE coordinate letting us know where to stage our bikes.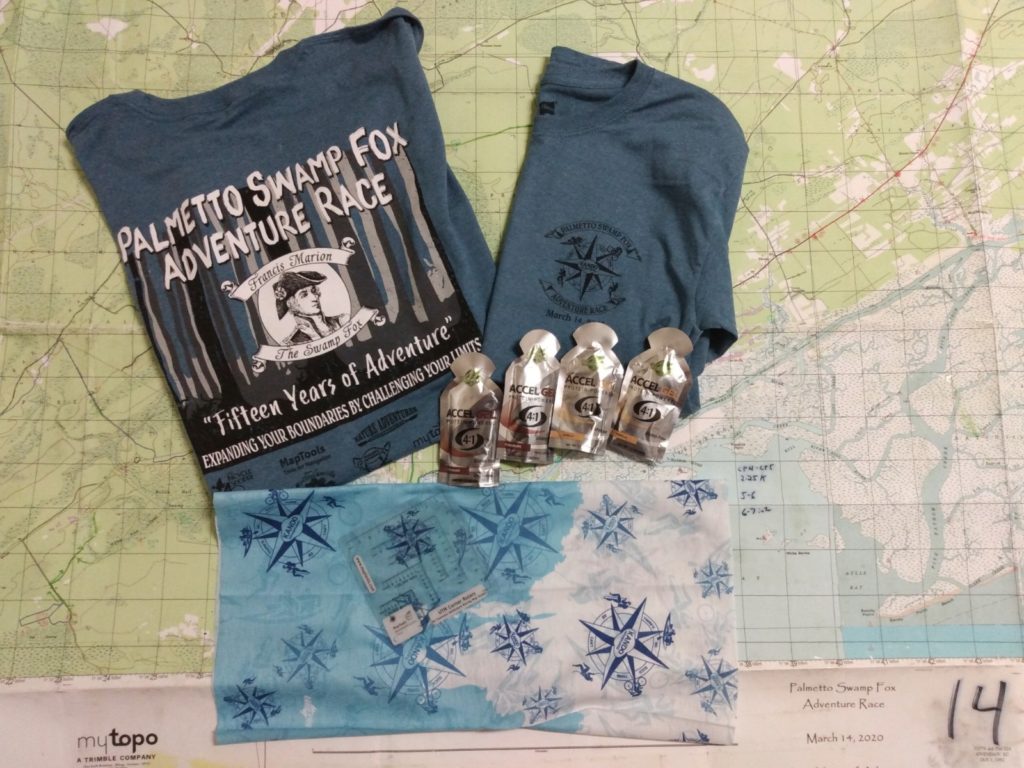 Prior to the race, we had decided that I would be the navigator of our two person team. This is likely because a) I'm really stubborn and like to be in control (hence, the tandem bike issues), and b) Geoff can't see very well without his glasses, so plotting a tiny point on a map with a hard to read UTM tool in the middle of the forest isn't ideal.
He also can't read the map at a picnic table either.
With my first AR, I definitely felt as though I had a bit of an advantage, as I knew the area the course would take place on like the back of my hand. Actually, probably better: I couldn't identify the back of my hand if you asked me to, but I could trace the trails of the Hulk with my eyes closed. Point being, as we plotted coordinates for that race, I would say "oh, well that makes perfect sense that they'd hide a checkpoint THERE" and knew exactly how to get to it.
With the Palmetto Swamp Fox Adventure Race, there was definitely a bigger air of mystery. That said, I am no stranger to the Swamp Fox passage of the Palmetto Trail and the Francis Marion Forest either. Granted, this forest is HUGE, but I certainly recognize portions of the trail and specific roads. And I'm comfortable navigating through the cypress tree root laden, almost always flooded trails.
You could say I'm easing my way into this navigating gig.
Anyway, we correctly figure out where to stage our bikes, and drop them off after the first of two pre-race briefings.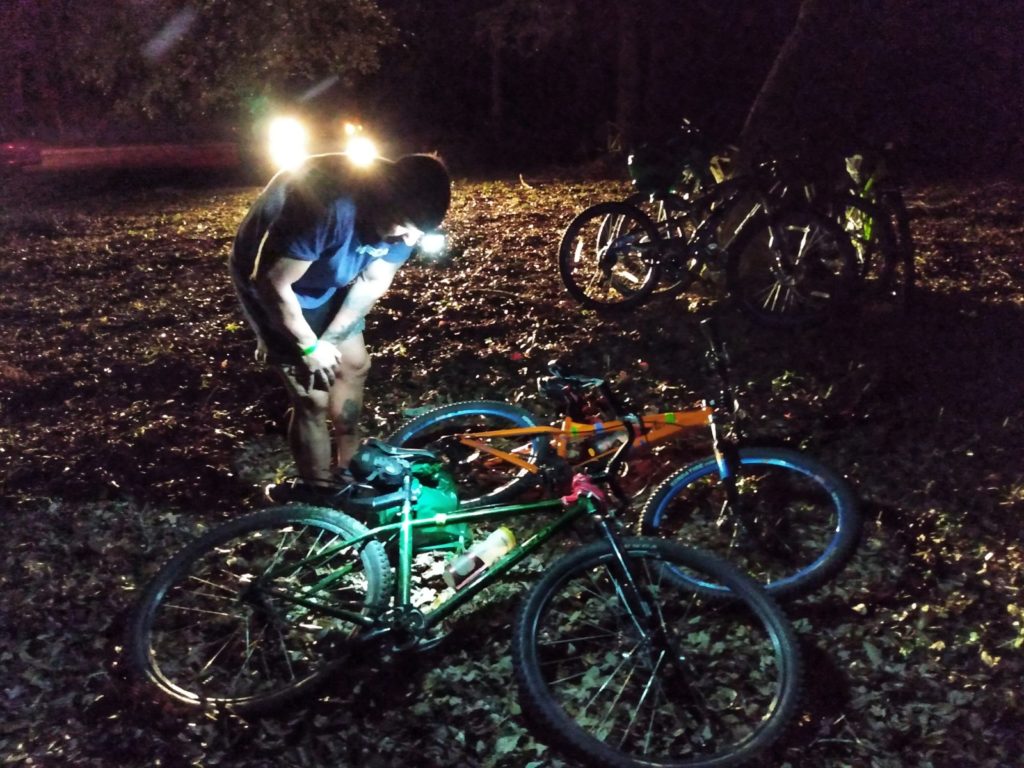 Race Morning: The Start
The next morning, we show back up to the Town Hall at 5 am and claim one of the oyster shucking tables under the building to spread out our map. The race director arrives a few minutes later and gives us our coordinates. Remember, you aren't allowed to use any sort of GPS or electronic device to find these coordinates on the map. You've got to use a UTM tool, and if needed, a compass, to find your way from point to point.
The race doesn't start until 7:00 am, but we are given this time to plot the check point coordinates and come up with a strategy. I get to work.
One of the different elements of an adventure race is that you don't always know what you've signed up for. The race website will give you a general idea, and you will be told what equipment you need to bring, but you will not find out specific details prior to race day. And even then, figuring out the exact details IS part of the event.
Here's what we know at this point in the day: there are 22 check points (CP's). We are given coordinates for CP 1-9, and 14 – 22. That lets us know that at some point, we will be given CP's 10, 11, 12, & 13, and have to plot them on the go. We also know we are starting with the boat portion. As I begin to plot, it becomes obvious that there is only one CP on the water. CP 2 is also a transition area (TA) and happens to be right near where we staged our bikes. So now we know that the second portion is likely on the bike.
Once I've plotted all 18 points that we are given on the map, Geoff and I start discussing and writing down how we plan to get from one to the next. Here's another unique part of Adventure Racing: you don't always have to go in order. It depends completely on the rules given at each race. At the Palmetto Swamp Fox Adventure Race, we are not instructed to go in order, however, the course seems to be a bit of a giant loop, making it easy to naturally go in numerical order.
O-Course & Earn Your Passport
At 6:45 am the Race Director gives us our second pre-race briefing. Help each other out, be safe crossing highway 17, look out for alligators (a legitimate concern here in the Lowcountry) and have fun. Oh, and you don't get your team passports (the laminated card that you punch at the various CP's to prove you've been there) until you complete an O-course challenge.
We're given a hand drawn map of the town of McCellanville, and a card with three location clues on it. We must find these locations, where we will find another clue that is part of a word/number matrix. Once we find all three clues, we have to come back to the start, solve the matrix to answer a question, THEN we're given our passport and can start the race.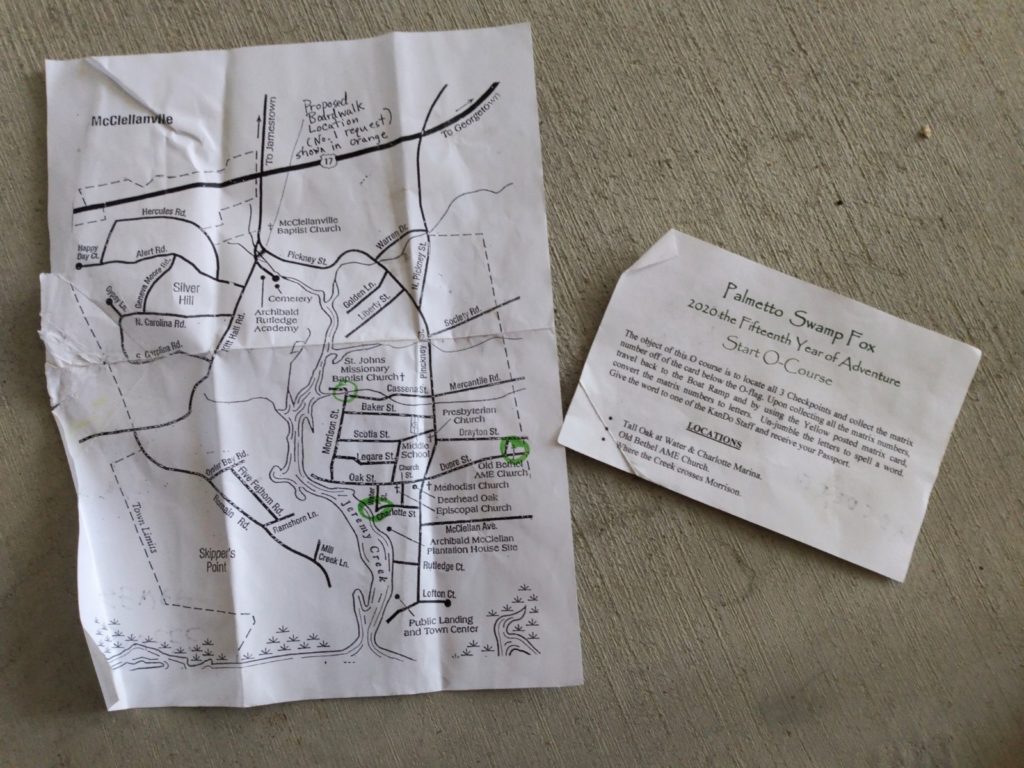 A loud cannon fires and everyone takes off. Geoff and I take a moment to look at the map and circle the locations. It looks easy enough. The town is small, and I can't imagine this would require more than a 2 mile run. We decide to go right and tackle the Old Bethel AME Church first, while most people seem to go left to find the other two points. According to the map, the church should be located immediately after a cross road connecting Dupre and Drayton streets. We run down the road as the sun slowly starts to come up.
We pass an old cemetery on the left, and in my mind I think "wow, that screams old church!" but, we haven't passed the cross road, so I ignore that thought. We keep running and see the cross street. It must be just a bit further! But we go a bit further and…nothing. Long story short, Geoff and I waste at least 20 minutes trying to find this church. I, being stubborn as hell (this is a theme, you'll notice) insist on running around, up roads, through someone's backyard (oops), adding a solid handful of miles (likely, I'm not wearing a GPS) trying to find this church that does not exist.
Eventually, I remember the graveyard, mention it to Geoff, and we head over to check it out. Sure enough, hidden in the woods behind the graveyard, is the damn church. (Can you say "damn" and "church" in the same sentence? Eh, it's my blog. )
We're off to a hell of a start.
From there, fortunately, we find the other two clues without any issue. Once we arrive back to the start, we are the only ones there. After that church SNAFU, we are literally in last place. Everyone else has already taken off on their boats. Fortunately, I'm just happy to be here, so that normal, obnoxiously competitive side of me stayed home. Now, I've likely put more running into my legs this morning that I have in MONTHS, and I'm already tired. I walk over to the matrix with my clues.
B – 6
B – 3×3
E – 1
I'm usually a whiz with these things, but now I've gone and put myself into Z-4 only an hour into the race, and I might as well have rocks for brains. I stare at it like an idiot, long enough for the race director to take pity on us and say "it's not a math problem". That's enough of a clue to suddenly snap me out of it. I figure out the answer, and we head to our rental boat.
The Paddle
Because we live in a third floor, tiny apartment with little storage space, we do not own a tandem kayak, or any kayaks for that matter, much to my husband's dismay. So we rented one, which is always an adventure in and of itself.
Similar to borrowing a bicycle, renting a kayak always comes with the "is this thing going to fit / function correctly / etc?" question. There is nothing inherently wrong with our kayak, other than Geoff cannot get his foot pegs adjusted properly, and my seat is so low my triceps graze the side of the boat with each paddle stroke.
Never the less, we persist. And I take the time to take a selfie, much to my husbands apparent amusement. We're in last place, what's a few more seconds?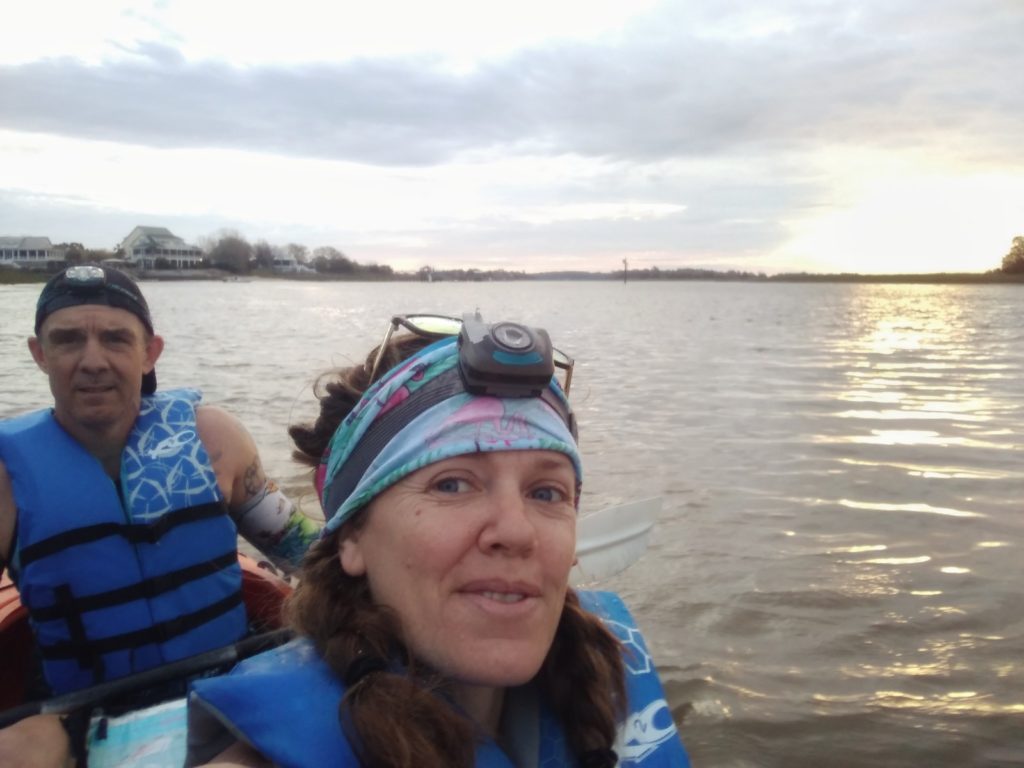 We see a beautiful sunrise, watch the pelicans swoop by, spot Kingfishers and American Oyster Catchers (my bird-nerd is showing) and see dolphins not 50 feet from our boat. We also catch up to and pass a handful of teams on our way to CP#1.
The first checkpoint is located about four kilometers down the Intracoastal Waterway, and another kilometer up a creek. Yeah- kilometers. As a long time imperial measurement user, this transition to metric was odd for me at first. But, the map is blocked off in kilometers, and it makes measuring distances much easier to simply give in to the metric side.
The paddle is long and rough, not because of conditions, but rather due to lack of paddle specific training. But I'm so grateful it's a beautiful day and relatively warm (it's probably in the mid 60's), so I focus on that. At one point I ask Geoff if people who actually practice paddling avoid getting as wet as we currently are. Every paddle stroke seemingly brings a few ounces of water into the boat, and everything I own is absolutely soaked. I alternate between strong, race quality paddle strokes, and "casual day on the lake" grandma strokes to relax. My traps are killing me from having to hold my arms above the sides of the cockpit (the internet tells me this is called the "coaming") so I don't chafe the hell out of my triceps.
Because it's low tide, and the pluff mud and oysterbeds are a nasty risk, the RD tells us before the race that we have to "report what we see" in lieu of punching our passport to earn credit for CP1. Eventually we come around a bend in the creek and see the bright orange and white CP flag hanging in the trees up on the bank. Next to it is a large sign with the KanDo Adventures logo on it, and the word "Jerry" printed in large font. Because everything is soaked, I make a mental note to not forget the word "Jerry" and vow to sharpie it on our passport when we reach dry land.
But first, we have another 7 or so kilometers to paddle first. We smack each others paddles more than once, and take turns resting when we can. We learn quickly that if we both rest at the same time, the kayak immediately spins us 45 degrees and tries to beach us on the shore. It's blatantly obvious that we are lacking paddling practice, but I'm also grateful for our 5 day a week heavy lifting gym routine. My lats may not have endurance, but they are strong, damnit.
TA 1 / CP 2
We reach the dock of Nature Adventure Outfitters, the same (general) location where we left our bikes. The convenient thing about being at the back of the pack is that there is NO mistaking that this is the transition area – the lawn is littered with kayaks.
An NAO employee gives us instructions while I try to climb out of the boat. And by "climb" I mean flop myself from the seat onto my butt on the dock. My legs are surprisingly feeling like JELLO, something I definitely did not anticipate from kayaking. Regardless, I'm glad to be on shore. Geoff and I haul the boat up onto the dock and over to the check in. I give our team number to the volunteer who asks, and immediately start shivering, realizing that I am soaked.
But, I gather our things knowing that the sooner we get moving, the sooner I will warm up. I know that our bikes are about a quarter mile away. I also know that CP#3 is near the bikes. So, I punch our card with CP#2 (the ones at TA are easy to find!) and we take off running towards our bikes.
In retrospect, no one ever told us that this is where we were supposed to transition to the bike portion. In fact, at this race there really weren't many instructions at all – which I kind of liked. But, this is another aspect of adventure racing: you have to use your head and figure it out.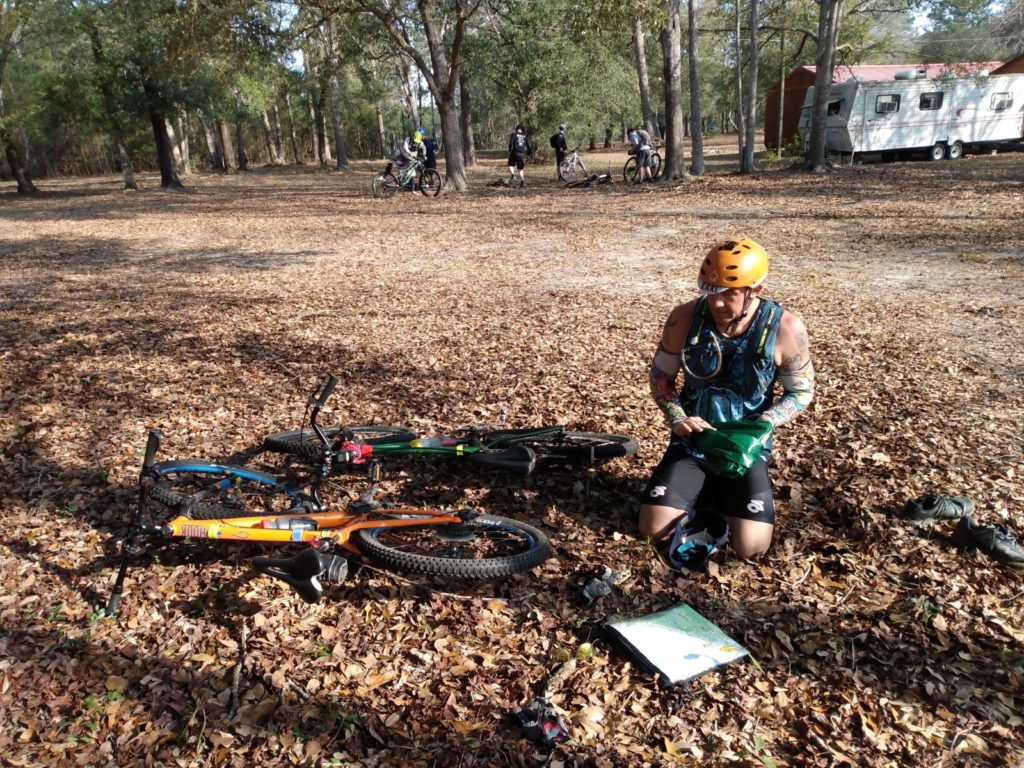 We get our cycling gear on and head towards the back of the NAO building where CP # 3 should be. We find a bunch of guys standing around with their bikes on the ground – and that's when I see it:
CP 3 is on an island in a pond. And there is a canoe, and a rope, to take you there.
It's not until we are on our return trip from punching our passport, and we've almost made it back to the shore, that one of the race volunteers comes up and says "Where did this boat come from? See that pile of PFD's? You guys were supposed to swim over!" I laughed a little, and sent out a giant "thank you" to whatever racer before us commandeered a canoe and put it to use. I found out after the fact that many of the front running teams did, in fact, swim across. Either way, we have CP3 done, and now we're headed out on trail.
Bikes & the Palmetto Trail: CP 4-7
For the last three years, Geoff and I have participated in Eagle Endurance's Swamp Fox Ultra, which starts at the Buck Hall end of the Swamp Fox passage of the Palmetto Trail. Which, according to my map, is exactly where the next handful of check points are located. I've also put in a couple of training runs out here as well, so I know this section of the trail.
That said, we're still confused when we see a cemetery symbol on the map right near where we've plotted CP4. I've never seen a cemetery out here before. But we stop near where we think it should be according to the map, and find a handful of other racers there too. I look into the woods and notice a beautiful, bright pink flowering tree. Next to it, a green chain link fence I've never seen before. That's when another race turns to me and says "head to the fence line. You'll see it". Thanks dude! Being new to the Adventure Racing scene, I don't know how competitive/secretive people are about these things. But I also know that this middle to back of the pack group isn't gunning for the overall title, so there's likely some competitive leeway.
The good news is that I return the favor to another group, when I spot CP5 in a tree at the edge of a creek, and a handful of other teams are on the wrong side of the creek looking for it. Before I see it though, we too are on the wrong side of the creek. I look at my map and tell Geoff that it has to be back on the prior side, as that's where I plotted my CP. I turned around to point to where I thought it should be, and sure enough, there was the O-flag. It was in that moment I learned my first important Adventure Racing lesson of the day:
Trust your plotting.
Don't fall into the trap of following the crowd, because you don't know how well the navigator leading the masses has plotted their check points – or if they even know where the hell they are going.
We ride back over the bridge, ditch our bikes, and bushwack towards the tree holding the O-flag. It's up a tree, and we quickly decide that Geoff and his stronger upper body (and longer arms) is much better equipped for climbing up this tree. He takes off his bike shoes, climbs, punches the passport, puts the shoes back on, and we're off again.
As we pass the team on the other side of the bridge, we return the favor and point them in the right direction.
It's at this point that I drop my chain. Geoff fixes it for me. Shortly after he drops his. Twice in a row. Little did I know, this would be a theme for the rest of the day.
We find CP #6 and #7 relatively easy as well. The first is at an intersection of the Palmetto Trail and Steede Creek, a few hundred feet up the creek, exactly where I plotted it. #7 is at the end of a dirt road, again, an easy find.
I'm feeling dangerously over confident.
But, as if the universe wanted to check my ever increasing confidence, on that same dirt road, (maybe a 4 km round trip) Geoff drops his chain at least 3 more times.
CP 8 & 14
When we had plotted our CP's, we took a bearing from CP 7 to 8. They were maybe less than 2 kilometers away from each other, but there was no direct route there. At the start of the race, we figured we could bushwack our way there, following the compass. However, once we reached CP 7 and saw the state of the forest (swampy and thick), we opted to take the road around instead. Sure, it was about 7.5 kilometers instead of two. And I won't lie, at first I protested. Why would we go nearly twice as far when we could just cut through the woods? Geoff explained that on the road, we know we can easily maintain 25km/hour (about 15 mph) on his single speed and my mountain bike respectively, with a direct, sure fire route. But trudging through the woods could be much slower, and we weren't guaranteed to be going the right way. Sure, going around was longer, but it was also a safer bet, time wise.
Lesson number two of adventure racing: shorter is NOT always better.
I HATE riding my bike on pavement. I'm terrified of distracted drivers, as well as the assholes who think it's hilarious to scare cyclists. South Carolina seemingly doesn't believe in shoulders on the road, so it gets a little hairy. Thankfully, we aren't on the main road for long before we turn onto another dirt road. The Francis Marion National Forest is FULL of dirt roads and fire roads. A few days before the race, Geoff purchased a $15 non-GPS bike computer (remember those things?) which are actually legal in Adventure Racing. I'm super grateful he did, as it allows us to be more confident in our directions and when to turn, and not stress about every single cross road we see.
On our way to CP 9 and TA2, we pass CP14. As mention, you don't always have to go in order when it comes to collecting check points, so we take this opportunity to grab 14 since we are passing anyway. My confidence is temporarily shot as I am convinced the check point is on the opposite end of the bridge and swamp where we find other racers also looking for the check point. Another racer points me in the right direction, and we muck through the swamp to find another O-flag in another tree.
Geoff drops his chain a few more times, and eventually we make it to TA-2
TA-2 / ION Swamp O Course / CP 9-13
Once we reached transition area two, we were handed four new coordinates that were to be completed on foot. The volunteer handed them to me, and emphasized that we MUST stay on the levies or the trail, and to stay out of the water. Apparently, there were already a handful of gator sightings that day already. Eeek.
Prior to the race, we were allowed to pack a small drop bag of extra food and water. Remember, these races are self supported, so there is no fancy aid station table full of amazing snacks. As I get to work plotting checkpoints 10-13, Geoff hands me a grilled cheese that I had made the day before (you guys HAD to know there would be a grilled cheese at some point, right?) and a clementine orange. It's about 12:30 pm, and I'm super thankful for "real" food (as opposed to the gels and chews I've been eating all morning). I plot the coordinates, and we take off on foot.
My dumb-ass keeps my helmet on, but it's for the best, because eventually I run into a low hanging branch.
In a triathlon, one of the important purposes behind a brick workout is to become accustomed to the cement-leg feeling that you get when you transition from biking to running. Well obviously I've done no training of the sort, and the last ten(ish) miles of mountain biking has settled into my legs. I feel like a lumbering baby giraffe who is taking her first steps. My legs don't want to work. Further, for whatever reason, I have no idea where we are. I mean, I know we are on the Ion Swamp Trail, and I know that it's not very big at all. But my normal pretty decent sense of direction is all turned around, and I run us right past the first CP (10) I turn left when we see other teams looking around, and am surprised when they say they are looking for CP11. And, after about 15 minutes of back and forth looking around, NONE of us can find it.
During this search party, one of the other racers points towards CP 10 which is just behind us, so Geoff and I traipse off to grab that one. When we come back, everyone has left CP 11, but I still think we are in the right spot.
We are not.
Eventually Geoff convinces me to get back on the trail and reassess where we are. Did I mention I'm stubborn? We decide to head a bit further down the trail, and see a sharp right hand turn in the trail, which is where I mistakenly thought we were the first time.
Ooops.
We find CP 11, and then follow the trail towards where 12 should be. We make a wrong turn down the first levy, come back, and then try again on the next one. Bingo. 13 comes quickly as well.
We're back to the TA, and I show our passport card to the volunteer. He allows me to punch #9, and then we regroup for the next half of the race.
And that's where everything started to fall apart. Mostly, Geoffrey's bike.
CP 15 – 19
Geoff's chain is dropping at more regular intervals. I'm counting, as we've easily reached double digits. You can see that the chain is loose, but not so loose that you can take out a link. Geoff says something about cranks and shafts and that he doesn't have the correct tools, but I have no idea what the hell he's talking about.
I'm an ultrarunner, damnit.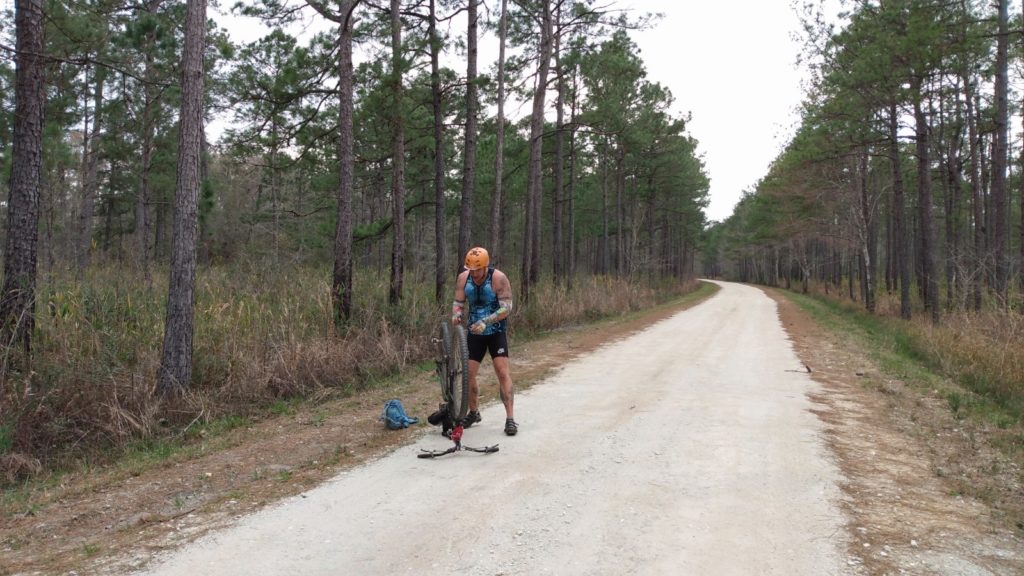 At least a dozen of us completely miss CP 15 , by a LOT. We're all standing at the intersection where we think the CP should be, not realizing that we all read the map completely wrong. For a while, the Palmetto trail and the dirt road we were on merged together. Then, the trail continued, while the dirt road took a hard curve to the right. Though, it wasn't an obvious intersection. What we SHOULD have done was stay on the trail, but we all stayed on the road. After a solid 10 minutes of wandering through heavy, sharp (you should see Geoff's legs) brush, I realized where we went wrong – sort of.
I recognized that we needed to go back to the trail/road intersection. A bunch of people agreed, and we all went back. The bitter irony of course, being that we when we passed that trail intersection, other teams were there, and I laughed to Geoff, thinking they were way off.
Once we reached that intersection and stumbled around in the woods again, to no avail, another racer observed that we STILL weren't at the correct intersection, and needed to go even further up the trail
Lesson number three: pay closer attention to not simply turns or intersections, but when roads switch to trails, and vice versa.
CP 15 is finally found. We all head off in the same direction and easily find CP 16. However, this one isn't a simple punch of the card. You have to climb a rope ladder suspended at a 45 degree angle. Another racer, who has just finished the CP, says "it's not so hard, just hang upside down, the ladder doesn't flip". I try and get instant vertigo.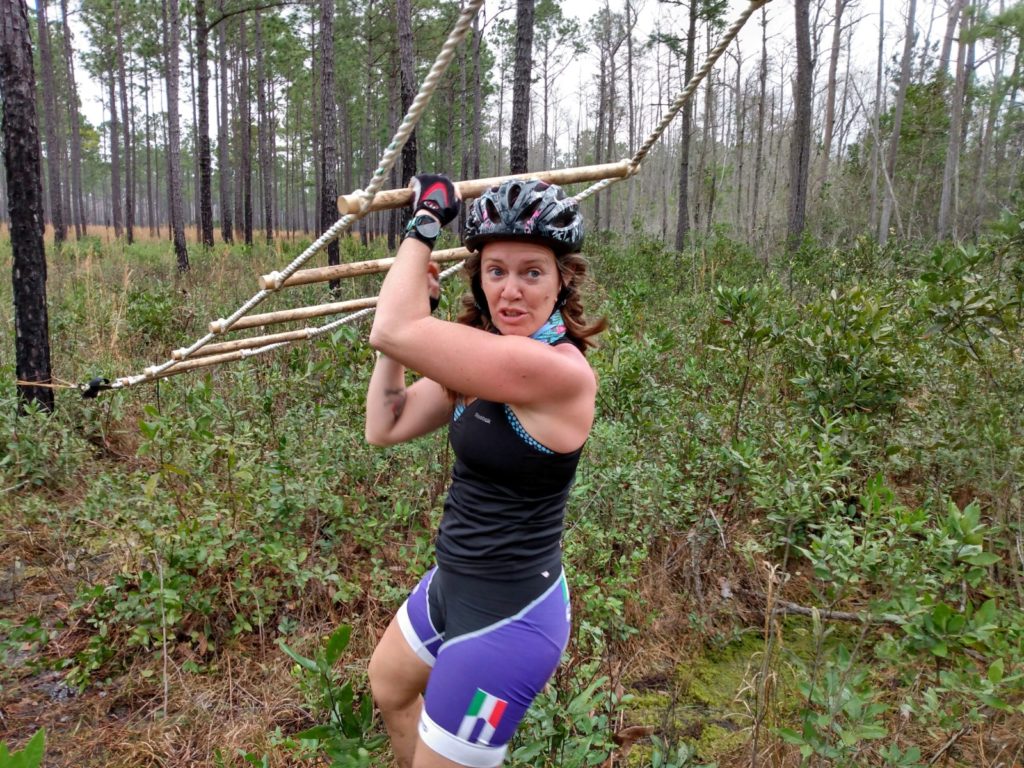 Geoff grumbles a bit. He's had to do all of the climbing so far, and clearly is over it. I get wildly defensive and remind him that he was the one who told me not to do anything I wasn't comfortable with. And I don't feel like falling ten feet out of a tree, thank you very much. I'm not competing, I'm happy to skip this CP, so if he wants that check point, he's got to climb.
I know, where the hell did crazy competitive Heather go? No idea.
Reluctantly, Geoff climbs, and struggles getting the passport card into the hole punch, and punching the card, with only one hand. He used his teeth, and I didn't document it, because I was too terrified of him falling. So here's an "after" photo instead:
In retrospect, it wasn't that dangerous…I was just begining to bonk and my mind wasn't thinking clearly.
We head back down the dirt road, and Geoff proceeds to drop his chain another half a dozen times. At this point, all I can do is laugh. We've lost at least a half an hour, if not more, of him fiddling with his bike chain over the course of the last 7 hours. I will say, almost every single team that passed us during these mechanical issues asked if we needed help, which was awesome. But I won't lie, it was disheartening to realize that all of the time we made up and teams we passed from our initial last place start (and it was quite a few) were passing us by again.
(Theeeere's that obnoxious competitive spirit. You knew it couldn't stay away…)
We find CP 17 without much problem. This is the first one that we have to follow a bearing we had previously determined, and much to my amusement, it works exactly as planned 18 is a little more difficult, as I overshot our estimated entrance point into the forest. But we eventually find it.
As we head for CP 19, a link in Geoff's chain actually blew apart. At this point, I've become so accustomed to hearing the clanking noise followed by the squeal of breaks, that I knew to stop. We sit here for maybe 15-20 minutes while Geoff fiddles with, and curses at, his bike. As mentioned before, the chain was too lose to stay put, but with a missing link, was too short. I take out my phone, and double check that I had saved the RD's phone number.
In my head, this is it. The irony of being wildly under prepared and under trained, yet having to DNF because of mechanical issues out of our control, is not lost on me. We're going to have to call for a rescue.
I contemplate calling Chad Haffa instead – that guy has rescued me from this forest more than once. It makes me laugh, because I know he'd do it – and give me a hell of an earful for it. Geoff claims he'd take the chain completely off the bike, lower the seat, put me on it, and tow me out using my bike instead of calling for rescue.
Me and my control issues are super glad it doesn't come to that.
The chain is once again reassembled and Geoff's bike is working. We are barely a kilometer away from CP 19, and find it easily. We look at the time …it's nearly 5 pm. The race ends at 7 pm, and you loose a check point for each 15 minutes your late. Plus, one person on your team has to complete a mystery "final challenge" before you get an official finishing time. We have no idea what that challenge is, nor how long it would take, and at this point we know we probably aren't going to get all of the CP's. We decide going back is our best bet.
The Part Where I BONK
We look at the map and determine the best way back. It's actually the same route I had earlier plotted to CP 20. Yet, I wondered why we had seen a number of teams leaving CP 19 and heading back the way they came, rather than taking this particular route that was clearly marked on the map and more direct.
Here's another thing I learned about this particular AR: clearly, I don't understand road markings. Some dirt roads were differentiated with a different pattern or thickness in the line. Others weren't. Some, that should have been (according to the markings), crappy dirt roads, were actually paved. Others, that should have been passable dirt road, were barely a trail
Or, in the case of the route I had planned to take from CP 19 to CP 20, just came to a complete dead end in the middle of the forest.
Listen, I am new to this sport, and orienteering in general, so I have no idea what happened here. But I do know that a route that was CLEARLY marked on the trail as a connected road just ended about 1km down what should have been a 3 km trip, and it could not have been at a worse time.
As we turned around to go back to where we came from, my blood sugar hit my feet. I could barely keep pushing myself forward through this muddy, grass covered road. I shouldn't have been surprised: I haven't put in an endurance effort over an hour since November. Frankly, I'm shocked I've made it 10+ hours feeling so strong.
But now, Geoff had left me in the dust, with the wise and encouraging words of "we need to move faster". Having been in this boat – the blood sugar bonk boat – endless times before, I knew I had to just gut it out and wait for the Stroopwafel that I had just eaten to kick in. There's no crying in trail running. Or Adventure Racing, I presume. But try as I might, I could not move faster.
I was so freaking grateful when we returned to the original dirt road. From here, we looked at the map and found the next direct route back to the McClellanville Town hall. Geoff drops his chain a good three or four more times for good measure (I am not exaggerating), but our direct route is a sure fire one.
It was hard to pass other teams clearly looking for CP's 20, 21, & 22. But not knowing if Geoff's bike was going to even make it back, we figured the best bet at this point was to just focus on getting to the finish.
(For the record, I stopped counting dropped chains at 25. It happened a few more times on this straight route back to the finish).
We arrive with 45 minutes to spare. I head to the table, and hand the volunteer my passport. I ask him "What's the final challenge?" and he responds "Oh, yeah, you don't have to do that anymore. It was supposed to be a climbing wall, but they showed up an hour late, so the race director sent them away. You're done." And with that he punched our final time stamp.
EPILOGUE
My skin is sunburnt, chaffed, scratched from head to toe from thorns and branches, and littered with bites from the endless mosquitoes and no-see-ums. I'm covered in swamp mud and my feet, which have been wet for the last 11+ hours, are starting to rot inside my shoes. I'm utterly exhausted – that's the furthest I've ever rowed, and the furthest I've ever ridden my bike, and while a runner through and through, I certainly haven't been doing any sort of cardiovascular endurance training lately.
Yet, I'm so satisfied, and cannot get over how much FUN I had. In fact, I walked right over to the race director after we finished and told him that I have been racing for well over a decade, have run hundreds of miles in this very forest, including a 100 mile foot race, and I've NEVER had as much fun as I had that day (sorry other RD friends. I still love you too, but this was a blast).
And it's not just the multi-sport concept that I loved about this event, or Adventure Racing in general. It's the idea that not only do you have to self-propel your body from one point to another over a ridiculous number of miles, but you have to be really strategic about how you do it. It's the natural high that you get every time you successfully find a check point. It's the "unknown" element to all of it.
It's just really freaking fun.
In the end, Geoff and I actually won first place in our category (co-ed team of two) which was very satisfying. I felt like we had a good day, and had we lost placings simply due to the bike malfunctions, that would have been super frustrating. We were given really cool medals, and got to choose a prize off of the table. It was mostly bike gear and so I panicked and asked Geoff to tell me what to grab (I'm SUCH a runner…). We ended up with a new bike tire (Geoff needed one. Actually that stupid bike needs a lot of things at this point, but I digress) and a bike pump. Hooray!
My 2020 KanDo Palmetto Swamp Fox Adventure Race was an absolutely incredible experience. After a bit of a slump in my endurance world, due to medical issues and simply being burnt out from ultra training, I'm stoked to have found something new and different that has gotten me excited about training again.
Here's to new adventures…