Last Updated on July 24, 2015 by Heather Hart, ACSM EP, CSCS
Want to find out, in three miles or less, if a running shoe is right for you?  Put them on, then get caught in a monsoon/severe thunderstorm, and quite literally run for your life.  You'll find out really quickly if you like the shoe.   That's exactly what I did with the Saucony Kinvara 6.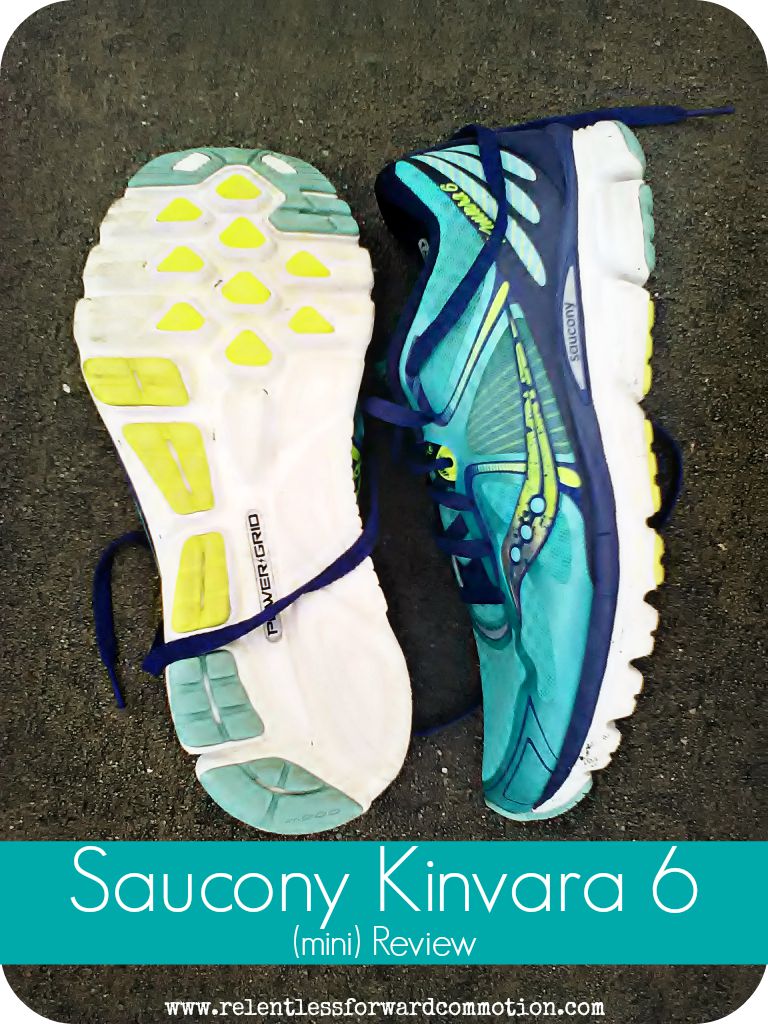 Our local running store, Black Dog Running Company, is pretty amazing.    Not only is their staff incredibly knowledgeable and super friendly, but it seems almost weekly they put on free special events for the running community.   Yesterday BDRC brought along Kara, a rep from Saucony, to let our group of runners put Saucony's new line of shoes to the test.
And did we ever test them.
(Once again, please excuse the horrible photography.  A) I didn't initially expect to write this review, and B) I'm wildly disappointed with the camera on my new cell phone.  Say it with me now, first world problems.)
As Geoff and I walked up to the group before the run, I saw that someone had on a pair of the new Kinvara 6's.  I got a little giddy and quickly asked "Do you have Kinvara 6's in a bigfoot size 10?"   The Kinvara 5's were one of my absolute favorite shoes this past winter and spring, having done a lot of treadmill training on them, and running the 2015 All American Marathon in them.  Much to my excitement, Saucony Kara did have a bigfoot size 10 for me.  I quickly handed over my own shoes for collateral, and sat down on the ground to put them on.
OVERVIEW
Updates to the FlexFilm delivers an even more dialed-in fit while maintaining the same light weight experience
Sporting a new open and breathable mesh for that wind in your toes sensation
The Pro-lock lacing system provides a secure midfoot fit
SPECS
Shoe Category: Natural Running, Neutral
Pronation: Neutral
Cushion: Responsive
Construction Type: Natural Motion
Surface: Road, Track
Arch: High, Normal (Mid)
Water Resistant: No  (hahaha…you just wait…)
Waterproof: No
Offset: 4mm

Heel Stack Height: 22mm
Forefoot Stack Height: 18mm
(mini) REVIEW:
I don't consider this a full review, because while I put in a good 3.2 miles on these shoes, I had to give them back when I was done.  But, having spent a lot of time in the Kinvara 5's, I can give you my run down on immediate comparisons.  But first let me tell you about this run.
We lined up for a quick group photo…
..and then were told the route would be altered to give us a "bail out" option, due to the impending storm.  Literally seconds after we began running, the sky opened up and started spitting the biggest rain drops you've ever seen at us.   Geoff and I laughed; after trying to adjust to the insane heat we've had down here the past month and a half, we welcomed a soaking wet run.  Seconds after that, we were in full torrential "I can't see where we are going" downpour.  And seconds after that…the lightning started.   And it quickly became violent and very close, with lightning striking all around us.  About a half mile into the run we passed a picnic shelter at the park, and a big group of us decided to take shelter and wait out the worst of the storm.
About 15 minutes later the lightning had subsided, and even though the sky was still dumping buckets of water on us, we continued with the run.
THE KINVARA 6 has all of the features we've come to love in the Kinvara series: a 4 mm drop, lightweight, slightly cushioned ride that simply feels like you aren't wearing any shoes at all.  Though, if anything, I would say that I did notice the Kinvara 6 to feel *slightly* more cushioned than the Kinvara 5.
It hugged my feet in all of the right places…with the exception of my forefoot.  There, specifically on the left side, it seemed to hug a little bit too much.  I spent the last mile of my run debating whether the forefoot was smaller than the Kinvara 5, or if the fact that my feet were absolutely soaking wet had any effect on the hotspot.  In the end I decided the shoe just felt smaller.  Upon arriving home, I checked out a few other reviews who confirmed that they felt the Kinvara 6 ran slightly small.  So keep that in mind when ordering. To be honest though, I'm not sure I would have wanted to go a half size up. I would have to test run in a bigger pair before deciding if it was a sizing issue or simply a narrower toebox.
Not that most people typically care when it comes to a road running shoe, but the Kinvara 6 drained really, really well.  I was in ankle deep puddles at one point. I truly felt bad for Saucony Kara who was sent home with probably 15 pairs of soaking wet demo shoes.
In conclusion…
This was a really short review (3.2 miles short) that probably isn't incredibly helpful, but I felt like writing it anyway.  I will say, however, that the forefoot issue was enough for me to suggest to any Kinvara fans itching to get Kinvara 6's to take the time to visit your local running shop to try them on before buying.  If it was noticeable enough after only 3 miles, I can't imagine how uncomfortable that might have been after 10 miles or more.   Other than that, the Saucony Kinvara once again proves to be a great, low profile shoe for those of us who need something *just a little big more* than an uncushioned, unsupported, barefoot shoe.
Heather Hart is an ACSM certified Exercise Physiologist, NSCA Certified Strength and Conditioning Specialist (CSCS), UESCA certified Ultrarunning Coach, RRCA certified Running Coach, co-founder of Hart Strength and Endurance Coaching, and creator of this site, Relentless Forward Commotion.   She is a mom of two teen boys, and has been running and racing distances of 5K to 100+ miles for over a decade.  Heather has been writing and encouraging others to find a love for fitness and movement since 2009.