Last Updated on February 4, 2022 by Heather Hart, ACSM EP, CSCS
Every runner knows that feeling: you're running along feeling on top of the world, when BAM! It feels like someone stuck a knife in your side. Typically in the lower, right ribcage area, a sharp pain appears out of nowhere that nearly causes you to double over. The pain makes breathing difficult, and running feel impossible. It's the dreaded runner's side stitch.
There probably isn't a runner on this planet that doesn't know what I'm referring to: experiencing side stitches when running is almost a runner's rite of passage, up there with blisters and that first post-run-shower where you suddenly and painfully realize you've chafed miserably somewhere.
But have you ever wondered exactly what a runner's side stitch is? Have you wondered what causes it, if it's dangerous, or why you might not experience it as much as you once did when you were a newer runner?
Let's dive into the science a little deeper: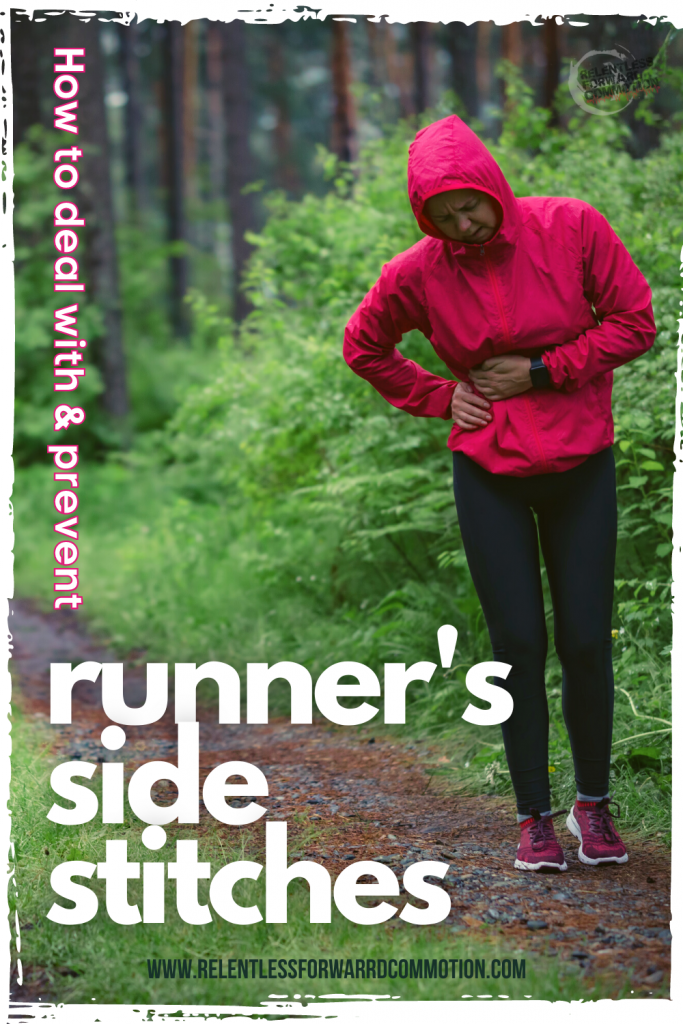 Heather's note: Does this article look familiar? That's because I initially wrote it in 2013. The thing I love about science is that it's constantly evolving. Scientists are endlessly seeking new evidence to either prove, or reject, hypothesis that we currently hold. And believe it or not, the science behind why we get side stitches has since evolved as well. As such, this post was long overdue for an update.
What Exactly IS a Runners Side Stitch?
A side stitch, technically referred to as "Exercise Related Transient Abdominal Pain" (ETAP) is an incredibly common, yet painful condition that affects athletes across a multitude of sports.
ETAP is defined as localized pain that is most common in the sides of the mid abdominal area (most frequently on the right side) and along the edge of your ribcage, although it may occur in any region of the abdomen. The pain can vary from sharp or stabbing sensations, to cramping, aching, or pulling.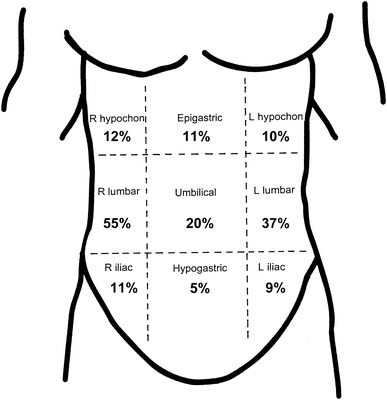 While no one is immune to this unpredictable pain, runners in particular are no strangers to the dreaded side stitch. In one study, researchers questioned 439 runners regarding their experience with ETAP. 69% of participants said that they had experienced a side stitch while running during that year alone (3). That was a higher percentage than all of the other athletes from other sports and activities reported.
Are Side Stitches Dangerous?
The good news is that ETAP, or the side stitch, is not dangerous, or a sign that something is wrong with your body. Are side stitches unfortunate, frustrating, and do they have the potential to ruin your run? Yes. But your health is not in any risk.
Who is Most Likely to Experience Side Stitches When Running?
Some of you more experienced runners may be reading this thinking "oh yeah, I remember getting side stitches…but I haven't had one in a while!" This is not uncommon.
In fact research shows that both younger runners and newer/less trained runners are most likely to experience side stitches (but, experienced athletes are not immune from the condition!). Some statistics demonstrating risk factors of developing side stitches include:
77% of active individuals under the age of 20 years experienced, whereas only 40% of individuals over the age of 40 years.
Both the frequency and severity of ETAP have been shown to significantly decrease with increasing age.
Well conditioned athletes were found to experience ETAP less frequently than less conditioned individuals
While younger runners appear more susceptible to the pain, side stitches are reported to be relatively uncommon before the age of 10 years.
Gender and body type seem to have no effect on whether or not a runner experiences side stitches. (7)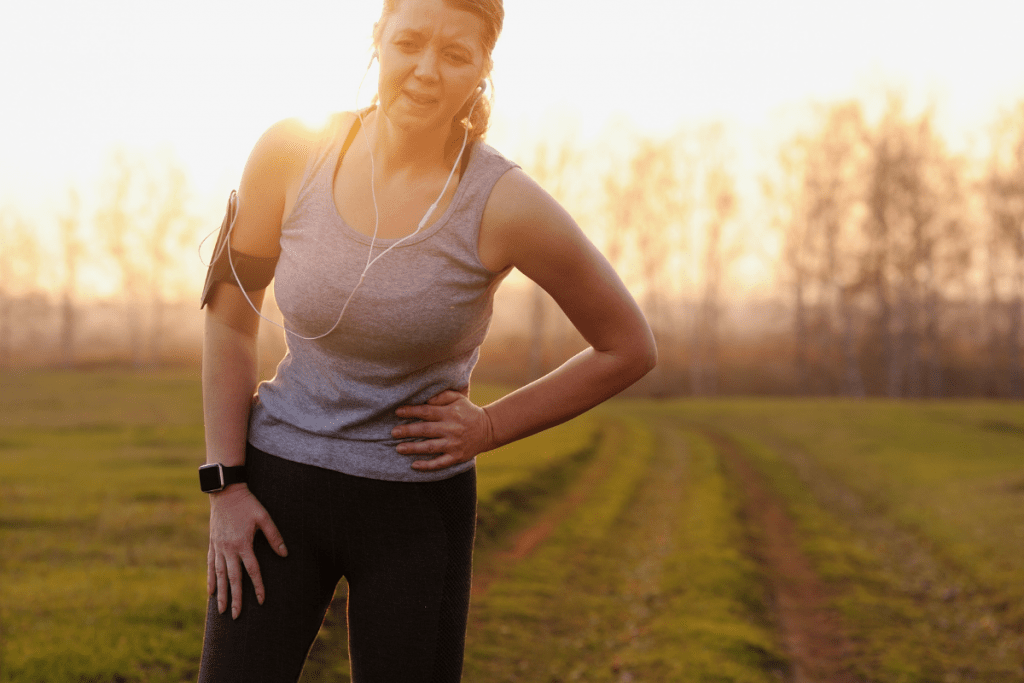 Does Running Intensity Increase the Likelihood of Side Stitches?
If you're suffering from side stitches while running, you might be wondering if it's due to "running too hard", and if you slow down, maybe you'd avoid this painful condition.
Unfortunately, science suggests that effort and intensity might not necessarily have an effect on whether or not you'll get a side stitch while running.
Smaller studies have reported that 21% of runners during a 10km experienced a side stitch, while 19% of runners in a 67km ultramarathon experienced a side stitch (7), suggesting that one in five participants in a running event are likely to experience ETAP.
Common Side Stitch Misconceptions:
I'm going to work backwards in this post for a bit, and before I tell you what scientists and medical experts currently think causes side stitches when running…I'm going to tell you what probably doesn't cause them.
The truth is, there was minimal research available behind ETAP for a long time. Much of what we thought caused side stitches came from research performed in the early 1950's or prior.
Fortunately, in the last few decades a handful of researchers have begun to dig much deeper into the science behind side stitches…which is how we can now disprove the following common beliefs:
A Side Stitch is NOT a Cramp.
A muscle cramp is a sudden, sustained, and involuntary contraction of your muscle tissues. Cramps can actually be measured by recording electromyographic (EMG), or the electrical activity occurring in skeletal muscle during a cramp.
During an EMG, one or more small needles are inserted through the skin into the muscle. The electrical activity, if present, is picked up by the electrodes (needles) and is then displayed on an oscilloscope (a monitor that displays electrical activity in the form of waves).
A 2008 study to determine whether or not EMG activity was present during episodes of side stitches found that there was no distinguishable EMG activity, leading researchers to conclude that that the pain associated with side stitches are not the result of skeletal muscle cramping (4)
The Diaphragm Most Likely Isn't Responsible
Previous theories focused heavily on the possibility of lack of blood flow or inhibited movement of the diaphragm being the cause of side stitches.
The diaphragm, for those unfamiliar, is a dome-shaped muscle that separates the thorax (upper part of your torso) from the abdomen (lower part of your torso). The diaphragm plays a major role in breathing, as its contraction increases the volume of the thorax, and in doing so, inflates the lungs.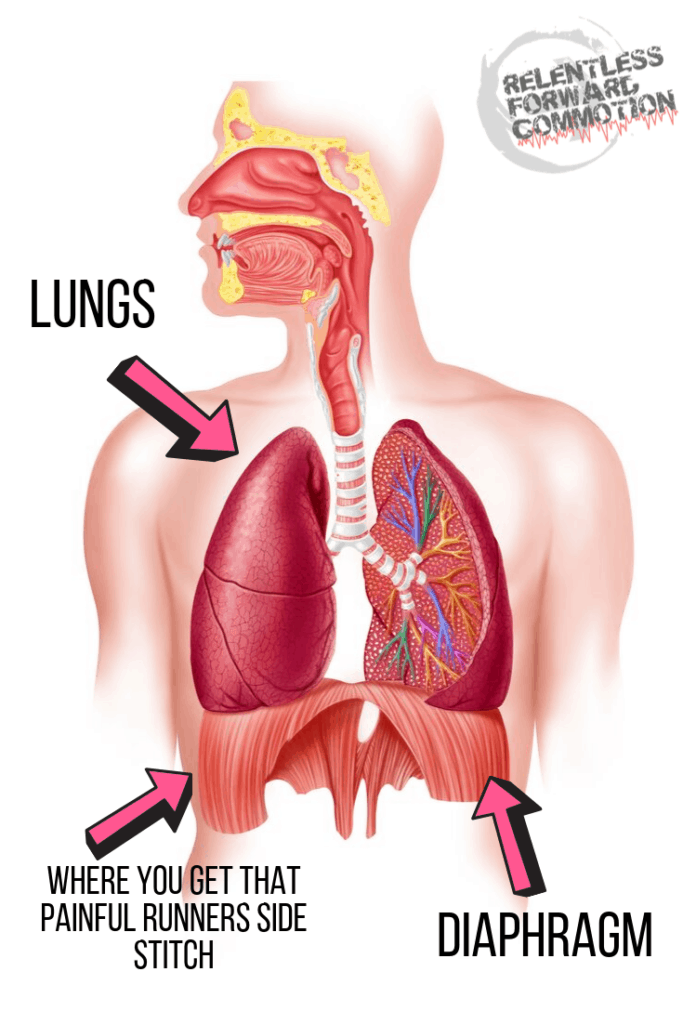 While running, there is increased abdominal pressure pushing up on the diaphragm from below, while rapid breathing expands the lungs and puts pressure on the diaphragm from above. The thought was that the pinching effect experienced on the diaphragm from pressure above and below shuts off the flow of blood and oxygen, and causes spasms, and as a result, the painful side stitches.
However, the main current evidence against this theory is the fact that side stitches are experienced by individuals performing activities of low respiratory demand, like horseback or motorcycle riding. In these cases, the lack of blood flow due to rapid breathing is not likely.
Further, researchers have found through testing that diaphragm function is not substantially affected during a side stitch, ruling out the possibility of nerve or blood flow issues (10).
Are Side Stitches Digestive Issues Caused by Food and Drink?
It would make sense to assume that stomach issues related to eating, drinking, and digestion could be responsible for why some people experience side stitches when running. Possible theories have included:
Over-eating.
Eating too soon before the run or race.
Eating fatty foods before exercise.
A study by Morton and Callister involving a post race questionnaire of 848 participants (76% runners, 24% walkers) at the conclusion of the 14 km City to Surf community run found that there was in fact a relationship between the volume of food and drink consumed relative to body weight and the experience of side stitches
But, the study also determined that side stitches were not related to the nutritional content of the pre-event meal with regards to carbohydrate (sugar and starch), fat, protein, water, or total calories.
Further, scientists note that the pain associated with side stitches simply isn't consistent with what is observed and experienced with true digestive discomfort. One article notes: "people with gastrointestinal discomfort tend to writhe the torso to obtain pain relief, which is unlike ETAP that is relieved by reducing movement" (7)
What Actually Causes a Side Stitch When Running?
So, if these common theories are being thrown out the window, what does cause a side stitch?
Unfortunately, the exact cause of a ETAP is still somewhat of a scientific mystery (womp, womp).
But before all hope is lost, know that there are a couple of theories that seem to hold a little more scientific weight:
Irritation of the Parietal Peritoneum
The parietal peritoneum is the tissue that lines the walls of your abdominal and pelvic cavities. Of all of the various theories behind the potential causes of a runner's side stitch, this one seems to have the most promising evidence.
There are two possible ways the parietal peritoneum might be the source of side stitch pain:
Running may increase friction between the parietal peritoneum and the organs it surrounds. Further, running might also result in a decrease in fluids acting as a lubricant around the peritoneum, causing even more friction, which may result in pain.
The movement of running results in movement of the parietal peritoneum. That excessive movement results in increased tension, further aggravating the parietal peritoneum. That aggravation of the tissue? It results in sharp, localized pain.
Researchers have tested this theory by specifically causing irritation to the parietal peritoneum, which resulted in pain identical to that of a side stitch. It the study, pain was relieved immediately by removal of the stimulus. Similarly, in running, side stitches almost always stop when a runner tops moving. (1)
In this case, it's believed that eating a large volume of food or drink immediately before running could lend to experiencing side stitches when running. A distended stomach (internally) due to being full of food, can possibly increase the friction between the parietal peritoneum and the stomach.
Posture and/or Core Strength
One study published in the Journal of Science and Medicine in Sport set out to evaluate the influence posture may have on developing side stitches while exercising. Among the 159 athletes studies, researchers found:
Spinal misalignment, especially in the thoracic region, appeared to influence the occurrence of side stitch pain
Individuals exhibiting kyphosis (a forward rounding of the back – think "hunchback") appear to be develop side stitches more often
Individuals exhibiting lordosis (a curving inward of the lower back – think sticking your butt out) seemed to experience more intense pain with side stitches. (9)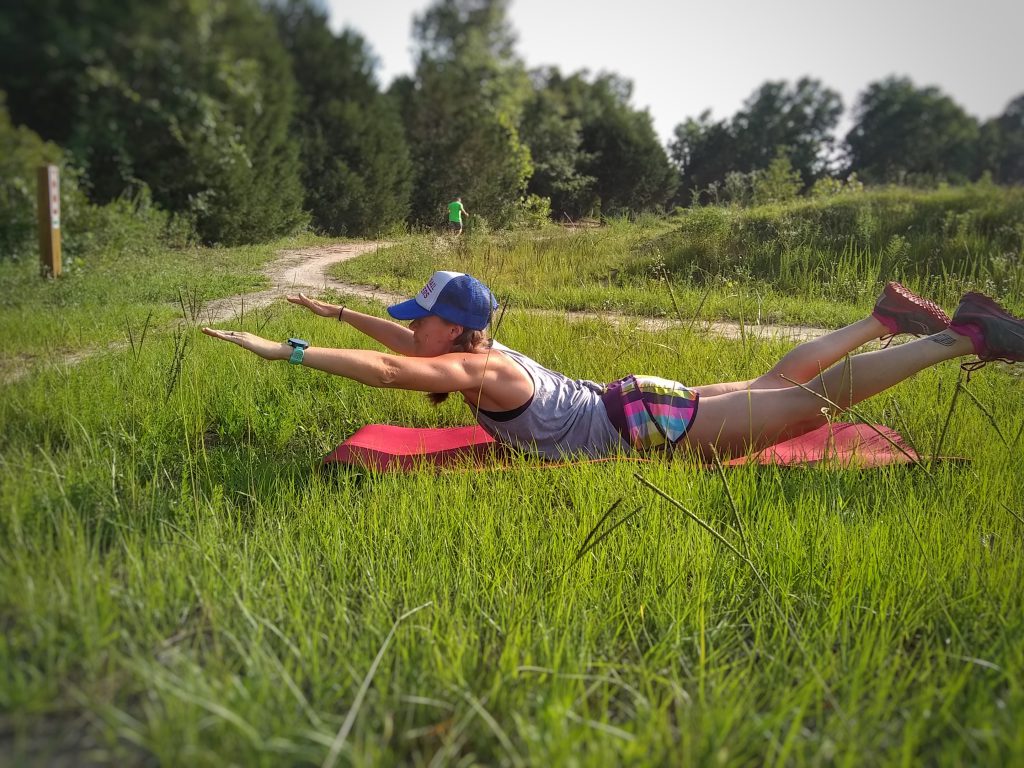 Another study found that runners who had stronger core muscles, and specifically larger resting Transversus abdominis muscles experienced side stitch pain less frequently (11)
As such, researchers suggest athletes may be able to avoid side stitches when running by making sure to strengthen their core and improve spinal alignment with:
Posture-corrective exercises
Stretching the lower back muscles (9)
Ingestion of Hypertonic Beverages
A hypertonic beverage is a drink that contains a higher concentration of salt and/or sugar than what is found in your cells and blood. Their carbohydrate concentration is over 10%. Think: Coca Cola or a full sugar Red Bull.
Multiple studies have shown that while drinking large volumes of fluids in general may contribute to side stitch pain, hypertonic drinks cause a much higher occurrence of ETAP.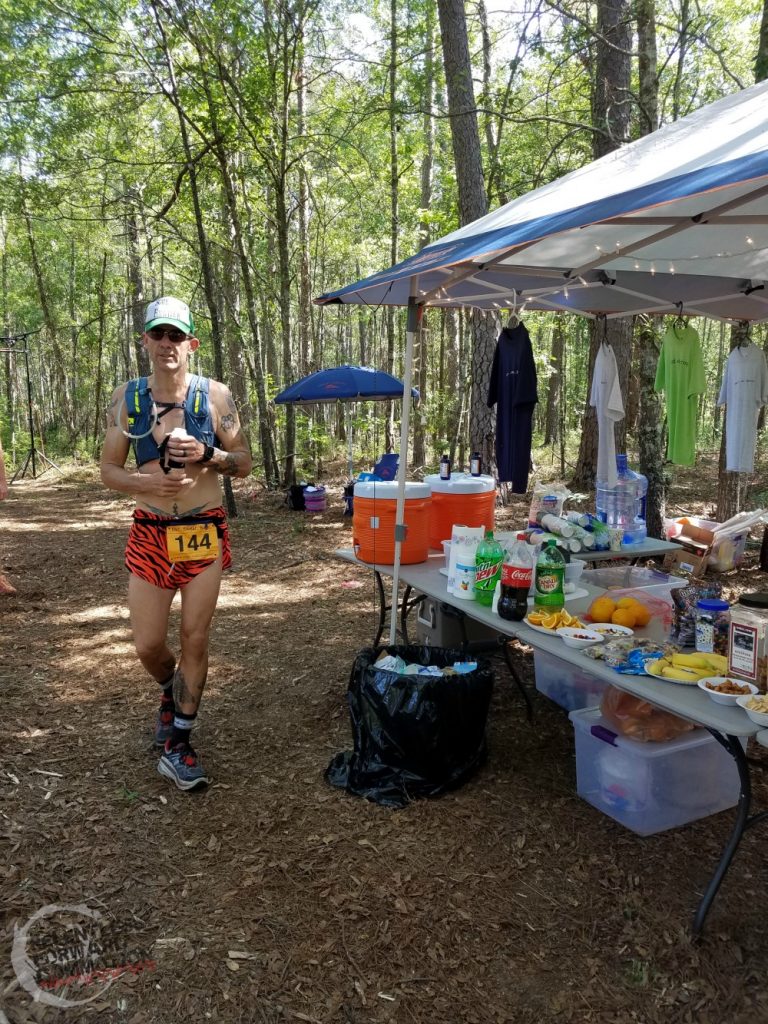 How to Prevent Side Stitches When Running:
Since the exact cause of a side stitch is unknown, it can't exactly be prevented with 100% certainty. However, physicians and running coaches have numerous suggestions that may prevent the onset of a side stitch.
What Might Work:
Core strengthening exercises to help improve posture and spinal alignment
Avoiding hypertonic beverages before your run
Avoiding large volumes of food or beverages immediately before your run.
Increasing your fitness and running experience through proper training
Getting older. No work necessary on your part, just let it happen.
What Probably Doesn't Work (But Can't Hurt to Try):
Hydration status. Let me be perfectly clear, as a runner, your hydration status matters. Over and underhydration can have a negative impact on your running, and your health in general. But, for the sake of preventing a side stitch, research shows that hydration status probably doesn't matter.
Avoiding over-exertion. Again, I don't recommend that you hop off the couch and start sprinting at your all out, 10/10 effort. But for sake of side stitch prevention, research is inconclusive as to whether intensity makes a difference.
Breathing techniques. Breathing techniques certainly have their place in running. Because diaphragm function is not substantially affected during a side stitch attack, pain-management strategies specifically designed to target the diaphragm are likely to be ineffective. (10)
If I Get a Side Stitch, How Can I Get Rid of It?
Good news! Even though they may feel like they last forever, the truth is side stitches typically do not last very long.
Bad news: researchers seem to have no idea exactly what will get rid of a side stitch, other than to stop running.
But most runners aren't necessarily interested in ending their workout early, and would rather push though. So, while anecdotal, it's worth trying the following techniques:
Slow down and focus on your breathing. Deep, calm breaths may not directly help get rid of a side stitch, but they may help calm you down, and tolerate the pain better.
Raise the arm of the same side in which you are experiencing the pain, and then lean to the opposite side. If nothing else, these techniques will distract you from the side stitch pain until it passes.
And last resort: walk. Get your breathing under control and relax. This too shall pass, and there is absolutely no shame in a brief walk break.
Final Thoughts:
In conclusion: side stitches are a huge bummer. And while the exact cause remains to be determined, taking preventative actions to avoid their onset, as well as practicing the tips mentioned above to help cure side stitches, may help lessen or altogether avoid the discomfort of a runner's side stitch.
Resources:
Capps J, Coleman G. Experimental observations on the localisation of pain sense in the parietal and diaphragmatic peritoneum. Arch Intern Med. 1922;30:778–789. doi: 10.1001/archinte.1922.00110120097004.
Mole, J. L., Bird, M. L., & Fell, J. W. (2014). The effect of transversus abdominis activation on exercise-related transient abdominal pain. Journal of science and medicine in sport, 17(3), 261–265. https://doi.org/10.1016/j.jsams.2013.05.018
Morton, D. P., & Callister, R. (2000). Characteristics and etiology of exercise-related transient abdominal pain. Medicine and science in sports and exercise, 32(2), 432–438. https://doi.org/10.1097/00005768-200002000-00026
Morton, D. P., & Callister, R. (2008). EMG activity is not elevated during exercise-related transient abdominal pain. Journal of science and medicine in sport, 11(6), 569–574. https://doi.org/10.1016/j.jsams.2007.06.006
Morton, D. P., Aragón-Vargas, L. F., & Callister, R. (2004). Effect of ingested fluid composition on exercise-related transient abdominal pain. International journal of sport nutrition and exercise metabolism, 14(2), 197–208. https://doi.org/10.1123/ijsnem.14.2.197
Morton, D. P., Richards, D., & Callister, R. (2005). Epidemlology of exercise-related transient abdominal pain at the Sydney City to Surf community run. Journal of science and medicine in sport, 8(2), 152–162. https://doi.org/10.1016/s1440-2440(05)80006-4
Morton, D., & Callister, R. (2015). Exercise-related transient abdominal pain (ETAP). Sports medicine (Auckland, N.Z.), 45(1), 23–35. https://doi.org/10.1007/s40279-014-0245-z
Morton, D. P., & Callister, R. (2002). Factors influencing exercise-related transient abdominal pain. Medicine and science in sports and exercise, 34(5), 745–749. https://doi.org/10.1097/00005768-200205000-00003
Morton, D. P., & Callister, R. (2010). Influence of posture and body type on the experience of exercise-related transient abdominal pain. Journal of science and medicine in sport, 13(5), 485–488. https://doi.org/10.1016/j.jsams.2009.10.487
Morton, D. P., & Callister, R. (2006). Spirometry measurements during an episode of exercise-related transient abdominal pain. International journal of sports physiology and performance, 1(4), 336–346. https://doi.org/10.1123/ijspp.1.4.336
Mole, J. L., Bird, M. L., & Fell, J. W. (2014). The effect of transversus abdominis activation on exercise-related transient abdominal pain. Journal of science and medicine in sport, 17(3), 261–265. https://doi.org/10.1016/j.jsams.2013.05.018
Plunkett, B. T., & Hopkins, W. G. (1999). Investigation of the side pain "stitch" induced by running after fluid ingestion. Medicine and science in sports and exercise, 31(8), 1169–1175. https://doi.org/10.1097/00005768-199908000-00014
Rehrer, N. J., Brouns, F., Beckers, E. J., Frey, W. O., Villiger, B., Riddoch, C. J., Menheere, P. P., & Saris, W. H. (1992). Physiological changes and gastro-intestinal symptoms as a result of ultra-endurance running. European journal of applied physiology and occupational physiology, 64(1), 1–8. https://doi.org/10.1007/BF00376431
Heather Hart is an ACSM certified Exercise Physiologist, NSCA Certified Strength and Conditioning Specialist (CSCS), UESCA certified Ultrarunning Coach, RRCA certified Running Coach, co-founder of Hart Strength and Endurance Coaching, and creator of this site, Relentless Forward Commotion.   She is a mom of two teen boys, and has been running and racing distances of 5K to 100+ miles for over a decade.  Heather has been writing and encouraging others to find a love for fitness and movement since 2009.