Last Updated on September 9, 2021 by Heather Hart, ACSM EP, CSCS
(The following review of the Superfeet ADAPT Run Insoles is sponsored by Superfeet. Affiliate links are used in this post. All thoughts and opinions expressed in this review are mine.)
Superfeet insoles have been an integral piece of my running equipment for the last 4 years. But I won't lie: I was a skeptic at first.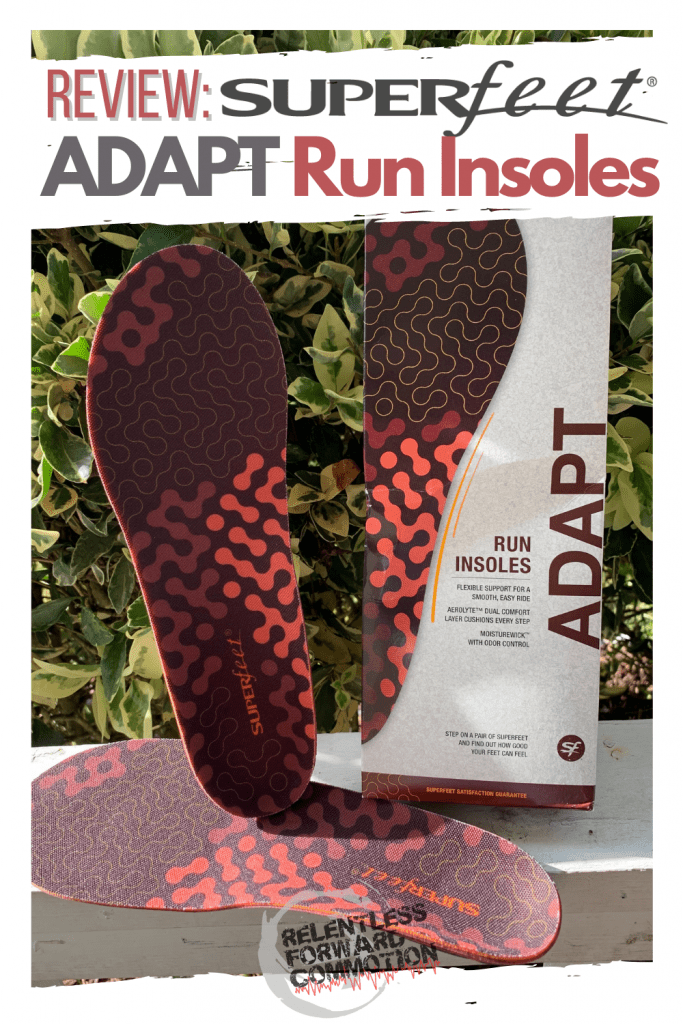 When presented with aftermarket insoles, I wondered why my already expensive running shoes weren't good enough as is. I also stubbornly insisted that if I had issues (at the time, I was experiencing chronic posterior tibial tendonitis) there was clearly a weakness that I needed to strengthen. I viewed insoles as a bandage, but not a solution.
One day I actually found myself head to head with a Superfeet representative in a local running store, and I told him my concerns and hesitations. Instead of arguing with me or making empty promises about what Superfeet could do for me, he acknowledged my concerns, and agreed that addressing running injuries from a point of strengthening weaknesses was important. Rather, he encouraged me to think of these insoles not as a "band-aid" to fix what was wrong with me, but a tool to help keep my feet more comfortable, and thus, get the most out of each step that I run.
I very reluctantly gave them a try…and almost instantly changed my outlook on insoles. A very small percentage of my runs over the last 4 years have been completed without Superfeet…and that was almost always simply because I forgot them.
I also have begun using them in my cycling shoes on my spin bike. I struggled with my feet going numb after about 45 minutes or so, despite trying to move the cleat to numerous different positions. A Superfeet insole seemed to help redistribute the force throughout my foot, solving the numbness issues.
Let's talk about Superfeet Insoles
Before I get into my review of the Superfeet ADAPT Run Insoles – a new model ideal for newer runners or those new to using insoles – I want to talk about what over the counter insoles (meaning: not prescription orthotics, which are different) like Superfeet are, and what they can possibly do for you as a runner.
Superfeet insoles are aftermarket (meaning, you buy them separately from your running sneakers) inserts designed to fit in your shoe. They are three dimensional, featuring both a moderately ridged arch and heel cup, as well as a cushioned top layer for comfort. They come in a variety of styles with varying support levels, based on your needs.
The insoles are designed to stabilize the foot, support abnormal movement of the foot, and reduce the movement of the arch. Further Superfeet insoles are designed enhance the way you move by dispersing impact and decreasing stress and strain on your body.
Why use insoles?
What does this all mean for you as a runner? In short, Superfeet can help keep your feet comfortable, longer. And if you're like me, regularly chasing ridiculous ultramarathon distances, you'll do anything to keep your feet happy.
Running insoles, such as Superfeet, can:
Provide varying degrees of arch support, which can lessen the rate of overpronation
Reduce pain associated with plantar faciitis (Lewis et al, 2015)
Add cushion to your shoe to absorb impact, improving comfort
Reduce forefoot pressure (Hähni, et al, 2016)
What's the difference between an insole and what already comes in my shoe?
A common misconception is that running shoes already come with insoles. And it's easy to understand why a runner may think that. When you purchase a brand new running shoe, you will find that they come with what is known as a "sock liner" in the shoe industry. This thin, slightly cushioned piece of fabric is placed into the shoe to essentially act as a buffer between your foot and the stitching on the inside of the shoe.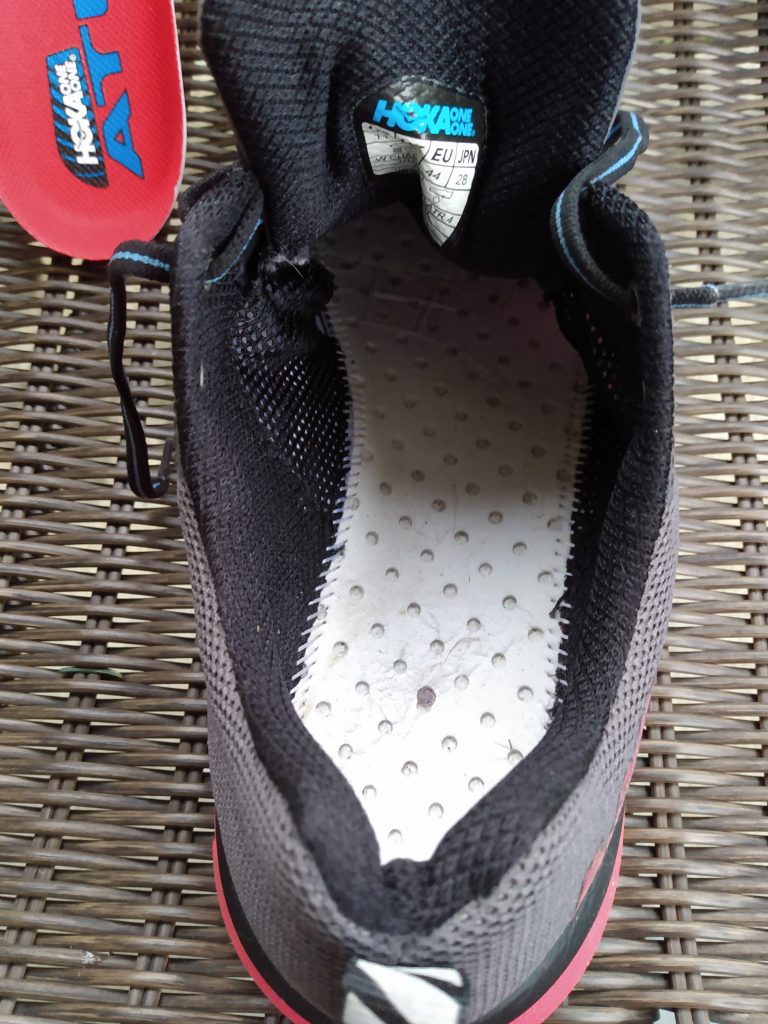 If you take a sock liner out, you will notice that the inside of your shoe is indeed flat. A common misconception is that the sock liner provides arch support. But one look inside the shoe will prove that's not true. Any arch support in a stability shoe comes in the form of:
a stability post within the medial side of the sole of the shoe (not typically visible to the naked eye)
a very firm section of the "upper" of the shoe under the medial arch.
But the sock liner? It provides zero support, and rarely much cushion, unlike a true running insole.
What type of runners can benefit from insoles?
Runners with the following issues may benefit from wearing insoles:
Those who blister due to foot movement within a shoe
Those looking for arch support, either for comfort or overpronation
Those who don't need a full on stability shoe, but want a little extra support
Those suffering from plantar faciitis
Those looking for extra cushion or comfort
Ultrarunners – trust me when I tell you that you'll love these things. They help keep your feet feeling less fatigued, longer. (Though, of course, all runners can benefit from the comfort of Superfeet!)
In my case, despite various strengthening exercises, rest, and recovery, my posterior tibial tendonitis continued to return because there was too much movement in my arches while running. However, stability shoes were too uncomfortable. The solution, as it turns out, was Superfeet. And I've been running with them ever since.
Superfeet Adapt Run Insoles
Alright, now that we've got that "what the heck are insoles" lesson out of the way, let's talk about the latest model from Superfeet: the Adapt Run insole. This model is a completely new construction for Superfeet, featuring a much more flexible and cushioned insole than all of their other products. This means there is no break in period required. All of this, combined with a lower MSRP compared to their other models, makes the ADAPT Run insole a great option for newer runners, first time insole users.
There are two models available, the Run for a thinner profile and lower arch, and the ADAPT Run Max for maximum contours with a higher arch and deeper heel cup.
SPECS:
Here's what Superfeet as to say about their newest model:
Superfeet ADAPT Run insoles –Signature Superfeet shape in a lightly structured, cushioning insoles made to feel like part of your shoes. The insole flexes and adapts to your foot's natural motion for a smooth easy ride. Get unbelievable comfort and support without changing how your running shoes were built to perform. Made to fit well in running shoes and athletic footwear, including zero drop running shoes.
Durable Aerolyte™ dual comfort layer helps your foot relax in the shoe and provides optimal cushioning

Responsive forefoot zone blends cushioning & rebound to maximize energy transfer

Adaptive Comfort Technology™—patented design exes with the foot for efficient heel-to-toe turnover

Energizing heel cushion disperses impact & reduces vibration to minimize fatigue

MoistureWick™ for improved wicking and breathability, plus odor control
The Superfeet ADAPT Run insoles are unisex, but do come in multiple size options. They retail for $49.95
Superfeet ADAPT Run Insoles: My Review
Alright, let's get to the true test here: what do I think about the Superfeet ADAPT Run Insoles?
Initial thoughts:
Upon first getting my hands on the ADAPT Run Insoles, I defintiely noticed the difference between them and some of my other Superfeet models . For reference, I typically run in the Berry and Orange models.
While certainly providing far more structure than a sock liner, the ADAPT Run Insole is absolutely more flexible and less structured than the Berry and Orange models.
The heel cup is also less aggressive, and features a heel cushion to make the insole less noticeable.
Again, I love my original Superfeet models, but I will be completely transparent in sharing that yes, you absolutely do notice them in your shoes when you first start running in them, and that can be uncomfortable for many runners at first.
The Adapt Run Insole, however, feels like a much more natural fit inside of my shoe. I truly do believe the claim that there is zero break-in time required for the ADAPT Run insole.
The Run:
In short, I put the Superfeet ADAPT Run Insoles into my shoes, and ran.
(Note: because of the sizing of Superfeet, most people will have to trim the insoles to fit their shoes. It's actually a really easy process. However, I'm lucky in that a size "D" fits into my shoe perfectly, no trimming needed. So I can pop them out of the box and directly into my shoe. Long live these size 10.5 feet!)
The first, and most important thing I will share is that I didn't notice…anything. Nothing at all. Which, when discussing your feet while running, is EXACTLY what you want. Ideally your feet are so comfortable that you don't think about them. You don't want to notice any twinges, hot spots, or things that don't feel quite "right". So honestly, NOT noticing anything at all is probably the best compliment that I can give the ADAPT run insoles.
But for the sake of the review, let's dig a little deeper than that.
Despite the less structured design of the ADAPT Run insole compared to other Superfeet insoles, I still felt supported regarding the movement in my foot and arch (or, rather, the LACK of movement, thank you Superfeet). If I complete too many consecutive runs without an insole, my posterior tibial tendon definitely starts to let me know. So I'll admit I did have some concerns that a more flexible version of my old reliable Superfeet might not give me the support I need.
But I was wrong. My feet and legs remained happy over multiple runs with the Superfeet ADAPT Run Insole
Final Thoughts:
Despite less structure than I am used to, I was really impressed by the comfort and durability of the Superfeet ADAPT Run Insole. I think that this is a great solution for those who are "insole curious", or perhaps are looking for the benefits of an insole without necessarily needing tons of added support.
Want to learn more about the Superfeet ADAPT Run Insole? Head to their website to read all of the fine print, as well as countless other reviews (other than my own) to see if these are the right choice for you. The Superfeet website also features an "Insole Finder" to help determine what insole is right for you, if you are interested in giving them a try.
If you have any questions at all about my experience with the Superfeet ADAPT Run Insole, or Superfeet insoles in general, please leave a comment below!
Heather Hart is an ACSM certified Exercise Physiologist, NSCA Certified Strength and Conditioning Specialist (CSCS), UESCA certified Ultrarunning Coach, RRCA certified Running Coach, co-founder of Hart Strength and Endurance Coaching, and creator of this site, Relentless Forward Commotion.   She is a mom of two teen boys, and has been running and racing distances of 5K to 100+ miles for over a decade.  Heather has been writing and encouraging others to find a love for fitness and movement since 2009.