Last Updated on June 16, 2020 by Heather Hart, ACSM EP, CSCS
Running shoe mistakes: chances are, you've made one (or many) before. Heck, you might even be making one right now. The good news is, you aren't alone.
At one point in my running career, I spent about 30 hours a week working in a running shoe store, touching people's feet.  I'm sure some of you get a little squeamish at that thought. But if you are anything like me, you are fascinated with the task of piecing together the puzzle of helping meet a runner's needs. Everything from physiology/biomechanics, to a touch of human psychology: i.e. trying to figure out why on earth people do or think what they do (regarding running and shoes.  I don't delve much deeper into the psyche than that.)
My general observation of my experience was that probably 75% of people were in the wrong shoe. What's worse: they didn't know it.  Unfortunately, probably half of those people were experiencing some sort of pain or discomfort associated with being in the wrong shoe.  So without further ado, let's discuss the top 5 running shoe mistakes I often see runners make.
5 Common Running Shoe Mistakes (and how to fix them)
1. The Wrong Size Shoe.
The first of the running shoe mistakes we'll discuss is wearing the wrong size shoe. If you are thinking of skipping this section because you feel you are in the right size shoe, hear me out first.  Your shoe size is not stagnant.  It is very common for feet to grow in length and width for a variety of reasons. Factors like age (yes, your feet grow well past the teen years), increased running mileage, weight gain, pregnancy, consistently wearing a shoe with a wider/more natural toe box allowing your feet to splay, etc. 
On a personal note, my feet did not change during pregnancy. But I have gone up an entire 1.5 sizes since I started training for ultra marathons (increased mileage). I'm now wearing a shoe with a wider toebox (my toes don't touch each other anymore). What's more, my arches started to drop (potentially from the two previous points), creating a need for a different type of shoe altogether. I can't even squeeze my feet into shoes I wore as recently as Infinitus, 2015.
Not all shoe types are sized the same…
Speaking of sizes: not all types of shoes are sized the same. For example, dress shoes and running sneakers rarely match up in sizing.  Dress shoes can and often are fitted much tighter and closer to the actual measurement of your foot.  Running sneakers should always leave a little bit of space for your toes to splay. This will also help you to avoid banging your toes against the end of your shoe.   Unless, of course, you hate your toenails and would prefer to lose them all.
I recommend sizing up about a half size from dress shoes, allowing about the width of a thumbnail  between the end of your longest toe (which, fun fact, is not always your "big toe") and the end of the shoe.
Not all brands fit the same, either.
To make this puzzle even more complicated: sizing varies between brands, and sometimes even between models of the same brand.  EVEN WORSE, sizing sometimes varies between versions of the same exact model from the same exact brand of running shoe.  It's enough to make you want to go throw down an angry 5K to run off the frustration.   Point being: just because you've had success with a size 8 Brooks doesn't mean you are going to fit into a size 8 Hoka. Always try on before you buy.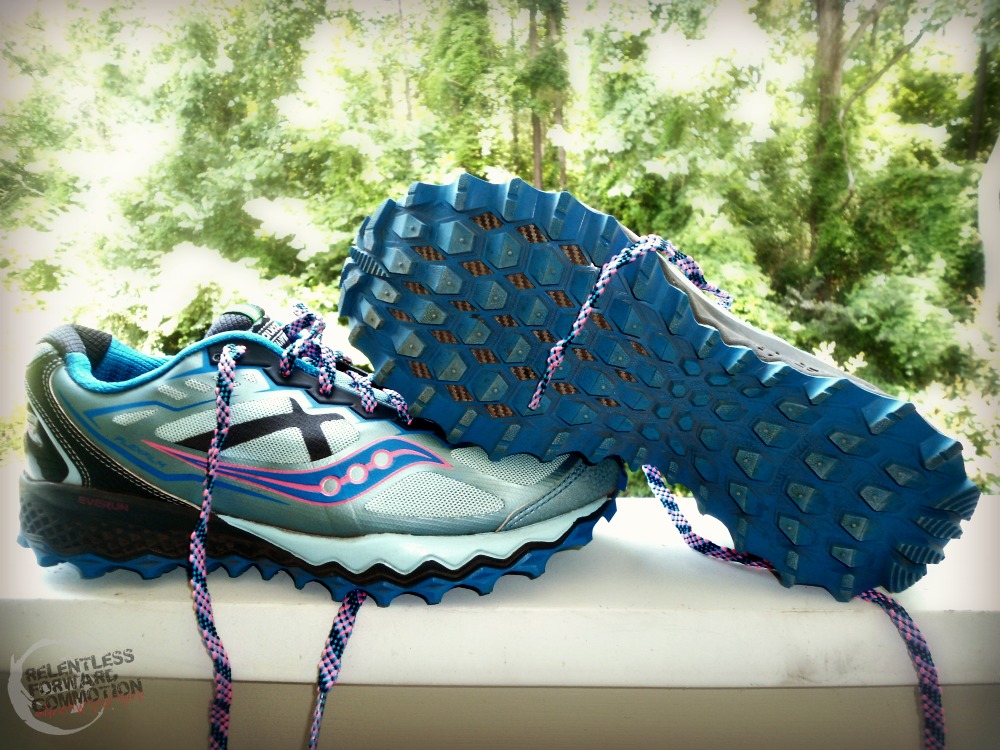 2. The Wrong Width.
This sort of piggy backs on the above point.   In my experience, a lot of men are aware of the fact that they have "wide" feet. But women? They are often not. 
Standard men's running shoes are a D width, standard women's running shoes are a B width.  I've lost track of the number of women I've informed were, in fact, a D width, but never knew it.  Further, Ive lost track of the number of women who wanted to deny that they had a wide foot. Ladies, let me tell ya…comfortable, happy feet are so much more important than the number and letter on the inside of the tongue of your shoe that NO ONE will ever no about (it's amazing to me how sensitive people can be about shoe size!)
But I digress.
The obvious issues of having a running sneaker is that too narrow include things like hot spots, blistering, and chafing, especially around the lateral and medial side of the feet. The less obvious issues could include numbness in the feet, altered running gait from having uncomfortable feet, and potentially even things like plantar fasciitis.
On the other hand, I've also seen men and women come in wearing a wider width shoe when they absolutely did NOT need it. This can cause your foot to slide around, causing blisters, altered running gait, etc.
THE SOLUTION to all of the above? 
Go have your feet professionally measured at your local running store.
3. Stability vs. Neutral Running Shoes
One of the most common running shoe mistakes is made simply because most runners don't know any better. Often times, if I ask someone if they are currently running in a stability or neutral shoe, they look at me with a blank, confused stare. And that's OK, this is one of those things you don't really know unless you are looking for it. So here's a quick, simple run down:
Some people land on their feet during the running gait, and the foot gently rolls in towards the medial (inside/arch) side of the foot. This is part of the natural, normal running gait. . However some people roll significantly towards the medial side, either through a collapse of the arch, or a bend in the ankles (I hate calling it an "ankle break", it sounds so painful). This is referred to as "over pronation". Lastly, some people land on their feet and roll towards the lateral side of their feet (the outside edge). This is called supination (or underpronation).
How to tell if you're in a stability or a neutral shoe:
Now, it's important to know that once you take the sock liner out of a shoe (what some people mistakenly call an "insert") the bottom of the insole where your foot rests is, in fact, flat. A stability shoe will typically have some sort of support, either in the form of a post or a firmer piece of rubber or foam, in the medial side of the midsole (the big, thick piece of "cushion"). A stability shoe will also typically have a more structured upper (the fabric part) specifically under the arch of the foot on the medial side of the shoe. Both of these features are supposed to help slow down the rate of over pronation, and perhaps provide a bit of support, and prevent premature breakdown of the shoe in the medial area.
A neutral shoe is, for lack of better terms, just a shoe. It's the perfect shoe for the person who has a normal rate of pronation, and doesn't have any need for "support".
Is this getting confusing yet? Let's get to the good stuff.
I'm a 100% firm believer in the theory of "if it ain't broke, don't fix it". If you over-pronate but never have any issues in a neutral shoe, then by all means, stick with it. The problem lies in those who DO have issues because they are in the wrong shoe.
I've seen people with flat feet in a ton of pain, because someone told them they "need" a stability shoe, yet there is zero over pronation, and now they have a stability post jamming into their already flat arches. I've seen people with very painful ankles, because they are in a neutral shoe, and really could use a stability shoe to help support the natural movement of their foot.
This section could have probably been it's own entire post. The point is, if you aren't having problems: great. But if you ARE having problems and think it might be your shoes, and you don't know if you are a candidate for a neutral or stability shoe, or even know what you are running in right now…it might be time to seek some expert advice.
Whew. That was a long one.
4. Too Many Miles on Your Shoes.
Just like the tires on your car, shoes have a lifespan. It is typically 300-500 miles, depending upon the durability of that particular shoe model, and how "heavy" of a foot strike you have. In other words, a 100 lb female who is very light on her feet with a mid foot strike is likely going to beat her shoes up less than a 250 lb man who is a heavy heel striker.
For SOME people the natural breakdown of a shoe's midsole (i.e. the cushion) can cause things like shin splints, foot pain, knee pain, and more. Some people can literally run hundreds of miles on a thin piece of leather and not need cushion (think: running sandals). Personally? I notice when my shoes are nearing the end of their life because out of the blue my knees will start to ache.
It's important to know that the 300-500 mile rule is not exclusive to running. If you run 2 miles a day in your running sneakers, then continue to put on the equivalent of 5 more miles of lawn work, errands, dog walking, etc., that extra mileage does indeed contribute to shoe breakdown. It might not be as damaging as the full impact of running, but it still counts for something.
If you are having sudden joint or foot pain, and can't remember the last time you bought a new running shoe…it might be time to replace them.
*FUN INSIDER FACT* 
Most popular brands of running sneakers make varying quality levels of shoes.  Have you ever wondered why the Nike's you buy at a running specific store are around $120, but the Nike's you buy at a discount department store are $40?  That's because they manufacturer these shoes using different materials, and on different lasts (the form they mold the shoe around).  The $40 shoe does not use as high quality materials as the $120 shoe, and therefore, is not going to give you the same "feel", cushion, or "support", and certainly will not last as long as the $120 shoe, in most cases.
5. The wrong TYPE of shoe.
I'll be the first to tell you that you can run in ANY shoe. Hell, some woman just ran a marathon in 3 inch stiletto heels. That said, not all sneakers are created equal.
There are:
cross training shoes
tennis shoes (as in, for actually playing tennis)
dance fitness shoes (think Zumba)
weight lifting shoes
trail running shoes
long distance running shoes
short distance shoes
cross country shoes
…the list goes on and on.  And they ALL LOOK LIKE SNEAKERS.  Again, you CAN run in almost anything. But clunking along down the sidewalk in trail shoes might not be very comfortable. Nor will a Crossfit type shoe (think Reebok Nano) feel good for marathon training.  
Running is as simple as "putting on your sneakers and running out the front door". But if you are in the wrong type of sneakers, it can potentially cause some uncomfortable or even downright painful issues.    When in doubt: consult the pros.  If you are unsure if you are making any of these common running shoe mistakes, I highly recommend visiting your local running store.   Most of the time, they are staffed by well versed, seasoned runners. Plus you'll be supporting the local community while doing so!
Heather Hart is an ACSM certified Exercise Physiologist, NSCA Certified Strength and Conditioning Specialist (CSCS), UESCA certified Ultrarunning Coach, RRCA certified Running Coach, co-founder of Hart Strength and Endurance Coaching, and creator of this site, Relentless Forward Commotion.   She is a mom of two teen boys, and has been running and racing distances of 5K to 100+ miles for over a decade.  Heather has been writing and encouraging others to find a love for fitness and movement since 2009.