Last Updated on December 16, 2019 by Heather Hart, ACSM EP, CSCS
To the average person, a treadmill is another piece of equipment found in a gym, designed to burn calories and help the user stay in shape. Nothing more, nothing less. (Alright, maybe a little more: it's often used as a coat hanger in spare bedrooms and basements around the country. The road to fitness is paved with good intentions and dust covered cardio equipment…) In the running world, however, treadmills are a source of serious contention. Mention running on a treadmill in an online forum full of runners, and you'll hear from people who train almost exclusively on treadmills, and those who vehemently hate the treadmill – and aren't afraid to tell you about it.
Some people are so anti-treadmill, they use terms such as "dreadmill" and "Satan's Sidewalk" to describe their disdain for the machine. As a coach, I routinely receive notes of apology from clients on their scheduled workouts, sheepishly "admitting" they had to do their workout on a treadmill. It's as if the treadmill makes the effort "less than" or something to be ashamed of. (Spoiler alert – I don't mind. I'm not anti-treadmill).
Do Runners REALLY Hate the Treadmill?
Before writing this post, I polled 100 runners via social media. I asked one simply question: do you hate the treadmill, or do you tolerate the treadmill? In addition, I also asked participants to describe what type of runner they identify as – mostly road, mostly trail, or a mix of both? I was curious to see if as many people TRULY hate the treadmill as they claim, or if the dissenters were just louder than everyone else. Further, I wondered if there was any sort of pattern to the treadmill aversion: was it mostly trail runners who preferred to stay outdoors?
The results were as follows:
Out of the 100 runners polled:
21 identified as predominately trail runners
31 identified as predominately road runners
48 identified as an even mix of trail and road running
So who do you think hates the treadmill more? Well – turns out it's an even mix. 42% of respondents answered that they hate the treadmill, while 58% of respondents answered that they do NOT hate the treadmill. Of the treadmill haters, 12% identified as trail runners, 9 % identified as road runners, and 21% run an even mix of trail and road. Of the treadmill-tolerating, 9% identified as trail runners, 22% identified as road runners, 27% as both trail and road runners.
Whew, that's a lot of numbers. Point being: nearly half of runners highly dislike the 'mill, and both trail and road, seem to share their disdain evenly.
But – Why?
We all have our preferences, we also have our reasons, and it's certainly no ones place to judge. For example, I hate peanut butter. LOATHE it in fact. Am I allergic? Nope, not at all. I just think it is one of the most vile flavors ever known to mankind, and nothing you say will change my mind.
Regarding the treadmill, I asked the treadmill haters to give me more detail. Here's what they had to say:
Monotony
Alright, let's get this one out of the way: the treadmill can be boring. In fact, when I asked runners to explain why they hate the treadmill, at least four simply said "it's boring".
Touché .
Running for minutes, miles, or hours on end, with your scenery never changing, can be wildly demotivating. I think we often underestimate how our environment and surroundings can distract us from what we are doing. When those distractions are removed, we become hyper aware of our breath, every muscle twinge, or simply the difficulty of running.
Altered Form /Gait
For some, the treadmill does not mimic outdoor running at all. Rather the limiting field of the treadmill belt, combined with the consistent speed can leave runners feeling nervous, or even awkward. As they try to compensate (or try not to fall off) , a runners form, or even foot strike may be altered.
If this is the case for you, you are not alone. One research study performed on walkers found that the treadmill can cause a shorter stride length, less stride time and worsen long-range correlation of stride intervals. Further, the treadmill can significantly increase the stability for both gait and upper body, while it can significantly reduce gait regularity during swing phase. (source)
"I run slightly crooked! Every 5th or 6th step I land with my right foot partially on the deck causing me to stumble."
Further, some people simply have an unconventional running form that doesn't translate well to treadmills. It can be awkward, or even downright dangerous.
It's Not Outside
My trail running family (and even the road runners too), I FEEL you on this one. Again, I'm neutral on the treadmill debate, but I can absolutely relate to the number of people who responded that one of the main reasons they run is to feel closer to nature.
Running outside is my church. I feel closest to nature and to God. I've seen amazing sunrises, enjoyed a cooling rain when I've needed it most and even laughed as the wind seemingly stopped me on a hard run. Treadmill running is too much like actual church.
For many, running isn't simply a form of exercise, it's an experience. Take away a huge part of that experience – like being outdoors – and you might as well not run at all. And honestly, with views like this, can you blame trail runners for preferring the outdoors?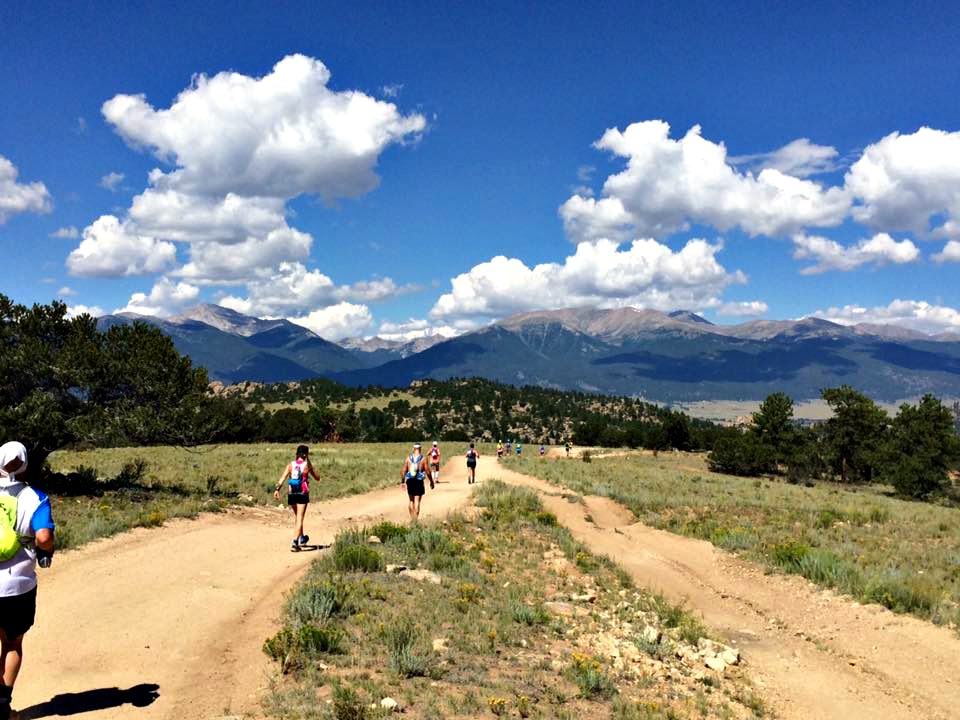 How to Learn to Love (or at least Tolerate) the Treadmill
I realize some of you are hardcore – anti – treadmill, and that's fine. But if a treadmill has to be a part of your regular routine, here's a few suggestions on how to make it more enjoyable.
Think of it as a Helpful Tool
Treadmills can actually be a wildly helpful tool when it comes to your training. The most obvious reason is that treadmills allow us the opportunity to get in a training run when outdoor running simply may not be an option.
"TM are really appreciated mid winter at 4:30 am when it's -10 and blowing snow outside. "
A number of the runners polled stated that the treadmill was not necessarily their favorite, but a saving grace for training through the icy, sub freezing conditions of winter months (or alternatively: super hot summer climates). Or that treadmills were helpful when traveling to places they were unfamiliar with, or didn't feel safe running alone in.
"I like the treadmill for speed and interval sessions since I can set the exact pace I need. And it has saved me from some extreme temps here in Florida so there is no way I can hate it. "
Others explained that the treadmill was the only option when raising babies and small children, as it allowed them to sneak in a training run during nap time, or when other childcare options weren't available.
Related post: 10 Pros and Cons of Treadmill Running
But there are actual benefits beyond simply "getting in your run". Treadmills can help you learn consistent and even pacing, and help you with working on your turnover, cadence, and speed. They can also provide incline training to those who live in areas that have practically no elevation available (like, you know, Myrtle Beach.)
If you think of the treadmill as a tool helping you achieve your end goal, just like you think of foam rolling as a tool (and who really enjoys that, either?) , it can help take out the dread of the treadmill.
Start Slow
If you are one of the aforementioned people who feels wildly uncomfortable on a treadmill, start slow. Get comfortable walking, then speed walking. Then bring your pace up to a slow jog. Find a comfortable spot on the treadmill deck that isn't too close to the front, nor the back of the belt. Do not hold on to the railings. Once you are comfortable here, slowly increase your speed, stopping before you hit a speed that obviously alters your gait.
Vary Your Workouts
Keep monotony at bay by varying your treadmill workouts. Switch up speed intervals or incline intervals based on time or distance. Two of my favorite treadmill workouts are as follows:
Speed Ladder:
Start at a comfortable running pace. Every tenth of a mile add 0.1 mph speed (essentially, one push of the increase in speed button). Do this ten times (one mile), then work your way back down to your starting pace. Repeat as needed.
Incline Super Hike/ Run:
This is one of my favorite ultramarathon simulating runs (because again, we don't have hills here in Myrtle Beach). Set the incline to 15% (or whatever you are comfortable with) and a speed that is moderately difficult to hike (for me, that's about 3.3 mph). Climb for a half mile. Return the treadmill incline to 0-1%, and then increase your speed to a comfortable running pace for a half mile. Alternate the hike / run half mile intervals for as long as desired.
Entertain (Distract) Yourself
One of the great things about treadmill running? You don't have to worry about being too distracted. There are no cars, bears, loose dogs, mountain bikers, etc. that you need to be aware of. Therefore, things like music, podcasts, and movies are fair game. Heck, you can even read on the treadmill, if your eyes allow it (and it doesn't make you nauseous).
One of my favorite things to do on the treadmill is to watch running documentaries. Nothing will get you more motivated to run (or keep running) like watching highly curated videos of amazing trails, or epic race day stories.
Change Your Mindset
As one runner I polled so perfectly responded: "If we associate negativity with the treadmill we have defeated our run by calling it a 'dreadmill'. " Ultimately, only you can change your mindset when it comes to dreading the treadmill. If you go into your workout thinking it's going to suck: it's probably going to suck.
I call it "the 'mill." It drives me nuts when people call it "dreadmill." "Dreadmill" immediately gives it a negative spin. It's a training tool, not an absolute. Change the mindset and get rid of the "dread."
Recognize that the treadmill is not the same as running outdoors. It's just not, and it never will be. If you are expecting the same experience, you will likely be disappointed. Unless, of course, you are a cold weather wimp like me, in which case you'll find the warmth of a treadmill in a gym on a cold winter day a wonderful treat!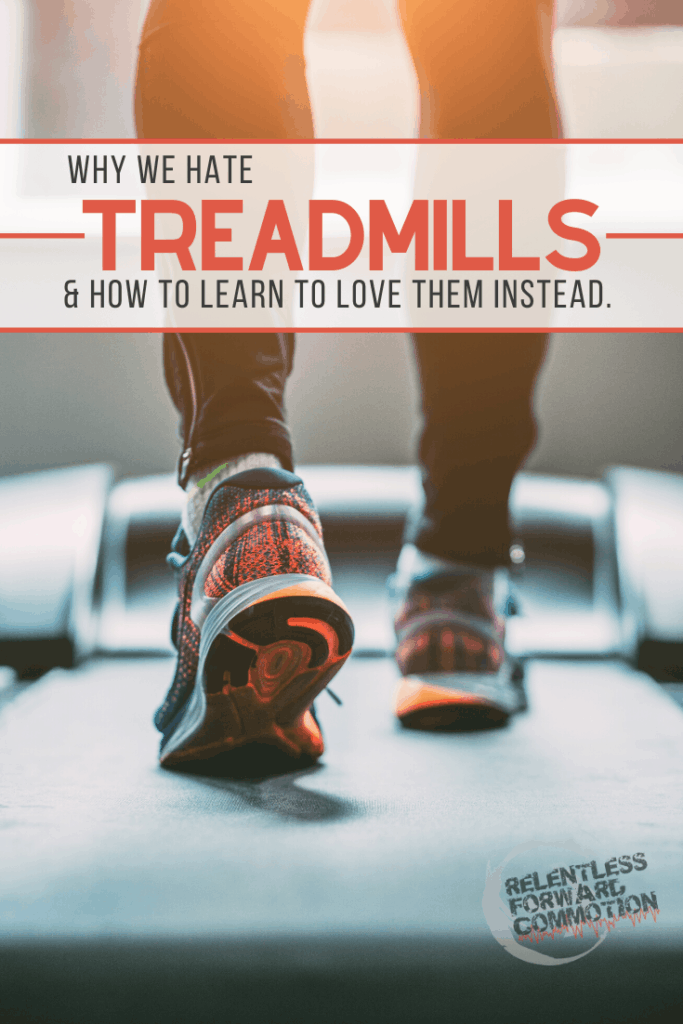 Of course, you never actually have to use a treadmill, if you really don't want to. As mentioned earlier, so many of us run simply for the act of being on the trails and enjoying nature. So if you never want to step on a treadmill a day in your life – don't. You still get a high five from me.
But if you're a runner who has to hit the treadmill occasionally for whatever reason – and you find yourself feeling a little bitter or resentful (it's OK to admit it, you're among running friends) … hopefully this post will help you change your point of view.
Heather Hart is an ACSM certified Exercise Physiologist, NSCA Certified Strength and Conditioning Specialist (CSCS), UESCA certified Ultrarunning Coach, RRCA certified Running Coach, co-founder of Hart Strength and Endurance Coaching, and creator of this site, Relentless Forward Commotion.   She is a mom of two teen boys, and has been running and racing distances of 5K to 100+ miles for over a decade.  Heather has been writing and encouraging others to find a love for fitness and movement since 2009.