Last Updated on July 2, 2018 by Heather Hart, ACSM EP, CSCS
If you've been around here long enough, you know that my race training and racing strategy is far from traditional.  I run because I love to run. I race because I love the atmosphere and the challenge.   I try to stay in shape for any given race at any given time in my life.   Though I often get competitive in the heat of the moment, I am anything but invested in my ultrasignup.com rankings.  I leave the PR's to my clients. Every now and then, however, a race comes along that makes me sit down in front of my computer and put together a training spreadsheet.   
A SPREADSHEET.   If that doesn't scream commitment to success, I don't know what does.
In short: I have put way too much emotional and financial interest into the Barkley Fall Classic 50K to risk fucking it up.  Hell, I had THREE internet capable devices open at the same time, around 1:00 am, trying to register while the rest of the ultra running world effectively crashed ultrasignup.com.  I fought for that entry.  Therefore, I've put together all of my education and skills as an exercise physiologist and running coach that I use on all of my clients, daily, into a twelve week spreadsheet (the word just feels so serious).
Rarely, in nearly 10 years of blogging, do I give a glimpse into the actual details of my training.  But there is a first time for everything.
____________________________________________________
Fun fact: this post is officially published post 1,001.  Over one thousand posts since March of 2009.   Some have been spur of the moment, heartfelt rambles.  Some have been thoroughly researched, scientific based articles.  Some I've literally cried tears over.  Some forced me into a blog-rage (like road rage, only online) where I nearly through my laptop out the window.  All of them have been a labor of love.   Thank you, from the bottom of my heart, for taking the time out of your day to read the words I have written.
___________________________________________________
*NOTE* the following post is simply an example of my training plan, and is not a suggestion or recommendation for anyone else.  Please know that I started this 12 week plan in solid running shape, having just come off of back to back 90 mile & 45 mile races.  I'm already consistently running 30-40 miles per week, lifting 5 days per week, and cross training in other ways.  If you choose to follow  what I'm doing, you do so at your own risk. 
MONDAY 6/25:  Legs & Hills
I started the day with a leg workout at the gym. For the first 4 weeks of this training cycle, I'm focusing on higher reps (10-15)/ lower weights (maxing out at 10-15 reps).  I included a lot of hip work and lateral work, including step ups, multi hip machine, abductor/adductor, weighted prisoner get ups, etc.
Later that night, I had a run scheduled. As I was getting ready to head the trails, the internet and my phone blew up with severe storm warnings.  The sky was a dark shade of swirling black and grey, and the wind was pretty threatening.  Normally, I'm not one to shy away from running in the rain (hell, in this heat, I welcome it), but our trail is notorious for downed trees and giant limbs during storms.  Once, in a snowshoe race back in Vermont, I got nailed in the head by a pretty decent sized tree limb that nearly rendered me unconscious.    Since I was going to be running solo, I opted for the safety (and monotony) of a treadmill over at Planet Fitness.
5 minute warm up, then:
3 minute run @ 6.5 mph / 1.0 incline
2 minute climb @  3.8 mph / 15.0 incline
Repeat cycle, increasing the run by 0.1 mph each time.   I did this for about an hour before I had to call it quits.  The TV's, even when turned off, give me such crazy depth perception issues on treadmills.  It's so hard to find them at gyms WITHOUT the giant TV in your face. I'd way rather people watch than "Keeping up with the Kardashians" watch, but that's rarely an option anymore.  Anyway.
TUESDAY 6/26: Plyo & Upper Body
I teach a class every Tuesday at my gym that combines intervals of plyometrics, bodyweight exercises, and strength training.  While I am not able to push as hard as I would like to in the class (because, I'm the instructor and need to focus on my participants rather than my own workouts) , it does give me the opportunity to do things I probably wouldn't do on my own.  My days of "burpees for fun" are long gone, right along with my Spartan Racing.  The class contains plenty of things like jump squats, lateral ski jumps, push ups, box jumps, and other miserable/fun movements that at one time in my life, were solely responsible for an 11 minute half marathon PR.  In short: they are good for you.  So I'm trying to do them again.
WEDNESDAY 6/27:  Stairs, Legs, More Stairs.
I started Wednesday morning off with a 40 minute session on the stair climber.  Mostly because I wanted an excuse to watch the new documentary about Karl Meltzer setting the Appalachian Trail through hike (running) FKT (fastest known time).   Needless to say, it wasn't a tough workout, I had a movie to watch.  But it was climbing nonetheless.
I followed that up with leg day #2 for the week.   Throughout the year, I typically only do one leg day per week (and two push/two pull days), but with all of the climbing Frozen Head State Park is going to throw my way, I figure I'm going to need two.  And I want them relatively close together to a) mimic fatigue, and b) also allow me plenty of time to recover before the long runs of the weekend.
That evening, we headed to the track for Wednesday night track "fun" (that term is relative) with our trail running group.  We've ventured off of the dirt to the track for a solid month straight now.  I'm proud of them.  Us.  Anyway, my track workout for the day included: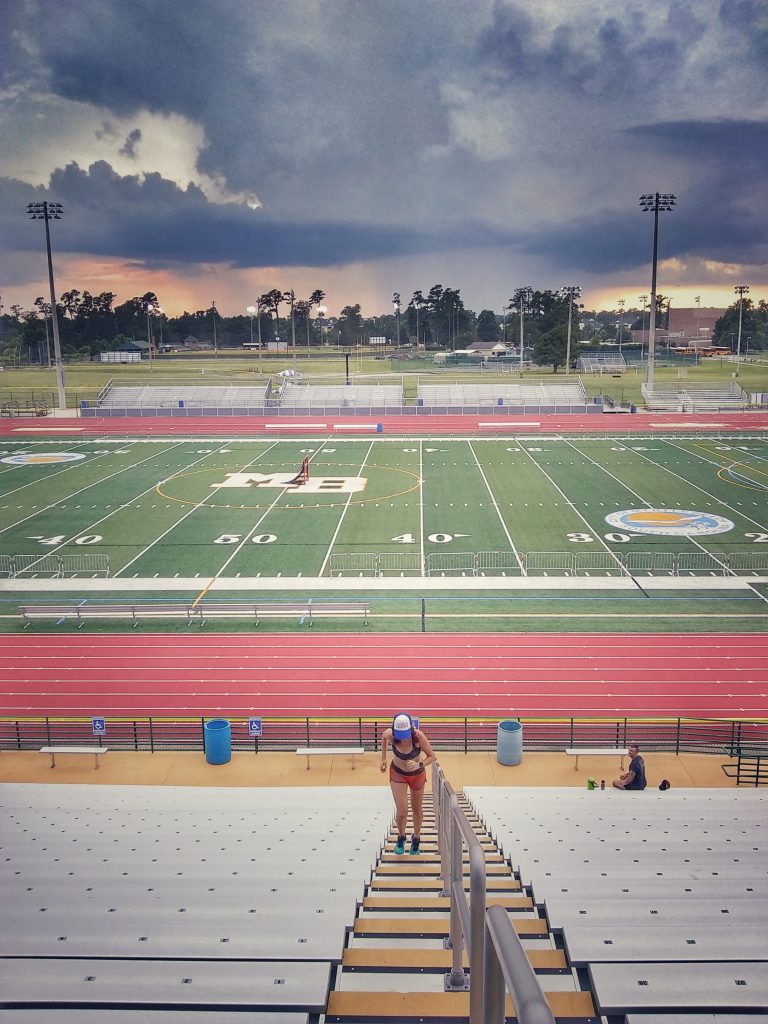 1 mile (4 laps) warmup. Easy pace, with each loop getting progressively faster.
Then:
Climb/descend each of the 4 walkway sections of the stadium stairs.  There are four, and each consists of 50 stairs.  So that's 200 up/200 down per lap.  Follow this with a 400 meter run.  Not a sprint, just a solid run (around 8:00-8:30/mile pace for me).
Repeat 5 times, then cool down 0.5 mile.  Grand total with the stairs came out to about 3.1 miles and 1,000 steps up/1,000 steps down.
We followed that up with a core workout.  Ouch.
THURSDAY: Recovery Run
6 mile trail run, recovery pace.  This sounds easy, except it's 95 degrees and one thousand percent humidity outside, even at 6:00 pm.  Have no fear, I've found the secret to keeping my heart rate in zone 1/zone 2 despite the "is this Hell or is this Myrtle Beach" temperatures:
Easy listening songs of the 70's and 80's.
I'm serious.  Try to run to some Rage Against the Machine and my heart rate – and pace – go through the roof.  But give me a little Gordon Lightfoot or Little River Band and I'm happily cruising along, without a care in the world.  Result? I was able to stay in a solid zone 1.9 despite the blistering heat.
Friday: Rest Day – Sort Of. 
Friday's are supposed to be my rest day.  Alas, I had a last minute request to sub a HIIT class at the gym.  So at 7:00 am, I was bouncing around on what should have been restful legs.  Oops.
Since I had already failed at "resting", I decided to put in a 45 minute impromptu pull session (back and biceps) between class and before my first client of the day arrived.
Saturday: 13 mile long run
A few weeks ago, our family purchased the South Carolina State Park Passport, which allows us to get into any of the state parks for free.  We live right near two of them: Myrtle Beach State Park and Huntington Beach State Park.  Geoff and I drove out to Huntington right when they opened (6:00 am).  Geoff strung a hammock up between the trees (he's recovering from some mysterious foot thing) and I headed out.
It was already 87 degrees at 6:00 am, but my "easy listening" music trick did it's job at keeping my pace in check.
This entire run was on pavement, but I don't mind hitting the roads when I have incredible views like this:
I only stopped to take pictures of the alligators (scroll through Instagram post above).  Overall the run felt great, other than some achy joints from not having run this far on pavement in months.  I'm a trail girl through and through.   I'm really stoked at how well my body is responding to training in the summer heat and humidity.  The last three summers of powering through despite the weather have really begun to pay off.
Sunday: "long" run #2: 6 trail miles
I'm a huge proponent of back to back long runs when it comes to ultra training.  Of course, "long" is relative, but the idea is to get out there on tired legs.  Another 6 miles on my local trail.  I was feeling the effects of a solid training week, and of course, the heat (another 92 degree day), but I got it done.
TRAINING WEEK REPORT CARD:  A – 
Areas I can improve during week #2:  I missed out on a lot of my upper body training this week. I got in some lifting in the two classes I taught, but not enough.  I had also hoped to incorporate yoga – like I hope to do pretty much every week – but I didn't make it happen (I never do).  If I can get in one single yoga class this week, I'll be happy.
So there you have it.  A glimpse into a week of my training.  I hope to do one of these every Monday between now and September, and then see if it all comes together to help me secure my very own Croix de Barque.  Stay tuned…
Heather Hart is an ACSM certified Exercise Physiologist, NSCA Certified Strength and Conditioning Specialist (CSCS), UESCA certified Ultrarunning Coach, RRCA certified Running Coach, co-founder of Hart Strength and Endurance Coaching, and creator of this site, Relentless Forward Commotion.   She is a mom of two teen boys, and has been running and racing distances of 5K to 100+ miles for over a decade.  Heather has been writing and encouraging others to find a love for fitness and movement since 2009.